In my October World Music Beat column I offered a "Polaris Music Prize Trailer," luring readers with the promise of "a backstage pass to the avant-garde Inuk vocalist Tany Tagaq's jaw-dropping ten-minute performance…" I'm here to deliver on that promise. I will also be weighing in on the ramifications of the thrice JUNO-nominated Tagaq's win on September 22, 2014 for her CD Animism. It's the "best Canadian album regardless of genre and sales" according to Polaris, and her win this year certainly marks a significant milestone. For the first time it was awarded to an indigenous musician.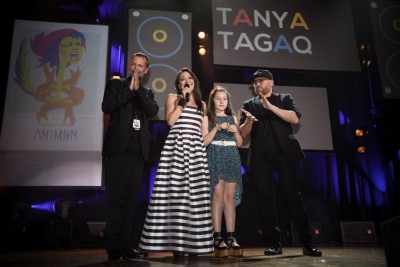 When Tagaq, drummer Jean Martin, and violinist Jesse Zubot lit into their Polaris spot, it was as if an intense Arctic wind had blown into downtown Toronto's The Carlu, howling. They played sections of their superb Animism with improvised throat singing upfront in the mix. I'd seen the trio on two other occasions. But when Christine Duncan cued her 40-voice improvising choir behind Tagaq, sounding like Xenakis or Ligeti's atonal chord clusters had just entered the hall, the concert achieved liftoff, moving onto another plane entirely. The multiple musical textures and traditions blended powerfully, the Inuit with the Euro-American-Canadian (featuring rock, free improv, soundscape, classical avant-garde and yet more genres).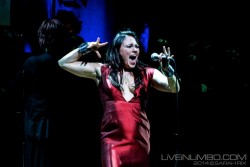 You can see the show for yourself in the video here. As for me, I experienced a complex and heady mix of confrontation and conciliation of social, and political issues and musical genres. The performance also hinted at the potential transcultural power of the healing force of sound.