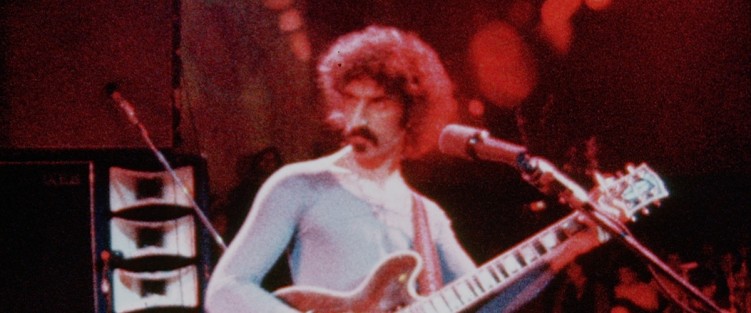 Alex Winter's new documentary – ZAPPA – about the iconoclastic musician and biting social satirist, Frank Zappa, has much in common with Thorsten Schütte's absorbing, revelatory 2016 documentary, Eat That Question: Frank Zappa in His Own Words. Zappa's widow Gail (d. 2015) and son Ahmet (who runs the extensive Frank Zappa estate through the Zappa Trust as co-Trustee) were executive producers of the 2016 film. Ahmet Zappa is also a producer of the new film, which is more about the man than the previous more music-oriented doc. A conservative libertarian who had no use for drugs, Zappa was not how he appeared to be. Nonetheless, given the extent of the Zappa archives, there is much treasure to be found here. Early in the film the man himself takes us on an archival tour – a labyrinth of floor-to-ceiling 8mm movies, audio and videotape of recording sessions, even jam sessions by the likes of Don Van Vliet (Captain Beefheart) and Eric Clapton (neither of which we hear – perhaps they're being saved for future release).
Zappa's early home life was completely without music. His father worked at a gas chemical factory, so his toys were gas masks and his interests concentrated on chemistry – he made gunpowder at the age of six. As a young teenager he read a magazine story about how Sam Goody's (a major record seller in the 1950s) was able to sell records by Edgard Varèse that were considered too strange for most people to buy. Zappa bought The Complete Works of Edgard Varèse and it changed his life. "I just liked it [the way percussion was playing an integrated melodic part] and couldn't understand why other people just didn't like it," he said. There's an 8mm snippet of him playing Varèse on the harmonica. He had no interest in Mozart or Beethoven, "only in the man who could make music which was that strange." Hearing Ionisation led Zappa to write orchestral music. Much later, he took to playing Varèse's Octandre as an encore "because after hearing it, the audience wouldn't possibly hear another number."
He taught himself to play blues guitar in high school by listening – sometimes staying up until 3am – to the music of Clarence "Gatemouth" Brown, Guitar Slim, Elmore James, Lowell Fulson and Johnny "Guitar" Watson (with whom he later played). In his mid-teens he was a member of a racially mixed band, The Blackouts, which at the time was considered too radical for the small California town where he lived.