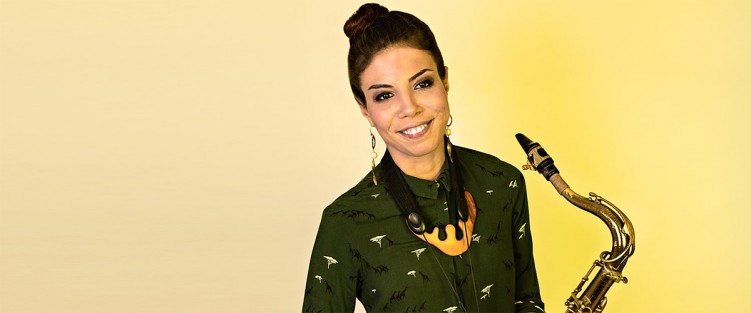 On Tuesday, June 25, the TD Toronto Jazz Festival hosted the Chilean-born, New York-based tenor saxophonist Melissa Aldana. Aldana had a busy day: in addition to performing on the TD Mainstage in Yorkville with her eponymous quartet in the evening, she also made a guest appearance with a student ensemble from Berklee College of Music (her alma mater) in the afternoon, and participated in a masterclass in the morning. The masterclass, part of the TJF's Jazz Musicians Intensive series, took place at the University of Toronto's Victoria College Chapel, and was hosted by Mark Micklethwaite; though Aldana played two beautiful solo pieces to bookend the event, the masterclass primarily took the form of an interview.
Aldana has become something of a household name in the jazz community in recent years, but for those who may not have been familiar with her resumé, the masterclass was a good opportunity to learn. On paper, Aldana's many accomplishments – full scholarship to Berklee to study with the likes of Joe Lovano and George Garzone; 2014 DownBeat Critics Poll Rising Star Tenor Saxophonist; winner, at age 24, of the 2013 Thelonious Monk Institute of Jazz International Saxophone Competition; and the recipient of a substantial prize and a record contract with Concord Jazz – constitute an enviable template for early-career success. When Aldana elaborated on these experiences, however, she was remarkably candid about the difficulties that her particular path had presented to her.
Many of these candid moments came near the end of the masterclass, in response to audience questions. When answering a query about whether she would consider moving out of New York (an emphatic "no," as she hasn't found another city that is as musically inspiring), she spoke openly about the difficulties that New York presents, including the cost of living, the low pay for creative gigs, and disparity between the high number of excellent players and the relatively low number of gigs. She also talked about the financial realities of her contract with Concord Jazz: though winning the Monk Competition was a boon for her career, she didn't feel that Concord was really invested in her as a long-term artist, and that she saw maybe "a couple of cheques for $60" in royalty payments from Melissa Aldana and Crash Trio, her one Concord album. (Her newest release, Visions, is on the label Motéma, about which she spoke fondly.) Speaking freely about money is something that many young, successful jazz artists don't always do, but Aldana reiterated what most in the room probably knew: that you make money as a musician from touring, which she will be doing with her band in North America and Europe for the majority of the summer.
When I watched Aldana's quartet – which included the pianist Sam Harris, bassist Pablo Menares, and drummer Kush Abadey – perform later that day, I was struck by several qualities of the music: Aldana's tone, phrasing, and far-reaching technical command of the saxophone; the interplay between Harris and Abadey, both of whom have the ability to fill space in creative, musical ways without being intrusive; and the depth and melodicism of Aldana's compositions. Throughout the concert, however, I kept coming back to a moment that occurred near the end of the masterclass, when Aldana was asked about how she maintains her motivation to tour, to compose, to rehearse and practice and write emails and deal with the endless waves of complicated overlapping responsibilities that attend a career as a musician. Her answer was simple, delivered with the same good-natured equanimity with which she'd spoken throughout the masterclass: because "playing music makes [her] feel lighter." It is the work, as she further explained, that helps to make her feel calm, to make sense of other parts of her life, and to feel that she's making a positive contribution to the world. After spending the morning cheerfully de-mystifying various aspects of her professional life, she could easily have faltered when asked to discuss the experience of playing; instead, she spoke honestly about the ways in which the work of music is its own unique reward.
The TD Toronto Jazz Festival presented Melissa Aldana in three events—"The Jazz Musician Intensive 2019: I'm out - now what?" (10:30am, Victoria College Chapel), Berklee Quintet feat. Melissa Aldana (2pm, TD Mainstage), and the Melissa Aldana Quartet (8:15pm, TD Mainstage)—on Tuesday, June 25, 2019, Toronto.
Colin Story is a jazz guitarist, writer and teacher based in Toronto. He can be reached through his website, on Instagram and on Twitter.