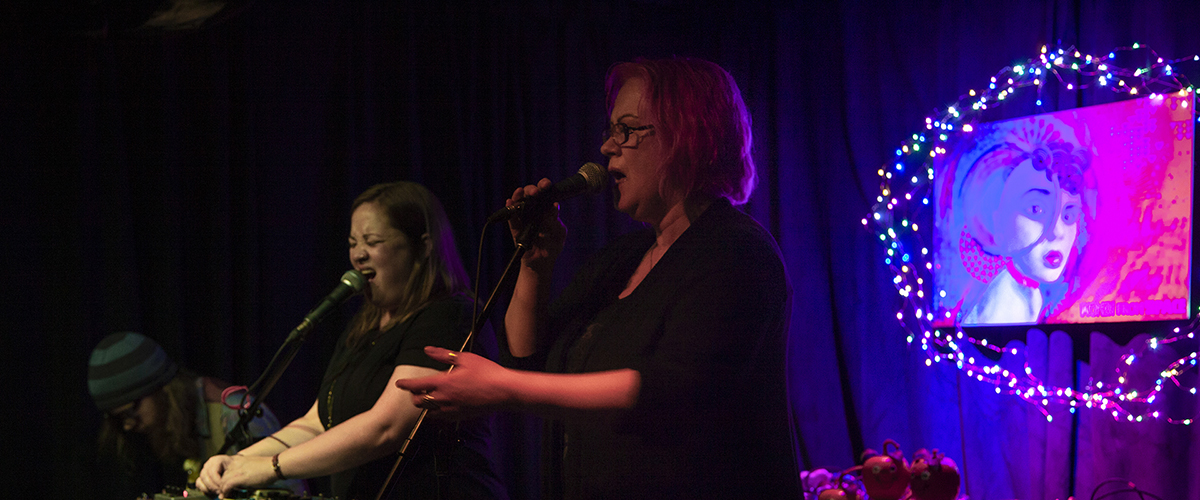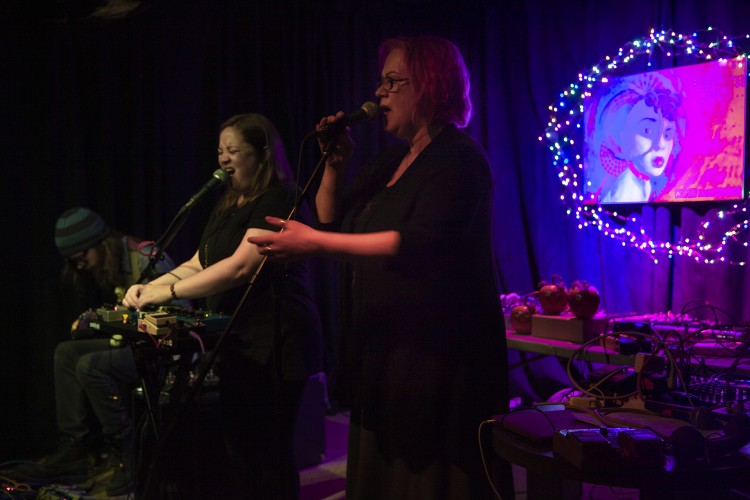 There is a strong do-it-yourself ethos in the improvising music community in Toronto, and a dearth of venues that regularly book free jazz. When more open shows do occur – such as the recent Tony Malaby/Nick Fraser performance at The Rex – they tend to feature older, more established musicians, or artists from the United States or Europe. In many ways, the free improvisation audience has more in common with the audience for contemporary classical music than it does with mainstream jazz listeners; as such, it isn't surprising that a number of the more frequent presenters of free improvised music in Southern Ontario (including Somewhere There and Arraymusic) are not-for-profits presenting classical-style series, or established festivals (such as the Guelph Jazz Festival & Colloquium) that are, at least in Guelph's case, connected to academic programs at postsecondary institutions. (The Tranzac also provides regular space for improvised music, often in the form of artist-curated residencies with monthly slots.)
On Monday, March 11, I went to Burdock Music Hall to attend the last of four evenings of music hosted by a new venture in the creative improvised music community: the inaugural Women From Space Festival. Women From Space aims to "celebrate women's artistic voices and achievements and to draw attention to an underrepresentation of women in free improvisation and jazz," and took place from March 8 to 11 at four different venues (in chronological order: Wenona Craft Beer Lodge, The Tranzac, Arraymusic and Burdock Music Hall).
With no fixed venue and minimal sponsorship, co-organizers Bea Labikova and Kayla Milmine – both of whom are active performers, and played in the festival – did an admirable job fulfilling the festival's mandate. Women From Space presented 16 acts and over 30 individual musicians in total; each evening featured four acts, and each act played a 30-minute set. Happy Apple, Allison Cameron and Joe Strutt's duo project, kicked off the festivities at Burdock on Monday. With the use of found objects (including the titular apples, which turned out to be apple-shaped bell shakers with painted-on smiles), contact microphones, a tape machine, a ukulele, and a variety of pedals, Happy Apple referenced both experimental music and noise band traditions. Cameron performed primarily on ukulele, and used a number of effects – from long delays to jagged, gated fuzz – in single-line passages, while Strutt tended to create more atmospheric sounds.
Vocalist Laura Swankey was in the second slot, presenting her solo voice project (Swankey's recent EP, Once More: for solo voice and electronics, was covered in the October edition of The WholeNote EP Review). While Happy Apple's performance was open and exploratory – they played one continuous set that came, eventually, to a natural conclusion – Swankey's was tightly-composed, and was made up of a handful of individual songs. Most of Swankey's solo compositions are built on minimal lyrics, that repeat, build on themselves, and transform throughout the course of a song; they resemble the work of a singer/producer such as James Blake as much as they do mainstream jazz, free or otherwise. Fresh from a residency at The Banff Centre, Swankey displayed an admirable command of her voice and her pedals throughout her carefully-crafted, technically accomplished set.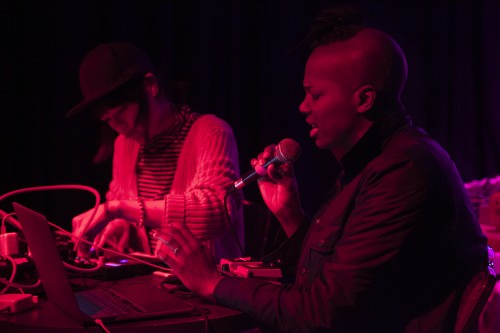 Prices Easy and New Chance – also known, respectively, as Aisha Sasha John and Victoria Cheong – performed in the second-to-last set, presenting several medium-length pieces that featured Cheong on creative DJ duty and John on voice. Each piece was built around a first-person narrative sketch, which John performed with spoken word, singing, and a variety of vocal effects, deployed to add emphasis and create unique texture throughout. The narratives followed a certain kind of dream logic, moving quickly from scene to scene and interlocutor to interlocutor, and were deliberately difficult to parse; near the end of the set, as part of the performance, John spoke about the power of illegibility, and the important role that illegibility can play in artist/activist resistance to cultural hegemony.
Following Prices Easy and New Chance, the trio Plastic Babies – comprising Swankey on voice, Patrick O'Reilly on guitar and Christine Duncan on voice – performed the final set of the evening. Plastic Babies has been playing together for some time, and, of the evening's four acts, worked most within the framework of the free jazz tradition. Duncan is, probably, one of Canada's leading improvised music vocalists, and is able to access an incredible range of vocal devices, from rapid-fire machine-gun stuttering to rounded operatic vowels. Plastic Babies' set ended with a round of enthusiastic applause, and, judging by the full house, a very satisfied group of festival attendees. Though still in an early stage of development, Women From Space has established itself as a valuable festival with excellent potential for future growth; it will be interesting to see where it goes from here.
The Women From Space Festival ran from March 8 to 11 at multiple venues (Wenona Craft Beer Lodge, The Tranzac, Arraymusic and Burdock Music Hall) in Toronto.
Colin Story is a jazz guitarist, writer, and teacher based in Toronto. He can be reached through his website, on Instagram and on Twitter.