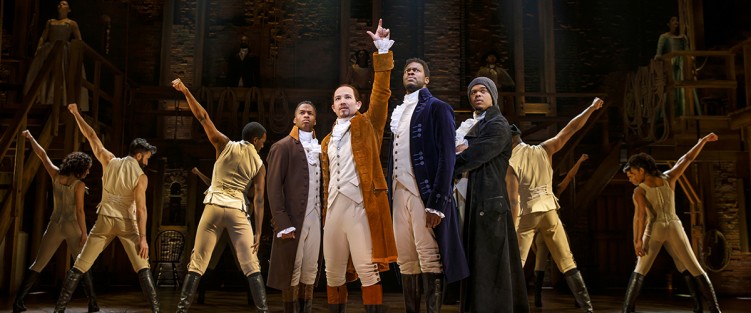 "I'm just like my country, I'm young scrappy and hungry, and I'm not throwing away my shot."
On February 12, I finally had the chance to see the musical Hamilton, Lin-Manuel Miranda's famously hip hop biography of America's lesser-known founding father, and first Secretary of the Treasury, Alexander Hamilton. It has been a long five-year wait for Hamilton fans in Toronto since the show debuted at New York's Public Theater in February 2015 to immense popular and critical acclaim, moving to Broadway just months later and almost sweeping the Tony Awards, as well as being awarded that year's Pulitzer Prize for Drama. The show has continued to be showered with accolades, nearly unanimous raves, and a Grammy Award for the already six-time platinum-selling original cast album – which many fans have learned by heart, but hasn't been seen in Toronto until now.
How does a touring production making the show's Canadian debut live up to that sort of reputation?
My fingers were crossed as I took my seat, my expectations so high that I didn't think they could be met. By intermission, however, I was a full convert, dazzled by the immediacy and urgency of the storytelling, the layered detailed brilliance of the libretto, the perfectly matching music – a heady mix of hip hop and R&B ballads with bits of Brit pop and traditional Broadway mixed in – and the superb staging of Thomas Kail melded with the idiosyncratic choreography of Andy Blankenbuehler.
The opening is almost subversive in its subtlety. There is no overture, just a lone figure entering the stage to quietly ask, "How does a bastard, orphan, son of a whore/and a Scotsman, dropped in the middle of a/forgotten spot in the Caribbean by providence/impoverished in squalor/grow up to be a hero and a scholar?" It almost slipped by without everyone being aware that something magical was beginning. Meanwhile, the golden, space-filling, multi-level set began to fill with figures in 18th-century dress, and we were swept into the thrilling, intoxicating ride of Alexander Hamilton's unlikely rise from his obscure birth on a Caribbean island to a life in New York, urgently wanting to make his mark, to play a leading role in the American Revolution and the creation of the new nation.
"I'm just like my country/I'm young scrappy and hungry/and I'm not throwing away my shot!"
Joseph Morales (who led the Chicago company) is a magnetic Hamilton with a clear, strong voice and a vibrant sympathetic presence, making us feel every emotion on his journey. Equally strong and a great foil as Hamilton's friend and later enemy Aaron Burr, is Jared Dixon. Part of the brilliance of the book is this pairing of opposites. Hamilton is fiercely passionate, his emotions on his sleeve, while Burr, much more opaque about his own motives, cautions him to "talk less, smile more," to "wait and see" rather than jumping into revolution or innovation.
Part of the thrill of the show's storytelling is also that all these "dead white men" (and women) are played by Black, Latin, and Asian performers, even – and there has been some questioning of this – slave owners such as Washington and Jefferson. This isn't "blind casting" but, as Miranda has expressed it, this is "the story of America then told by Americans now." The lone white actor (other than some members of the ensemble) is Neil Haskell, who has a lovely time portraying England's King George III, the one character who is mostly seen alone onstage, and who sings in a vaudevillian Brit Pop style, with clever tongue-in-cheek lyrics highlighting a disbelief in his "revolting" colonial subjects' actions.
This casting strategy works, along with the music and verbal style, to make the urgency of the story feel as if it were happening today. Ironically, of course, Hamilton debuted when Barack Obama was president of the United States, and it did feel as if that country was entering an optimistic new era, whereas now not only the US but other places around the world are facing new forces of oppression, and there are new – or should I say old? – battles to be fought.
Perhaps this change in our social context is partly why the second half of the show felt less inspiring. The headiness of the success of the revolution gives way to the building of the new nation. It isn't as easy to keep the urgency and energy high onstage as politics and factionalism get in the way of accomplishment, though the Cabinet debates – played as rap battles – are fun, and the dueling scenes pulse with tension.
Part of the issue with this particular production is that Warren Egypt Franklin as Thomas Jefferson, while full of energy, is rather over-the-top in his portrayal of the brilliant but eccentric statesman, and his diction is so unclear that it is hard to follow and become engaged with the details of the political situation. The personal side of Hamilton's story also bogs down a bit here, as Stephanie Jae Park as his wife Eliza is not a terribly nuanced actor, though Darilyn Castillo as his fatal love interest Maria Reynolds is very effective, and Ta'rea Campbell as Eliza's sister Angelica (Hamilton's "intellectual soulmate") makes a welcome brief return after her strong presence in Act One.
It feels a bit as though Miranda is trying to cram too much into too short a time, and it would be nice if there was a more rousing, inspiring finish, to send us out still as full of hope in the future as at intermission. A flawed second act notwithstanding, this is a "must-see" production for its passion, ambition, and innovation. It plays in Toronto until May 17.
The Canadian premiere of Hamilton runs until May 17, 2020, at the Ed Mirvish Theatre, Toronto.
Jennifer Parr is a Toronto-based director, dramaturge, fight director, and acting coach, brought up from a young age on a rich mix of musicals, Shakespeare and new Canadian plays.