Setting the Mass" (composing music for the Kyrie, Gloria, Credo, Sanctus/Benedictus and Agnus Dei) has for centuries been a central task for Western composers. The result is generally considered to be a window into heart of the composer in question, and a signal example of their piety and devotion. A public performance of a Mass is a way for people engaged in worship to pray, mourn, celebrate and in general to commune with others in praise of an elliptical, elusive, but deeply felt presence that is commonly known as God.
Or is it? Who or what do you worship when you hear a musical setting of the Mass text? Do you even worship at all?
These days, when a Mass-setting by a famous composer is as likely to be heard in a concert setting as in a church, how does a worshipful attitude manifest itself? Does one venerate the conductor? The composer (easy to venerate, since they are most likely to be dead)? Does one revere the sonic phenomenon of the very music itself, and the sensitivity and skill of the musicians involved? Perhaps we celebrate the familiarity of the experience – another night out in the company of the Verdi Requiem, or the yearly pilgrimage to a performance of Mozart's famous D minor setting.
To what degree are concert-goers especially concerned with the ostensible object of all the musico-devotional fuss – the Christian God? If you happen to come from a non-Christian faith tradition, or profess to atheism or agnosticism – as many people filling a concert hall might well do – do you simply ignore the devotional texts and concentrate instead the music? In doing so, are you inescapably engaged in some kind of blasphemous process that's likely to get you in trouble with your in-laws?
It's probably safe to say that a concert performance of a Mass is neither a religious rite nor an exercise in group conversion. But there is unquestionably a qualitative difference between the above event and a symphonic concert or evening of chamber music: a sense of occasion and ritual, an echo of ancient paths newly trod. Even when neither concert-goer nor composer is especially devout – Rachmaninoff was not known for his piety, though a performance of his All Night Vigil might convince you otherwise – both the texts and the music continue to draw our fascination.
The concert Mass is really a phenomenon of the 19th century onward, and there are several examples of this kind of setting in the weeks ahead.
Fauré's beloved Requiem setting had its premiere in the Paris church at which he was music director from 1896-1905. But it has continued to live in the concert hall, and it's a very inviting piece for people of all backgrounds. Its delicate transparency and serenity have always seemed to me to evoke a dreamlike, pre-Christian world of classical balance and reserve. The Pax Christi Chorale perform it on October 24, along with music by English composer S.S. Wesley (2010 marks the 200th anniversary of Wesley's birth).
On November 5 and 6, Kitchener's Da Capo Chamber Choir teams up with the Kitchener-Waterloo Symphony in a concert of music by Schubert and Schumann. The choral part of the evening is Schubert's Mass No.2 in G. Schubert wrote six masses, and this setting was written in 1815, when the composer was 18 years old. Structurally, the Mass in G is clearly indebted to Mozart and the Austro-German Mass tradition of the 18th century. But this setting also has the Schubertian quality of deceptive simplicity, a sweet credulousness that at first masks and then reveals a deep core of emotion. The concert also features Schubert's "Unfinished" Symphony, an unfortunate name for a work that conveys a complete mastery of symphonic form, and never feels truly unfinished at all – as does, for instance, Mozart's renowned but (it has to be said) sketchy D Minor Requiem.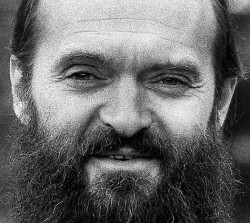 Murray Shafer is most likely Canada's pre-eminent composer, and Arvo Pärt is surely the most popular living composer currently setting sacred texts. Hampered with a kind of composer's block in the 1960s, Pärt actually found creative inspiration in settings of sacred texts from medieval and renaissance eras. Pärt's large-scale compositions are perfect examples of sacred works that have lived and breathed most often in concert spaces, often for audiences far removed geographically and philosophically from the Slavonic church traditions from which he draws his texts. On November 7, Soundstreams Canada assembles 180 singers from their University Voices programme, conducted by Tõnu Kaljuste, in a concert of works by these two composers, "The Mystical Worlds of Pärt and Schafer."
The Toronto Symphony Orchestra and Toronto Mendelssohn Choir's performance of Janáček's Glagolitic Mass on November 10 and 11 is a highlight of this season. I can't recall a recent date in which it was performed in this area. Janáček writes in an idiom that blends both erudition and a rhythmic, sensuous appeal, and his Glagolitic Mass has proved as enduringly popular to audiences everywhere as his operas have become. The unusual name of the Mass (the English translation morphs the beautiful Czech Mša glagolskaja into a strange cross between a ominous-sounding geological landform and mouthwash) refers to Glagolitsa, the oldest known Slavic alphabet. Janáček, enchanted by the sound of the language, assembled rather chaotic translations of the Mass texts, delighting concert-goers, infuriating linguistic scholars, and providing headaches for generations of choral singers accustomed to nice, safe languages like French, Italian, German, and good old Church of England Latin. Janáček's work takes place as part of a potentially riotous concert that includes Tchaikovsky's Marche Slav Op. 31, Prokofiev's bumptious Lieutenant Kijé Suite, and a new work by Czech composer Krystof Maratka.
Consult The WholeNote's listings for more choral concerts taking place over the next few weeks.
Benjamin Stein is a tenor and theorbist. He can be contacted at: choralscene@thewholenote.com.