What do we mean when we use the word "expressive" to describe a musical performance? Among musicians, it's a common but somewhat amorphous term that comes in handy when being critical. It can be a stick to beat performers one dislikes (or envies), as in, "I was surprised at how inexpressive her singing was." It's a useful term for music teachers and conductors: "Let's try that again with a little more expressiveness, shall we?" It's also great fun to throw around in undergraduate music theory and analysis classes. State, "Now, let's think about what Brahms was trying to express with this melodic use of a minor sixth." Then add, "and this will be on the exam," and enjoy it as the students' demeanours shift from blank to terrified.
In choral music performance, in which singers are most often reading from printed music, the goal of expressiveness is to move beyond a bland execution of the notes on the page, using timbre, dynamic contrast, diction, blend and balance to find some kind of meaning or point of view in the musical performance. One particular challenge in the journey towards musical expressiveness is that what constitutes appropriate expression for one composer or musical era is entirely inappropriate for another. A darker timbral colour appropriate to German choral music of the late 19th century may be too heavy for music of the Italian Baroque, which generally benefits from a light and transparent sound.
The situation becomes more complicated as one engages with early music, which often has been revived after centuries of neglect. It is odd to think that Vivaldi's Four Seasons, for instance, considered by most people to be a classic for the ages, was not in fact a universally popular piece until well into the 20th century. In this case and many others like it, the absence of a continuing tradition has compelled musicians to engage in a process of rediscovery. Although performance practice of early music is thoroughly informed by scholarship, research, virtuosity and decades of experimentation, we have to acknowledge the paradoxical reality that the performance tradition of much ancient music is a young and almost entirely modern construct.
The reason that the modern musical world might go to such trouble to revive the past is the subject for a future column. In the meantime there are a number of concerts on the horizon that illuminate the question of expressiveness in music, especially early music.
Toronto's Tallis Choir, which specializes in music of the Italian and English Renaissances (very roughly, the 15th to early 17th centuries) attempts to bridge the gap from a modern concert performance to the original conditions in which this choral repertoire was first performed. Accordingly, their concert on December 4 featuring the music of Giovanni Gabrieli (c1554–1612) will attempt to create the conditions of a midnight Christmas mass in 1605, performed in St Mark's Basilica in Venice. Gabrieli's music was specifically composed to take advantage of the architectural structure of the Basilica. His singers were split into two full and separate choirs situated in two different sections of the church, and the call-and-response structure of the music (also known as "antiphony," but only by particularly expressive musicians) created wonderful sonic effects. Other works by Gabrieli will be on the programme as well.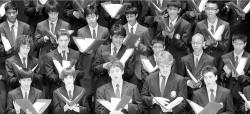 In a similar vein, Toronto's St Michael's Choir School is an institution that has dedicated itself in part to maintaining a performance tradition of choral music from the early Renaissance up to the modern era. Rather defiantly eschewing the larger Catholic church's modern predilection for folk or popular music, the school, which was founded in 1937, represents one of the pockets of the world in which a working understanding of a composer like Gabrieli has never entirely stopped. Many skilled Canadian singers and conductors have got their training at "St Mike's." The central work of their December 11 Christmas concert is English composer Ralph Vaughan Willliams' Fantasia on Christmas Carols. This work, written in 1912, has taken on the status of a chestnut, and it contains songs that have become well-known favourites for carol aficionados. But Vaughan Willliams was part of the folk music revival that took place in England at the end of 19th century, and in writing the Fantasia he was engaged in an act of reconstruction and promotion similar to the early-music musicians of a later generation (in intention if not in execution).
In choral performances of Christmas carols, so prevalent at this time of year, both expressiveness and early music performance practice can be central questions. Carol concerts are almost without exception musical compendiums that can encompass 13th-century chant, 20th-century gospel music, and everything in between. Choirs must be able to execute well music from wildly disparate stylistic areas.
Among the many excellent carol and seasonal concerts presented this December, space permits only a sampling (please consult The WholeNote listings for a comprehensive guide). The Etobicoke Centennial Choir's Sacred Traditions will feature sacred music from the African, Jewish, and Christian repertoire, and play host to the Nutifafa African Performance Ensemble on December 4. Toronto's Upper Canada Choristers will feature Cantemos, the UCC's Latin-American ensemble, in a December 10 performance of music from, and inspired by, the Medieval epoch; and on the same day the Oakville Choral Society will present Bach's Magnificat and other works. The Alexander Singers will include some Chanukah music along with Christmas repertoire on December 11. And the Cantemus Singers will present a Christmas Oratorio by the pre-Bach German composer Heinrich Schütz on December 12.
As this magazine also includes listings for the new year, I will finish by mentioning two concerts to watch for after Christmas: The Elmer Iseler Singers join the Esprit Orchestra on January 30 for a concert that includes Ligeti's Lux Aeterna and Montreal composer José Evangelista's Symphonie minute; and on February 5 the Mississauga Festival Choir performs a concert in support of the mentoring organization Big Brothers/Big Sisters of Peel.
Benjamin Stein is a tenor and theorbist. He can be contacted at choralscene@thewholenote.com.