This March, the emphasis is clearly on contemporary Canadian opera. There are five on offer: four as part of Tapestry New Opera Work's annual Opera to Go, plus the world premiere of Charles Wilson's Kamouraska.
Tapestry's Opera to Go has a special "Press Opening and Community Night" on March 26 at the Living Arts Centre in Mississauga, followed by its regular run March 27-29 at the Enwave Theatre at Harbourfront. All four works are conducted by Wayne Strongman and directed by Tom Diamond, and all involve a troupe of five well-known singers in various groupings. This year the troupe consists of soprano Sally Dibblee, countertenor Scott Belluz, tenor Keith Klassen, mezzo-soprano Krisztina Szabó and baritone Peter McGillivray.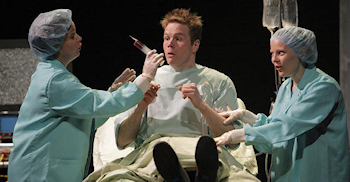 The first half of the evening is devoted to three short operas. The first is The Virgin Charlie by William Rowson to a libretto by Taylor Graham. Labelled "a dark comedy in retro musical theatre form," the opera concerns the drag performer Charlie, who has an unexpected visitation from Virgin Mary. The second work, One Lump or Two, by Glenn James and librettist Sandy Pool, concerns four ladies who want to poison their husbands and meet over tea to plan the deed. The third short opera is My Mother's Ring, by Stephen Andrew Taylor to a libretto by Marcia Johnson. Here, the central character is convinced that two strangers are posing as his parents.