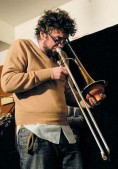 There might be a growing number of spots around town that serve polite jazz with your dinner, as inspired by Diana Krall's, but not many rooms specifically cater to free, avant-garde, or experimental branches of the music. Thankfully for those who enjoy straying from the mainstream, trombonist-composer Steve Ward (www.myspace.com/stevewardtrombone) has been booking live music at the Tequila Bookworm at 512 Queen Street West.
Currently enrolled in the Jazz Performance Masters program at the University of Toronto, Ward maintains a busy schedule as a performer, composer and teacher. I emailed Ward some questions about booking the room.
How did the music policy at the Tequila Bookworm come to be?
I started booking jazz here last July, and originally I was booking one act a week. Eventually the owner and I agreed to expand the policy to three nights a week, and now four. The rent is extremely high on Queen St W so therefore it was hard to get any money out of Tequila for the bands, etc which is why we have pay-what-you-can shows.
What are musical characteristics you look for when booking?
Enthusiasm, sincerity, creativity. Artists looking to evolve creatively in a live setting, that aren't looking for a brainless jobber.
What are the greatest strengths of the room itself?
Since I have no financial quota to fill I'm able to be adventurous with my programming. I'm interested in an environment where ideas are shared and challenged. Culture! The arts! It's time.
What are some of the challenges of the room?
One of the biggest challenges is communicating with the audience. Since we're playing for the tip jar it is important to be able to communicate with our audience and give them context of why we're making the music that we are. Most times its types of music they have little knowledge of, so it's time to educate!
Three acts you would recommend to readers for this month and why?
Tuesday September 8th: Lee Mason (from Amsterdam). Its always cool when a group from another part of the world wants to put on a show at a venue you book. Very interesting sounds. Shouldn't be missed. www.myspace.com/leemason
Saturday September 12: Chris Cawthray Trio. Its going to be a CD release, & I'm proud that Chris decided to have it at Tequila. They groove hard.  www.chriscawthray.com
Friday September 25: MiMo. These guys are great!!! Nothing like processing sounds underwater in a big bucket. You got to see it to believe it.www.mimomusic.com, www.myspace.com/mimoonmyspace
Ward's passion for this music is apparent not only in his playing but also in his booking. "I don't get paid to do this, and I have no other help. My motivation is art, it's what keeps me breathing. Please come support live music. ... Also we might be moving in the next couple of months so watch out on our website and Facebook for more info to come!!"
For all the news, including a possible change of location, visit: http://tequilabookworm.blogspot.com/