Two of November's operatic highlights – Iphigénie en Tauride (1779) by Christoph Willibald Gluck from Opera Atelier and And the Rat Laughed (2005) by Ella Milch-Sheriff from Opera York – provide a glimpse of just how wide ranging the artform of opera can be.
And the Rat Laughed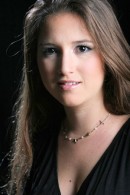 Opera York is now a resident company at the new Richmond Hill Centre for the Performing Arts. In previous years it focused primarily on Italian repertory classics and developed partnerships with York Region's Italian community. OY's new consultant Peninah Zilberman felt it equally important to appeal to the region's Jewish community, and brought this contemporary Israeli opera to the board's attention. The Opera York production, presented in partnership with the Sarah and Chaim Neuberger Holocaust Education Centre and UJA Federation of Greater Toronto, will be performed November 5, 7 and 8 in Hebrew with English surtitles. This will be not only the work's North American premiere, but the first performance in North America of a Hebrew-language opera.
Author Nava Semel based the libretto on her 2001 novel of the same name. The action of the opera, shifting among three time periods – 1943-44, 1999 and 2099 – examines how memories of an event are preserved and changed. Two cultural anthropologists of 2099 are resolved to uncover the origins of a myth they know as "Girl and Rat." They discover a report from 1999, when a schoolgirl interviewed her grandmother, a Holocaust survivor, to find out about her family history. As a child the grandmother was hidden in a cellar, a rat her only friend, and protected by the local farmers – except for a farmer's son who repeatedly raped her. When support money from the girl's parents ceases, the farmers take her to the local Roman Catholic priest and suggest he turn her in for a reward. Instead he saves her.
Einat Aronstein, who created the role in Israel, sings the role of the Little Girl. Adriana Albu plays the Grandmother that the Little Girl becomes and Dion Mazerolle is Father Stanislaw. Geoff Butler conducts and Penny Cookson directs. For more information and tickets visit www.operayork.com or call 905-787-8811.
Iphigénie en Tauride
From October 31 to November 7, Opera Atelier revives its 2003 production of Iphigénie en Tauride with a new cast in the principal roles. Croatian tenor Kresimir Spicer, last seen here as Mozart's Idomeneo in 2004, sings Oreste. Canadian tenor Thomas Macleay makes his OA debut as Pylade. And OA regular Peggy Kriha Dye is Iphigénie.
Gluck has long been revered for his "reform operas," with Iphigénie considered the culmination of his efforts. In a telephone conversation with conductor Andrew Parrott, I asked, "Why was Gluck considered so revolutionary in his time?" Parrott explained that Gluck's reforms were directed at "bringing the drama back into opera." The dominant form of the 18th century was the opera seria, best known to us through the operas of Handel. They are characterized by a strict separation of recitative and aria, and by the da capo aria in which the first section is repeated, albeit with florid ornamentation, after the second. According to Parrott, this type of opera was popular, and in Handel's case, has regained popularity "because they were written, for lack of a better word, for 'canary-fanciers.'" The opera's primary function was to showcase star singers rather than to tell a unified story.
The difficulty with opera seria is its inherent tendency to stasis. As Parrott notes, "By the second half of the 18th century the form had ossified and was in need of reform." Gluck banished the da capo aria so that a character's emotional state would develop rather than return to its point of departure. He abolished cadenzas and blended recitative with aria to move the action forward. Parrott says, "Gluck wanted to bring opera back to its origins as sung drama" and notes that "singers on 18th-century playbills were referred to as 'actors' not 'singers', since all actors were also expected to sing."
Although Parrott has nothing against modern productions, as long as they capture the true nature of a piece, he says the period productions of Opera Atelier make his job as conductor much easier because "there is no disruptive tension between the music and what I see on stage." What Parrott admires particularly in the direction of Marshall Pynkoski and choreography of Jeannette Zingg is their keen attention to detail and their emphasis on "getting the balance right among all the arts involved in opera." In particular, Parrott notes that OA singers learn "to act with their words, not only with their voices," just as would have been the case in Gluck's day. For more information about Iphigénie en Tauride, visit www.operaatelier.com.
Christopher Hoile is a Toronto-based writer on opera. He can be contacted at: opera@thewholenote.com.