Ramblin' Son, the sophomore release by blues songwriter, singer, guitarist and pianist Julian Fauth took home the Juno for Blues Recording of the Year. Fauth (www.julianfauth.com) plays every Tuesday night at Gate 403 along with James Thomson on bass, Tim Hamel on trumpet and, recently, guest drummer Paul Brennan. To quote Rambling Son's liner notes: "I now play 800 times a week, mostly for beer and tips, but I also do a lot of benefits, which don't include beer and tips." Please tip generously; this band deserves it.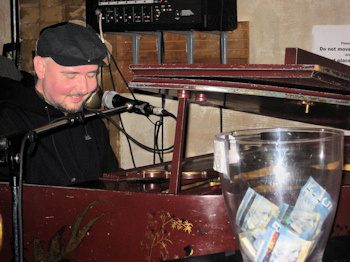 Julian Fauth
The Old Mill is an upscale, touristy landmark that romantically doubles as a picturesque inn and spa. At its intimate Home Smith Bar, indulge in lively live jazz every Friday and Saturday 8-11pm for a $12 cover charge. Ron Davis books both instrumental and vocal resident artists. Brand new: a permanent residency for the Russ Little Trio, Thursdays from 7-10pm. A $20 food/drink minimum applies per person.
Vocalist Terra Hazelton releases her anticipated sophomore album, Gimme Whatcha Got, at The Rex, May 30. This magical singer (www.terrahazelton.com) is perhaps best known for shining with the late Jeff Healey's Jazz Wizards. Today she sings and plays snare in the wildly entertaining Hogtown Syncopators every Friday from 4-6pm. Hogtown is rounded up by Drew Jureka on violin, alto sax and vocals, Jay Danley on guitar and vocals, Richard Whiteman on piano and James Thomson on bass.
Unconventional vocalist Tova Kardonne is a brave composer and astute arranger. The Thing Is, her Balkan-Jazz-Funk Fusion 8-piece band, is devoted to odd time signatures and raised elevenths; it's challenging, refreshing and highly rewarding in a real listening room (www.myspace.com/thethingismusic). The Thing Is performs at the Trane Studio May 31 at 8pm. (Note that The WholeNote's very own Jim Galloway gigs at The Rex at 9:30pm the same night.)