Sine Nomine
Medieval music – going back from about 1500 to as far as can be reliably discerned – is often regarded as too remote and strange for 21st-century ears. But go to a concert of Sine Nomine Ensemble for Medieval Music and you'll discover how exciting, multi-faceted and colourful this music is: rich with myriad forms, rhythms and expressions of life both sacred and secular.
The musicians who form the core of this ensemble – Andrea Budgey, Randall Rosenfeld, Janice Kerkkamp and Bryan Martin – are scholars, whose extensive research into the cultures and practices of medieval times have led to international recognition. Sine Nomine has also long been the ensemble in residence at the Pontifical Institute of Mediaeval Studies (the institute for advanced studies in medieval history and culture) in Toronto.
In their concert series, the group strives to bring to life the discoveries of their research, to present vividly a particular facet of medieval culture. Music is interspersed with readings from the day. You'll undoubtedly hear improvisation (always based on the practices of the time), and you might well hear the vielle, rebec and gittern, as well as voices, harp, lute and flute. Always informed but never pretentious, their intention is to "create performances which are intelligible and enjoyable to modern audiences, and which would not be wholly foreign to medieval listeners" (to quote the jacket of their CD A Golden Treasury of Medieval Music).
For their first concert of the season, the setting is North-Western Europe in the 13th to the 15th centuries. As suggested by the title, Missus est angelus Gabriel – Medieval music for the Annunciation and Nativity, the music and readings will illuminate the season of advent, the period of anticipation and preparation for Christmas.
The concert takes place on December 18 at Saint Thomas's Church. If you go, you'll be hearing a very special presence in the artistic community.
I FURIOSI

Of quite different mettle (but in a way not dissimilar in that they are not afraid to let "slices of life" come through in their presentations) is I Furiosi Baroque Ensemble. Its superb musicians – soprano Gabrielle McLaughlin, violinists Julia Wedman and Aisslinn Nosky, and cellist/gambist Felix Deak – began this concert series eleven years ago, as Gabrielle McLaughlin tells me, to have an outlet for their own ideas. "We had lots of unique ideas that we wanted to explore," she says. "The artistic freedom is quite refreshing."
The concept has led them to some mighty unusual programme themes, which, as Gabrielle explains, "come up all the time as we live our lives; it's just a matter of looking out for them. It usually happens that someone will think of something because of their situation, and that person will text-message all the rest of us. It looks something like this: 'Next season we have to do a garbage strike theme!' And the responses look like this: 'Ummm...what on earth would we play?' or 'Yes! I have four different operas about garbage strikes and we all know that Handel was an unemployed garbage collector!' Then we have a meeting before putting out the dates for the following year, in which we decide which of the many nutty ideas of the last year will work best."
But don't imagine that the music presented is less than wonderful, or tossed off without the greatest of artistic care: these four musicians remain true to their art and you'll hear some ravishing music-making presented with high spirits and a lot of imagination.
So do go to hear their next performance: I F's New BFF – a play on Paris Hilton's television show Paris Hilton's New BFF – which is a concert "about friendship and its importance, with maybe a little bit of reality show thrown in." Guests are two other fine violinists: Patricia Ahern and Cristina Zacharias. It takes place on January 29 at Calvin Presbyterian Church.
SOME OTHER CONCERTS IN THE NEXT TWO MONTHS
Dec. 11, 8:00 The world-famous Tallis Scholars make their Koerner Hall debut, in a concert of Renaissance polyphony by Josquin, Nesbett, Tallis and Byrd.
Dec. 11 and 12, 8:00 The Toronto Consort presents "A Spanish Christmas," in a very colourful concert of music from 16th and 17th century Spain and Latin America, with a full range of textures: guitars, percussion, winds, harp, keyboard and voices.
Dec. 12, 7:30 Cantemus Singers conducted by Michael Erdman, and joined by the Community Baroque Orchestra of Toronto ensemble, present "Nowell, Noël" – a delightful programme of seasonal carols and motets, including Charpentier's Messe de Minuit pour Noël.
Dec. 12, 8:00 Of the many Handel Messiahs abounding, Aradia Ensemble's "Dublin Messiah" promises to be unique, being a recreation of the first performance on April 13th, 1742 in Dublin. For this, Aradia's director Kevin Mallon has done extensive research into what were the special characteristics of the piece as heard on that day. Soloists are soprano Laura Albino, alto Marion Newman, tenor Nils Brown and bass Sean Watson.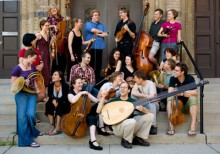 Dec. 13, 8:00 The Bach Consort and Toronto Choral Artists present "Cantatas for Christmas" by J.S. Bach – three cantatas actually, plus the third part of Bach's Christmas Oratorio. This wonderful group, founded by TSO bassist Tim Dawson, has at its heart the intention to present Bach's music in the spirit of giving: the proceeds of its concerts are donated to charity, the performers donating their services to this end. The recipient of this concert's proceeds is the Primate's World Relief and Development Fund.
Dec. 19, 8:00 The Toronto Chamber Choir presents a joyful and surprising celebration entitled "Medieval Scandinavian Christmas," featuring Finnish and Swedish music from a collection of late medieval Latin songs, Piae Cantiones (many of which are still beloved carols).
Jan. 1, 2:00 and Jan 2. 8:00 The Musicians in Ordinary plus guests Christopher Verrette, violin, and Sara Anne Churchill, harpsichord, present "A New Year's Day Concert," with music of Vivaldi, Conti and others. Last year's single concert was a huge success, so this year they've added a second performance.
Jan. 20, 22 and 23, 8:00 The Kitchener-Waterloo Symphony presents "Beloved Bach." Violinists Linda Melsted and Stephen Sitarski are the soloists in Bach's Concerto for Two Violins in D Minor; other music is by Lully, Corelli, Leclair and Rameau.