To have lasted more than 40 years, any musical organization must be doing something worthwhile. To do so under the same leadership is even more remarkable. Flutist/composer/conductor/teacher Robert Aitken has been at the helm of New Music Concerts since its inception in 1971 and when the lights go up on NMC's September 23 season opener at the Betty Oliphant Theatre all the trademarks of Aitken's NMC stewardship will still be on display.
I will return to the topic of NMC later in this column. But September 23 is, after all, well into the month. And unlike some years when Toronto's new music presenters step deferentially aside till the Toronto International Film Festival train has roared through town, this year, the city's contemporary music presenters are managing to maintain, if not a roar of their own, at least a very healthy murmur of new music throughout the month, right from the get go.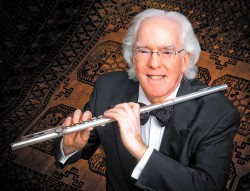 INTERSection: On Saturday September 1 for instance, Intersection hits Yonge-Dundas Square from 2pm to 10pm. Previously dubbed the Toronto New Music Marathon, this sixth annual installment of the event, hosted by Contact Contemporary Music, will feature on its main stage, among others, New York's Bang on a Can All-Stars, an ensemble Contact artistic director Jerry Pergolesi considers to be his own ensemble's most important influence. The following day, Sunday September 2, Bang on a Can and Contact will take their act to the intimate surrounds of the Music Gallery for a concert titled "Ambient2 — The Music of Brian Eno." Bang on a Can will perform their groundbreaking arrangement of Brian Eno's classic ambient record, Music for Airports, with film by Frank Scheffer, and Contactwill perform their arrangement of Eno's Discreet Music, with film by New York artist Suzanne Bocanegra.
Special as that more intimate September 2 event may turn out to be, it's the Saturday Yonge-Dundas affair that is at the heart of INTERsection's special role in kicking off the new music season. The eight to ten hours in Yonge-Dundas Square bring new music to new ears, throwing up all kinds of interesting sonic juxtapositions, some intended, some accidental, as part of the merry mix. You will find this mix both on the main stage and in the event's "Marketplace," which features booths by organizations involved in new music. You never know what you will find. For example, at The WholeNote booth, if you are the first one at the event to actually wave this article in my face and point to this paragraph, I will arrange for you two tickets to any one of the concerts mentioned in this column! (For more detail on INTERsection, visit contactcontemporarymusic.ca.)
Gallery 345: From Yonge-Dundas on the Saturday and the Music Gallery on the Sunday, the new music action then shifts to Gallery 345 on Monday September 3 where Canadian pianist Vicky Chow, a Bang on a Can ensemble member since 2009, lays on an evening of new music of breathtaking variety and scope. Dubbed "a monster pianist" by Time Out New York and "one of the new stars of new music" by the Los Angeles Times, Chow, according to her bio, "also produces and curates 'Contagious Sounds,' a new music series focusing on adventurous contemporary artists and composers at the Gershwin Hotel in New York City."
It will come as no surprise to readers who followed this column last season that Gallery 345 is hitting the ground running, right from the beginning of September. Including Chow on September 3, I counted no fewer than six concerts at Gallery 345 that would qualify for a NNN (Triple N for New) rating in this column, along with a whole handful of others where healthy doses of new music are intermixed with other repertoire.
Friday September 7, for example, it's the German-born accordion/piano duo DUO+for+CANADA (Ina Henning and Stefan Schreiber) in a program of works by Ives, Kagel, Anna Höstman, Lan-Chee Lam, Andrew Staniland and Hans Joachim Hespos. And on Friday September 21 it's a program titled "Alone: Contemporary Work for Solo Clarinet and Bass Clarinet," performed by clarinettist/bass clarinettist Bob Stevenson. The versatile Stevenson has been active in the new music community since the early 70s, including a stint as artistic director of ArrayMusic. His September 21 program (George Perle, Salvatore Sciarrino, Alexander Goehr, Pierre Boulez, Daniel Foley, James Tenney, Elliott Carter and Vernon Duke/Ira Gershwin) only partially reflects the wide-ranging versatility of this interesting player.
And there's more: "The Art of the Duo Piano" with Piano Pinnacle (composer/pianist Iman Habibi and pianist Deborah Grimmett) on Saturday September 22; and a program titled "Ballades From The North" by pianist/composer Adam Sherkin on Sunday September 30, that ranges from Hétu, Saariaho and Sherkin himself, to Chopin, Barber and Liszt.
Appetite whetted? Visit gallery345.com for details on all these, and much more besides.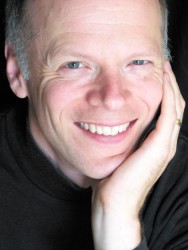 From Gallery to Gallery: Heading back towards town from 345 Sorauren to Queen and John, Sunday September 2's Contact/Bang on a Can concert is not the only noteworthy early September event at the Music Gallery. As part of an initiative they are dubbing The Post-Classical Series, September 8 is the date for a concert titled "The Canadian Art Song Project." The concert features William Shakespeare – Five Shakespeare Songs (2002) by Colin Eatock (recently released as a CD), Beloved (2005) by James Rolfe and Dennis Lee, and a work titled The Colour Blue by Erik Ross/Lorna Crozier. Performing will be two stellar alumnae of the COC's Ensemble Studio, both now mainstage regulars, soprano Virginia Hatfield and mezzo-soprano Lauren Segal. Gregory Oh, the Music Gallery's post-classical curator, accompanies.
The Canadian Art Song project, according to information from the Music Gallery, was founded by tenor Lawrence Wiliford and pianist Steven Philcox, to advocate for the performance of Canadian song repertoire. It's an initiative we'll be keeping an eye on.
The involvement of tenor Wiliford and composer Rolfe in the project also serves as a neat segue back to the September 23 launch of New Music Concerts' 42nd season, because Rolfe will have two works on the NMC program, the second of which will be sung by Wiliford.
"I met Lawrence when he sang a role in the COC's production of my Swoon in 2006 — he was part of their ensemble," recalls Rolfe. He was a great presence vocally and dramatically; he later sang with the Toronto Masque Theatre in their revival of Orpheus and Eurydice in 2010. Beloved was premiered in 2006 by Toca Loca, who commissioned the piece, courtesy of Greg Oh, their co-artistic director. (Nice that he's accompanying them this time too.)"
The first Rolfe work on the NMC program, Worry,which opens the concert, was written in 2001. The second, Winter Songs (2012), is an original NMC commission. "Worry was a Continuum commission originally" says Rolfe. "They put together an 8-cello show, and Mark Fewer played the solo violin part. They also issued a CD of that program. Curiously, this is my very first commission from NMC, and their first performance of any piece of mine, though I think I've been performed by everyone else in Toronto. Never too late!"
Though he hasn't been on NMC's programs, Rolfe is no stranger to NMC's concerts. "I have attended many of their shows since coming to Toronto in 1979, including some with personal appearances by the greats: Cage, Berio, Xenakis, Andriessen, many others. I think Bob [Aitken] forged a vital connection to the wider new music world, one which helped me develop my own work and aesthetic."
Talking to Aitken briefly on the phone in preparing this column, we joked a bit about the numerology of the fact that this is NMC's 42nd season. "The bible says that seven fat years are always followed by seven lean ones, so you're going into the last of seven lean years," I told him. True to the man, what it sparked from him was reflections on the difference in curatorial approach when budgets are tight, for example, programming concerts that are built around repeated clusters of instruments— such as this one, where cellos, solo or multiple, feature in all but one of the works. But with Aitken the financial tail doesn't wag the artistic dog. Expect a concert as carefully crafted as any, and here's to the return of the fat years!
David Perlman has been writing this column for the past season and a bit, and is willing to entertain the notion that it's someone else's turn. He can be reached at publisher@thewholenote.com.