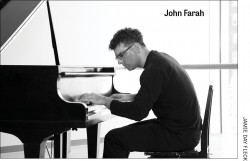 Part of what makes writing this In with the New column so stimulating for me is getting a front row seat on what exactly is defined as new moment by moment in the midst of our information-saturated and cross-pollinated culture. It's an absorbing challenge. If you've been following this column for a while, you'll recall an earlier discussion here, about the Music Gallery's XAvant series, that focussed on how to define the current impetus to combine influences and genres within music. The XAvant series, each fall, has presented music that highlights wildly diverse ways in which various musicians and artists have created their own version of this trend, and how various descriptive words and labels, such as urban abstract music or transculturalism arise to define this music. (As part of the XAvant series in the fall of 2013, a talk was even given on the movement towards going beyond traditional categories and identifying music as genreless.) It is through festivals such as XAvant that we are given the opportunity to encounter all at once numbers of artists with unique takes on this phenomenon – get to taste from the whole menu of what's cooking in this area.
This month we get to see what happens when you combine musicians who are exploring these edges in their own individual work, and mix in an insatiably curious creator who works in another art form. In Toronto-based choreographer and dancer Peggy Baker's latest work, locus plot, which runs from April 24 to May 3, we get a glimpse of what is possible when this happens. Through my conversations with the two musical creators of this piece, composer John Farah and vocalographer Fides Krucker, it became evident that this collaboration is creating something beyond what we normally think of as interdisciplinary or even music for dance. Something expanding beyond what even interdisciplinary might imply.
As a composer and pianist, Farah has been working with Baker for the last few years. As she became more familiar with the breadth of his compositional style, she began planning ahead to create a piece that would make "full use of him, and allow him to pull out all the stops," as Farah describes it. What makes Farah's work unique is the way in which he combines quite disparate styles and sound sources to create his own signature sound palette. A true creator of genreless music, you could say. To give you a more detailed overview of his style, I refer you to a review of his most recent album Between Carthage and Rome published in The WholeNote's February issue. It turns out that these qualities of Farah's music were exactly what Baker wanted from him – to use all parts of his toolbox in wrestling with how to co-exist musically with both Baker's dance and the vocal soundscore created by Krucker.
Farah's main musical pillars for the piece include what he calls sound sculpture (or electroacoustics) created through a circuitry of electronic software-based effects and processors alongside synthesizer sounds; also quasi-tonal and modal minimalist piano music; highly rhythmical beat-oriented electronics; prepared piano John Cage style; and elements of improvisation. Part of the challenge for Farah was to create a large-scale work where all these quite different components come together to create an artistic whole that makes sense for the listener.
The result is not a series of movements that stop and start, but rather a continually evolving piece that Farah himself performs throughout. For example, at one point in the piece there is music for electronic drums that has a definite rhythmical beat, which then changes into an atmospheric electronic sound with no specific pitch that floats for four minutes before developing into a solo piano part that is mic'd and processed using different effects in the computer.
Work on the piece began with a math lesson by mathematician and playwright John Mighton, hence the word locus in the title. Locus is a math term referring to a set of points plotted in space to create different shapes such as a parabola or circle. During the performance a series of Mighton's original drawings, diagrams and notes is projected onto the back screen, which helps the audience make the connection. Before any of the music was composed, Farah thought that the math focus would mean his music would be primarily complex rhythms, but that hasn't necessarily happened. In fact, Baker has encouraged him to follow his impulses upon seeing what the dancers are doing, which at times has meant that the music he intuitively wants to compose creates a contrasting accompaniment to the dancer's movements.
One example of this occurs in the first 12 minutes of the piece. As the composer describes it, "the dancers are doing what appears to be a strange type of square dance where they look at each other, then switch places, look at each other again, and switch places again. What you see is the constant creation of geometrical forms. Each time the way in which they switch places is different, so you're watching the same thing happening with endless permutations. I began with music that I thought I should compose – something rhythmical to match the movements of the dancers, but it turned out that's not what Peggy wanted. I ended up with something that just floats and sits there, using drones and minimalist piano patterns with reverb and delays. It's something I never would have done normally if it wasn't for the type of freedom that this piece allows me. It's a freedom within certain constraints."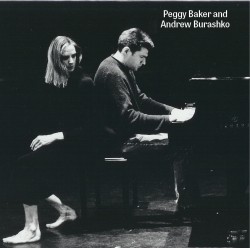 It may seem that Farah's full toolbox of musical possibilities interacting with Baker's choreography would make for a complete work. But that was not all that Baker had in mind for the piece. Something had stirred in her creative mind as a result of working with music designer and vocalist Krucker on Baker's piece land / body / breath. In this work, the soundscape of folk songs that Krucker and singing partner Ciara Adams were performing was expanded to include various sounds of bird songs and calls performed by the dancers. This made such an impression on Baker that when Krucker showed up for her initial meetings to work as dramaturge on locus plot, Baker asked: "What sounds do you want the dancers to make?" Thus a surprised and delighted Krucker became the vocalographer of the piece, a term Baker created to describe her role.
Krucker's approach to the voice has been rigorously and expertly cultivated over many years, incorporating both the traditional bel canto style along with the body/breath extended sound approach of the Roy Hart tradition. In February's WholeNote, I wrote about Barbara Hannigan, another singer who combines these two traditions. Paying attention to how a sound is made in the body has become Krucker's primary way of working, both as a vocal performer of contemporary music and as a teacher and mentor of voice practice. So it's completely natural that she would approach working on locus plot from this perspective of embodied sound.
Upon seeing what the dancers were doing with their bodies, she imagined what she would do vocally if she were capable of doing that particular movement. She then translated her sounds into ones the dancers would feel comfortable making within their skill set. A series of tightly scripted improvisations were then set up, connecting specific movements with qualities or textures of sound and experimenting with how one sound interacts with another. Some sounds are quite quiet, and others very loud and extended, encompassing a range of sounds that we often equate with the emotional states of "sad, mad and glad." In the end, the dancers are making sound more than 50 per cent of the time resulting in an extensive nonverbal voice score. This way of working has also sparked Baker's creativity. "Because she is so used to looking at movement, there's something obvious about it for her," says Krucker. "But as soon as the dancers are having to breathe in a certain way to make the sounds, all of a sudden it engages her in a very different way."
One interesting feature Krucker noted in our conversation was that because the point of departure for the piece is based on math formulas, it creates an ambiguity as to who the dancers are in relation to each other. "We never need to know if those two men are lovers, or brothers for example, even though specific feelings in the body can still arise." The piece is not just about love or other common human experiences that are the usual focus of staged works, although all sorts of human stories could be made out of what we see and hear.
The challenges of a three-way collaboration with two musical creators are met because of Baker's respect for everyone's contribution and creativity. To balance the two soundworlds of musical score and the more vulnerable vocal sounds of the dancers requires an attentive adjustment of timing, tone and volume. The result of this alchemy of ingredients is, in Krucker's words, "something that feels holistic, and also very new. It's a complete melding of art forms, beyond being interdisciplinary, in a very practical, three-dimensional flesh and bones way, and this weaving is completely held in the dancers' bodies."
One might wonder too, how much of the math legacy was left after being filtered through the creative artistic process. But after watching a rehearsal, Mighton was beaming and reflected that it was a deeply satisfying meditation during which he was able to feel and hear the math in it all. I suggest that witnessing this weaving and melding of elements and forms be high on your priority list for the end of the month.
Music Gallery Events: Continuing on with the Music Gallery's tradition of presenting hybrid style artists, they team up with Contact Contemporary Music to perform Professor Bad Trip on April 18. This work, in three sections, is written for 11 instruments and electronics and combines techno, psychedelic rock and spectral techniques. It's described as the Doors meet Pierre Boulez, with the Doors definitely winning out. Written by the late Italian composer Fausto Romitelli, this piece has created a cult following with its appealing mix of hypnotic ritual-like repetitions while riding the wave between order and chaos. His work is seen as having a major influence on a whole generation of younger composers. The evening also includes The Michael Eckert Large Earth Ensemble, who combine elements from various world cultures with classic rock guitar and synth sounds. For rock and roll fans who like an experimental edge to their music, this entire evening is not to be missed. Other Music Gallery events in April include British improvised music masters Trevor Watts and Veryan Weston on April 24; and the Blythwood Winds present their "Hogtown Roundup" concert featuring three world premieres by Toronto composers Barnes, Rowson and Lau on April 13.
John Tavener: One of Britain's most distinguished liturgically inspired composers Sir John Tavener will be honoured by Soundstreams in a concert on April 16 to commemorate his passing in 2013. Tavener's Song for Athene, performed at the funeral of Princess Diana, exemplifies the skill of this composer who knew how to create contemporary works that were accessible to many. Tavener wrote over 30 works for British soprano Patricia Rozario, who will be performing four of them in the Toronto concert along with Choir 21 and the Toronto Children's Chorus. Christos Hatzis (Canada), Jonathan Harvey (Britain), and Vanraj Bhatia (India), all of whom create music that expresses a spiritual dimension, will also be represented in the program. Tavener's The Lamb is part of a Mooredale Concerts event on April 12 that features the Dublin Guitar Quartet and also includes compositions by Philip Glass, György Ligeti and Leo Brouwer.
Infiltration! This month also offers several opportunities for concertgoers of classical and baroque music to hear premieres of new Canadian works. Here's a listing of these events:
The Toronto Symphony Orchestra premieres Ararat by Mychael Danna, which is a newly created suite of music from the soundtrack originally written for Atom Egoyan's film by the same name. April 22.
Tafelmusik premieres a newly commissioned work entitled "Snow White" by Michael Oesterle in their concert entitled Baroque Misbehaving. The concerts run from April 23 to 28.
Sinfonia Toronto performs Alice Ho's "Mira for Violin and Orchestra" on May 2.
Syrinx Concerts Toronto presents Sofya Gubyak performing Jean Coulthard's Piano Sonata No.2 on May 3.
Women's Musical Club of Toronto presents a world premiere by Christopher Mayo, a WMCT commission, performed by the piano quartet Ensemble Made In Canada May 7.
In With The New (Briefly):And finally, a listing of other concerts of new music happening in Toronto and beyond:
New Music Concerts: The Ukrainian-Canadian Connection, with dompositions by Silvestrov, Pauk, Pidgorna, Kulesha, Tsepkolenko, April 4. (see my March WholeNote column for more details).
Canadian Music Centre: Amarok Ensemble performs works by Morlock and Murphy, April 14.
Kitchener-Waterloo Chamber Music Society presents the Penderecki String Quartet in a concert of Serbian and Croation Chamber Works, with works by Katarina Čurčin, Michael Pepa, Norbert Palej, and Sanja Drakulić, April 15.
Sara Constant concert, with works by Denisov, Lutosławski:, Meijering, Stockhausen, and Tanabe, April 24.
Music Gallery at Arraymusic: Tim Berne's Snakeoil plus Barnyard Drama, April 29.
Royal Conservatory:Glenn Gould School New Music Ensemble performing works by Canadian composers Alexina Louie and Andre Ristic, and others. April 30.
JunctQin Keyboard Collective performs works for piano solo, piano six hands, toy piano, melodica and electronics, including a premiere by Jason Doell, winner of the 2014 Emerging Composer Award, May 3.
Wendalyn Bartley is a Toronto-based composer and electro-vocal sound artist. sounddreaming@gmail.com.