"New music in new places" is the name of a Canadian Music Centre initiative, now in its eighth year, to assist Canadian composers in "taking their music out of the concert hall and into the community where they work and live." The CMC's annual contribution to Scotiabank Nuit Blanche, Toronto's annual all-night contemporary art festival, has been one of these events. This year, from 6:59pm October 1 till sunrise, it's bells and more bells at Chalmers House (the CMC's home on St. Joseph) "blended with electronic musical material and video projections in a continuous and evolving flow." Titled "The "Crown of the Bell," the installation is by Rose Bolton and video artist Marc de Guerre. Its companion piece, downstairs, by sound artist Barry Prophet is titled "Post Apocalyptic Belfry" and features glass lithophones, percussion, and electronics. For those of you getting October off to a flying start, it will be a great way to untune and retune your ears for what promises to be a chock-a-block new music month.
Gallery 345
"New music in new places" may well be the name of a CMC initiative, but it also describes a trend. Take Gallery 345 for example. South of Dundas Street W. at 345 Sorauren Avenue, five or six blocks west of where Dundas and College meet, this L-shaped gallery space is definitely "on the wrong side of the tracks" for a new music audience that traditionally gets nose bleeds north of St. Clair and fumbles for passports east of Parliament.
The place reminds me of the Music Gallery in some ways; even 30 people feels like a decent crowd, and you can cram a bunch more than that through the doors. It has the advantage of two decent pianos well maintained, a bright sound, and the cheerfully genre-blind, indefatigable curatorship of gallery owner Edward Epstein.
Even a partial list of concerts there gives you some idea: Saturday October 1 is AIM Toronto's Interface Series with Sylvie Courvoisier, piano and composer, Marilyn Lerner, piano, and others. Wednesday October 5 it's "The Art of the Piano Duo: Pieces of the Earth," a CD release concert featuring original compositions and improvisations by John Kameel Farah and Attila Fias, pianos. "Improvisation unfolds over the evening" says their press release. Sounds like just the spot for it.
October 8 its "Trikonasana." Friday October 14 it's Arraymusic with "The Piano Music of Ann Southam" (mentioned in this month's cover story). Saturday October 15 Toy Piano Composers Ensemble is there with "Avant-Guitars," the 13 member Aventa Ensemble on Friday Oct 21; Jurij Konje on October 27; Vlada Mars on October 28; and the Tova Kardonne Octet on October 29.
Wuorinen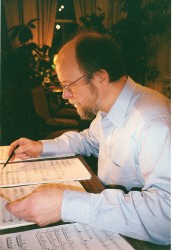 Arraymusic's October 14 foray into Gallery 345 also provides a neat segue into New Music Concerts' next big event. It was Arraymusic artistic director and gifted percussionist Rick Sacks who persuaded NMC's Robert Aitken to take on the challenge of presenting Charles Wuorinen's "Percussion Symphony for 24 Players," the work that anchors NMC's upcoming October 30 concert at the Betty Oliphant Theatre. The work includes two pianos and a celesta (think Sugar Plum Fairy) and an entire platoon of top-flight percussionists, so it's not that often performed. Rarely enough, in fact that Charles Wuorinen himself is coming to town to direct. (He will, as others before him, be astonished by the depth of musical talent in this town.) If you are going, get there 45 minutes ahead for Aitken's "Illuminating Introduction." Aitken is as deeply into the music as his interviewees and it makes for fascinating listening. There's also a new piece by Eric Morin on the programme, matching Joseph Petric on accordion with the Penderecki String Quartet — that's three accordionists in two concerts this season already for NMC! And those of you who also take in the Women's Musical Club concert on October 16 will have an all too rare opportunity — the chance to hear a new work (Chris Paul Harman's Duo for flute and cello) performed twice in four days!
MassBrass
Betty Oliphant Theatre, 8pm Oct 30, will be the place to hear the drums go bang and the cymbals clang. But for the horns that blaze away, Koerner Hall, five hours earlier, is the place to be. MassBrass promises to be one of those Soundstreams initiatives that Lawrence Cherney is famous for — throwing together players who'd otherwise be more likely to cross paths in an airport, adding a conductor who responds to what he hears, and watching the sparks fly. Copland, Schafer, and works by André Ristic (world premiere), Gabrieli and more will be the ingredients. The Stockholm Chamber Brass, Simón Bolivar Brass Quintet, and True North Brass will provide the heat. And conductor David Fallis will stir the pot.
Esprit's Stirred So Much
Speaking of Koerner Hall, Alex Pauk's Esprit Orchestra was the first of the core new music presenters to move its whole season to Koerner. Having an extra 400 seats to sell was a daunting challenge, but with curiosity about the new hall high last season it was a good time to take the plunge. After all, without extra seats how do you take on the challenge of outreach? This year they are taking it a step further, switching from a Sunday night format to include three week nights, making reaching out to a school audience viable.
First of these week nights is Wednesday October 19 and it's a stirring programme, as befits a band big enough to make some complex noise in a hall big enough to handle it. Douglas Schmidt's new work on the programme "The Devil's Sweat" caught my eye: "Carbon Concerto for carbon cello and orchestra" it says. Solo cellist Shauna Rolston's carbon fibre cello is billed as "indestructible" so it sounds like she's in for an unorthodox workout!