In the end, listening and creating with sound is totally intertwined with the ear – that part of human anatomy that is always active. It's not so easy to close our ears when we don't want to hear something, unless we use earplugs or noise-cancelling headphones. In contrast, it's relatively straightforward to shut out visual images – we just close our eyes. But just because we're always hearing something, doesn't necessarily mean we are actually listening. What happens when we are truly listening is complex, and the stakes can get really high when we're exposed to sounds that are unusual, unfamiliar or even shocking.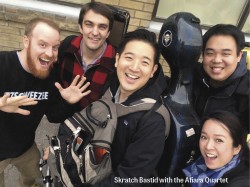 21C: Starting from Skratch. This is exactly one of the driving forces behind the upcoming 21C Music Festival – to create opportunities for the presentation of courageous music, music that stretches the ear beyond what it's used to. Now in its second year and presented by the Royal Conservatory of Music with its partners, the festival runs from May 20 to 24 and offers 60 works with 34 world, Canadian or Ontario premieres. One of the distinguishing features of this festival will be the bringing together of artists and creators from different genres and backgrounds to generate a lively onstage dialogue of new sounds and ideas.
One of the more fascinating collaborations of 21C is happening on May 23 between Afiara (the Royal Conservatory's resident string quartet), four composers and DJ artist Skratch Bastid. Afiara violinist Timothy Kantor told me that at the heart of this combination is a meeting along the borders, a place that Bartók believed provided the most fertile ground for innovation. This particular meeting ground seeks to create a remix of what makes Toronto sound unique, given its unique cultural mix.
What is a Toronto sound? is the question under investigation. All four composers, each coming from their own distinctive backgrounds, were originally commissioned to write new works for string quartet that were influenced by popular styles. But what makes this project stand out is that things don't stop there.
Each of the four pieces was then recorded and handed over to the renowned Maritimes-born, Toronto-based Bastid, who has created a worldwide following based on his versatility in different dance music styles and his capacity to always stretch himself in new directions. He remixed the string quartet recordings using all sorts of sounds, songs and genres as part of his response, including recording snippets of string sounds he needed from the Afiara members. To keep the musical conversation going, his remixes were then given back to the composers, who then created a new piece for string quintet in response. This step gave the composers an opportunity to listen to"the Bastid's" sonic imaginings and then take specific ideas even further to create a live performance piece for the quartet and Bastid. All three stages of the process will be presented at the concert, so the audience can listen in to how the whole project developed. All twelve pieces will also be available on the upcoming CD Spin Cycle scheduled for release in mid-May.
21C: Saariaho. One of Europe's leading composers, Finland's Kaija Saariaho will be the featured artist this year, with five Canadian premieres of her works in two different concerts. Saariaho will also be involved as a mentor in Soundstreams' week-long Emerging Composers Workshop with the final pieces performed as part of the festival. Saariaho's music is distinctive for its ability to take the listener deep into the terrain of the subconscious through the use of sound colours or timbres. In an email correspondence I had with her recently, she talked about how different sounds, and the sounds of nature, as well as the acoustics of specific places, have always been important to her, beginning when she was a child. Her brilliance lies in how she has translated environmental sound, as well as aspects of human behaviour such as dreaming, into musical form. Because her sound palette encompasses both instrumental and electronically based sounds, she has devised ways of creating seamless connections and transformations between these two worlds. Her approach is to use the results of a computer-based analysis of how specific sounds are constructed to create harmonic and timbral structures for her music.
You can hear how this alchemical mix of scientific analysis and creative imagination comes alive on the Koerner Hall stage on May 21 at 8pm. This concert includes three solo instrumental pieces as well as the North American premiere of her piano trio Light and Matter. Saariaho drew inspiration for it while watching the continuous transformation of the colours and light visible on the leaves and tree trunks in a nearby park outside her window. Her vocal work Grammaire des rêves (to be performed May 23 at 5pm) translates research on how our moving body affects our dreams into musical sounds and form. It will also be interesting to hear the results of her mentoring the four composers chosen to participate in Soundstreams's Emerging Composers Workshop in the After Hours concert on May 22. Saariaho sees her role as encouraging composers "to search for their personal compositional voice, without trying to calculate what could be the most successful path to take."
21C: At a Glance.Other collaborations that promise stimulating results include the opening 21C concert on May 20 which features a RCM-commissioned work from drum legend Stewart Copeland of The Police – a duet between himself and Canadian pianist Jon Kimura Parker. This work presents another approach to the remixing idea, with Copeland and pianist Kimura Parker combining their own pieces with renditions of the likes of Stravinsky, Prokofiev, Bach and Ravel. And yes, this theme of the mixing up of elements continues on May 22with the 70-minute multimedia work Illusions, which combines new compositions from three different composers (Nicole Lizée, Gabriel Dharmoo and Simon Martin), Ives' Piano Trio and visuals (projections designed by Jacques Collin, a longtime associate of Robert Lepage).The festival concludes May 24 with a concert of music influenced by Latin American musical styles and rhythms presented in partnership with Soundstreams. Acclaimed guitar virtuosos Grisha Goryachev and Fabio Zanon, Argentine bandoneon player Héctor del Curto, Colombian singer María Mulata and pianist/composer Serouj Kradjian will be setting the tone on stage, along with two world premieres by Canadian composers Andrew Staniland and Mark Duggan.
Because the list of new premieres and featured performers is extensive, I recommend checking out the complete schedule for the festival.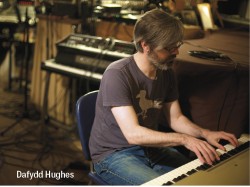 Subtle Technologies Festival. Returning to this article's opening theme of the human ear, it's inspiring to see how the scientific world is expanding its reaches into sound. Now in its 18th season, this year's Subtle Technologies six-day festival, "3rd Ear: Expanded Notions of Sound in Science and Art," runs May 25 to 31. Combining speaker and panel sessions with performances in sound, music, film and other multidisciplinary works, the festival is exploring the mind- and body-altering properties of sound, including a look at how we can work with sound as a resource for better living and social progress. Toronto's Continuum Music is a major partner in this endeavour, and will be hosting an evening of team collaborations on May 28 between leading Canadian composers, scientists and contemporary artists. An example of the nature of these collaborations is the piece titled Ice, an immersive mixed-media and sound installation created by media artist Fareena Chanda, composer Jimmie LeBlanc and scientist Stephen Morris. To experience the full sensory process of water slowly transforming into ice, audience members are invited to completely commit their mind and body to the installation space. Other musical performance events include an algorithm-based improvisation piece by Ian Jarvis, and a collaboration of computer music and live video projections with Dafydd Hughes and Rob Cruickshank on May 29. Other highlights include the participation of composer/performers Kathy Kennedy and Nicole Lizée. Again, I encourage you to check out the full listings for the complete lineup.
Other New Music concert and opera events: May offers new listening ground for innovations in instrumental music and opera.
Tapestry Opera presents a new twist on the traditional Medea myth with a world premiere collaboration between librettist Marjorie Chan and Scottish composer John Harris. Presented at the revamped industrial space Evergreen Brick Works, M'dea Undone runs from May 26 to 29 and offers a gripping investigation into power, influence and identity for the 21st century.
Over at the Music Gallery, the Emergents series continues on May 8 with a concert curated by Ilana Waniuk from the Thin Edge New Music Collective. She offers us an evening that combines a new work by Icelandic cellist-composer Fjóla Evans and a performance by Architek Percussion. Evans' piece combines Icelandic folk songs, found sound, extended cell, and rímur, a unique way of intoning poetry. Architek Percussion specializes in the performance of experimental, minimalist, multidisciplinary and electroacoustic chamber music.
The veteran New Music Concerts series winds up its concert season on May 17 with a concert curated by Montrealer Michel Gonneville who brings together the music of Henri Pousseur, with whom Gonneville studied in the 1970s, and other influential Belgian composers. One aspect of Pousseur's legacy was the vision he had for composition – that it will need to go beyond the production of finished objects and move towards a process that is more collective in nature.
Improvisation and Beyond: Certainly the rise of improvisation embodies the spirit of collective creation, and Toronto is becoming increasingly known as a hub for such activities. In May alone, several events demonstrate this trend, many of which are happening at the Arraymusic space and are ongoing monthly events: Arraymusic Improv Sessions on May 5 and June 2, Somewhere There on May 10, Audio Pollination on May 12, coexisDance on May 16, eVoid on May 22, and Toronto Improvisers Orchestra on May 31. Other concert events at the Arraymusic space include a multimedia performance work by Linda Bouchard on May 8, a Martin Arnold Curated Concert on May 18, and the Toy Piano Composers performing with TorQ Percussion Quartet on May 23 and 24. The Arraymusic ensemble presents their own events this month as well: the "Cathy Lewis Sings" concert on May 4, the Arraymusic Ensemble in their fundraising concert on May 6 and the annual Young Composers' Workshop Concert on May 30 featuring premieres of electronic works with original projections by OCAD students.
Over at the Canadian Music Centre, there are two piano-focused events this month: JunctQin Keyboard Collective with premieres from Canada and around the world on May 3; works by Fung, McIntyre and Murphy on May 13. More Canadian piano works are part of Adam Sherkin's concert at the Jane Mallet Theatre on May 9, with works by Gougeon, Murphy, Coulthard, Eckhardt-Grammaté and Sherkin. And a special evening of improvisation making use of Gallery 345's beautiful grand pianos happens on May 7 with Marilyn Lerner, Casey Sokol and others.
New in Choral: To close out this very busy month, I note several contemporary works included in a variety of choral concerts:
May 4: Elmer Iseler Singers: Canadian and international composers.
May 9: Bell'Arte Singers: Hatfield, Somers, Sirett and others.
May 9: Orpheus Choir of Toronto: Enns and Gjeilo.
May 24: Oriana Women's Choir: Luengen, Chan Ka Nin, Freedman, Healey.
May 29: Exultate Chamber Singers: Henderson, Enns, Somers, Freedman, Healey.
Wendalyn Bartley is a Toronto-based composer and electro-vocal sound artist. sounddreaming@gmail.com.