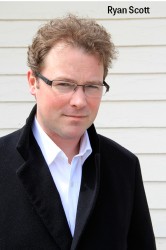 As we sit here in late February waiting for spring to show its face, you could say that we're waiting for a change to happen, a change that we know from past experience will eventually occur, although there are not many signs of it currently visible. Spring's emergence is of a particular kind – from one known state to another, by a process of predictable transformation. But sometimes things that emerge come from an unknown place of obscurity into an unpredictable prominence.
In the world of contemporary music (as elsewhere in the arts) the idea of emergence is often bandied about – as in the phrase "emerging composer" or "emerging artist." As such it is often used to help define funding structures and award guidelines. The distinction being drawn seems to be between those who are emerging and those who have been around for a while – the established ones. Often in our minds, the word becomes synonymous or interchangeable with being young and just starting to make one's way in life.
Not necessarily so, according to two presenters/curators I spoke to recently: Ryan Scott, current artistic director of Continuum Music, and Christopher Willes, curator of the Music Gallery's March concert in the Emergents Series.
Continuum: In the life of Continuum Music, this season is special; they are celebrating 30 years of existence, having formed in 1985. At the beginning, Continuum was a collective of composers and performers with associations to the University of Toronto's Faculty of Music. As emerging musicians they were frustrated with the lack of opportunity to hear and present the new works they were composing or interested in performing. So, as an act of rebellion, they formed Continuum Music. The list of those initially involved in the first few years is an impressive one; many of them are still making waves in the new music world.
One of those early rebels was flutist Jennifer Waring, who went on to become Continuum's artistic director for the next 29 years. Under her guidance, Continuum has become a major presenter and performing ensemble of new music, commissioning over 100 new works, engaging in touring and recording opportunities and developing interdisciplinary and educational projects. One of her signature contributions was establishing a strong connection with composers and performers in the Netherlands, resulting in a festival of Dutch and Canadian music, film, literature and visual arts in 2008/09 and an ongoing relationship with many Dutch composers. Another early member was Barbara Hannigan, who appeared on the cover of last month's WholeNote. It's clear that Hannigan's continual commitment to being an ambassador for new and original repertoire was seeded in those early heady days of her involvement with Continuum.
Percussionist Ryan Scott has also had a long association with the organization – initially as a performer, and now taking over as artistic director. This year's anniversary concert, "30 More!," on March 8 is a program entirely curated by Scott and showcases the spirit that lies at the heart of Continuum's mandate. Combining the works of UK-based seasoned composers Richard Ayres and Joe Cutler, the very young and unknown Turkish composer Mithatcan Öcal and two Torontonians, Anna Höstman and Jason Doell, Scott has created a program that amplifies Continuum's rebellious roots.
When asked about what is important for him in selecting works for programming, Scott told me that "as artistic director, I search out composers who are experimentalists by nature, who are committed to pushing boundaries and are searching for something different with each new piece rather than relying on a seasoned bag of tricks. You can find these types of composers at any level – emerging or established."
Interestingly, Doell and Höstman are both recent recipients of Toronto's Emerging Composer Award (2013 and 2014 respectively). Scott points out that although they are both considered emerging, they are actually people who are not so young in life but entered into composition after engaging with other interests and commitments. That process results in a different kind of emergent creative voice, one already informed by life experience. Fittingly, the Toronto award is not defined by age, but open to anyone who takes up composing at whatever stage of life.
Doell was commissioned to write a new work for this concert after Scott heard him perform on his percussion installation during last year's Emergents Series at the Music Gallery; the selection of Höstman's piece was inspired by the brilliant performance given last season by ensemble pianist Laurent Philippe in Continuum's presentation of Höstman's Singing the Earth.
As for the other works on the March 8 program, Scott defines Richard Ayres' music as zany, off the wall and creating unusual combinations of sounds. Joe Cutler's music is intriguing for its continual surprises, taking the listener onto an unanticipated path. And as a twist on the "emerging" theme, the music of the 22-year-old Öcal has a maturity and hyper–complexity to it that Scott finds shockingly brilliant.
Another aspect of Continuum's 30-year legacy is the commitment to educating the younger generation. Following closely on the heels of their anniversary celebration is a concert on March 31 that features the compositions of students from across the GTA. This project is a collaboration between Continuum, Toronto District School Board music education advocate Doug Friesen and composer Christopher Thornborrow. The student scores are initially created in a software designed for intuitive and creative decision-making. Thornborrow then takes these pieces and arranges them for the instrumentation of the Continuum ensemble. These professionals then become the principals in a larger ensemble made up of student performers which performs all the selected pieces at a public concert. This program has received strong support at multiple levels, and is pioneering a new way of introducing the creative process of music-making to the younger generation.
Emergents at the Gallery: One of the major opportunities for the emerging creative voice has been the Emergents Series at the Music Gallery. Each concert in the series is curated by someone whose own work was presented during the previous Music Gallery season. The March 19 concert has been programmed by Christopher Willes whose own work explores ideas of the spatialization of sound. His choice of artists – Geoff Mullen and Jonathan Adjemian – indicates that he too has a distinctive take on what constitutes an emerging artistic voice. Both Mullen and Adjemian are individuals who've actually been practising artists for some time now, but have recently changed direction and begun exploring new materials and approaches to working with sound. For Willes, this qualifies them as emergents.
Mullen's work expands the idea of site-specific work while simultaneously challenging and re-evaluating the idea of composing to include new ways of hearing and listening. A week prior to the concert, Mullen will begin work in the Music Gallery space, setting it up somewhat like an audio installation and using old recordings from the Music Gallery label as sound sources. It will be an experimental process, placing sounds in the space and observing what happens to both. The installation however will not be static; Mullen himself will be animating the space through his own improvisations and interaction with the recordings. When the audience arrives, Mullen will be continuing his week-long process, with audience members witnessing what is occurring at that moment in time. Willes describes Mullen's way of working as "site-responsive," achieved in part by turning the microphone in on itself. The acoustics of the space itself play a significant role in what one hears, and by using the recorded sounds of the gallery's history, the early spaces of the Music Gallery (St. Patrick Street and Queen/Dovercourt) are brought into the present. Everyone will be listening to the final results.
Adjemian's interest with sonic materials focuses on text, language and perception in combination with live electronics. Coming from a theatre and philosophy background, he will use actors and dancers as speaking voices in his new piece created for this concert. The result will be a constant wash of text that will collide and rebound with the creation of sound waves and difference tones coming from the electronic instruments as well as being generated through software. His interest in difference tones, which are like phantom or ghost sounds that occur when two tones are sounded simultaneously, was inspired by U.S. composer Maryanne Amacher who loved to create novel acoustic events that could even make you lose your balance. We'll have to wait until March 19 to experience the outcome of Adjemian's sound experiments.
To wrap up this discussion of what constitutes an emerging artist, I'd like to give the last words to futurist author and visionary Barbara Marx Hubbard who spins the idea somewhat differently. Not only does the term refer to new turns on the life cycle or the taking up of a different direction, she states that "we are all emerging into what we are becoming."
New Music Concerts: An inspiring co-presentation on March 14 between New Music Concerts and Organix, a local presenter of organ music, will bring together German percussionist Olaf Tzschoppe, who plays with the legendary Les Percussions de Strasbourg, and Hungarian organist Zsigmond Szathmáry. The concert comprises an evening of music composed by six different European composers including a piece by each of the two performers. It's rare to hear the organ within a new music context, and in this concert, the organ from the Church of the Holy Trinity will be on display. The concert will repeat on March 15 at St. Cuthbert's Anglican in Oakville.
Next up after that in the NMC season will be an April 4 concert exploring the Ukrainian-Canadian connection with works by three Ukrainian composers and two Canadians – Esprit's Alex Pauk and Gary Kulesha. The Ukrainian composers include Karmella Tsepkolenko, a prolific composer and festival organizer in her native country, and a newly commissioned work from Anna Pidgorna, a Ukrainian-born, Canadian-raised composer and media artist. Featured soloist on the program is soprano Ilana Zarankin who will premiere a new oratorio by Tsepkolenko.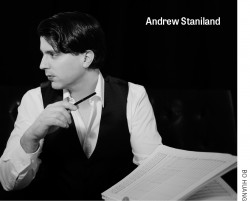 Esprit: The March 29th concert by Esprit Orchestra's, with guest soloist Stephen Sitarski on violin, will be the last of their season. The prgram creates an intriguing dialogue between music and science-inspired ideas. For example, the world premiere of Andrew Staniland's Vast Machine creates a sonic version of the Large Hadron Collider particle accelerator, the largest single machine in the world, located in a tunnel beneath the Franco-Swiss border. Scott Good's world premiere of Resonance Unfolding 2 digs into the realm of spectral composition, an aesthetic that focuses more on timbre than melody, and how sound evolves over time. This idea of continuous transformation is also the focus of Color by French composer Marc-André Dalbavie. The program is rounded out by a piece by Chinese composer Xiaogang Ye.
Quick Picks:
Canadian Music Centre Presentations:
Mar 13: Portrait of a Pioneer: The Vocal Music of Jean Coulthard.
Mar 14: JUNO Awards Classical Nominees' Showcase. (in Hamilton)
Mar 27: "Baroque Meets Modern in The True North!" Works by Gougeon, Dawson, Arcuri, Manzon and others.
Others:
Mar 1 & 10: Audiopollination
Mar 4 & 7: New Creations Festival, Toronto Symphony Orchestra.
Mar 6: TorQ: Music by Steve Reich, Louis Andriessen and Jamie Drake.
Mar 7-8: DaCapo Chamber Choir: Concert includes the 2014 NewWorks winning composition.
Mar 21: "Hands, Fists, Arms" – a program featuring solo piano works by Cowell, Lachenmann, Ristic, Saunders, and Ustvolskaya – performed by Stephanie Chua at 8pm at the Music Gallery [Not in the Listings]. For more information visit musicgallery.org..
Mar 27: Philip Thomas premieres piano works by Skempton, Wolff and Finnissy.
Mar 27: Maureen Batt. Crossing Borders: A Celebration of New Music from New Mexico to Nova Scotia.
Mar 29: Toronto Improvisers' Orchestra
Wendalyn Bartley is a Toronto based composer and electro-vocal sound artist. sounddreaming@gmail.com