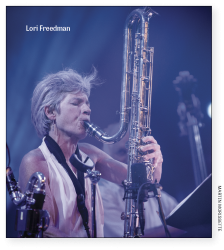 To say it's a month of music by Canadian composers may seem like a redundant statement for this In with the New column, as the majority of concerts I write about always feature music from our homegrown composers, improvisers and performers. However, this month is still a bit unusual, in that almost all the upcoming concerts consist of exclusively Canadian works. One composer, Linda Catlin Smith, is so lucky as to have three of her works performed all in the same weekend. Even she admits that's a rare occurrence.
X Avant: A good example of this is the signature concert of the Music Gallery's X Avant festival, which runs from October 15 to 18. On October 16, the MG is presenting "MG Encore" as part of the celebrations marking their 40th anniversary. In the October 2014 issue, WholeNote published an article written by Andrew Timar that spoke about some of the early history of the MG and the curatorial direction of the current artistic director David Dacks. The MG Encore concert takes a retrospective look at the gallery's history by programming six compositions by people who have been part of that history. The entire festival, "X Avant X: MG40," combines two concerts that provide a look back at the past and two concerts that look forward toward the sounds of the future. I spoke with Dacks about his vision for the festival.
The Encore concert was curated by Chelsea Shanoff with help from Dacks and a few members of the MG community. Using information sent to them by the Canada Council that listed all the grants they had ever received, they noted the number of pieces that had been commissioned by the MG. That list made them aware of what Dacks called "premiere culture" – the fact that so many commissioned pieces receive one performance but fail to have a second life. The Encore concert addresses that phenomenon in part and it influenced the final selection of repertoire (which was also based on a balance of musical style, era and gender).
The concert will present works by composers Ann Southam, Allison Cameron, Martin Arnold, Linda Catlin Smith, Erik Ross and Nic Gotham and will be performed by a custom-built ensemble made up of new generation players, thus giving these younger musicians an opportunity to acquaint themselves with music they may not have heard before. The concert is also a tribute to Nic Gotham with a performance of Miniatures, his final composition. These instrumental works were composed for an online installation related to Martha Baillie's novel The Whale's Ear, also known as The Search for Heinrich Schlögel. Postcards with excerpts of the novel were sent to friends who recorded themselves speaking the words on the card. The music was composed to accompany these extracts, and can be heard online on the In situ page at schlogel.ca along with images of the postcards and novel extracts.
Going beyond the MG Encore concert, there are a few other retrospective events to bring your attention to, both at the MG40 festival and in the upcoming season. On the festival's opening night – October 15 – there will be a concert featuring the current members of the CCMC, the original free music orchestra that established the MG in 1976, coupled with a performance by frequent MG visitor, clarinetist Lori Freedman, performing several new commissions, including one of her own works. Before the concert begins that evening, there will be an historic gathering of former MG artistic directors who will discuss their different approaches and the artistic direction they took while at the helm.
Forthcoming in this year's season, Dacks is programming a retrospective of Musicworks magazine, which began as part of the MG. For that event, the OCADU Student Gallery will be turned into an installation of the Musicworks cassette archives. The season's final concert, MG Finale, is being designed as a counterpart to the Encore event. It will be a remix concert using materials from the audio and visual archives of the MG to create an installation-like experience. Stay tuned for the date on that one.
The two other concerts of the festival present an array of music that represent current and future trends and reflect the programming interests of Dacks, who loves to create hybrid evenings of music from a variety of genres and traditions. On October 17, Tyondai Braxton, son of Anthony Braxton, will perform his complexly structured music for laptop followed by New Chance, a project by Toronto multidisciplinary artist Victoria Cheong. The evening concludes with the sounds of Pantayo, an all-women gong ensemble. The following night, October 18, the rhythms heat up with the Absolutely Free trio, electronic artists who rap and create, in Dacks' opinion, the most interesting hip-hop music in Toronto, particularly in how they work with words.
Dacks concludes our conversation by saying that there is no better time for the Music Gallery to exist. "People are looking for complex statements of what's going on in their lives in this city. In a beer-driven environment you just don't get to think about these things, or present them that often." The Music Gallery has served as a home for experimental thinking about music and sound for several generations, creating really strong memories for so many people. And with those memories come strong viewpoints of what the MG is and what it should be. "That's OK – better that there is creative tension rather than all smooth sailing," says Dacks. To that end, the public is invited to contribute their voices and opinions at a Town Hall gathering on the afternoon of October 17 as the MG opens it up for input as part of their strategic planning activities.
New Music Concerts. NMC opens their new season in a similar way as last year with a concert by a touring Canadian ensemble. This year it's the Vancouver-based Turning Point Ensemble led by Owen Underhill. Beginning the tour in their hometown on October 7, the ensemble will make stops in Edmonton, Winnipeg and Montreal, arriving in Toronto the evening of October 17. Celebrating their tenth season, Turning Point is a large chamber ensemble of top-notch performers with a commitment to presenting Canadian music and the commissioning of new repertoire.
And the programming for this tour is no exception. It includes the music of one of Canada's most internationally respected composers, Alexina Louie, with a newly commissioned work, A Curious Passerby At Fu's Funeral, which will be premiered throughout the tour in four of the five cities. What is unique about the Toronto concert is that the entire event is comprised of music by Canadian women composers. Knowing that TPE has commissioned many works by women, New Music Concerts requested a program comprised of a selection of these pieces. When I initially saw the program list, I couldn't help but think of my September column in which I spoke about the rising presence of women in contemporary music programming. Here is yet another example of that trend. Alongside the work by Louie, the Toronto concert presents compositions by Ana Sokolović, Jocelyn Morlock, Dorothy Chang, and Linda Catlin Smith.
Louie's new work is structured in three movements, which she says in her program note "create a dramatic composition full of highly charged emotions and extreme ranges of heightened activity." Part of the inspiration for this piece comes from the sounds of the sho – a multi-reed Japanese mouth organ that requires the performer to inhale and exhale through the instrument, creating clouds of sound. The sho-like chord clusters are featured in the second movement, while Asian drumming inspires the third. Overall, Louie is creating an imagined scenario between both mysterious and explosive elements.
Linda Catlin Smith's piece Gold Leaf was originally commissioned in 2010, with a revised version just recently completed for the Turning Point Ensemble. In the piece, Smith creates a rich tapestry of sound that reminds one of a painting – some parts are thickly layered with colour, while others are thin and almost transparent, with the percussion adding a shimmering quality, like a gold leaf applied to the surface. Another TPE-commissioned work in the program is Dorothy Chang's Three Windows, inspired by the far-western coastline of Vancouver. While in town, Chang will be interviewed by composer Paul Steenhuisen for his podcast series of in-depth conversations with composers. This series also include conversations with Morlock, Catlin Smith and Louie and is available for free download or streaming on iTunes (apple.co/1OVGJtF).
Eve Egoyan and Linda Catlin Smith. If you've been paying close attention to the composers listed above, you'll note that the music of Linda Catlin Smith will be performed at the MG Encore concert on October 16, and at the NMC on October 17. In addition, the weekend offers another occasion when her music will be performed – at the recital and CD launch of Thought and Desire, a new release by pianist Eve Egoyan comprised of world premiere recordings by Catlin Smith. The event will be presented at the intimate Small World Music Centre housed in Artscape's Youngplace and will run for three nights, from October 16 to 18 where Egoyan will also perform music by John Mark Sherlock and Nick Storring. Egoyan is renowned for her intensely focused performances that bring audiences into an intimate connection with music they may not be familiar with. This makes for a potent partnership in the interpretation of Catlin Smith's piano works which are born out of her own intuitive connection with the instrument. As for the multiple performances of her music within one weekend, Smith says: "It will give me a chance to hear how these works are in conversation with each other and in what way there might be some kind of common thread."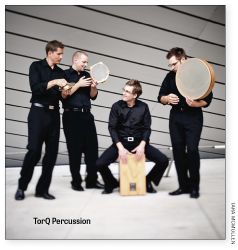 Additional October Concerts. Two notable events presented by the Canadian Opera Company this month include the world premiere of Barbara Monk Feldman's opera Pyramus and Thisbe running October 20 to November 7, which I have written about in depth elsewhere in this issue. And as part of the COC's Piano Virtuoso Series on October 8, a performance by John Kameel Farah of his compositions mixing a wide variety of styles and influences – early music, electronic dance, world and contemporary classical.
The TorQ Percussion Quartet presents world premieres on October 28 by Michael Oesterle and Andrew Staniland, and arrangements of works by composers Oesterle, Tim Brady and John Psathas (New Zealand). Early on in the month, on October 8 and 9, you can catch a workshop performance of Selfie, an opera composed by Chris Thornborrow presented by Tapestry Opera. Another early month event happens in Kitchener in celebration of the 30th anniversary of NUMUS on October 2 – the performance of Ghost Tango, a new chamber opera by Tim Brady with libretto by Douglas Burnet Smith. Also in the Kitchener-Waterloo area on October 17 at the Perimeter Institute, an homage to Italian minimalist painter Giorgio Morandi will take place combining improvised music with drawing gestures. The bass clarinet and percussion will recreate the voice of the Euphonopen, an instrument created for the live performance of drawing.
QUICK PICKS
Two not-to-be-missed concerts in early October, already covered in the September In with the New column:
October 4: Esprit Orchestra. Compositions by Zosha Di Castri, Jörg Widmann, Omar Daniel and Thomas Adès.
October 7 and 8: Toronto Symphony Orchestra. "Barbara Hannigan Sings & Conducts" includes works by groundbreaking 20th century composers Luigi Nono and György Ligeti.
And also take note of:
October 8: Canadian Music Centre. Piano works by Canadian composers performed by Moritz Ernst.
October 10: 5 at the First's chamber music concert includes a work by John Weinzweig (Beyond GTA).
October 15: Canadian Music Centre. Allison Angelo and Simon Docking perform and launch the CD Loves Its Light.
October 24 and 25: Aga Khan Museum. Performance of the multi-disciplinary OYAN! Project (Awakening), a work inspired by the music of internationally acclaimed Azerbaijani composer Franghiz Ali-Zadeh.
October 28: Canadian Music Centre. Ensemble Made in Canada, a rising piano quartet, performs works by John Burge.
October 30 and 31: Kitchener-Waterloo Symphony's concert includes Steps to Ecstasy by Marjan Mozetich.
Wendalyn Bartley is a Toronto-based composer and electro-vocal sound artist. sounddreaming@gmail.com.