The year 2017 was one in which women broke barriers in speaking up against abuse, particularly within the powerful corridors of the entertainment industry, political institutions and the media. Time magazine honoured this historical breakthrough by naming their Person of the Year for these women who dared to speak up, calling them "The Silence Breakers."
Yoko Ono Revisited
In the autumn of 1961, Yoko Ono created her Voice Piece for Soprano, a conceptual score with instructions to "Scream
1. against the wind; 2. against the wall; 3. against the sky." In the late 50s, Ono was part of a constellation of creative people connected to composer John Cage, and began experimenting with what she called "instruction works," meaning "paintings to be constructed in your head." Her Voice Piece for Soprano was one of these works, and was published a few years later in 1964 as part of her book Grapefruit. She speaks of this work as giving her an opportunity to express her rebelliousness as a woman and the need to scream against certain situations in life. She also saw it as an act of resistance, stating in a 2015 interview connected to a performance of her Voice Piece, that if women don't express their emotions, they can become ill.
This coming February 23, in a co-presentation between the Music Gallery and the Gardiner Museum, Ono's Voice Piece for Soprano will be explored by three local artists who have been invited to respond to Ono's instructions for screaming. These performers include Lillian Allen, a pioneering voice of dub poetry in Canada; the Element Choir, an improvising choir directed by Christine Duncan; and Mamalia, the former lead singer of the JUNO-nominated contemporary jazz troupe Sekoya. The concert, titled "Voice Pieces," is being held as a companion event for the Gardiner Museum's exhibition Yoko Ono: THE RIVERBED, running from February 23 to June 3.
Ono's resistance piece remains as timely now as when first created, since the need for women to speak out with force against how they have been treated within patriarchal institutions has reached a tipping point. However, I'm certain that Ms. Ono would not concur with the descriptive phrase used in the Music Gallery's press release, describing this voice as the "out of control female voice pushed to its supposed limits," nor with using the word "hysterical" to describe the type of voice that engages in therapeutic screaming. It's time to reframe how we think of the female voice, long held in contempt, mistrust and suspicion from the days of early Christianity up to the present.
Lillian Allen
I approached Allen to speak about her work as a leader in spoken word and dub poetry, her understanding of the voice, and of her plans for the Voice Pieces concert at the Gardiner Museum. Back in 1988, I had interviewed Allen for Musicworks magazine, and so I began with asking her how she would describe the evolution of her career over these past 30 years. She described her work as "helping to innovate, motivate and originate the form of spoken word which has become so important in the worlds of hip-hop and rap.
"I went out into the culture, combining words, music and experimentation and this influence can be traced in the work of many people, including Canadian rappers Saukrates and Drake. This hidden influence has given me great satisfaction. As Leonard Cohen says in his song: 'There's a crack in everything, that's how the light gets in.' I helped to make a crack in a few things. I could have gone the pop commercial route myself, but I stayed with my own work of writing, performing and touring, and also went into teaching at OCAD, which gives me an opportunity to be out there and to give back. I'm still involved in initiating and supporting groups, individuals, and the whole movement of putting voices out in the world."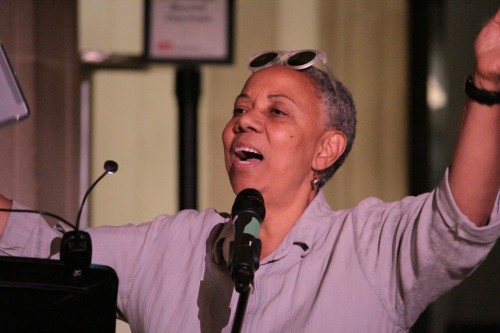 Allen continues to be both excited and challenged by her work. In 2012 she released her album Anxiety, created through a process of working in her living room with various audio devices to create layerings and sonic manipulations of her voice. She explored pre-language sounds and misconfigurations of the voice while also staying close to language in order to bring out a narrative message. She did it for the love of exploration, and not with any preconceived ideas of whether it would become a product or if it would sell. "I was just grooving with it, listening to it, having a conversation with it, and being there with the totality of it." Her approach was to simply "work and experiment, and out of that I could then pull something."
On Voice
We then turned to speaking about the voice and I asked her to comment on the voice itself and her relationship to her own voice. "Voice is the thing that gives you motion, gives you vibrational motion. It is vocalized emotion that makes you larger than whatever moment you are in, both in sound and in what you have to say. There is a time to be still, and the inner voice is there. But the voice itself is so full of life, it's almost a symbol for life and growth. It is that channel inside the unknown, it gets into things we don't know we know, or that we know but forget. It's like a path in a forest that you either cut or make. In your psyche, the voice makes that path for you, and you can journey with it, see things and go into imaginary places. It's the power of YOU, its part of your heartbeat, it's the power of your lungs, your muscles, it's not just your fingers on a keyboard. You connect with it, it's floating in and out of you.
"The physical resonance of the voice is something I love. The resonating voice is almost like beings existing, as if you are creating beings and they are existing in each note, in each sound. You can feel that vibration in the room, in your body. It's a beautiful thing, and is the reason I love performing and being out there. It creates real magic. Everybody connects to sound. They might not connect to a phrase or image in the English language, but they'll connect to sound. That was so evident when I did a tour in the UK and France with my CD Anxiety. People connected to the sound – it needed no interpretation."
She then spoke about the fears people have around the voice. "I do find that people are scared of sound, scared of hearing their voices, scared of messing with language. They need permission. I find adults to be more like this. They feel confronted because they wonder – what does this new territory mean, where will it take me? But once they get into it, once they're in the water and the waves are there, they can't help but smile and be happy."
We spoke about Yoko Ono's Voice Piece for Soprano, the scream, and so-called uncontrolled sound. "This is an artist construction, highly crafted, highly controlled. There's a sophisticated thought process in even arriving at that concept, it's a breakthrough. Then to shape it, to rehearse it at different levels – in your mind, on a mic, in a room – you want to know what the impact is, you want your artistic vision to land in a certain way. Women have always gone outside the strictures of language and the hierarchy of various language forms to express themselves. Maybe that's where the original scream comes from. Do not control, do not get us to conform to your realities and your knowledge that shapes that reality. We know that more exists and that the emotive parts of our existence are essential and important to our lives. We know it's important to create and communicate something more meaningful and textured that people can connect to."
Allen is still reflecting on the nature of her contribution to the Voice Pieces concert but plans to include some pieces from her Anxiety album. She will also likely bring in either students or young people from the community to join her, something she now does regularly when performing. She also envisions layering and texturing the sounds, pushing the sound and the conversation into different aspects. "Right now as I prepare, I'm listening and working with my concept, bringing in materials from my own experience as well as researching history." I may place the students in the space to echo or reverb what I'm producing, and the performance could also include creating a sound improvisation with the audience."
I expect that this event will be another important moment in the reclamation of the female voice. All three invited artists will add their own unique perspective on the power of vocal expression, and in particular, "the scream."
Not So New Creations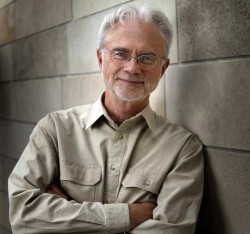 Other upcoming events include the Toronto Symphony's New Creations Festival, running this year from March 3 to 10. In a departure from previous years, there will be no featured guest composer or curator. Instead the programming will feature three concerts of TSO music director Peter Oundjian's personal favourites as a way of celebrating his 14th and final season as music director, which has included the successful New Creations Festival. We will hear works by Vivian Fung, Larry Alan Smith, Daníel Bjarnason (March 3); Wolfgang Rihm, James MacMillan and the festival composer competition winner (March 7); and Esa-Pekka Salonen, Gary Kulesha and John Adams (March 10).
Last year's festival curated by indie musician Owen Pallett highlighted a diverse array of composers and performers, attempting to address issues of race and gender inclusion. Alas, I note that it appears this initiative was not continued in this year's offerings.
Wendalyn Bartley is a Toronto-based composer and electro-vocal sound artist. sounddreaming@gmail.com.