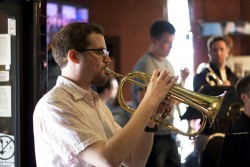 Let me say at the outset that it has been a great pleasure to have had custodianship of this column for the past season, not least because it has drawn me out to a considerably broader range of musical events than I would, by default, have tended toward. I think this is because human nature is both inherently spiritual and very timid. Most of us, individually, hunger musically for some highly personal mixture of continuity and change — enough of the former so that we itch for the latter; enough of the latter to able to listen fresh, over and over again, to the tried and true.
I had an interesting chat, June 20, for The WholeNote's video series Conversations@thewholenote.com, with Josh Grossman, whose own musical practices and pursuits are an interesting amalgam. He is, as you may know, the artistic director of Toronto Downtown Jazz, long-time presenter of the TD Toronto Jazz Festival, and the founder/artistic director of the Toronto Jazz Orchestra. (And the video chat is mostly about these aspects of what he does.) But he has also been for five years or so, involved administratively with Continuum Contemporary Music, one of the city's most consistently innovative new music ensembles, and as far from his jazz roots, at least at first glance, as you might imagine. In the last five or six minutes of our conversation, he talked a bit about where the two passions intersect. Jazz, his first and abiding musical love, gives him a frame of reference (albeit not necessarily the "right one") for listening to a genre that for him is less visceral and immediate. But his work in new music has given him a much stronger perspective on where the two musics most clearly intersect, in the realm of improvisation. And, more mundane but no less important, he is better able to see how jazz and new music both must struggle endlessly upward on mainstream music's relentless down escalator. Consequently, he can see ways for the them to collaborate on a whole range of sensible topics, such as space sharing and building various common resources. Have a listen to the chat. It is one of a number of such conversations with musically interesting people accruing on our YouTube site (youtube.com/thewholenote).
Still on the topic of intersections is the annual new music festival/event that actually goes by that name. It's awfully early to be talking about it now (it takes place in and around the September 1 weekend). But if I don't give it a decent plug now, it will fall through the cracks of this column. Intersectionsis an annual event, brainchild of Contact Contemporary Music's Jerry Pergolesi, that centres, first Saturday of September, on Yonge-Dundas Square, Toronto's mother of all intersections.
For a venue that thrives on such mass spectacles as rock band singers being crowd-surfed in hamsterballs by screaming fans lined up in the tens of thousands, a new music marathon requiring a certain amount of focused listening seems a bit of a stretch. But in the interplay between people's usual expectations for the venue, and what Intersections brings to the place, the sparks can fly. Well-supported by Toronto's New Music presenters and fellow travellers such as The WholeNote, there's much in the event to see and hear, onstage and in the temporary new music marketplace that will dot the square.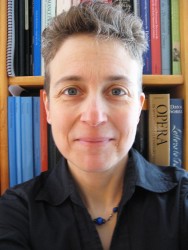 And since we are on the subject of outdoor venues, a tip of the hat to Tamara Bernstein, mentioned also in our cover story, who curates another of Toronto's signature outdoor series namely Harbourfront's Summer Music in the Garden, at the foot of Spadina Avenue. "By now you should have received Harbourfront's media release about this year's Summer Music in the Garden," she writes. "I just wanted to follow up with a more focussed list of the new music on this summer's roster, as it's a very rich season in that regard, with performances ranging from Rick Sacks' playful "En Bateau," to a new work from Linda C. Smith inspired by the baroque tune "La Folia" ("madness") and music by David Mott inspired by the Toronto skyline, to world premieres by Norbert Palej, and Carina Reeves, and works by Michael Oesterle (two works!), Katia Tiutiunnik, Eric km Clark (b. 1981), Emily Doolittle (b. 1972) and Kevin Lau."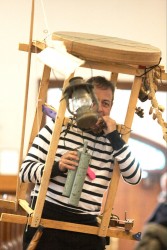 What Bernstein has observed, and indeed helped to inspire, is the extent to which the summer itself encourages performers and audiences alike, to modify their usual balance of continuity and change, to indulge the unexpected, to linger longer at unfamiliar intersections of sound. Consult the GTA Listings in this issue (Thursdays and Sundays) for Bernstein's intriguing take on where the familiar and the new best intersect when summer's spirit of adventure is in the air.
You may recall that last month I talked about New Adventures in Sound Art as an organization walking a compositional and artistic tightrope, somewhere at the intersection between music and noise. No coincidence that the summer is one of their favourite seasons. Too late for our listings, but too good to overlook came word of this summer's NAISA activities. So I recommend that you visit www.naisa.ca for a comprehensive overview of their doings, including their annual Toronto Island installation, this year featuring a piece called Synthecycltron by Barry Prophet, their Sound Travels Festival of Sound Art August 4 to 31, 2012, and this year including the Toronto Electroacoustic Symposium (August 13 to 18). 
David Perlman has been, for this past season, the patroller of The WholeNote's new music beat. He can be contacted at publisher@thewholenote.com.