What happens to the new when the weather heats up and the concert seasons have ended? Does the more casual atmosphere of the summer mean that presenters, performers and audiences are ready for something more out of the ordinary? From my discoveries of what lies in store for both the curious and the lover of experimental and innovative sounds, it seems that the boundary lines between musical genres and art forms become a bit more blurred. Musical concerts, outdoor installations, performance art and electronic and sound art are all happening within the traditional and not-so-traditional music, theatre and interdisciplinary festival environments. And often, the regular indoor concert hall has been tossed aside to make room for these sounds in outside spaces or to create a more participatory audience experience. The great thing is that many of these events are happening outside the Metro Toronto area, so be prepared. Your sonic summer listening will require some travelling around the province, but that's what vacation time is for.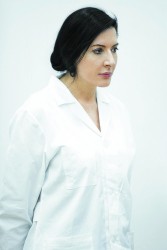 Starting off in June, we are immediately plunged into a series of performances that are full of cross-pollinating and genre-crashing power. The big news is that Toronto's multi-arts Luminato Festival is headlining Marina Abramović, a New York-based performance artist originally from Serbia who is considered to be the "grandmother" of the performance art genre. Her work explores the limits of the body and states of consciousness, while often putting herself through extreme physical pain or tests of endurance. In 2010 during a retrospective at the MoMA in New York, Abramović performed The Artist is Present during which she sat immobile and in silence all day for almost three months while spectators took turns sitting opposite her. People experienced religious-like transformations as they stared back into her penetrating presence.
You may ask — what does this have to do with music? The answer is, of course, that the story of her life, along with scenes from her performance works, has been made into an opera entitled The Life and Death of Marina Abramović. Premiered in 2011 at the Manchester International Festival and toured to sold-out audiences in several European cities, the opera will receive its North American premiere at Luminato, running June 14 to 17. Conceived and directed by the legendary Robert Wilson in collaboration with Abramović, she also performs as herself and her mother alongside Willem Dafoe as narrator and male counterpart. The music was co-composed by cult pop star Antony Hegarty and ambient minimalist William Basinski, and performed by Antony in his mesmerizing and hypnotic voice. It was his cathartic musical performances and emotional vulnerability that inspired Abramović to invite him to collaborate on this opera that she describes as "a series of births and funerals of the soul."
Running in conjunction with the opera from June 14 to 23 will be her latest performance work/installation, MAI – Prototype. In seven interconnected pavilions in Trinity Bellwoods Park, four pre-booked participants will wear white lab coats and receive instructions on headphones as they walk through the installation for a period of two hours. Every 30 minutes a new group will begin the journey in which they will undergo the rigours of her performance practice. These encounters will be live-streamed to other locations throughout Toronto, including one at Pearson airport.
Also performing at Luminato will be the inimitable Laurie Anderson appearing as part of The Hub series of free outdoor concerts at David Pecaut Square on June 16. Anderson was one of the first performance artists to bring experimental and art-rock music to a large popular audience. Writing songs full of political edginess and performing with her invented instruments (a tape-bow violin and a computer controlled "talking stick"), she made the UK pop charts back in the early 80s.
The pop/experimental music crossover theme continues over at the Music Gallery, in the last concert of their season's signature Pop Avant series. Curated by Tad Michalak, known for his programming of under-the-radar pop, noise, jazz and harsh electronic music, his "Burn Down the Capital Showcase" June 8 will feature three different artists. Guaranteed to set your soul on fire, the music will mix up instrumental, vocal and a wide range of electronic and ambient sounds using tape loops and synthesizers to create both an "unacceptable" and sensual evening.
Another major summer music festival happening in Toronto is the NXNE Festival that takes over the downtown streets and clubs. This year, it's exciting to see their programmers venturing into the world of sound art and co-producing three events with NAISA (New Adventures In Sound Art). These include a sound sculpture performance at the AGO on June 6, an audiovisual machine installation that runs from June 11 to 22 at the Wychwood Barns with a live performance on June 10 and a sound walk through Trinity Square on June 13, where sounds of underwater life will be projected into the outdoor urban space.
For July, it's off to Stratford Summer Music. It just so happens that July 18 is R. Murray Schafer's 80th birthday, and he is being honoured that night with a tribute concert featuring pieces from his Patria cycle of musical dramas. As part of the celebration, Schafer's visually-based scores will be on display at the Stratford Public Library from July 17 to August 25.
Schafer's vision has opened up our ears to the soundscape (a term he coined), and so it's only natural that he would create pieces for specific outdoor environments. His Music for Wilderness Lake from 1979 will be performed at 7am on July 19, 20 and 21 along the shores of the Avon River. Imagine 12 trombones spread amongst the mists of the riverbank, combined with an aria from another sunrise work — Princess of the Stars. Definitely worth an early morning rising. And if you're up for experiencing something quite out of the ordinary, you could sign up to participate in a workshop performance of Asterion — the latest in his Patria series. The piece is an outdoor labyrinth located near Peterborough that has a series of rooms and passages participants must navigate alone as they encounter both performers and the environment along the way. Designed to be an intense and transformative soul journey, I couldn't help but connect the dots to the Abramović installation designed with a similar intention. Happening through June and July, go to patria.org if you are drawn to join in.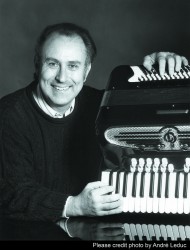 Returning to Stratford Summer Music, we find that the entire cast and crew for a concert of Canadian contemporary opera excerpts has arrived via bicycle. The Bicycle Opera Project began last summer, touring from town to city via pedal power. This year, not only will they be performing in Stratford, but also in Toronto (July 4 to 7), and on tour from July 11 to 25 in Hamilton, Guelph, Elora, Fergus, Kitchener, Waterloo, Bayfield and London, arriving in Stratford for performances from July 26 to 28. This year's repertoire focuses on telling the stories of women, featuring works from six different Canadian composers. For further details of the tour, check out bicycleopera.ca. Also appearing at Stratford Summer Music will be the acclaimed accordionist and contemporary music champion Joseph Macerollo in six weekend concerts, starting July 20 to 21 and ending August 24 to 25.
Not far from Stratford is the town of Elora, host to a summer music festival of many different styles. Works by contemporary composers can be heard on July 13 with the New Zealand String Quartet (Jack Body) and on July 14 with the Manitoba Chamber Orchestra (Philip Glass). The Elora Festival Singers will celebrate the 100th anniversary of Benjamin Britten in their concert on July 28.
August takes us back to the leading edges of sound and electronics with two festivals of sound art alongside the well-loved Ottawa Chamberfest. For the last seven years in Meaford, Ontario, over the August long weekend, the award-winning composer Gordon Monahan has been directing the Electric Eclectics festival of experimental music and sound art. With camping on-site, this year's festival runs from August 2 to 4 and includes an extensive lineup of performances and installations, including New Yorkers Shelley Hirsch (experimental vocals) and Keiko Uenishi (laptop electronics), a long-awaited return by former Musicworks editor Tina Pearson (Victoria), a sound/light performance by Music for Lamps (Montreal) and the Sunda Duo (Toronto) with Bill Parsons and The WholeNote's Andrew Timar.
Over in Ottawa, musical experimentation on the long weekend at the Ottawa Chamberfest begins on August 2 with the improvisation-based Element Choir. Led by Christine Duncan, who uses a series of hand cues to sculpt real-time compositions, singers from Toronto, Ottawa and Montreal will be joined by Jim Lewis (trumpet) and Jean Martin (drums) to create a wild and energetic musical ride. This year's festival also offers the New Music Now series with six concerts offered throughout the daytime hours on August 5 and 6. Performers and composers presented include pianist and multimedia artist Megumi Masaki, the Gryphon Trio (Lutoslawski, Ohana), Ensemble Transmission (Sokolović), the JACK quartet (Zorn, Lachenmann, Butterfield), choral works (Whittall, Kurtág, Berio) and a concert of works by Xenakis. In addition to this series, the festival is offering "snapshot" performances to ticket holders of the evening's Siskind Concerts, including performances by Lori Freedman and the JACK quartet and presentations on the works of John Weinzweig and Xenakis. And if you are a fan of American composer Eric Whitacre, the Elora Festival Singers will perform three of his works in their concert on August 7, including Sleep — his online virtual choir hit.
Mid-month, from August 14 to 17, it's the Toronto Electroacoustic Symposium with multiple performances and presentations. Featured this year are two giants of Canadian electroacoustic music: Francis Dhomont (also the keynote speaker) and Barry Truax. Co-produced with NAISA, all concerts will be diffused using a multi-speaker spatialization system. And as the summer days slowly become shorter, the Summer Music in the Garden series presented at Harbourfront's outdoor Music Garden will feature the sounds of the TorQ Percussion Quartet on August 29. Performing compositions by Steve Reich, John Luther Adams, Richard Burrows and Daniel Morphy and an improvisation on clay instruments by the ensemble, the focus is on the natural elements of earth, water, air and fire. Overall, it's a great summer lineup for discovering what's cooking in the experimental sonic stew.
In addition: June 20 at Gallery 345, Kathryn Ladano on bass clarinet has two sets of improvised music including electronics and special guests.
July 19 at 7pm, Soundstreams Salon 21 presents "Summer Sound Walk," a free tour through the different acoustic spaces of the Gardiner Museum and surrounding area. The event will feature vocalist, cellist and practitioner of Deep Listening, Anne Bourne, who will lead participants in guided listening exercises and invite them to listen to the sounds of the evening mingled with improvised live music. Definitely an event not to miss! 
Wendalyn Bartley is a Toronto-based composer and electro-vocal sound artist. Contact her at sounddreaming@gmail.com.