Over the past year in Toronto's new music scene, composers working within the spectral and post-spectral composition aesthetic have been making their voices heard. First of all, in March we heard the music of Britain's George Benjamin, the featured composer at the TSO's New Creations Festival, followed by the music of guest composer Kaija Saariaho from Finland at the 21C Music Festival in May.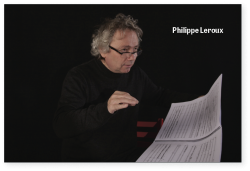 Philippe Leroux: And now in the early days of December, another major figure is coming to town – Philippe Leroux. Although originally from France, Leroux now calls Montréal home, thanks to his permanent teaching position at McGill University. His influence on the compositional aesthetics in North America is growing fast, with many students being drawn to working with him.
WholeNote readers may not be that familiar with Leroux, but three concerts planned for December 6 and 8 can change that unfamiliarity into an opportunity to dive deeply into the creative oeuvre of this remarkable composer. First, on December 6, New Music Concerts is performing two of his chamber works: AAA for seven instruments and Ailes for baritone and 15 instruments. And December 8 is a double concert day with the performance of his piece Total SOLo for 28 instruments as part of the COC's free noon-hour concert series, followed by five of his works at a special concert at the Music Gallery. Leroux is this year's Michael and Sonja Koerner Distinguished Visitor in Composition at the U of T Faculty of Music. It's interesting to note that both concerts on December 8 will be performed by advanced student musicians: artists of the Glenn Gould School New Music Ensemble conducted by Brian Current (the COC event) and doctoral students from U of T's gamUT Contemporary Music Ensemble, conducted by Wallace Halladay (Music Gallery concert). Not surprisingly, both Current and Halladay have been personally influenced either by their studies or performance experiences with Leroux's music.
I got together with Halladay to find out more about that relationship and discovered the passionate commitment Halladay has for Leroux's music. In answer to my question as to how they met, Halladay told me how he went out on a limb and contacted the composer, still living in France at the time, when he discovered that Leroux was coming to the Université de Montréal as a visiting guest artist. He had been a fan of Leroux, within a contemporary trend in European music, and wanted an opportunity to talk with him. He followed up that meeting by organizing a concert in Toronto of Leroux's music in 2011, hiring local professional musicians.
What he discovered was a composer who was completely committed to working generously with musicians, helping them to interpret the score; and musicians, in response, absolutely stimulated by the interaction. This type of communication is, in part, what has led to Leroux's appeal to different ensembles – performers just love working with him, resulting in many commissions. If you'd like to experience this firsthand, the public are welcome to attend a talk at the Faculty of Music on December 7 (5:30 to 7pm) as Leroux works with performers in preparation for the December 8 concert.
For Halladay, the excitement comes from the challenge of the scores, which often call for a wide range of sounds not always translatable into standard notation. This is why the communication between composer and performer is so important. Leroux is always learning and listening carefully to the sounds being made by the performers, open to how they could be notated, or other possible ways to achieve what he is imagining.
In my conversation with Leroux, he amplified this idea: "I compose to create a relationship with the listener as well as with the musicians. I write a page or two, and then try to listen as if I was the first listener. I always try to listen to my music as a normal listener, not as a composer."
No doubt this refined approach to listening is one of the results of the years Leroux spent working at IRCAM, a research centre for sound and electroacoustic music in Paris. This research allowed him to become completely immersed in the complex nature of sound itself, and understand all the variables that make up a given sound. This knowledge of the full spectrum of the sound and how it can be used to define the compositional structure is what defines the spectral school of composition, which originated in France in the 1970s with the work of Gérard Grisey and Tristan Murail.
As someone influenced by this aesthetic, Leroux continues the tradition in his own way. During my conversation with him, he spoke about how his starting place is with sounds he finds both interesting and beautiful, sounds that have the biggest potential for development and variation, whether that be in their harmonic colour or their trajectory of movement. After the computer-based analysis of these sounds, he may come up with as many as 400 different chords, each one created by the different pitch components – the spectrum – of the different sounds. He takes up to three weeks to just play those chords over and over on a piano or synthesizer, many of which will have microtunings. Finally, through an intuitive process, he selects up to ten chords to use as his structure in any given composition.
Halladay elaborates on the importance of the spectral approach to composition. Working with timbre or using extended techniques on traditional instruments "is not unique to the spectralists, but what is different is they are using timbre for the structural organization of music." This approach contrasts with the majority of compositional strategies where melody and harmony are the mainstays of organization, even if the music itself is pushing boundaries as in minimalism, post-serialism, chance procedures, the use of extra-musical ideas, or the fusion of different musical traditions. With spectral composition, "the process opens a window to all the elements that make up a sound, especially those aspects beyond the audible range" Halladay says.
University of Toronto's New Music Festival. As Halladay emphasized during our talk, the educational aspect of presenting Leroux's music is important, introducing unfamiliar music to students who would otherwise never be exposed to it. They are always impressed with "how good the music is." So it is fitting that U of T's New Music Festival follows up this experience with Le Roux's work early in the new year with over a week of concerts running from January 30 to February 7, centred around the music of Canadian composer Allan Gordon Bell. One of the highlights of the festival will the performance, February 2, by Calgary's Land's End Ensemble of Bell's work Field Notes, a JUNO award-winning work inspired by the prairie landscape. On February 1, the Gryphon Trio will perform works by Bell's former students – Carmen Braden, Heather Schmidt, Kelly-Marie Murphy and Vincent Ho. The final concert of the festival on February 7 will premiere a newly commissioned choral work from Bell at the Contemporary Showcase Concert. During the festival, various student ensembles – including the Wind Ensemble, the Symphony Orchestra and the gamUT Contemporary Music Ensemble – will also be performing a wide range of works by Bell and others including an electroacoustic concert.
Music and Dance. One aspect of Leroux's music that I didn't mention above is his fascination with the ideas of movement and gesture in his music, whether that be physical movements made by performers, or metaphorical gestures realized through sounds that imitate a real gesture created by a human body. For example, to compose one of his pieces, he worked with data generated from a Bluetooth pen with a camera inside. An old musical manuscript was rewritten with this pen, which was tracking the speed or the thickness of the lines. This information was used as material for the piece. Other ways of exploring the relationship between sound and movement are highlighted in several other upcoming concerts.
For the opening concert of the Music Gallery's Emergents series on December 10, curator and percussionist Germaine Liu has created a multidisciplinary ensemble to explore the unique space of the Gallery's church sanctuary. Inspired by the collaboration of John Cage and Merce Cunningham, members of the ensemble will perform, compose and choreograph a series of new pieces that seek to blend the two disciplines of dance and music into an interdependent relationship.
Similarly, four improvising musicians, a painter and a dancer will explore the possibilities of interdisciplinary improvisation and communication in the NUMUS concert on December 13 in Kitchener-Waterloo. And on February 5 and 6, the Royal Winnipeg Ballet, in Toronto as part of their Ontario tour, will perform Mark Gooden's choreography which was inspired by the stories of Residential School survivors, with music by Christos Hatzis and a performance by Tanya Tagaq.
Additional Concerts
Jan 11: Various composers' works will be performed by Pamelia Stickney on the theremin, an early electronic music instrument, at Gallery 345. The evening will also include improvisations and a demonstration of the instrument.
Jan 14: Audiences will have a great opportunity to hear the brilliant and dynamic JACK Quartet in a concert co-presented by Music Toronto and New Music Concerts. This high-voltage quartet will perform works by John Luther Adams, John Zorn, Iannis Xenakis and an arrangement of a work by medieval composer Rodericus.
Jan 20: A celebration of American composer Nancy Van de Vate's 85th birthday with a series of her mini-operas at Walter Hall.
Wendalyn Bartley is a Toronto-based composer and electro-vocal sound artist. sounddreaming@gmail.com.