In the February issue of HalfTones, our between-print-issues e-letter, we ran a story by Sara Constant on this year's recipients of the TD Toronto Jazz Discoveries Series Awards, now in its eighth year.
As described in that story, the series started in 2011 as a part of the TD Toronto Jazz Festival's outreach to local performers creating original work, and to year-round, multi-venue jazz programming in the city. "Each year, an assembled Toronto Jazz Fest jury selects four projects to receive support and funding from the festival. Over the last eight years," the story continues, "the series has accumulated an alumni list that serves as a veritable who's who of local jazz innovators –[helping] transform the festival from an annual affair into a year-round showcase of local music-making."
It's not hard to see how this year's four recipients fit the bill: Harley Card's Sunset Ensemble at Lula Lounge, March 1; the Heavyweights Brass Band at Lula Lounge, March 29; Adrean Farrugia and Joel Frahm at Gallery 345, April 27; and a show curated by Aline Homzy titled The Smith Sessions Presents: Bitches Brew at Canadian Music Centre, April 28.
Just as interesting as the alumni, from the perspective of this column, is taking a look at the venues that have been the most active participants in this initiative over the years, both the ones you'd expect to find mentioned regularly here, and also the ones you might not usually associate with jazz.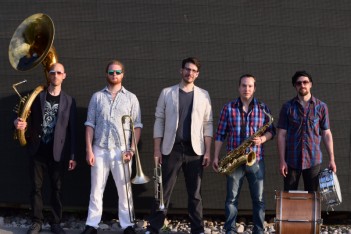 Lula leads: of the usual venues you'd expect to be involved, Lula Lounge leads the pack, starting with the series' first-ever concert, a Fern Lindzon CD release in April 2011. Since then the Dundas St. W. venue has hosted series concerts by Jaron Freeman-Fox in February 2013, a Heavyweights Brass Band CD release concert in March 2014, Alexander Brown in March 25, Sundar Viswanathan's AVATAAR in March 2016 and Chelsea McBride's Socialist Night School CD release in January of last year. And this year the beat continues with Harley Card, March 1 and The Heavyweights in a return visit on March 29.
The Rex and Jazz Bistro: as you might expect, the city's two premier mainstream venues are both in the running for silver and bronze, with three appearances each over the eight years. The Rex has been venue of choice for a Barry Elmes Quintet CD Release in March 2011, a Nick Fraser double-CD release in May 2016, and The Further Adventures of Jazz Money (Dillan Ponders, Apt and Ghettosocks) in March 2017. And the Bistro has hosted a Beverly Taft Meets the Nathan Hiltz Orchestra CD release concert in April 2014, a first big gig for the Alex Goodman Chamber Quintet in April 2015 and Robi Botos' Movin' Forward CD Release in March 2015.
Gallery 345: When you get past those three obvious choices, though, you're entering some interesting territory – venues with audiences more often in other genres but offering fertile ground for jazz. Gallery 345 on Sorauren heads the list: Mike Downes in March 2012, Shannon Graham and The Storytellers in April 2013, and the Nancy Walker Quintet in 2014. Adrean Farrugia and Joel Frahm (April 27 this year) will actually push Ed Epstein's little-gallery-that-could ahead of its more storied mainstream colleagues into the silver medal spot.
The Best Rest
Space doesn't permit the same level of detail for the rest of the venues used to date for the series, but the point is that there are venues out there for putting on shows for audiences that are there to listen. The Music Gallery, previously at St. George the Martyr Church on John St., and its new housemates at 918 Bathurst Cultural Centre have been used four times so far. Small World Music Centre, Alliance Française, the late-lamented Trane Studio, the Lower Ossington Theatre, Knox Presbyterian and Beit Zatoun have also all been used. This year the Canadian Music Centre on St. Joseph joins the list.
If the series continues to encourage adventurous venue hunting as much as it does adventurous music-making, it will continue to serve a worthwhile purpose.
publisher@thewholenote.com