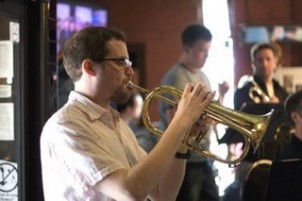 The appointment of 33-year-old Josh Grossman as the new Artistic Director of the Toronto Downtown Jazz Festival came as a bit of a surprise to some. Then again, jazz is a music that relies very much on surprises. I got a chance to pick Grossman's brain about his newly acquired position and issues relating to jazz in Toronto. Here's what he had to say.

1) Stepping into the shoes of Jim Galloway is quite the feat! To what extent will you be programming the festival differently?
The $50,000 question! There are many challenges inherent in programming a jazz festival. How do we reach the varied jazz audiences that come to the festival each year? How do we put on a successful festival without alienating the purists, or the bepop fans, or the swing fans, or the avant-garde fans? I'm trying to take a balanced approach to this year's festival. It will very much be a learning year for me; discovering how Toronto Jazz Festival audiences respond to various styles of jazz, and figuring out what works best and why. Rather than thinking of programming the festival differently, I think of expanding on the great programming that has been done in each of the past 23 years. My priorities remain as they were with the Markham Jazz Festival, but now on a much larger scale: present great jazz music, in all its forms, which maintains the highest levels of artistic integrity.

2) Toronto has occasionally been called the "Jazz Capital of Canada". Do you agree with this statement?
Toronto has an outstanding, talented jazz community - this is evident in the variety of music a jazz fan can find on most nights and in the number of excellent post-secondary jazz education programs in the Greater Toronto Area. However, that is no longer unique to this city: cities across this country are host to top-notch university college and jazz programs, which are producing an excellent crop of young musicians, and are also home to internationally acclaimed jazz veterans. If we are to play a lead role in the Canadian jazz scene, we need to do better to spread the word about our local musicians, and find new, full-time jazz venues in which they can perform.

3) You have previously served as Artistic Director for Markham's Jazz Fest and continue to wear a variety of other hats, including conductor, producer, educator, music administrator as well as performer. Which is the most challenging of these and why?
The answer is yes. That is, they each have their distinct challenges. I feel fortunate that these various duties tend to compliment each other: when I'm standing in front of my big band, I'm working with musicians who I may book in other contexts, and I'm learning about music which might be applicable in an educational setting. When I'm in a purely administrative setting, I'm learning skills - especially the marketing and bookkeeping skills - that are vital to a performing musician. Each feeds into the other.

4) Given the challenges faced by the Toronto jazz community and the club scene in particular, how do you believe the Toronto Jazz Festival can help the situation?
I would like to see Toronto Downtown Jazz (TDJ) become the hub of jazz in Toronto. When a local Torontonian or a tourist wants to find out about jazz, I want them to be able to do so through TDJ. I'd like to see Toronto Downtown Jazz become an active partner in jazz activities throughout the year through interesting collaborations, marketing support, financial support, etc. By helping to support the local, year-round community, and by seeking input into how to create a festival which best represents the local musicians, I'm hoping that the festival can feed into the year-round scene and vice versa.

5) How do you believe the media can help?
The media has a vital role to play. Though local musicians (and, as we develop, TDJ) can do their best to market themselves and get the word out about the fantastic music happening in this city, we are currently not getting a lot of support from the local media. For example - it is rare to see a jazz CD or concert review in the weekly papers or the national dailies. (Wholenote is, on the other hand, consistent in its support.) I understand the current challenges facing the print market; but I would rather that local coverage go to the varied and interesting local music scene than to the mega-pop variety. Musicians need to concentrate on their craft; it would be great if the local media could pick up the slack a little bit so that musicians could concentrate more on creating and spend less time and energy on marketing their music. All that being said, we need to make sure that we're staying on top of media trends - especially online. If certain outlets aren't interested in supporting jazz, maybe there are online resources such as bloggers that will.

6) The Toronto Jazz Festival has undergone many changes in the past decade. Where would you like to see it go in your tenure?
I'd like to see the festival become a venue not just for music that people already like, but a vehicle for education: honouring the music and musicians who have made jazz what it is today, while presenting audiences with what will be the trends of tomorrow. I'd like the festival to become more relevant to the overall jazz scene, presenting more music which demonstrates how current jazz musicians are pushing boundaries and redefining jazz. There is a big risk in challenging audiences with new music; but I think there is a bigger risk in not doing so.

Josh Grossman's Toronto Jazz Orchestra plays the Rex Hotel Jazz & Blues Bar on February 20 from 3:30-6:30pm.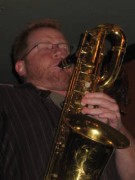 Speaking of the Rex Hotel, this month the venerable venue presents a special six-day music festival (February 2-7) featuring artists on the independent Chicago-based Nineteen-Eight record label dedicated to "the advancement of creative music." Highlights will include instrumental jazz/jam super-group Rudder, exceptional British alto player Will Vinson and three-time Juno Award winners, the Chris Tarry Group. Arrive early to avoid disappointment. Most of these groups are currently on a world tour; kudos to the Rex for housing their Hogtown stopover.

One of the country's most compelling jazz composers is bassist Al Henderson, who releases his latest CD "Regeneration" on the Cornerstone record label at Chalkers Pub on February 7 from 7-10pm. Rounding out Henderson's Septet are some of the finest musicians in the land: saxophonists Alex Dean and Pat LaBarbera, cellists Matt Brubeck and Mark Chambers, pianist Richard Whiteman and drummer Barry Romberg. Henderson's whimsical writing style is original in every sense of the word.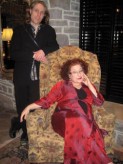 Over at the Old Mill, respected pianist John Sherwood holds a new Thursday night weekly residence at the Home Smith Bar. The weekly "Fridays to Sing About" series continues, with highlights this month that include bluesy songstress Terra Hazelton on the 12th and adored crooner John Alcorn on the 19th. Piano masters continue to prevail every Saturday night, including the splendid Nancy Walker Trio on February 13 and a special evening on February 27 with the Ron Davis/Daniela Nardi Quartet.

Good news from the Reservoir Lounge, where the jazz policy is expanding to include early "Après Work" sets from 7-9pm on Tuesdays and Wednesdays, doors opening at 6:30pm.

More good news from Ten Feet Tall on the Danforth where a brand new Saturday night Cabaret series takes place from 8-10pm for a pay-what-you-can cover. The series kicks off with Pat Murray and Mark Kieswetter's beautiful interpretations of the Beatles book on February 13th. Meanwhile, the popular Sunday matinees continue, including a special Valentine's Day show with the pleasing vocals of proprietor Carin Redman, accompanied by Mark Kieswetter on keys and Ross MacIntyre on bass.
Since writing last issue's column about some of my favourite jazz venues, I've become hip to the hippest new neighbourhood for live music, the Trinity-Bellwoods area, right at Ossington and Dundas. Aside from plenty of live music, this strip is refreshing for its hip retro vibe, positive energy and zero pretentiousness. The charmingly petite, 25-seat Communist's Daughter (1149 Dundas West) features gypsy jazz every Saturday from 4-7pm and famous pickled eggs every day of the week. Find intoxicating music and imported tequila at Reposado (133 Ossington Avenue), live music (jazz and/or creative) Sunday through Thursday at the supremely funky TODO Fusion Resto-Bar (217 Ossington) which is right across the street from the Painted Lady (218 Ossington). All of these venues have been added to our jazz listings using as much detail as was available at print time.

Finally, also happening in downtown clubs this month is the annual Winterfolk Festival, from February 12-15. Look for performances at the Black Swan, Mambo Lounge, Willow Restaurant, and other venues. (Go to www.abetterworld.ca for more information.)

Note that in most cases, when there's a tip jar being passed around, it means that this is how the band is getting paid. Show your appreciation. Good tips mean good karma!

Ori Dagan is a Toronto-based jazz vocalist, writer and photographer.