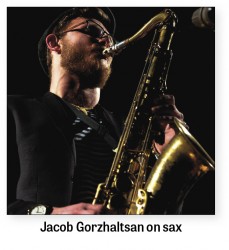 As in jazz, in writing this column it's sometimes delightful how one small thing can lead into another. Mid-November, publisher David Perlman and I found ourselves in attendance at the Ken Page Memorial Trust gala at the Old Mill (see last month's column), where each guest received a jazz recording tucked under the napkin on their table. Mine was courtesy of Humber College from their "New Standards" series. All recordings on the Humber Records label feature performances by Humber students and faculty; making the recordings is not only a priceless experience for all involved, but also a neat way to archive the talent that goes through the program.
Speaking of talent, and how one thing leads to another, one of the musicians featured on track two of said New Standards collection was someone I was planning to write about in this month's column. Ladies and gentlemen, there are three chances this month for you to see and hear rising star clarinetist-saxophonist Jacob Gorzhaltsan, who recently graduated from Humber College's prestigious jazz program.
As it happens, I got a chance to ask him a few questions, this month, including of course, why in the world he would choose the clarinet as his main instrument.
JG: My mother had a lifelong dream that her son would be a clarinet player, and at age eight (after about a year and a half of playing recorder) I finally received my first clarinet to try out. Although the clarinet was almost twice my size and I had to play it while sitting down, with the bell propped up on my feet, I felt immediately compelled to continue pursuing music and, in particular, the clarinet.
While in my early studies, I was influenced first by many traditional clarinetists/classics, such as Benny Goodman, Artie Shaw, Pee Wee Russell, Woody Herman, and, of course, Buddy DeFranco. About two years after I began playing clarinet (at age ten), I would attend a life-changing workshop in Toronto with the one and only Buddy DeFranco, with whom I would jam on Moonglow - which I remember was one of the few tunes I really knew at the time. In this one masterclass, Buddy DeFranco gave me so much of the encouragement and support I needed in order to continue seriously pursuing a career in performance with a focus on clarinet/woodwinds. Studying privately with Vladimir Belov and Peter Stoll, I eventually began to pick up the other woodwinds (alto first, followed by tenor saxophone) and now am equally at home switching between the various doubles. In the midst of my studies, I would be influenced greatly by Eddie Daniels and Canadian clarinetist, James Danderfer. Both these clarinetists are highly inspirational, as they push the sonic boundaries of contemporary jazz clarinet while also being exceptional saxophonists/composers and arrangers. They would have a huge influence in shaping my perception of what it means to be a jazz clarinetist in the 21st century.
OD: You've included two vocal pieces in your album, performed by Denzal Sinclaire. Tell me a bit about this experience and working with singers in general and what that means to you.
JG: The album features two vocal pieces sung by Denzal Sinclaire. He is an incredible musician and, in my opinion, is easily one of the greatest male jazz vocalists in Canada, not to mention an incredibly warm and kind-hearted, supportive human being. I had the pleasure of performing with him around a year ago at a few Soulpepper Cabaret concerts and instantly thought his voice would be the perfect fit for a couple of my original songs. It was a real thrill to have him join us in the studio, and I am so thankful for the opportunity and experience. I have always had an interest in lyrics and songs, and it is an absolute delight to be in Toronto where there is such a vast wealth of singers and songwriters. I have been honoured to have shared the stage with so many great Toronto singers, such as Jackie Richardson, Divine Brown, Sophie Milman, Julie Michels, Don Francks, Laura Hubert, Denzal Sinclaire, Denielle Bassels, Andrew Penner, Big Rude Jake and many more. It is such a delight to be surrounded by so many strong and compelling voices, and they have all helped in their own way to shape my playing, expression, and exploration into song/lyric writing.
OD: Tell me a bit about your experience studying at Humber College. What were your favourite aspects of this post-secondary program, and what are the most important lessons you learned there?
JG: While at Humber, I received music lessons and attended classes/ensembles under the tutelage of some of the top musicians in the city and country, such as Pat LaBarbera, Neil Swainson, Geoff Young, Mark Promane, Kirk MacDonald, Drew Jurecka and so many more. The environment of the school welcomes musical exploration and creativity while honing the theoretical, rudimentary and technical skills of jazz and contemporary idioms of music. It was an honour to be surrounded by so many knowledgeable teachers, as well as a prosperity of talented up-and-coming musicians, so many of whom will become the voice of the next generation of professional musicians in Toronto's music industry. The strong sense of community within Humber provides an incredible support for creative development/collaboration and experimentation. This environment (and the amazing musicians within it) was truly a great setting for me to explore my personal musical ambitions and further pursue my interest in composition and original music.
Jacob Gorzhaltsan's Fly Softly CD release is December 1, at Jazz Bistro at 9pm; he's also at the Emmett Ray on December 19 at 7pm and at the Burdock Music Hall on December 30 at 8:30pm.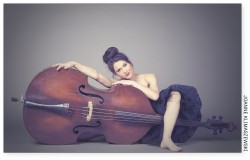 Disterheft: Composer, vocalist and JUNO-winning jazz bassist, Brandi Disterheft has released four records since graduating from Humber College. She also speaks about her time there fondly:
"Humber College taught me the importance of memorizing a plethora of jazz standards; I also learned how to rhythm read at brisk tempos. Lenny Boyd taught me Miles Davis solos. Don Thompson allowed me to believe that it is possible to change and revolutionize jazz, as he is one of the great innovators of the double bass. If he could be potently lyrical and play those peaking, clear lines that made your stomach sink, then I also could somehow contribute to the art form via exploration and hard work."
Disterheft is currently on tour celebrating her latest Justin Time release, Blue Canvas, featuring 80-years-young piano legend Harold Mabern with dazzling drummer Joe Farnsworth. Always one to choose her collaborators carefully, Disterheft reflects upon the experience of working with these two particular musicians:
"Harold's piano playing reflects that potent, romantic nostalgia one can only achieve from a lineage of years of living and hearing the music. His focus while entering that "dream world" when performing reminds me of when I had the opportunity to play with Hank Jones. It seems nothing can get in the way of their music, and it's their special place. Harold is also a gracious human being who innately supports people. Joe and I have been a rhythm section team as sidemen for numerous records under the bandleader and alto hard-bop player Vincent Herring (Smoke Sessions Records) with other world-class players such as Cyrus Chestnut and Jeremy Pelt. Playing with time with Joe is to effortlessly soar across the sky while holding onto an oversized helium balloon gliding over a raging river. His finesse and power is something I experienced when I was in my early 20s when Laila Biali and I opened for Pharoah Sanders at the Toronto Jazz Festival. Joe was playing drums, and you never forget hearing him live for the first time."
The very same can be said of Disterheft's own approach to music. In her hands the acoustic bass drips gloriously with a well-oiled liquid groove, and what makes her exciting to watch is that she always goes for it, with each solo resulting in surprising smiles, nods or hollers, depending on the audience.
In his review of Blue Canvas in the September WholeNote, Raul da Gama wrote that "listening to her is like putting your finger into a naked power-socket," later adding that she "handles her bass violin with as much visceral audacity as the great Charles Mingus once did…A particular highlight of the recording is Disterheft's vocals which play off her bass, but in an altogether different palette of thrilling, luminous colours."
If you get this memo in time, catch Brandi Disterheft on December 3 at Jazz Bistro where she will be celebrating Blue Canvas with Mabern and Farnsworth on the bandstand – do not miss this gifted composer whose interpretations of standards are always fresh. Cheers to Brandi, Jacob, everyone at Humber College and most of all to you, live music lovers, who keep us all going!
Ori Dagan is a Toronto-based jazz musician, writer and educator who can be reached at oridagan.com.