Missin' the Trane: There were celebrated nights of packed houses and grim evenings of empty rooms, but the music kept playing for nine admirable years, and there's no doubt that the Trane Studio will be missed by audiences and musicians alike. That said, I'm not going to give a eulogy to the club just yet; in writing to inform of the club's decision not to renew the lease at 964 Bathurst, owner Frank Francis pointed out that "this does not mean the end of the business, it is rather an opportunity for us to take a well-deserved break and assess things differently." Looking forward to catching the next Trane!
Singers and the Norm: Multi-talented Julie McGregor is an exquisite painter who, about a decade ago, turned her focus to singing jazz. More recently, McGregor has begun producing The Singer's Jazz Series, which features, alongside herself, a variety of Torontonian talent on vocals, with the venerable Norman Amadio on piano. Ironically, it's the accompanist who's at the heart of this singer's series.
"I was inspired by pianist Norman Amadio, one of Canada's greatest jazz talents and sadly it seems, most under-appreciated," says McGregor. "I wanted everyone to hear Norm play. At 84, he still plays great ... he loves accompanying and really is one of the most giving, humble and kind musicians I have ever met."
Indeed, Amadio's modesty belies his legendary status as jazz pianist, piano teacher, music coach, composer, arranger, session player, band leader and accompanist, dating back to the 1940s. At 17, the precociously gifted Norm left his hometown of Timmins to study with Boris Berlin at the Royal Conservatory, and soon thereafter became influential in starting the bebop scene in Toronto. Amadio became one of the country's most in-demand players, headlining at New York's Birdland in 1956 opposite Duke Ellington, and collaborating with far too many jazz giants to mention in this wee column.
At the "September's Song" installment of The Singer's Jazz Series, Amadio, along with the wondrous Neil Swainson on bass, will provide the ultimate accompaniment for featured vocalists Sophia Perlman, Vincent Wolfe and Julie McGregor, and jazz poet Chris Hercules. Reservations are recommended for this event, taking place at Hugh's Room on Sunday, September 16.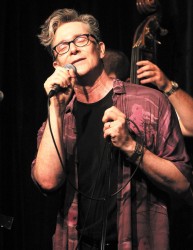 Songbook hero: When it comes to the American songbook, there might not be a better keeper of its flame than John Alcorn. His personal approach finds the singer infusing the material with burning passion, but never at the expense of a song's details. Good news: the beloved crooner this month embarks on The Songbook Series, a weekly Wednesday night residency at the Flying Beaver Pubaret in Cabbagetown. Alcorn will devote an evening a week to the musical works of an individual jazz, theatre or film artist, be it a composer, lyricist or legendary performer. This month he pays tribute to composers Cole Porter (Sept 5), Jerome Kern (Sept 12), Irving Berlin (Sept 19) and George Gershwin (Sept 26). Two stellar players accompany Alcorn in this series: Reg Schwager on guitar and Steve Wallace on bass. Admission is $15 or $10 in advance, except for the very first show, which is free. Who could ask for anything more?
Shepherd's departure: Back to Hugh's Room, where on September 29, Elizabeth Shepherd releases Rewind, a departure of sorts for this consummate talent who can pen both strong hooks and insightful lyrics, but chooses not to on this release. Shepherd's fourth CD takes a surprise turn, shifting gears to standard material that has inspired her to this point. In doing so, the spotlight is redirected to the artist's intelligent choices as singer and arranger. There's something undeniably magnetic about Shepherd's voice; she never quite raises it, nor does she have to. The new album's highlights include thoughtful transformations of Porter's "Love for Sale" and Weill's "Lonely House," reshaped into contemporary, minimalistic works of art. I'm willing to bet that John Alcorn would approve! 
Ori Dagan is a Toronto-based jazz vocalist, voice actor and entertainment journalist. He can be contacted at jazz@thewholenote.com.