O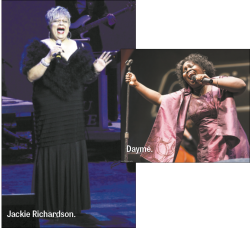 n the surface, it is the sound of her voice — an instrument of astonishing depth — that might take your breath away. But her ability to bring an audience to its feet is rooted in so much more. Jackie Richardson is an acclaimed actress who has won Gemini and Dora awards, with a musical versatility that extends from her roots in gospel to musical theatre, jazz and everything she touches. Whether breathing life into a familiar ballad or wailing the blues like nobody's business, there is an unflinching honesty behind Richardson's every word, sung through big eyes that sparkle with passion. And beyond all this, a genuine humility that puts this lady in a league of her own.
This month promises to be memorable for Richardson: on October 19 she performs at Koerner Hall as part of the Royal Conservatory's tribute to Dinah Washington and Sarah Vaughan, with Joe Sealy on piano and fellow vocalists Arlene Duncan and Ranee Lee. Two days earlier she will have received a great honour: the Ken Page Memorial Trust lifetime achievement award for contribution to the arts in Canada, which will be presented on Thursday, October 17, at the Old Mill as part of the Ken Page Memorial Trust Gala. How does it feel to receive such an honour? She searches for the right words:
"It takes my breath away ... I know when I think of my idols, I want my idols to be recognized. I want people to never forget Peter Appleyard. And that people would honour me with an award that they might have given Peter Appleyard, it blows me away, it truly does," she says. "I am such an admirer of other people in the field, and I am such a fan. There are people in the field that I consider myself their groupie. So that anybody else would feel that way about me ... it just doesn't fit in my day! (laughs) To me, I'm on such a learning curve, there's so much more I have to learn and do! I know in my head how I want to sound. I want my breath to be better. I want to be able to phrase more. I've got all these goals, and I hear a sound in my head that I want to use more, and all that stuff is yet to come."
She grew up in a musical family ("I was always on the bottom") and had many musical idols, but a few stand out.
"I loved Aretha — we all sang our share of Aretha, but as far as where I lived in Toronto and who I listened to and who I wanted to sound like, that was Dianne Brooks. She could sing everything — she could sing the R&B, she could sing the jazz, she could sing the country, she could knock you out with gospel, her voice was so unique and she was so soulful," Richardson recalls, and reflects. "I don't know why, but for whatever reason the universe decided that she wasn't going to be known like Aretha Franklin or Nancy Wilson, but that was the calibre of Dianne Brooks. But all of us — in Toronto in that era — we all wanted to sound like Dianne Brooks. She ruled."
On paying tribute to Dinah Washington and Sarah Vaughan at Koerner Hall:
"When you want to study, when you wanna go to masterclass, that's who you put on. People like Sarah and Dinah and Ella and Carmen. That's masterclass every single time you put it on. There are still those incredible times even if I played it 100 times, listening to Sarah do songs and the way she just in a blink jumps up two octaves and then hits that lower octave like it was twiddling her thumbs — the effect of it is so absolutely amazing. And what I love about all those singers, they did these incredible things with their voices, but they never lost the sense of what they were singing about. It wasn't about the technical — the acrobatics of the voice — it was 'This is my point of view, and me singing it like this, me picking these notes, I hope you understand where I am coming from.' And it's the same with Aretha — every note comes from such a true place — and what singers today don't get that are trying to do Aretha is they don't hear the story or they don't put any value in the story, it's all about the notes and the riffs and how high can I go — it can bore you to tears."
That being said, there is one young singer that Richardson calls "a mesmerizing performer with musicality way beyond her years." Cuban sensation Daymé (pronounced "Dimey") made a memorable Canadian debut on May 30 at the Jane Mallett Theatre, as part of "Funny Girls and Dynamic Divas," a fundraiser for the Sistering foundation. Jackie Richardson was in the audience that night to witness Daymé's triumphant set of three original tunes and an arrangement of a traditional Cuban song; at the end of her set, the audience erupted into a rousing standing ovation.
Since graduating from Cuba's prestigious music schools and studying piano, voice and percussion at the Amadeo Roldan Conservatory, Daymé has been causing a stir on the Cuban jazz scene, melding together classic jazz, soul and Afro-Cuban sounds into a fresh new sound. Canadian jazz luminary Jane Bunnett and her husband Larry Cramer discovered Daymé a few years back while on a JAZZ.FM91 safari at the Havana Jazz Festival, and were so impressed that they have been mentoring her ever since.
"When Larry and I saw her, she was performing with her own group," recalls Bunnett. "I had never seen anybody — a young female — in Cuba at that calibre — and with that kind of poise and musical strength! I realized that my jaw had dropped as I was listening to her. And then the next level was when I was playing the next night and I invited her to jump in with us — to see her capabilities of really improvising — not like she just has her thing and she does it — she's got incredible skills hidden under her belt that are there to be uncovered! That's pretty exciting to see how far she's going to go. I've never met a singer in Cuba that loves Betty Carter and Sarah Vaughan and Nina Simone — she's really drawn to that — she knows where she's going and that's really special ... also, she writes great music, at her young age. Very thoughtful, unique compositions ... her dedication at her early age — she's so focused —
it's really inspiring to me."
There will be two opportunities to catch Daymé in Toronto with Jane Bunnett and Hilario Duran this month: on Saturday, October 5 at the Paintbox Bistro and Thursday, October 10 at Bloom Restaurant.
Toronto Jazz Central: Speaking of bloom, Toronto Jazz Central is a brand new organization which hopes to grow audiences for Toronto jazz locally, nationally and internationally. The idea for Toronto Jazz Central originated at the Imperial Pub several years ago, when members of the jazz community — musicians, presenters, venues, educators and fans — collectively brainstormed the need for such an organization. A group of volunteers from a range of disciplines has since worked to create a non-partisan way of showcasing the range and diversity of jazz in this city.
"The main component of Toronto Jazz Central is a website being launched in December 2013," says Josh Grossman, musician, bandleader, artistic director of Toronto Downtown Jazz. "On the website, musicians and industry members can promote their activity by creating profiles, listing upcoming shows and other news items and uploading audio and video tracks for inclusion on an onsite playlist. With the website, music fans, whether from the area or visiting, will have a 'one-stop shop' for all things jazz in Toronto."
The goal, Grossman says, is to make torontojazzcentral.com accessible; musicians and industry members will be able to create basic profiles for free, and the general public will be able to access the information on the site for free. However, musicians, members of the public and others in the industry are being encouraged to become members for a small fee — musician and general public membership is $25 per year; industry membership $100 per year.
More details about the benefits of TJC membership and how to join are coming soon — and The WholeNote will pass them along as they do. In the meanwhile, these club listings show the fertile soil TJC will have to work with. And if you are planning to see Jackie Richardson or young Daymé buy your tickets in advance! Your ears mean the world to musicians. 
Ori Dagan is a Toronto-based jazz vocalist, voice actor and entertainment journalist. He can be contacted at jazz@thewholenote.com.