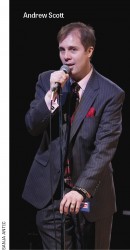 Label executive, writer-producer, educator and jazz journalist Jeff Levenson is speaking. "Find yourself within this ecosystem" he advises. "You're a musician, but you're many other things as well."
He is one of a handful of speakers at a music business seminar co-presented by JAZZ.FM91 (jazz.fm) and the International Resource Centre for Performing Artists (ircpa.net) on April 11, 2015, hosted at JAZZ.FM91 in Liberty Village. It's a well-attended event, with panels curated by community engagement and education manager Mark Micklethwaite and CEO of the station, Ross Porter.
"With the Music Business Seminar, we seek to help Canadian artists gain the knowledge and expertise to succeed in the Canadian music marketplace. We have brought together successful industry professional and musicians to talk about the important topics – booking performance, recording, radio airplay, promotion – and provide a forum for enterprising musicians to ask questions and interact with the experts and their peers," says Porter.
Founder of IRCPA, Ann Summers Dossena was honoured by the international arts industry in 2012 and again in 2014. She retired from arts management in October 2013 after a distinguished, 55-year career in New York, Rome and Toronto.
"During these years I was invited to give a number of workshops for emerging artists in Austria, Italy, Israel and the United States, with several colleagues," recalls Summers Dossena. "When I returned to Toronto in 1977 I opened the office here and soon realized that Canadian artists needed the same help."
In her decades of important work in the field she gained an unequalled amount of experience pertaining to artist management, personal representation, promotion and marketing. I asked Summers Dossena how the IRCPA has changed since its birth in 1985:
"The Centre now has a formal board and by-laws, and is working on a strategic plan and fundraising on two levels. One to keep our badly needed workshops and the second to create a physical centre for musicians to come together as a community to exchange ideas, share challenges, seek solutions, gain confidence, network and be mentored. We are working toward being able to own our space in a new building by the fall of 2017 to be named the IRCPA Maureen Forrester Centre, in celebration of Canada's 150th anniversary."
Back to the JAZZ.FM91/IRCPA Music Business Seminar which was a bargain at $30 per attendant – there was a lot of wisdom to be gained here courtesy of several invaluable panels.
"Be a positive member of the community," said Carol Gimbel, founding artistic director of the Music in the Barns concert series. "Find people that have a similar mission," emphasized Barry Shiffman, associate dean and director of chamber music at the Glenn Gould School, Royal Conservatory, and artistic director of summer music programs and the international string quartet competition at the Banff Centre. "If the music is good, it should speak for itself," underlined Josh Grossman, artistic director of the TD Toronto Jazz Festival. "Your record, and 50 other records, came today," advised Brad Barker, music director and host of Afternoon Drive, JAZZ.FM91, so "find a way to be relentlessly polite" and "if you're thinking about recording another version of "Autumn Leaves" ask yourself if you are adding anything new."
The recording panel shed light on the process of creating product: Steve Bellamy, founder and president of Addo Records, and associate dean for the Humber School of Creative and Performing Arts reminded participants that "a lack of planning is where most projects go wrong"; JUNO-nominated drummer/composer and owner of Orange Grove Publicity Ernesto Cervini expressed the importance of having a good producer: "when you're in the studio you want to be able to just play."
The final panel of the day focused on publicity and how to make it work for you. "We don't take artists we don't believe in," said Jane Harbury, president of Jane Harbury Publicity; and Eric Alper, director of media relations, eOne Music Canada and social media icon (588,000 twitter followers as of this writing), urged attendees to "create great content all the time … learn your audience … and take polls."
Yet, for me, it was Levenson's opening address that remained one of the seminar highlights. Emphasizing the importance of questions over answers, he stressed the importance of passion, conviction, authenticity and above all, a sense of realism. "Musicians are heroes," he said, "and I believe they should get paid as much as nuclear physicists, but the marketplace determines the pay."
The hats we wear: We musicians have to wear various hats, sometimes simultaneously. I'm always reminded of this when I do my taxes. Last year I made money by singing, writing, teaching, licensing, royalties, as well as work in public relations, social media management, website management and booking musical talent. I'm very lucky to be working with music all of the time. The total of all the income sources I have listed may not have amounted to much if compared to a nine-to-five job, but I wouldn't trade being an artist for anything in the world and one thing's for sure: there's never a dull moment.
Andrew Scott: In the Toronto jazz community this juggling act of jobs to support one's artistic career is far from unusual. Take Andrew Scott, an important member of our community both as a musician as well as an educator, an administrator and an advocate. He describes the various hats he currently wears thusly:
"In terms of performing, I play with my own jazz groups of various sizes that often include the great Jake Wilkinson, Jon Meyer and Joel Haynes; I play in a very fun three baritone saxophone band led by Alex Dean called The Travelling Wall-Baris (appearing at The Rex May 15 and 16). I work in a trio setting with the ever-inspiring octogenarian Gene DiNovi and have a loose cross-border two-guitar group with Randy Napoleon. Outside of jazz, I work with the businessman/singer/entertainer Frank D'Angelo in his 18-piece R&B show band. I also write about music, compose music for film and am extremely proud to teach and work as the current acting director of Humber College's Department of Music (2014-2015).
Asked what he would do with three more hours in the day: "Easy. With three extra hours each day, I'd spend more time with my wife and our three wonderful children."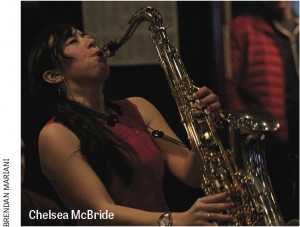 Chelsea McBride: And here's Chelsea McBride, awarded the Toronto Arts Foundation's inaugural Emerging Jazz Artist Award in 2014, in her own words:
"Where to begin! I'm a performer/composer/bandleader first and foremost – probably half or more of my performances are with bands I lead or am very involved in, though the projects I'm a sideperson on are always fun – mostly contemporary jazz groups or pop cover bands that play lots of 70s music. I'm an artistic producer with Spectrum Music – with the other producers, we handle all the logistics involved in putting on four concerts a year. We also all write for these concerts, and with the constantly changing instrumentation, it's always a new challenge for me as a composer. And it's lots of fun.
"I found a teaching job in Oakville before I got out of school, so I'm actually out there quite often – I teach voice and piano mostly, along with my main instruments. There's a lot less demand for woodwinds at the school I'm at, unfortunately...
"In addition to that, I end up doing a lot of administrative work – I'm a copyist for NewYork composer Daniel Jamieson (who's originally from Toronto), and that occasionally also involves editing/proofreading non-musical stuff, which is something I have done for a long time. And last but not least, I'm slowly getting into the grant-writing thing - this has been tricky because, being so recently out of school, I'm not even eligible for some programs still! But I have been getting lots of practice working with other people on their applications."
Under the umbrella of bandleader, McBride is busy as a beaver: "Chelsea McBride's Socialist Night School, (appearing this month Saturday May 23 at the Rex, 3:30pm), performs exclusively original contemporary jazz music – more groove-based than swing. Most of the music is composed by me, but not all. I also lead a sextet called Chelsea and the Cityscape, which performs more in the singer-songwriter, pop and rock vein. I play standards and a few lead-sheet original jazz tunes that don't quite fit into either of my other band's styles around town every so often under the moniker Chelsea McBride Group (appearing this month Friday May 1 at Habits Gastropub). I play in a video game cover band called the Koopa Troop, which is exactly what it sounds like – a bunch of jazz-school nerds playing Nintendo music better than you've heard it before. And last but not least, I play in the Brad Cheeseman Group (appearing May 8 at the Jazz Room in Waterloo), which is contemporary small-group jazz music played with a strong focus on the ensemble sound."
Rounding it off: To close this month's column, here's another quote from the JAZZ.FM91/IRCPA Music Business Seminar, this one by Peter Cardinali, owner of Alma Records, which drew from the example of soul-jazz superstar Gregory Porter: "There are a lot of 12-year overnight successes." As such, there is no substitute for hard work and if as an artist you don't truly love what you do, you're in trouble.
Thank you for reading this magazine and supporting live music. Check out The WholeNote's jazz listings and the new column by Bob Ben, Mainly Clubs, Mostly Jazz. Be happy while you may, and Happy May!
Ori Dagan is a Toronto-based jazz musician, writer and educator who can be reached at oridagan.com.