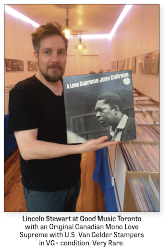 This holiday season, choose old-school LPs over iTunes gift certificates. The reason? #VinylRevival. It's the old thing. It's the new thing. And for the record: if you need cash, dig out those old LPs – they could be worth something. To get your money's worth, check out a store called Good Music Toronto, recently relocated from its Queen Street location downstairs from Black Market Vintage Clothing to new premises at 1611 Dundas West, at Brock, just steps away from Lula Lounge.
"I've been selling records in Toronto for ten years – eight as manager of Vortex Records and two as owner of Good Music [ilikegoodmusic.com]," says Lincoln Stewart, who prides himself on giving the fairest prices in town (half of what he sells the record for) for quality vinyl. "I have been a music lover my whole life and got into the business when the owner of Vortex asked me to work for him. Seven years prior I'd been the manager of his video store, Art & Trash."
What about this business has changed in the past few years? I asked him.