NEW VENUE, NEW MENU, NEW PIANO!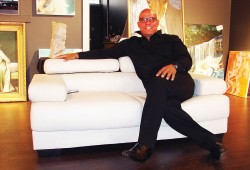 Three years ago, Derek Houghton purchased a broken down Etobicoke building with the intention of renovating and reselling it. He changed his mind about the latter part of the plan when he discovered Lakeshore Village's artistic community and opened a brand new venue — complete with grand piano and drum set — called the Gallery Studio.
"I wanted to create a venue for serious artists … an art gallery slash jazz club — my two passions … I also wanted to create a setting where jazz students and recent grads could play and where the big names could also play, so there is more of a cross-pollination of talent, young and mature, so that the experience is less predictable … I want to emphasize as well the entertainment aspect of jazz as much as the very important academic aspect. I think that both are richer when brought together."
Recently the venue has been home to the Al Henderson/Kurt MacDonald Duo, the Dave Restivo/Kelly Jefferson Quartet, Mike Murley and other greats. There is no shortage of jazz talent in the vicinity of the Gallery Studio, especially since it is just a few blocks from the Humber College Lakeshore campus. Check The WholeNote's jazz listings to find its complete schedule, including three regular bands on Sunday and a weekly open mic hosted by Humber College Alumni. www.thegallery-studio-cafe.com
APPLAUSE FOR THE CAUSE
The Ken Page Memorial Trust presents its 13th annual fundraising gala on September 15 at The Old Mill, and once again the music director of this fantastic event is The WholeNote`s own Jim Galloway. The wholly noteworthy lineup will prove heavenly for lovers of swing. In memory of distinguished television executive and fervent jazz enthusiast Ken Page, this is an event well worth supporting; since 1998, the trust fund has been strongly committed to the health of jazz by funding various initiatives year-round with a focus on education. www.kenpagememorialtrust.com
In a similar mindset, the Archie Alleyne Scholarship Fund presents its seventh annual fundraiser, "Syncopation: Life in the Key of Black," September 18 at the Al Green Theatre. "This event will bring us back to the era when there were jam sessions at the 355 every Sunday and where most of the black musicians in Toronto developed their careers," says Alleyne, who will be formally honoured with the 2011 Lifetime Achievement Award from the Toronto Musicians' Association at the event. "We were not welcome to perform in the mainstream entertainment mecca on Yonge Street until 1944 because of discrimination." The afternoon will feature a rare photo exhibit of subjects such as Syd Blackwood, Don Carrington and Cy McLean, known as "Canada's Count Basie" and the first black member of the Toronto Musicians' Protective Union.
www.aasf.ca
PEACOCK STRUTS SOME SOUL!
Vocalist and songwriter Jill Peacock recently relocated to Toronto after a life-changing experience studying at Boston's prestigious Berklee College, where she initially enrolled as a piano major. "I had played classical piano all my life … but once I was there, I found myself more drawn to the vocal department and auditioned for a transfer … I had to work hard to keep up with students who had been singing for a long time but I loved every minute of the challenge!"
Infused with a unique sweetness, Peacock's voice is gentle as a kitten's meow and every bit as precious. Skilled in jazz, soul, Motown and R&B standards, she is also a promising songwriter.
Jill Peacock will be performing at Harlem, 67 Richmond St. E., on the night of September 17 and also at the Reservoir Lounge from 7–9pm on September 23. www.jillpeacock.com
RUBY A GEM TO BE SURE!
Montreal-born guitarist and composer Eric St. Laurent spent considerable time honing his craft in Berlin and New York City before settling in Toronto a few years back, and appropriately, his engaging music tells the tales of a traveller. Layered with influences from around the globe, this music is energetic, intelligent and full of energy. Augmented by two extraordinary musical forces — bassist Jordan O'Connor and percussionist Michel DeQuevedo — the Eric St. Laurent trio is one of this country`s most exciting new musical acts. Ruby is the title of the trio's second CD, which will be released at Hugh`s Room on September 15. www.ericst-laurent.com
REMEMBERING TRANE (1926–1967)
Jazz icon John Coltrane would have turned 85 this month, and his musical legacy lives on with multiple tributes in Toronto. Named after the master, The Trane Studio in The Annex will play host to a pair of Coltrane tributes: the Michael Arthurs Quartet on September 23 and the Scott Marshall Quartet on September 24. And as is the annual tradition at the Rex Hotel for longer than we have been in print, tenor saxophonists and local luminaries Pat LaBarbera and Kirk MacDonald will be paying tribute to the master with a three-nighter, September 23–25. www.tranestudio.com, www.therex.ca
Ori Dagan is a Toronto-based jazz vocalist, voice actor and entertainment journalist. He can be contacted at jazz@thewholenote.com.