Tallis Choir
The year is 1725, the night is Christmas Eve. In the colonial city of Quebec it is crisp and clear; snow upon snow has fallen and tonight lies in vast expanses, sparkling under the stars. Life is not easy — in no small measure because of the extreme cold — ah, but inside the church this night there is warmth and a sense of wonder at the holiness of this yearly ritual. And there is wonderful music: a marvellous Messe de Minuit pour Noël by the late French composer Marc-Antoine Charpentier is being performed. Brought over from France, it's filled with delightful melodies of French carols. Its sections are surrounded and interspersed with other Christmas music too, noëls and motets by composers both from the French court of King Louis XIV and from the New World; a carol in an aboriginal language; also lovely organ music from a book recently brought over from France by the new organist of Notre-Dame parish. For the sophisticated congregation of Quebec, it truly is a glorious feast of music.
Every year, the Tallis Choir presents a concert programme, built around an imagined but possible historical event such as the above, with music that was performed in the period. They do this with obvious joy in the extensive research involved in the preparation, by people such as choir member Douglas Cowling and director Peter Mahon. On December 10 at St. Patrick's Church, you can hear this season's offering as the Tallis Choir, the Talisker Players, organist Philip Fournier and director Peter Mahon recreate a high mass for Christmas Eve as it might have been celebrated in colonial Quebec city, "Midnight Mass for New France, 1725."
Messiahs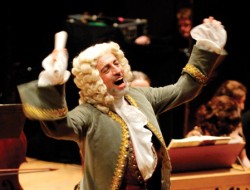 There's no dearth of annual Messiahs in the offing, each one special in its own way. Here's a sampling of some which offer a particularly unique approach:
Georgetown Bach Chorale takes an historical approach in terms of location and musical presentation. Director Ronald Greidanus waxes enthusiastic about the venues: "The buildings are as incredible as the music, Acton's Old Town Hall being very similar to the theatre Handel would have performed his Dublin premiere in; the second location (east of Georgetown) even more breathtaking — an isolated wooden Catholic church situated in the middle of a field, lit by candles, decorated by incredible byzantinian icons. Listeners will be bemused by a beautiful chorale sound (complete with 22-member choir, two harpsichords, baroque chamber organ, baroque strings and brass) in an intimate church that seats only 180 — it truly is like going back in time, it's like the best kept secret!" December 3 in Acton, December 4 in Brampton.
Pax Christi Chorale's performance, under the direction of Stephanie Martin, acknowledges children. "The Children's' Messiah" is designed especially for youngsters, in a condensed version with narration and a casual, child-friendly setting. December 10 at Church of St. Mary Magdalene.
Aradia Ensemble's "The Dublin Messiah" recreates the first performance of Handel's famous work using the original version of the score, as presented in Dublin on April 13, 1742. And there's a nod to the dress code of the day: as in the original performance, they request that, "The Ladies who honour this Performance with their Presence would be pleased to come without hoops (hoop framed skirts), as it will greatly increase the Charity by making room for more company." December 17 at Glenn Gould Studio.
Tafelmusik's "Sing-Along Messiah," celebrating its 25th anniversary, is directed by none other than Handel himself (aka Ivars Taurins). Taurins received a Gemini Award nomination this year for the film version; his immersion in his character is based on painstaking research — from Handel's ruddy complexion (he was fond of drink) to the type of starch (not powder!) Handel used in his wig. As their press release says: "Does the audience notice these subtle distinctions? Maybe not, but they completely buy into the illusion that Handel has come back after 270 years to conduct them in this three-hour annual ritual." December 18 at Massey Hall.
A Host Of Others To See Out The Old And Welcome In The New:
• December 8: The Tallis Scholars appear at Royal Conservatory's Koerner Hall, in a programme that features diverse composers' settings of the Magnificat — glorious choral music from 15th century John Taverner all the way to late 20th century Arvo Pärt.
• December 9, 10, 11: Toronto Consort celebrates "A Spanish Christmas" — Christmas with a Latin flavour as it might have been experienced by the Spanish-speaking nations of the world on both sides of the Atlantic in renaissance and baroque-period times. This is a world the Consort revisits every two years; this year's presentation includes solemn motets, lively villançicos, pieces in native languages and dialects, some in African rhythmic inflections. Music of "irrepressible spirit, flashing rhythms and soulful sonorities."
• December 10: I Furiosi Baroque Ensemble presents "Hell Hath No Fury" …  like I Furiosi scorned! "Not your average Christmas concert" so be prepared to be surprised.
• December 16: Sine Nomine Ensemble for Medieval Music presents "Puer natus est nobis: A 14th-century Mass for Christmas Day," a musical reconstruction of a nativity mass from Avignon. This year the ensemble celebrates 20 years of inventive programming, combining vocal and instrumental music from medieval courts and churches with readings, drama, and liturgical action, to provide insight into the fascinating artistic and intellectual culture of the Middle Ages.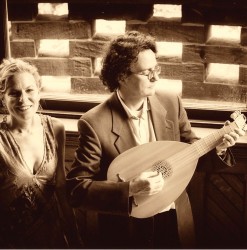 • January 1 and 2: Musicians In Ordinary's annual New Year's Day concerts offer an elegant alternative to the traditional New Year's fare, with cantatas by Vivaldi and Alessandro Scarlatti, a trio sonata by Corelli and music for solo archlute by Zamboni. Soprano Hallie Fishel and lutenist John Edwards are joined by violinists Edwin Huizinga and Christopher Verrette, and others.
• January 15: Toronto Early Music Centre's "Musically Speaking" series resumes at its new location of St. David's Anglican Church, 49 Donlands Ave. Music by Guillemain, Leclair and Telemann is performed by Alison Melville, recorders/traverso; Elyssa Lefurgey-Smyth, violin; Justin Haynes, viola da gamba; and Sara-Anne Churchill, harpsichord.
• January 19 to 22: What a way to celebrate your 30th anniversary! Jeanne Lamon's "gift" to herself is to direct Tafelmusik Baroque Orchestra and Chamber Choir, along with spectacular guest soloists, in a semi-staged performance of Handel's rarely performed music drama Hercules — a dramatic story "seething with the destructive power of sexual jealousy" inspired by a Greek tragedy written by Sophocles more than 2500 years ago.
• January 27: In Kingston, the Melos Choir and Chamber Orchestra presents "The Italian Connection: Gabrielli to Vivaldi," welcoming guest guitarists Jeff Hanlon and Chad Yacobucci.
• January 27 and 28: Perhaps you've heard him singing with Tafelmusik: the passionate evangelist in Bach's St. John Passion, the tenor soloist in the B Minor Mass, or the tenor voice in Purcell's opera King Arthur. Or with the Toronto Consort, in the Monteverdi Vespers or the opera Orfeo. If so, you'll not have forgotten the remarkable agility of his voice, or the intensity of his commitment to the text. Now the Toronto Consort presents the English tenor Charles Daniels in recital, in "It was a lover and his lass," a concert of exquisite lute songs from the English and French Renaissance. He'll be accompanied by lutenist David Miller, in works by Morley, Danyels, Campian and Moulinié.
• January 28: The years 1788 to 89 were incredibly creative ones for Mozart; he was then at the height of his powers. Academy Concert Series performs three of his major chamber works written during that time, in "Mozart: A Year In Vienna."
• February 4: Fellow columnist, lutenist Benjamin Stein, makes the point that "Improvisation was a natural part of Bach's musical milieu, and this skill, neglected in much classical music training, is one that has reappeared as an essential aspect of training in early music." In Music at Metropolitan's "BachFest II: Jam Sessions with Bach," performances of works by Bach and other German composers are combined with improvisations on baroque dance forms and hymn tunes. Taking part are four talented musicians: Benjamin Stein, theorbo/lute; Sara-Anne Churchill, keyboard; Daniel Rubinoff, saxophone; Elyssa Lefurgey-Smith, violin.
• February 4: In "Pergolesi's Inspiring Stabat Mater," Barrie Concerts brings internationally renowned musicians to their stage: soprano Dame Emma Kirkby, countertenor Daniel Taylor and the Theatre of Early Music will surely inspire with their performance. The series is sold by subscription only and is virtually sold out; lucky are those who already have their tickets.
Finally, a correction to last month's column: it's not often I mistake Schubert for Gounod. Granted, they both wrote Ave Marias, but only one of these is based on Bach's Prelude No.1 from the Well Tempered Clavier Book I, and it definitely wasn't the Schubert as I stated in the print version of last month's issue. I guess The Well-tempered Sleeper finally awoke … Better late than never!
Simone Desilets is a long-time contributor to The WholeNote in several capacities who plays the viola da gamba. She can be contacted at earlymusic@thewholenote.com.