We go to concerts to hear music, sometimes not aware of the interesting backgrounds of the artists there on stage, playing or singing their hearts out. In conjunction with two upcoming concerts, here are two performers with fascinating stories to tell.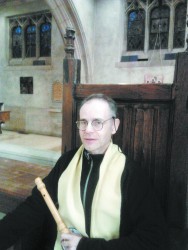 Randall Rosenfeld has been a mainstay of Sine Nomine Ensemble for Medieval Music since its founding in 1991. He's often heard playing vielle, gittern, recorder and early flute in this group which performs vocal and instrumental music of Europe from around the tenth to the 15th centuries. But did you know that he's received a major award from the Royal Astronomical Society of Canada for excellence in astronomical writing and has been honoured by having a minor planet named after him? It's all in his work as national archivist of the RASC; he's received high praise for creating a first-class archive that provides an insight on the development of Canadian astronomy in the last century. I asked him to talk about the co-existence of music and astronomy in his life; here, distilled, is a little of what he told me:
"My formal training wasn't as a scientist, but rather as a medievalist. One can't go very far in the exploration of the intellectual world of say, 1,200 or 600 years ago without encountering the very close connections between music and astronomy. They were sister mathematical disciplines through which an understanding of the world could be apprehended. Those connections could be found directly in music surviving from the 11th to the 15th centuries. There's a surprising amount of medieval music with texts unmistakably using the technical vocabulary of astronomy, or describing types of celestial events. Very convenient for someone with an interest in the history of both music and astronomy.
"I can't say that my work in the history of post-medieval astronomy influences what I do musically, or vice versa, with one notable exception. The problems associated with restaging historical observations and those involved with recreating past musical practices are in many respects quite similar — it is as difficult to fully recover or comprehend how an experiment may have been done in the past or how the results were perceived at the time as it is to recreate a past musical performance and hear it with the ears of the past (some aspects and perceptions will never be recoverable). Much can be learned by endeavouring to do both, and each may provide an illuminating analogue to the other."
On December 21 at St. Thomas's Anglican Church, Sine Nomine Ensemble performs "A Christmas Court Entertainment: The Romance of Erec and Enide," one of the most popular Arthurian romances, with music by Machaut, Binchois, Dufay and other late medieval French composers. While the concert is not directly structured around an astrological theme, there's astrological imagery: "Some of the repertoire mentions celestial objects and is concerned with aspects of the construction of the world, and touches on questions of time and eternity."
Katherine Hill is well known as a soprano in the early music world, here and in Europe — no doubt you've heard her in ensembles such as the Toronto Consort, Sine Nomine and Scaramella. You may have seen her playing the medieval fiddle or the gamba too. But lately, another fascinating instrument has entered her life: The nyckelharpa is a bowed stringed instrument with keys that can be traced back to 14th-century northern Europe and is still widely used in Swedish traditional music. It got Hill's attention when she heard it on recordings many years ago. She says: "The sound reminded me of my medieval fiddle, but I also loved the sound of the keys clicking away. And Swedish music, with its mix of major and minor modes, crazy rhythms and haunting songs also captivated me."
Having the good fortune to borrow one for a summer and then to buy it, she seized opportunities to do summer courses in Sweden in nyckelharpa and Swedish music. "The more I learned, the more I wanted to learn! So last year I got a Canada Council grant to study technique, repertoire and Swedish traditional dance in Sweden for nine months, which was a very rich experience. Now that I'm home, I want to keep exploring the Swedish music side of things, but also the medieval fiddle side."
There's a good opportunity to hear her and this instrument, in the first concert of the Toronto Early Music Centre (TEMC) 2013 season. Hill says: "I will be playing nyckelharpa in this show. The general uniting element in the repertoire is the nyckelharpa, first as a medieval fiddle (pictured in Siena in 1408 in the chapel of the town hall). So we'll be playing some music from that time and place. And second, the nyckelharpa as a Swedish traditional instrument; so there will be some Swedish songs and dance tunes. My partner will be Julia Seager-Scott, who will play a gothic harp for the medieval material and a folk (or a baroque) harp for the Swedish music. There's a nice connection too, with the word harp also being in the name nyckelharpa (in Swedish 'harpa' can mean harp or fiddle)."
The performance takes place on Sunday afternoon, January 27 in TEMC's intimate venue, St. David's Anglican Church.
Collegium Vocale Gent/Schola Cantorum
We're lucky that the RCM's Performing Arts director, Mervon Mehta, is passionate about bringing internationally renowned artists to our parts of the world — for example, the wonderful ensemble Collegium Vocale Gent who appear in Koerner Hall on December 14 to perform four cantatas from Bach's Christmas Oratorio. Specialists in historically authentic performances of vocal renaissance and baroque music, they're led by the acclaimed conductor Philippe Herreweghe who founded this group in 1970. Their work has been described as "breathtaking," "eloquent," "unusually finely blended."
A week earlier on December 7, the U of T's newly formed early music vocal ensemble Schola Cantorum performs in the beautiful, acoustically rich and relatively intimate setting of Trinity College Chapel. Featured are Handel's Coronation Anthems, the four joyful and celebratory pieces that he composed for the coronations of King George II and Queen Caroline. The concert is directed by countertenor Daniel Taylor, whose ensemble, the Theatre of Early Music, also participates in this performance.
A few others in brief
December 14 to 16: The Toronto Consort and guests, the Toronto Chamber Choir, present "Praetorius Mass for Christmas Morning." This production recreates the music that might have been heard at a Lutheran mass on Christmas morning under Michael Praetorius and features the sounds of early brass, strings, lutes, keyboards and voices from their positions around the balconies at Trinity-St. Paul's Centre.
December 19: At Saint Stephen-in-the-Fields Church, the Elixir Ensemble — harpsichordist Sara-Anne Churchill, gambist Justin Haynes, violinists Elyssa Lefurgey-Smith and Valerie Gordon — performs music from the Baroque on historical instruments.
January 1 and 2: Don't forget the Musicians In Ordinary's annual New Year's Day Baroque Concerts. Soprano Hallie Fishel and lutenist/theorbist John Edwards are joined by violinists Christopher Verrette and Edwin Huizinga.
January 12: The Oratory, Holy Family Church presents "O Beata Infantia: Baroque Music for the Christ Child." Organist Philip Fournier and a fine vocal and string ensemble perform works by Praetorius, Sweelinck, François and Louis Couperin, Perotin and Palestrina.
January 17 to 20, 22: Tafelmusik's "Baroque London" explores the music of the King's Theatre Haymarket under the guidance of retired oboist, Mr. Richard Neale. Music by Handel, Galliard, Sammartini, Bononcini and Pepusch illustrates the remembrances of this forgotten oboist, as imagined by actor R.H. Thomson.
January 31, February 1 to 3: Again the formidable Tafelmusik, whose show "Vivaldi, Handel & Sandrine Piau" features this French soprano in baroque arias, also orchestral suites and concertos. 
Simone Desilets is a long-time contributor to The WholeNote in several capacities who plays the viola da gamba.
She can be contacted at earlymusic@thewholenote.com.