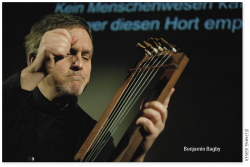 So. Is there any point in reading Beowulf anymore? It has the distinct honour of being the first work of literature from a non-Greek or Latin source text, but while a quick glance at U of T's course calendar would seem to indicate that the Viking Age epic will likely show up on an Old English literature course, you could very easily complete an entire English undergraduate degree without ever having to read it. In fact, reading it may well be entirely unnecessary. The poem has also undergone countless adaptations and updates to appeal to a modern audience, including Sci-Fi film versions, operas, comic books (there is a Beowulf: The Graphic Novel if you care to read it), novels (including the Michael Crichton bestseller Eaters of the Dead) and, currently, a made-for-TV mini-series created for British television and starring a cast of complete unknowns.
It's also well worth asking if Beowulf, being over a thousand years old, still holds up as literature. For practical purposes, reading it in the original Old English is effectively impossible. And despite numerous translations into modern English spanning over two centuries (including a very fine, if overly creative, adaptation by the Irish poet Seamus Heaney), Beowulf is, as I mentioned, no longer required reading. As poetry – in the sense of an exploration of language and wordplay – it probably won't impress a modern audience. If you've read it, you will probably recall that the poet's technique of choice was alliteration not rhyme, and rhythm not metre – not particularly impressive in a digital age. Besides, the plot is next to non-existent and focuses on a series of fights between the titular hero and increasingly large and dangerous monsters. What's up with that? as they say these days. I also doubt if too many potential readers are at all interested in the period in which Beowulf is set – that is, Northern Europe between the 8th and 11th centuries. I'm no historian, but I take historians' word for it when they call the period the Dark Ages. (And we haven't even touched on the issue of whether the Beowulf poet's own audience would or could have even read the poem themselves.) What were literacy levels like in eighth-century Denmark? What was their book publishing industry like? I'm guessing not very robust. So does the literary canon still need Beowulf, or should it be stricken from the roster of classic literature?
To answer this question, one need look no further than the very interesting life of one Benjamin Bagby who has made a career as (to my knowledge) the world's only bard, meaning he travels the world performing ancient epic poetry and accompanies himself on the Anglo-Saxon harp. Yes, this is literally his day job. Bagby claims he was captivated by the Beowulf saga from the day he read it at the age of 12, and I for one am prepared to completely believe him. Since he first read it, Bagby taught himself to perform the epic in the original Old English, and has since been touring Beowulf around the world as a solo performance for the last decade. If there is any justification for Beowulf's place in the literary canon, Bagby's performance is it, and this month, he'll be performing the epic poem (with English surtitles) in Toronto at Trinity-St. Paul's Centre, courtesy of Toronto Consort, on March 11 and 12. I can't think of any better reason for historically inspired performance than to revive classic musical or literary works and present them to the public in a manner as close to the original as modern scholarship will let us get. We still have no idea who wrote Beowulf, but if he knew his poem was still being performed over a thousand years later to sold-out concert halls, he'd be gobsmacked.
Swan of Avon: Some literary classics are more accessible than others, some because they're written in modern English, and some because, unlike Bagby's Beowulf, tickets haven't already almost sold out a month in advance. So, while you still can, avail yourself of tickets to the Musicians in Ordinary who are in the midst of a three-concert series devoted to Shakespeare, featuring ornate poetry and elaborate musical arrangements (albeit fewer monster fights than Bagby's Beowulf). But, like Bagby, "Sweet Swan of Avon" attempts to take the audience into the language of Shakespeare's time, rendering Shakespeare's words more the way people would have said them at the time, rather than, as is more customary these days, like a modern dude who happens to have studied Shakespeare. March 19 at 8pm, in the intimate surrounds of the Heliconian Hall, the MiO present the second of this three-concert series, "Shakespeare's Saints & Sinners," featuring excerpts from Hamlet, Macbeth and Romeo and Juliet read by U of T prof David Klausner, along with lute songs by Dowland and Thomas Campion, and motets with strings composed by Orlando Gibbons. Violinist Chris Verrette leads a string band along with soprano Hallie Fishel and lutenist John Edwards for a concert that's 100 percent Shakespearean. Check it out, as well as the third concert in the series, "Shakespeare's Sorrows," which takes place at the same venue on April 23, the 400th anniversary of the Bard's death.
Sweet Kisses: Shakespeare still too serious? If you're looking to enjoy a concert that that's passionate, emotional and exciting, but demands less gravitas than (say) Shakespeare or Old English epics, consider checking out a concert by the Cantemus Singers instead. "Sweet Kisses/Baci Soavi" is a concert of Italian madrigals on March 19 at one of the hidden gems of Toronto's downtown core – the Church of the Holy Trinity. By the end of the Renaissance in Italy, poetry and music went from romantic and refined to a roller coaster of emotions. One really wonders how Italians of the 16th century were able to make it through the day without making themselves lovesick. Soprano Iris Krizmanic joins the Cantemus singers for a program of music by aristocrat, composer and murderer Carlo Gesualdo and the undisputed father of the musical Renaissance, Claudio Monteverdi, as well as by two lesser-knowns – Monteverdi's contemporary Luca Marenzio, and the composer/nun Vittoria Aleotti (apparently a nun of the time could write sordid love songs and none of her colleagues seemed to mind). This sounds like a thoughtful, in-depth exploration of the Italian renaissance vocal repertoire by a group that has made madrigals their specialty. Be sure to check this concert out.
Polyphonic grand tour: For the more contemplative, the Oratory at Holy Family Church has a special concert for Lent that features sacred music from the Renaissance that transcends the everyday world of the secular. There, on March 16 at 8pm, you can hear a sung compline and a choral concert which includes choral pieces and arias by Bach, two settings of the Lamentations of Jeremiah by Byrd and Tallis, and motets by Victoria and Cristóbal de Morales. It's a grand tour of sacred polyphony by some of the greatest composers of the Renaissance performed by some exceptional singers.
Alard's Goldberg: Finally, Tafelmusik is presenting a special concert of chamber music featuring the French harpsichordist Benjamin Alard that is sure to delight Bach aficionados. Alard is just 30 years old but is already working his way through the master's repertoire for solo harpsichord. This month, Alard comes to Trinity-St. Paul's, March 31 to April 3, to play the Goldberg Variations. He'll be joined by Grégoire Jeay, Jeanne Lamon and Cristina Mahler to play the masterful trio sonata from The Musical Offering. Alard is a Bach specialist who already established that he has what it takes to make it as a soloist before his 30th birthday, so it will definitely be worth it to hear his take on Bach's masterpiece.
David Podgorski is a Toronto-based harpsichordist, music teacher and a founding member of Rezonance. He can be contacted at earlymusic@thewholenote.com.