Being a university town, Kingston, Ontario, attracts interesting people. One such person is David Cameron who, after his early training in Toronto and the USA, has led a very busy musical life in Kingston for over four decades as organist, choir director, teacher and composer. He founded the Melos Choir in 1984 – a choir which, even then, had its sights on producing an authentic baroque style (Cameron's graduate studies had involved early music and performance practice) in its execution of the major works of Bach, Handel and other composers of the era – but without the availability of period instruments or players to contribute to the authenticity to the sound.
Things are changing now, though, and Cameron's vision of a part-time but professional baroque chamber orchestra in Kingston is much closer to realization. In his words: "In recent years the arrival in town of some early-music people, with replica instruments, and a broader selection of young players who had been exposed to early music work in their training, opened up new possibilities. So we began with a complete Messiah at A equals 415, with replica woodwinds and modern strings playing with baroque bows – and several further events have led to the present attempt to establish a continuing baroque chamber orchestra here. We can't yet afford to buy replica strings, but are seeking grants for that purpose; we have players willing to master them when they become available. So it's a work in progress." The hope for the long term is to establish a presence in the city modelled after Toronto's Tafelmusik.
This newly formed baroque orchestra gives its first performance this month, assuming the role of accompanist to the choir and the organ. On November 26 in Kingston, the Melos Choir and Chamber Orchestra and soloists present "In Praise of Music," with Bach's Cantata 148 Bringet dem Herrn, Purcell's Ode for St. Cecilia's Day (a timely piece incidentally, as November 22 is the feast day of St. Cecilia, patron saint of music), Handel's Organ Concerto in B Flat Major, and, in recognition of Wesley's 200th anniversary, his anthem Ascribe unto the Lord. (In January, a further development: the first solo performance by the orchestra, so stay tuned for more news of this event.)
Meanwhile in Toronto, the model for Kingston's new venture is fully into its 2010-11 season. Tafelmusik Baroque Orchestra and Chamber Choir presents (along with works by Rameau and Charpentier) Handel's very spirited setting of Psalm 110, Dixit Dominus. This is Handel's earliest surviving autograph, composed when he was just 22 and living in Rome. It demands extreme technical prowess from all the performers, suggesting that (to quote John Eliot Gardiner) "this young composer, newly arrived in the land of virtuoso singers and players, was daring his hosts to greater and greater feats of virtuosity." Tafelmusik performs it four times, November 11 through 14.
Other November Concerts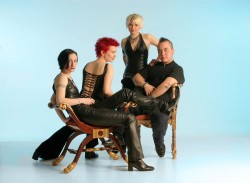 You never know how talent will manifest itself. Soprano and core member of I Furiosi Baroque Ensemble, Gabrielle McLaughlin, has just had a short story published in Pilot Project's new Pilot Pocket Book 7: Baroque. You have to read it to get the flavour. (I couldn't begin to describe it here!) But you can get a copy (which contains as an added bonus: an I Furiosi five-track mini-CD) at the launch party, complete with live performance and auction, on November 7 at Tequila Bookworm, 512 Queen Street West in Toronto. (See Announcements Etc., page 53) As well, the group's first concert of the season, entitled "The Empire Strikes Baroque," takes place on November 27.
Some of the loveliest Bach is found in his chamber music, sacred and secular. If you desire to spend an evening listening to the more intimate treasures of the master, go to the Academy Concert Series' An Evening with Bach. You'll hear a whole world unfolding in the first movement of Violin Sonata BWV 1014, tender joy woven by soprano and cello in the aria "Öffne dich, mein ganzes Herze" (from Cantata BWV 61), and an engaging gigue with an easy swing in the Trio Sonata BWV 1040, as well as other gems for baroque oboe, recorder, soprano voice, baroque violin, harpsichord and baroque cello. This concert takes place on November 13 at Eastminster United Church.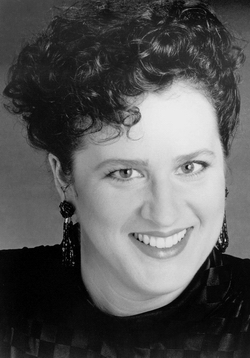 Anyone who's been to a Toronto Consort performance knows Laura Pudwell – her marvellously flexible, clear and expressive mezzo voice has long been a feature in their concerts and in performances (from early music to contemporary) in Southern Ontario and internationally. With some friends of hers (Julie Baumgartel, baroque violin, Margaret Gay, baroque cello and Lucas Harris, archlute), she'll be presenting "Laura Pudwell and Friends." This performance is a presentation of Classics at the Registry, and it takes place in Kitchener on November 14.
Scaramella's mission (or one of its missions) is to bring together diverse expressions of art and in so doing, reveal much about the connections that lie between them. In "Old World/New World," the first concert of the season, this takes the form of exploring the meeting of widely separate cultures and their influences on each other. High art-music of 16th and 17th century France and Spain is juxtaposed with folk music from Brazil and Canada, much of which has only survived in oral form, transmitted from one generation to the next. The concert takes place in Victoria College Chapel – a stunning place to hear combinations of baroque guitar, recorders, harpsichord, violas da gamba and voice – on November 20.
The Community Baroque Orchestra of Toronto is perhaps the only community orchestra in Canada that dedicates itself to playing baroque music on period instruments. (If anyone knows of other such groups, would you please be in touch?) CBOT performs twice this month, with violinist Patricia Ahern as soloist in the Bach Violin Concerto in A Minor, and also with music by Muffat and Lully. Their first performance takes place in the Beach on November 21 and their second in Bloor West Village on November 28.
A glance at early December reveals that two choral concerts occur (alas!) on the evening of December 4: Cantemus Singers' "Welcome Yule" (Sweelinck, Praetorius, Byrd, Schütz, Renaissance and Medieval carols) in Toronto's east end (repeated later in December in the west end), and Toronto Chamber Choir's "O Magnum Mysterium" (Palestrina, Monteverdi, Vivaldi) at Christ Church Deer Park. Not an easy choice!
For details of all these, and a whole range of other concerts, consult The WholeNote's concert listings.
Simone Desilets is a long-time contributor to The WholeNote in several capacities, who plays the viola da gamba. She can be contacted at earlymusic@thewholenote.com.