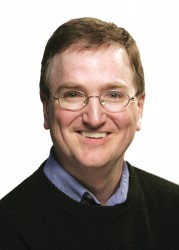 If you have a passion to do something, there seem to be no limits to what you can accomplish. When musician Larry Beckwith conceived Toronto Masque Theatre in 2003, he had a vision of reviving an art form that arose probably during the Renaissance with masked processions visiting noble houses. It was developed substantially in Europe during the 16th to 18th centuries, evolving into an elaborate performance with scripted plot and combining elements of music, theatre and dance. To undertake the revival of this form and also to expand the repertoire by commissioning new works in the spirit of the masque, Beckwith invited some talented people to work with him: choreographer Marie-Nathalie Lacoursière is a specialist in historical dance who has a magical touch for staging; actor and co-director Derek Boyes has an extensive background in stage, radio and TV drama as well as film.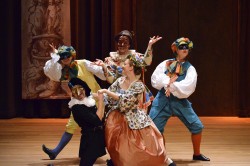 This pursuit has taken them very far, leading them to mount performances of wide-ranging scope: everything from Shakespeare/Blow's Venus and Adonis to the five major music theatre works of Purcell to Stravinsky's A Soldier's Tale to newly commissioned works by James Rolfe, Omar Daniel, Abigail Richardson and Dean Burry, to plays by Molière, Reaney and others, to "variety" or "cabaret" evenings — some 25 productions in all.
This month, the company presents a masque on a theme that might be expressed (at least in my words) as "Woman: Proud, Beautiful and Decidedly Unattainable."
Three 17th-century depictions are interwoven:
There's the play: The Convent of Pleasure by English playwright Margaret Cavendish, in which the main character, a beautiful woman, turns her back on the company of men and establishes a convent open only to like-minded maids and widows, in which they create their own world of pleasure and where men are excluded from all access to their beauty and their worldly possessions. There's the ballo, or semi-dramatic ballet: Monteverdi's Ballo delle ingrate in which Venus and Cupid visit Pluto, King of the Underworld, to complain that the arrows from Cupid's bow are no longer effective on the ladies of Mantua who are scorning their lovers. And there's the comical cantata for a trio of women singers: Luigi Rossi's Noi siam tre donzelette semplicette, in which the three little innocent maids mock men's "empty babbling" about their love for women.
Ah, but will "Unattainable Woman" prevail, or be thwarted in the end? This is for you to find out, when you go to see this production, taking place at Hart House Theatre on May 11 and 12. If you attend the pre-show chat, you have the added treat of a conversation between Beckwith and professor Katie Larson, whose research area includes 16th- and 17th-century English literature with a focus on women's writing and issues of gender and language, and who has made a special study of the writings of playwright Margaret Cavendish.
I'll tempt you with Beckwith's comments about the cast: "I'm very excited to be working with the brilliant young singers Virginia Hatfield, Dawn Bailey, Michele DeBoer and Benjamin Covey. I'm delighted that four dancers from Marie-Nathalie's Montreal troupe (the renaissance dance troupe Les Jardins Choréographiques) will join us, and that the play will be realized by an abundantly talented group of young actors, directed by Derek Boyes. There are some top-notch players in the band (including harpsichordist Noam Krieger from Holland, and gamba player Justin Haynes). All in all it should be a glorious show!"
Other concerts this month have to do, in part, with transitions, and with the spirit of giving:
May 11: In Kingston, the Melos Choir and Chamber Orchestra explore the progression of musical style from the birth of Monteverdi to the death of Schütz — the transition from the Renaissance to the Baroque — in their concert "The Age of Change: Monteverdi, Schütz and Gibbons."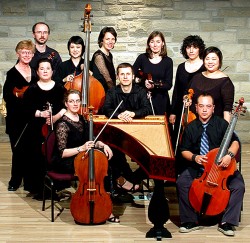 May 13: "Bach Meets Frederick the Great" is the title of the next concert of Waterloo Region's Nota Bene Baroque, and it's inspired by an event in May, 1747, when the two actually did meet: Bach visited Frederick's residence in Potsdam, where the king gave him a cunning theme upon which to construct a fugue on the spot (which of course he did). Further developments led to the creation of one of Bach's most famous compositions, the collection of pieces known as The Musical Offering, entirely based on this theme. As for Nota Bene's concert which takes place at Kitchener's Registry Theatre, it presents music by Bach, by Frederick himself and by his court composers, as well as readings that explore the titanic aesthetic and cultural shifts taking place at that time. And, it features two very interesting guest artists: baroque flutist Emma Elkinson, and narrator Colin Fox.
May 13: The Toronto Chamber Choir's afternoon "Kaffeemusiks" are a mix of expert and entertaining commentary from music director Mark Vuorinen with music sung by the choir. In this, the last of them this season, choir and soloists perform Bach's cantata Brich dem Hungrigen dein Brot (Break Your Bread For the Hungry). Their press release offers this invitation: "In the spirit of the cantata's reflections on the transformative power of charity, we encourage you to contribute to our food drive for the needy who live in our richly blessed city."
May 20 & 21: Among the diverse groups who choose to focus on a particular aspect of the vast musical universe is the Toronto Continuo Collective, whose aim is to explore the art of baroque accompaniment and all that it entails: figured bass harmony, supporting text inflection, ornamentation, word painting, improvisation, and everything else that makes the music speak and come alive. In this pair of concerts, entitled "L'Authentique amour français," they'll show off their skills in a program of rarely-heard gems of the 17th-century French Baroque, by composers such as Pierre Guedron and Marc-Antoine Charpentier. With their lutes, violins, viols and keyboards, they'll be joined by guest soloists, soprano Emily Klassen and tenor Bud Roach.
May 24 to 27: Tafelmusik's music director, Jeanne Lamon, has observed that for them, playing Beethoven feels like playing "new music that's exploding" because they come to it from the perspective of the music that has gone before, rather than approaching it from a 21st-century perspective. Conductor Bruno Weil has called Tafelmusik "a great Beethoven orchestra, because Beethoven needs the passion of every individual player." You can experience this passion for yourself in this month's group of concerts, when they play the mighty "Eroica" Symphony, paired with an even later work: Mendelssohn's Symphony No.4, the "Italian."
And immediately afterwards, Tafelmusik embarks on an Ontario Tour: You can catch them May 29 in Owen Sound (presented by the Sweetwater Music Festival); May 30 on Manitoulin Island; May 31 in Parry Sound (presented by Festival of the Sound); June 1 in Port Hope (presented by Port Hope Friends of Music).
May 27: How wonderful to be able to contribute to the welfare of our fellow creatures on the earth, and to that of their habitat, through music. Soprano Ariel Harwood-Jones is well known from her performances with Tafelmusik (as soloist and within the Chamber Choir), with Opera Atelier, Sine Nomine ensemble and many other groups. She has gathered together a formidable group of fellow musicians — among them, harpsichordist Sara-Anne Churchill, gambist Justin Haynes, violinist Larry Beckwith —who all contribute their artistry in a "Friends & Family Concert," with music by Purcell, Handel and Bach. Admission is pay-what-you-can and proceeds will go to the Canadian Wildlife Federation.
For details on all these and more, please see The WholeNote's daily listings.
Simone Desilets is a long-time contributor to The WholeNote in several capacities who plays the viola da gamba. She can be contacted at earlymusic@thewholenote.com.