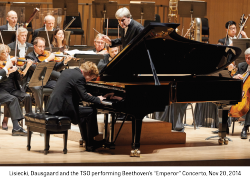 Seen and Heard: After each standing ovation that followed his performances of three Beethoven piano concertos with the TSO in November, 19-year-old budding superstar Jan Lisiecki would take a seat at the piano and confidently greet the RTH capacity crowd with the words "Good evening." He added at the last of his six concerts, "As has become traditional, I will now play some Chopin." The Nocturne No. 20 in C Sharp Minor, Op. Posth. followed, flowing as naturally as the encores in the first two programs, the Prelude Op.28 No.1 and the Etude Op.25 No.1. Like putting on a comfortable shirt.
Lisiecki's playing of the first movement of the Fourth Piano Concerto on November 12 had an almost fortepiano quality; the melancholy second movement had a conversational tone until it time-travelled into the future before meeting up with the impetuous Rondo. At intermission TSO composer advisor Gary Kulesha asked Lisiecki to compare Beethoven to Mozart and Chopin, the latter two composers having supplied the contents of the pianist's two Deutsche Grammophon CDs.
"In Mozart you're completey exposed – elegant; in Chopin you can play the concerto without the orchestra; in Beethoven you're a member of the orchestra," he responded.
"My modus operandi is to make the piano sing," Lisiecki said. Along with a wonderful tone, that's his approach to every piece he plays.
Kulesha wondered how Lisiecki would characterize the three Beethovens. The Third "has a similar ferocity and darkness as the D minor Mozart K.466 which it parallels"; the Fourth "pushes the boundaries . . . [it] begins from the soul of the piano"; the Fifth "broadens what can be done in a concerto."
Three days later came a first-rate performance of the Third. It had great cohesion, its architecture proceeding organically from the propulsive Allegro con brio and delicacy of the Largo to the pure joy of the inverted theme after the Rondo's cadenza. You could feel the composer's notes straining against classical convention but revelling in it. In the Chopin etude, Lisiecki demonstrated the beauty of tone over technique.
Lisiecki's playing of the "Emperor" the following Saturday was dynamically diverse yet always controlled, from the wondrously hushed non-cadenza of the Allegro and the magical Adagio which felt as though the piano's notes were walking on air, to the radical contrasts of the Rondo.
In a conversation with William Littler during intermission, Lisiecki divulged that a teacher in pre-school had suggested that the five-year-old child be given piano lessons. It took most of that year and a generous gift of a 100-year-old upright from a family friend before his parents agreed. Curiously, the Third Piano Concerto was the first piece by Beethoven he can remember as a child. Lisiecki also revealed that if he doesn't practise he doesn't feel right: "You don't want to be around me."
Talking about his instrument and the fact that every pianist is at the mercy of the venue where he performs, he raved about the piano at Koerner Hall, declined to comment on those at RTH and gushed over the one he played in Hamburg. "Not knowing what to expect forces us to create art in the moment," he said.
Lisiecki's Beethoven coincided with a series of three symphonies by the Danish composer Carl Nielsen, all under the enthusiastic baton of Neilsen's countryman Thomas Dausgaard. Judging by the orchestra's generous applause and responsive playing, their connection to the guest conductor was genuine. For his part, Dausgaard exudes joy on the podium, which manifests itself occasionally as open-mouthed. And he often lowers his arms and lets the orchestra play on their own, trusting them for bars at a time. He turned away from the audience in his introduction to the final concert and spoke directly to the players: "Can I say to you Toronto Symphony – you own this music."
Lisiecki too fell under his spell as the two musicians intently locked eyes at the beginning of the finale of the "Emperor," the young Canadian drawing on the Dane's energy.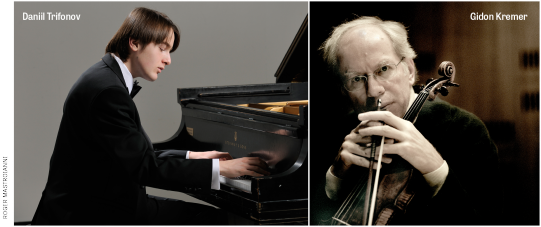 Trifonov Trifecta: Daniil Trifonov, only 23, the 2011 Tchaikovsky Competition multi-award-winner, having already proved his technical prowess at the Arthur Rubinstein International Piano Master Competition earlier that year, seemed intent on establishing his artistic reputation with three programs available to Toronto audiences this season. The first, a dazzling performance of Rachmaninov's Rhapsody on a Theme by Paganini with the TSO took place in September. An ambitious solo recital December 9 at Carnegie Hall will be live streamed on medici.tv (and available free for 90 days thereafter). Consisting of Bach's Fantasy and Fugue for Organ in G Minor, BWV 542 (transcribed for piano by Franz Liszt, S. 463), Beethoven's Piano Sonata No. 32 in C Minor, Op. 111 and Liszt's Transcendental Etudes, it will likely add to his burgeoning reputation.
Then on January 20 at Koerner Hall, Trifonov turns to chamber music with the great Gidon Kremer. Mozart's Violin Sonata No. 33 in E-flat Major, K. 481. Schubert's Fantasy in C Major, D. 760 and Rachmaninov's Trio élégiaque No. 2 in D Minor, Op. 9 comprise a program that will certainly reveal yet another side of this talented Russian-born phenom.
A Trio of Quartets: Music Toronto presents the latest incarnation of the Juilliard String Quartet January 8 in a program headed by Webern's shimmering Five Movements, Op.5. Three weeks later the mighty St. Lawrence String Quartet returns for its annual visit to its first home. The exuberant Geoff Nuttall will lead us in a "Haydn Discovery" followed by the father of the string quartet's Op. 33, No.2 "The Joke." A major new work by John Adams fills the concert's second half. On January 6 the New Orford String Quartet treats us to Beethoven's Op. 95 and Brahms' Op. 51, No.1 before premiering a new work by Gary Kulesha. The New Orford then teams up with Amici February 1 for one of the most interesting programs of the new year, "Bohemian Contrasts." They join cellist David Hetherington and violist Teng Li in a performance of Schulhoff's String Sextet and Joaquin Valdepeñas in Brahms' unforgettable Clarinet Quintet in B-minor, Op.115. Pianist Serouj Kradjian fills out the rest of the program with piano works by Liszt and Janáček.
KWCMS's 40th: The Kitchener-Waterloo Chamber Music Society has designated the week of November 28 to December 7 to mark its considerable achievement. Over the years the cumulative volume of talented performers who have made their way to Jan and Jean Narveson's home is astonishing enough, but it is the KWCMS' penchant for programming complete cycle concerts that really makes one sit up and take notice. [For a glimpse into how they do it, see my October 2013 Classical and Beyond column.] Two cycles over the December-January period caught my eye: Trio Celeste's complete traversal of Beethoven's Piano Trios December 12, 14 and 16; and the scintillating Duo Concertante performing Schubert's complete music for violin and piano January 29 and 31. It promises to be an even more musically satisfying event than the Beethoven. Schubert's music in this case is consistently of the highest order, charming and melodious; the opportunity to hear all of it should not be missed.
Quick Picks
Dec 6 the prodigious Stewart Goodyear performs Tchaikovsky's The Nutcracker entirely on the piano joined by dancers from the National Ballet School of Canada and Ballet Creole, and singers from the Toronto Children's Chorus.
Dec 7 two recent Glenn Gould School appointees, celebrated pianist John O'Conor and former first cellist of the Cleveland Orchestra, Desmond Hoebig, team up for Beethoven's serene Cello Sonata No.3 in A Major, Op.69. O'Conor will play a selection of Nocturnes by his Irish countryman John Field and by Chopin; Yehonatan Berick, Cordelia Paw and Barry Shiffman join them for Schumann's masterful Piano Quintet in E-flat Major, Op.44.
Dec 7 two admirable pianists make their Toronto debut in Mooredale Concerts' "Piano Dialogue." Wonny Song will play Beethoven's Moonlight Sonata and David Jalbert Poulenc's Les soirées de Nazelles before coming together for duets by Ravel and Schubert and Rachmaninoff's Suite No.2 in C Major, Op.17 for two pianos.
Dec 12 Anastasia Rizikov brings her already considerable 15-year-old experience to Chopin's Piano Concerto No.1 accompanied by Sinfonia Toronto before performing a staggering KWCMS solo concert Jan 24. Bach, Chopin and Liszt lead in to Mussorgsky's Pictures at an Exhibition; then after intermission Chopin and Mozart precede Balakirev's fiendishly difficult Islamey.
Jan 9 Angela Hewitt, the subject of this month's cover story, is joined by mezzo-soprano Anne Sofie von Otter in a program rich in songs by Beethoven, Schubert, Brahms, Fauré, Debussy and Chaminade. Interspersed between them Hewitt will play piano music by Schubert, Brahms and Chabrier.
Jan 14, 15, 17 and 18 mark the beginning of the TSO's Mozart@259 festival curated by Les Violons du Roy's Bernard Labadie. The impressive young British conductor and keyboardist Matthew Halls leads the orchestra in three varied programs showing Mozart's range as an instrumental composer.
Jan 22 to 25 will see the Montreal Symphony's Kent Nagano make a rare foray into the forest of period instruments as he leads Tafelmusik in performances of Beethoven's Symphony No.5 in C Minor, Op. 67 and his Mass in C Major, Op.67. It will be fascinating to compare this performance of the symphony to that in Nagano's recent recording [reviewed by Richard Haskell in this issue of The WholeNote].
Feb 7 Pinchas Zukerman makes his final Toronto appearance as music director of the National Arts Centre Orchestra in an RTH program with two of Brahms' most beloved concertos. Zukerman is joined by NAC principal cellist Amanda Forsyth for the Double Concerto for Violin and Cello in A Minor, Op.102; Yefim Bronfman is the soloist in the Piano Concerto No.2 in B-flat Major Op. 83, the epitome of 19th century romanticism.
Paul Ennis is managing editor of The WholeNote. He can be reached at editorial@thewholenote.com.