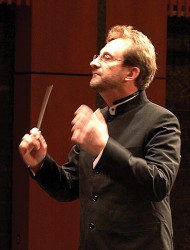 Far east of the Don River, past which some denizens of the Annex and points west proudly tell you they never go – the poorer, they – two fine orchestras are quietly (in a manner of speaking) getting better and better, becoming two more of those "best kept secrets." Let's begin with the one based in north-eastern Scarborough, the Cathedral Bluffs Symphony Orchestra, now in its 25th season, which is coming of age under the capable leadership of artistic director, Norman Reintamm.
Appointed to this position four years ago, Reintamm sees himself as part of a team which has worked together to create a stronger ensemble than the one they began with. "I abhor the 'maestro mentality'," he told me. "It has been a pleasure seeing the orchestra grow over the past four years, and it is because of team work; one must give credit where it is due." In the team, he includes his principal players – all strong musicians – the manager, Colleen O'Dwyer, a former banker, who runs the orchestra like a business, the personnel manager, Alan Ogilvy and the librarian, John Selleck, who at one time actually worked with Leonard Bernstein.
There is no denying, of course, the central role of the artistic director/conductor in raising the level of the orchestra. "I'm very much a builder and like working with an organization to take it to 'the next level.' To start with, I'm looking for an orchestra that has strong community ties and is at a level equivalent to a good community orchestra in Europe. What I am finding is that the more attention one puts into detail [at rehearsals] – intonation, phrasing and performance practice – the better the musicians that are attracted to the orchestra." Better rehearsals and better players, of course, result in a better orchestra which creates more interest in the community. In the short time Reintamm has been in charge, subscriptions have increased by about 20 percent. As an example of the calibre of players the orchestra is now attracting he mentioned principal cellist, Oleg Volkov, who at one time was a student of Rostropovich and was a cellist in the Bolshoi Orchestra in Moscow.
Reintamm, a relative newcomer to Toronto – more on that later – brings an exceptionally strong conducting background to the job. Born in Hamilton, he caught the "musical bug," as he calls it, as a chorister at Christ's Church Cathedral there. Later he studied as an organ major at the Faculty of Music at the University of Toronto, at McMaster University and at the Royal College of Music in England, where he studied with Sir Norman del Mar, Sir David Willcocks and Christopher Adey. While in London he conducted ballet performances with the Young London Ballet Company at Sadlers Wells Theatre. Upon returning to Canada he guest conducted a number of orchestras and for two years was an apprentice conductor of the Hamilton Philharmonic under Boris Brott.
During this time, in discussion with his parents about his career, they suggested – much to his surprise given that his father had escaped from Estonia after its annexation to the Soviet Union – that he go to Estonia and work in the theatres. He went there, played and conducted for the National Opera Company in Talinn and was offered a job.
There, Reintamm "learned the profession from the ground up, playing rehearsals, accompanying singers, playing chamber music, leading orchestra rehearsals, chorus master work – the whole shpiel that you learn as a conductor growing through the house. Working in an opera house you literally learn, as in the trades, as a 'journeyman apprentice.' So, you know, when the tenor doesn't come in, how to get out of it … there are stories I could tell!"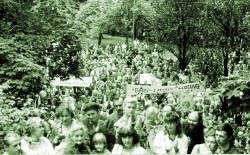 At this point in the conversation I commented on the formidable piano technique required to do the sorts of things he had described. "You have to be [a good pianist]. For instance, any soloist that I work with, I coach myself; and for any concerto soloist, we rehearse first with me playing the orchestral part, so that all the work is done before going in front of the orchestra. That way everything works and you don't have to put it together in front of a group of musicians waiting for the soloist and the conductor to decide what's going on! Every conductor should be able to play a keyboard fluently, just for the sake of rehearsing with musicians."
Returning to Estonia, Reintamm was there during the momentous events, portrayed in the film, The Singing Revolution, which The WholeNote showed a few years ago at the Bloor Cinema, when Estonia became independent of the Soviet Union.
I wondered out loud about why he had left such a great job to come back to Canada. The reason was his father, whose health was failing. "It was a very hard decision for me to come back and face the reality of restarting my life in a completely new set of circumstances. How do you leave a fabulous opera house, where you're in the pit every night doing operas and ballets, but my dad had given me so much of his life that I knew it was time for me to go back. I returned about eight and a half years ago in 2002. My father died about a year later, and I'm glad I was able to be with him."
We will have one more opportunity this 25th anniversary season to hear the fruits of the labour of Norman Reintamm and his team. On May 28, the orchestra will perform Gustav Mahler's Fifth Symphony, which he is very excited about. "It's a good piece for our orchestra to do because there is such a super range of musicians especially right now with a large string section and great strength in the brass and woodwind sections. It's something they can really get their teeth into. With close to 90 musicians we're a large romantic orchestra, the kind of orchestra you can use to do Mahler. It's great for me because in my days with Boris [Brott] I discovered I had an affinity with Mahler and it's a showpiece for the finale of our 25th season."
Definitely worth the trip to the P.C. Ho Theatre in Scarborough.
We will move now to south-western Scarborough, home base for the Scarborough Philharmonic Orchestra. This story is something of an update on my story, Two Cities, Four Orchestras, a Flutist and her Nephew, in the February 2009 issue of The WholeNote. The occasion was the visit to Toronto of flutist, Louise DiTullio, to perform with the Scarborough Philharmonic and Sinfonia Toronto and to record a CD, a kind of retrospective of her five decades of playing recording sessions for movie soundtracks in Los Angeles.
There have been developments in the two years since then. First, the CD is now available from its distributor, Naxos. Second, a review of it can be found in the DISCoveries section of this issue of The WholeNote. Third, at that time (the 2008/9 season) Ron Royer, Ms. DiTullio's nephew, now a resident of Toronto, was the interim conductor of the Scarborough Philharmonic while a search was underway for a new artistic director.
What has occurred between then and now is best described in Royer's own words: "The search committee chose three excellent guest conductors who ended up being offered other career opportunities which prevented them from accepting Scarborough's permanent music director job. For example, conductor Daniel Swift became a music officer for the Canada Council for the Arts and is doing great work there. So the board offered me the permanent position, but I asked that the orchestra have the opportunity to vote on it first. I received a strong majority of support from the players, so I decided to take the plunge and become a music director for the first time in my career."
Since Royer is also a composer with quite a roster of commissions, performances and recordings, the time-honoured tradition of the composer-conductor is alive and well and living in Scarborough. I was interested in his perceptions of how composing informed his work as a conductor:
"I believe that composing gives a particular perspective on understanding the construction of music, which can't be learned from just score study. I [originally] wanted to study composition to better understand the music of great composers (both past and present). It is interesting … how many … conductors have also composed or arranged music for orchestra. For example, Vancouver Symphony music director and conductor, Bramwell Tovey, is an excellent composer and premiered an opera this season."
Royer is also a cellist with over ten years of professional, mostly orchestral, work under his belt. This, he told me, "gave me a lot of practical experience to facilitate both composing for and conducting an orchestra. Performing cello with the Toronto Symphony, the Utah Symphony, the American Ballet Theatre Orchestra in Los Angles, touring for Columbia Artists and performing at the Grammy Awards, all gave me different, but interesting viewpoints on music," which, he told me, have facilitated both composing and conducting.
These experiences, he said, have also influenced the way he approaches conducting and composing. "When I program for the SPO, an important consideration is choosing music that the orchestra will play well and will enjoy playing. When I compose, I want the players to sound good performing my music and to enjoy playing it. I usually approach things from a player's perspective, which can be a very different approach from someone who has rarely or never 'sat in the trenches' as a symphony performer."
The last opportunity to hear the Scarborough Philharmonic this season will be on May 14, in a programme called "Spaghetti Western: music inspired by Hollywood." The soloists will be Louise DiTullio and Toronto Symphony Orchestra English horn player, Cary Ebli. Ms. DiTullio's CD, The Hollywood Flute, will be available for purchase and she will be on hand after the concert to autograph them.
The really big event this May, however, is the sixth annual Organix Festival, which, of course, is all about the pipe organ, that musical and technological wonder that was developed centuries before steam engines, trains, cars, airplanes, telephones and computers! The great thing about this festival is that it offers performances by some of the best local organists as well as by one of the best in Europe, this year, Dr. Andreas Sieling from Berlin. Two American artists will also be part of this year's festival, Jonathan Ortloff from Vermont and David Troiano from Michigan. The local organists performing this year are Andrew Adair, Elizabeth Anderson, Alison Clark, Paul Jenkins, Gordon Mansell, William O'Meara, David Palmer, Sarah Svendsen, Aaron Tan and John Tuttle. More details on the festival can be found in the listings and on page 2 of this issue, or online at organixconcerts.ca.
Allan Pulker is a flutist, a founder of The WholeNote and serves as Chairman of The WholeNote's board of directors. He can be contacted at classicalbeyond@thewholenote.com.