In December, if inclined, one has the option of attending a concert of seasonal music just about every day; and twice on some days. What's more, each concert offers its own twist on a title (there are no repeats among them), from "Home for the Holidays" and "Joy to the World" to "Yuletide Spectacular" and "Glissandi Christmas," with several variations on the theme in between. While I've chosen to focus on a few, you'll find a longer list of them in this month's Quick Picks at the end of the column (not including Messiah; that's for my Early Music and Choral Scene compadres).
And once we've covered December's festive fare, we'll have a look at some wonderful concerts with which to begin 2013 in style!
Home for the Holidays: Its motto, "Music for Life!" says it all. For 14 years, La Jeunesse Youth Orchestra (LJYO) has provided an enriching and stimulating environment for young musicians to be exposed to and perform symphonic repertoire, instilling in these young people an enduring appreciation for music. This careful nurturing — through regular full and sectional rehearsals, a three-concert season, workshops, benefit concerts and educational field trips — will be readily apparent when LJYO presents its 14th annual "Home for the Holidays" concert on Sunday December 2 at 3pm in Port Hope. And, judging by the program, the group has given any number of reasons to "come home" for the holidays: one in particular is special guest, Canadian mezzo extraordinaire, Jean Stilwell, who, in a first for the orchestra, will perform "Ging heut Morgen übers Feld," from Mahler's Lieder eines fahrenden Gesellen (Songs of a Wayfarer). Stilwell will also sing Carol of the Drum and narrate 'Twas the Night Before Christmas.
Working with world-class musicians like Stilwell is another aspect of the LJYO experience. And having just seen Stilwell's dazzling performance at this year's Global Cabaret Festival (with pianist Patti Loach), I've no doubt these young orchestra members will remember Stilwell's Mahler long after the last of the Christmas pudding's been eaten.
They will also, no doubt, enjoy performing the rest of their holiday program for you, which will include, among several carols, "Carol of the Bells," Warlock's Capriol Suite, "Nocturne" from Mendelssohn's A Midsummer Night's Dream, and "two musical evocations of sleigh rides, by Mozart and Leroy Anderson," as it was so nicely put in LJYO's press release. LJYO music director, Michael Lyons, will conduct the orchestra for the evening as it brings it all home.
Joy and a Yuletide Spectacular: Aside from being a favourite Christmas carol, "Joy to the World" is also the title of the Greater Toronto Philharmonic Orchestra's December 8 concert at Calvin Presbyterian Church. The evening's program is an interesting one: curiously, the eponymous carol is not listed (though it might turn up in Canadian composer Andrew Ager's Merry-making: an English Carol-medley — which is). Also featured are Beethoven's Choral Fantasy Op.80, for piano, chorus and orchestra, with pianist Brett Kingsbury, Harlan's Christmas Canticles and "Winter" from Glazunov's music for the ballet The Seasons Op.67. Into its sixth year of innovative programming, the GTPO has invited two guest choirs to join in the joy: Ensemble TrypTych Chamber Choir and the UTSC Concert Choir, both conducted by Lenard Whiting. This eclectic evening of piano, choral and orchestral music gets underway at 8pm.
The Kitchener-Waterloo Symphony is presenting its "Yuletide Spectacular" for the fourth year in a row, becoming a newish tradition — a variation on the holiday concerts the KWS featured for many years on its Pops series. And speaking of the Pops, leading the evening is multi-talented Pops conductor Matt Catingub. Saxophonist, pianist, vocalist, arranger, conductor and composer, Catingub has also arranged all the music that will be performed at the three KWS Yuletide concerts. There's one on December 14 at 8pm and a matinee and an evening show on the 15th; all three concerts are held at Kitchener's Centre in the Square.
And it looks like things will indeed "pop" given the line-up of guests the KWS has assembled: drummer Steve Moretti (who toured with Catingub and the legendary Rosemary Clooney for six years and recorded two Grammy-nominated CDs with them); the Grand Philharmonic Choir and its Children's Choir; the Classical Dance Conservatory, dancing to two Christmas medleys; the KWS Youth Orchestra, playing three piecesalongside its parent KWS; and — this just in — A.J. Bridel, the talented Kitchener-born singer who placed third in CBC TV's recent Over the Rainbow "Dorothy" search. Here's a mere sampling of what is on the program: selections from A Charlie Brown Christmas, All I Want for Christmas is You, Angelicus and Jingle Bell Rock. And there's also a sing-along component which will include Joy to the World!
Snowmen: The animated film, The Snowman,which turns 30 on December 26, is a holiday classic beloved by families around the world. Howard Blake's score, including the film's one and only song, Walking in the Air, will be performed in two very different settings in December.
On December 9, 3pm, at Roy Thomson Hall, the Toronto Symphony Orchestra will accompany the film (which runs about 25 minutes) live, with Stuart Chafetz conducting. In addition to The Snowman, there's a full program of seasonal music planned: Herman's "We Need a Little Christmas," (from Mame), Rimsky-Korsakov's "Dance of the Tumblers" from Snegurochka (The Snow Maiden), A Charleston Christmas and Santa's Smashing Medley are only some of the selections. The guests for the evening bringing it all to life, along with the TSO, are Joseph Pongonthara, treble, Gabriel Gilhula, treble, Michele Ragusa, soprano, Cawthra Park Chamber Choir and the Holiday Dancers. For even more family fun, there will be free art activities with the Avenue Road Arts School at intermission.
I did want to mention, briefly, that two days later, the TSO continues its seasonal celebrations with "A Merry TSO Christmas" (December 11 and 12) and "Barenaked Ladies: Hits & Holiday Songs" (December 14). Both programs include a nod to that other seasonal holiday, Chanukah. Will the "Ladies" sing If I Had A Million Latkes? Oy. See the Quick Picks for dates and times.
Moving from orchestra and concert hall to the intimacy of a chamber trio and a church, The Snowman will reappear on December 21 and 22 (details below), when the Gallery Players of Niagara presents "Glissandi Christmas," with the trio of Douglas Miller, flute, Deborah Braun, harp, and David Braun, violin, otherwise known as Glissandi! Miller told me that the Niagara-based trio has been performing together for over 18 years and that its "popular Christmas concerts on the Gallery Players series have become an annual event." Indeed, the Gallery Players and Glissandi have been collaborating at Christmastime since 2007.
Employing the theme "angels and snowmen," "Glissandi Christmas" 2012 offers a "delightful evening of poems and short stories intertwined with seasonal music for flute, violin and harp." Regular Glissandi/Gallery Players guest, actor Guy Bannerman, will, once again, be participating. Harpist Braun sketches out how the evening will unfold: "We will be performing traditional carols — Angels We Have Heard On High, Angelus ad Virginem ... Hark the Herald Angels Sing, with a reading or two by Guy Bannerman, then The Snowman score, narrated by Guy, and a few more traditional carols, including a final Frosty the Snowman sing-a-long!" Braun adds that St. Catharines' Ian Middleton, a member of Chorus Niagara Children's Choir, will sing Walking in the Air.
Both concerts begin at 7:30pm; on December 21, at Grace United Church, Niagara-on-the-Lake; on the 22nd, at the Fonthill United Church, Fonthill.
A peek at 2013: Some common threads run through a few of the late January and early February listings. So I've paired them up as an interesting (and economical) way to introduce them. But first, a quick mention of the Kitchener-Waterloo Chamber Music Society. The sheer number of concerts this indefatigable group produces each month is astonishing, and January is no exception, with five concerts. On January 12th it's trios by Mozart, Brahms and Tchaikovsky, and on the 14th, sextets by the latter two, in a concert titled "Ménage à 6"; on the 16th it's solo piano musicfeaturing four Haydn sonatas and three of the Etudes-Tableaux by Rachmaninoff. The Madawaska String Quartet performs works by Dvořák, Harley and Britten on the 27th, and the Bergmann Piano Duo celebrates Schubert's birthday on the 31st. Phew! You'll find the details in the Beyond the GTA concert listings.
Common threads: Brilliant Canadian pianist, Louis Lortie, and a work by Liszt, are what the concerts being presented by the Perimeter Institute and the Royal Conservatory have in common. On January 29, 7:30pm, at the Institute's Mike Lazaridis Theatre of Ideas in Waterloo, Lortie appears in solo recital. Five days later, on February 3, the Royal Conservatory (in association with Alliance Française de Toronto and Bureau du Québec) presents Lortie with fellow French Canadian pianist, Hélène Mercier, in a program of music for one piano/four hands, and for two pianos. Here's where it gets interesting: Lortie performs works by Wagner, and Liszt's Réminiscences de Don Juan in Waterloo; for the RCM et al, (in addition to works by Mozart, Schubert — the sublime Fantasy in F Minor — Ravel and Rachmaninoff), Lortie and Mercier perform Liszt's later, two-piano version of Réminiscences. Neat, eh? The duo pianists are at Koerner Hall, 8pm.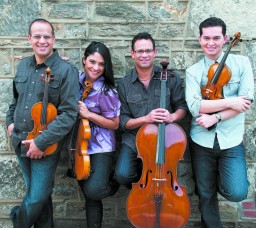 Mooredale Concerts and the aforementioned Kitchener-Waterloo Chamber Music Society (KWCMS) have a very special common thread running through their consecutive early February concerts: the Dali String Quartet. The members of this captivating quartet – violinists Simón Gollo and Carlos Rubio, violist Adriana Linares and cellist Jesús Morales — are all graduates of Venezuela's renowned and highly respected El Sistema (referred to in past WholeNote issues), a revolutionary music education program founded in 1975 by economist and musician José Antonio Abreu; Abreu recognized music's transformative powers and its use as an effective agent of social change. From its humble inception, with 11 students, the volunteer program has since delivered (and continues to deliver) free musical training (instruments included) to hundreds of thousands of impoverished children throughout Venezuela, and now overseas 125 youth orchestras and 31 symphony orchestras. El Sistema has inspired myriad programs around the world, including Sistema-Toronto.
Shining proof of the program's unparalleled success, members of the Dali Quartet have been trained by world-renowned artists, studied at such esteemed institutions as Indiana University Bloomington, recorded for the likes of Dorian and Naxos and appeared at Carnegie Hall. The Quartet combines the best of both El Sistema and American classical conservatory traditions, offering an enchanting range of traditional string quartet and Latin American repertoire. Like the press release says, its performances "embrace the imagination, excellence and panache of the Quartet's namesake, the Spanish surrealist artist Salvador Dali."
It's the Dali Quartet's first time performing in Canada. Both Mooredale and KWCMS are to be commended for delivering them to Toronto and Waterloo audiences. Not surprisingly, both programs will include works by Latin American composers — Amaya, Gardel, Almarán, Villa-Lobos, Valdes — and standard quartet repertoire by Mendelssohn (Mooredale), Mozart and Haydn (KWCMS). Mooredale's February 3 concert (for the adults) begins at 3:15pm at Walter Hall; earlier at 1:15pm, same venue, the Dali will also perform in Mooredale's one-hour interactive program for young people ages 6 to 15, "Music & Truffles" (adults welcome). Next day, 8pm, the Dali Quartet performs in the KWCMS Music Room in Waterloo.
That should get you off to a healthy musical start in 2013!
The holiday season is here. The Quick Picks are below. The riches of the listings await you. Raise a glass to good health, to the new year, and enjoy!
CHRISTMAS QUICK PICKS
December 01 3:00: University of Toronto Scarborough. Sounds of the Season. Meeting Place, 1265 Military Trail, Scarborough.
December 08 3:00: Onstage Productions. Sounds of Christmas. Flato Markham Theatre, 171 Town Centre Blvd., Markham. Also at 8:00; also Dec 9(2:30).
December 09 3:00: Guelph Symphony Orchestra. Holiday Classics. River Run Centre, 35 Woolwich St., Guelph.
December 11 8:00: Toronto Symphony Orchestra. A Merry TSO Christmas. Roy Thomson Hall, 60 Simcoe St. Also Dec 12
(mat and eve).
December 14 7:00: Passport Duo. 'Twas the Night Before Christmas. Array Music Studio, 155 Walnut Ave.
December 14 7:30: Toronto Symphony Orchestra. Barenaked Ladies: Hits & Holiday Songs. Roy Thomson Hall, 60 Simcoe St.
December 15 3:30: York Symphony Orchestra. YSO Holiday Spectacular. Trinity Anglican Church, 79 Victoria St., Aurora. Also at 8:00.
December 16 1:30: Oakville Symphony Orchestra. Family Christmas Concert. Oakville Centre for the Performing Arts,
130 Navy St. Oakville. Also at 4:00.
December 16 7:00: Kitchener-Waterloo Symphony. Barenaked Ladies: Greatest Hits and Holiday Songs. Centre in the Square,
101 Queen St. N., Kitchener.
December 18 7:30: Kingston Symphony. Candlelight Christmas. St. George's Cathedral, 270 King St. E., Kingston.
Also Dec 19.
December 23 3:00: Royal Conservatory. Canadian Brass Christmas. Koerner Hall,
273 Bloor St. W. 
Sharna Searle trained as a musician and lawyer, practised a lot more piano than law and is listings editor at The WholeNote. She can be contacted at classicalbeyond@thewholenote.com.