On September 25, 2017, Glenn Gould would have been 85. To mark the occasion, the TSO is presenting a tribute concert to him on September 22 and 23 with two works of great significance to his biographical and musical legacy.
Siegfried Idyll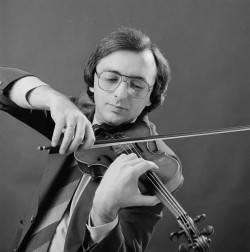 In July 1982, just weeks before suffering the stroke that led to his premature death on October 4, 1982, Gould began recording Wagner's Siegfried Idyll in its chamber version for 13 instruments. It was released by Sony on a CD that also included Gould's own piano transcriptions of other Wagner works, but it was Gould's role as conductor (of Siegfried Idyll) that caught people's attention. The recording was stunning in its transparency, rigorous in its controlled Romanticism and finely balanced as a large chamber work. The orchestral version of this piece is one of the programmatic keys to the TSO tribute this month. Remarkably, four members of the current TSO participated in the Gould recording, among them associate concertmaster Mark Skazinetsky. He graciously took the time to fill WholeNote readers in on the nuts and bolts of that historic occasion.
WN: What are your memories of the recording sessions of Siegfried Idyll?
MS: First of all was the fact that I was going to work with GLENN GOULD himself! It was a hot summer day and he came dressed in a heavy coat, wearing gloves, kind of looking a little strange, but when he started to talk he struck me as being a very kind and friendly, respectful person.
WN: How much rehearsal time was there?
MS: We didn't have much rehearsal time but everyone could sense something very special and unique was happening and that made the rehearsal more effective.
WN: Do you recall Glenn Gould's approach? Any specific instructions?
MS: Glenn Gould's approach was very unique. At first we thought that all the tempi were very slow, or slower than we expected. But as we were getting deeper into the music it started to make more and more sense. His interpretation of this piece was so sincere and deeply felt that it "infected" us very much. He was asking for very long lines and phrases and that made the whole piece like one big painting. The end result was amazing!!!
Brahms Concerto No.1
Glenn Gould was 22 when he first recorded Bach's Goldberg Variations for Columbia Masterworks in 1955. Jan Lisiecki is now 22 and a graduate of the Glenn Gould School of the Royal Conservatory. His fourth recording for Deutsche Grammophon, Chopin Works for Piano and Orchestra, was released last March. For his part in the TSO Gould tribute, Lisiecki will play Brahms' Piano Concerto No.1 in D Minor, Op.15, the same work that prompted Leonard Bernstein to address the audience in Carnegie Hall on the evening of April 6, 1962, when Gould played it with the New York Philharmonic. Bernstein said that he could not agree with Gould's "remarkably broad tempi and frequent dynamic departures" but that "Mr. Gould is so valid and serious an artist that I must take seriously anything he conceives in good faith."
I asked Lisiecki about his relationship with Gould and what he thought about Bernstein's pre-performance words.
WN: When did you first become aware of Glenn Gould?
JL: I cannot even describe a particular moment when I became aware of Glenn Gould. He seems to have been a part of my musical life from the very start, and is inseparable from it in my view.
WN: How has he been important to you?
JL: There are many inspirational aspects about Mr. Gould. For one, I love his answers to interviews. They were different, insightful and fun. I also like his approach to making music, and adhering to the principle that if there's nothing new to say, then there's no point in performing or recording it. He was also never afraid to break with the tradition, and as a result, completely changed the way the entire world sees and experiences some music.
WN: What do you think of Bernstein's famous words to the audience before Gould and the New York Philharmonic performed Brahms' First Piano Concerto?
JL: I actually think these words could have been spoken at many other concerts, and that it is frankly not a surprise that a conductor and soloist don't get along. After all, each musician is very individual, and when you add in someone's personality (their amenability and openness, or lack thereof), musical disagreements do occur.
WN: How long have you been playing the concerto?
JL: This concerto is actually very new to me, and I performed it for the first time in Warsaw only on August 12. My "debut" with this work was a full immersion, too, with live broadcast on radio, YouTube and TV recording.
WN: What is your approach to it?
JL: I'm not sure how I can answer this question in words. I invite the audience to listen and assess for themselves. :-)
WN: Have you played much Brahms in concert?
JL: I have included Brahms in my recitals before, but my closer association is with Schumann. In fact, I recorded one of Schumann's last works for the piano, his Introduction and Concerto Allegro Op.134 for Piano and Orchestra, which inspired Brahms when writing this concerto.
I'm reasonably certain that TSO conductor Peter Oundjian will address the Roy Thomson Hall audience before the Brahms concerto is performed. And I'm also confident that Lisiecki will have a few words to say at its conclusion. The prospect fills me with great anticipation.
Mooredale Concerts Season Opener
Again this summer my musical life in Toronto was bound up in the Toronto Summer Music Festival, the first under artistic director Jonathan Crow. This year – the festival's 12th edition – was primarily a celebration of chamber music performed almost entirely by Canadian-born or Canadian-resident musicians. It was a roster driven by the notion of celebrating Canada's sesquicentennial. The overwhelming artistic success of TSM was an affirmation of the high level of talent our country has produced. The total audience of 15,000 was a 20-percent increase over last year and included several sellouts and many near sellouts in both Koerner and Walter Halls. I was fortunate to take in 15 concerts, three masterclasses, two open rehearsals, two "Conversations" and two "Kids Concerts," less than half of what the extensive program offered. Visit www.thewholenote.com for my TSM concert reports.
Two of the sold-out programs, "The TSO Chamber Soloists" and the "Tribute to Anton Kuerti," had a direct connection to Mooredale Concerts (of which Kuerti is artistic director emeritus). The TSO players, under the leadership of TSO concertmaster Jonathan Crow, will open Mooredale's new season on September 24 at Walter Hall.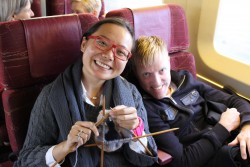 Crow will be joined by Teng Li, principal viola; Joseph Johnson, principal cello; Jeffrey Beecher, principal bass; Michael Sweeney, principal bassoon; Neil Deland, principal horn; and Miles Jaques, clarinet.
Their diverse program features the Françaix String Trio, Nielsen's Serenata in vano, CNW69, Till Eulenspiegel's Merry Pranks, Op. 28, by Richard Strauss and Beethoven's Septet in E-flat Major, Op. 20. The Nielsen is a quintet for clarinet, bassoon, horn, cello and double bass; the quintet arrangement of the Strauss uses similar instrumentation with the violin replacing the cello.
Crow was gracious enough to answer several questions about the TSO Chamber Soloists (TSOCS) and the program of the Mooredale recital.
WN: What was the impetus behind the origin of the TSO Chamber Soloists?
JC: There are a couple of different reasons behind the TSOCS, but foremost for us is a chance to present TSO players in a more intimate setting, as we generally only get to interact with our audiences in a very large space. There is something very special about a chamber music setting that allows audiences to get to know their favourite musicians more as individuals, and also allows us to have a little more creativity in our own interpretations. There is also so much great chamber music repertoire that we want to play, and having the chance to do it with a regular group of TSO players only helps us to feel more connected when we get back to the orchestra!
WN: How many concerts do you do over the course of the year?
JC: Personally? Too many to count! The TSOCS does four concerts a year at RTH before TSO shows, and perhaps three or four more touring concerts every season. The schedules of all the players are too complicated to allow for much more than this unfortunately.
WN: How was the upcoming Mooredale recital conceived? Did it begin with the Beethoven Septet and move outward from there?
JC: We like to mix well-known chamber works with other wonderful but lesser known works, and one of the goals of the TSOCS is to feature all the parts of the orchestra, not just the string section! The Beethoven Septet is one of the great works of all time for strings and winds and was an obvious choice for this show, after which we looked at other works that would complement the Beethoven to fill out the program. For this concert we focused on works that would be composed in the same style as the Septet – fun, upbeat music that doesn't take itself too seriously!
WN: How would you characterize the Francaix String Trio?
JC: This piece always makes me think of a champagne cork popping out – it's such a light and bubbly piece! Extremely fun to play, and very enjoyable for audiences.
WN: The Serenata in vano, CNW69 by Carl Nielsen is new to me. Can you tell us something about it?
JC: The TSOCS did this work a few years back at RTH – Nielsen himself referred to it as "a humorous trifle." In his words: "First the gentlemen play in a somewhat chivalric and showy manner to lure the fair one out onto the balcony, but she does not appear. Then they play in a slightly languorous strain (Poco adagio), but that hasn't any effect either. Since they have played in vain (in vano), they don't care a straw and shuffle off home to the strains of the little final march, which they play for their own amusement."
WN: Are you playing the quintet version of Till Eulenspiegel? Such a joyful piece. Do you recall the first time you ever heard it? Or played it?
JC: Yes! This is an amazing arrangement of one of the great orchestra pieces of all time! I first did it at the Montreal Chamber Music Festival probably about 15 years ago. It's a virtuosic showpiece for the five players and has all the excitement of the orchestral version, but the intimacy of a chamber ensemble – everything we aim for with the TSOCS!
WN: What is your approach to Beethoven's Septet?
JC: We tend to think of Beethoven as a very serious composer, but sometimes I think we miss some of the humour and lightness in his compositions. This piece is truly a serenade, and we like to think of it as something perhaps a little lighter than many of the Beethoven symphonies that we play so much. In a way I think it presents a different side of Beethoven – a side of a composer who wasn't yet deaf and didn't yet have any idea about the loss that would inflect so many of his later works.
Paul Ennis is the managing editor of The WholeNote.