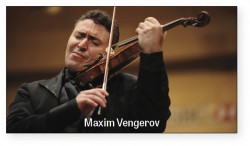 The Toronto Symphony Orchestra embarks on a seven-concert, five-city tour of Israel and Europe in May, their first overseas tour since the summer of 2014. All told, nine works and two superstar guest soloists (one established, one emerging) will be toured. This is the first time the TSO will visit Israel, performing in Jerusalem at Sherover Hall in the Jerusalem Theatre, Israel's largest centre for art and culture and at the Charles Bronfman Auditorium in Tel Aviv, home to the Israel Philharmonic Orchestra. Both concerts will feature Israeli-Russian superstar violinist Maxim Vengerov in Brahms' lyrical Violin Concerto in D Major, Toronto-born composer Jordan Pal's Iris (which had its successful world premiere at the recent New Creations Festival) and Dvořák's dramatic Symphony No.7.
From Israel, the orchestra travels to Vienna with Vengerov, to be joined there by soprano Carla Huhtanen and the Wien Singakademie for a performance of Boulez's harmonic soundscape Le soleil des eaux. Bartók's masterpiece, Concerto for Orchestra, completes the Vienna program. Then it's off to Regensburg in southeast Germany where pianist Jan Lisiecki takes over from Vengerov as the soloist, in Schumann's popular Piano Concerto. (Lisiecki's Deutsche Grammophon recording of the work was warmly greeted when it was released last year.) That concert opens with Oscar Morawetz's charming Carnival Overture based on tunes from his Czech homeland. Rounding out the Regensburg program, concertmaster Jonathan Crow's role in Rimsky Korsakov's Scheherazade is considerable (and available on the TSO's Chandos recording from 2014) and his wonderful solo playing should be appreciated by this new audience.
The Morawetz remains on the program as an appropriate opener for the TSO's first Prague appearance (at the famous Prague Spring International Festival) where it's followed by Vengerov in the Brahms and the Dvořák Seventh. The second Prague concert opens with another specific audience nod - Smetana's Overture to the Bartered Bride followed by Lisiecki's Schumann and Bartók's masterwork. The orchestra is dedicating the Prague concerts to former TSO Music Director Karel Ančerl. The tour then wraps up with a visit to Essen in west-central Germany with Morawetz, Schumann and Rimsky Korsakov on the bill.
Most importantly, the tour is an opportunity to bring the TSO (and the city) to new horizons and wider attention, re-establishing its European profile and introducing it to Israeli audiences. For a preview of six of the works being toured, check out concerts in Roy Thomson Hall May 3 - Morawetz's Carnival Overture, Huhtanen in Le soleil des eaux and Crow in Scheherazade; and May 4 - Jordan Pal's Iris, Lisiecki in the Schumann and the Bartók Concerto for Orchestra.
Post-tour, Sir Andrew Davis takes the podium for two programs. May 26 to 28 Beethoven's Symphony No.7, a rhythmic tour de force and an essential component of the classical canon, is preceded by Grieg's expressive Piano Concerto with the engaging Jean-Efflam Bavouzet and TSO principal flutist's swan song, Griffes' Poem for Flute and Orchestra. June 2 and 3, the Decades Project takes centre stage with a program reflective of the 1930s: Hindemith's Music for Brass and Strings, Berg's touching Violin Concerto (with Crow as soloist), Walton's biblical oratorio Belshazzar's Feast. It's a busy month.

The Cliburn: Three Canadians are among the 30 competitors in the 15th Van Cliburn International Piano Competition held in Fort Worth, Texas: Algerian-born Mehdi Ghazi, Vancouver-born Tristan Teo and Chinese-born Tony Yike Yang. All three are no strangers to international competition - in 2015 Yang became the youngest prizewinner in the history of the International Chopin Competition. At 18, he's the youngest participant in The Cliburn, with Teo, at 20, not far behind.
The schedule is gruelling and rigorous. In the preliminary round - May 25 to 28 - each pianist will perform a recital of their own choosing not to exceed 45 minutes in length and must include the commissioned work, Toccata on "L'homme armé," (five minutes in length) written by Marc-André Hamelin who is also on the jury. "At least the piece isn't too long," Hamelin told me in a recent interview. "They asked me for four to six minutes and it ended up being about five. So it's sort of a quick and painless injection." "How many times will we hear that piece of yours?" I asked. "At least 30," he answered. So the public and jury and worldwide audiences alike will have ample opportunity to get sick of it."
The second round held on May 29 and 30 consists of 20 competitors who must again perform a recital of their own choosing not to exceed 45 minutes in length. Only complete works will be accepted and repertoire from the preliminary round may not be repeated. By the time of the semifinal round, June 1 to 5, there will be only 12 competitors left. Phase 1 of the round has each pianist performing a recital not to exceed 60 minutes in length with repertoire consisting of complete works of their own choosing not previously played in the competition. Phase 2 of the round will have each pianist perform a Mozart piano concerto with the Fort Worth Symphony Orchestra conducted by Nicholas McGegan.
By the final round, June 7 to 10, the jury process will have eliminated all but six competitors. Phase 1 of the round will have each pianist perform a piano quintet with the Brentano String Quartet. Phase 2 will have each pianist perform a concerto with the Fort Worth Symphony Orchestra conducted by Leonard Slatkin. The pianists may choose any work scored for full symphony orchestra and piano.
Fortunately the competition will be widely available. The #cliburn2017 webcast will encompass over 110 hours of life performances, announcements, interviews, short features and other behind-the-scenes footage. All content will be available both live and on demand, for free, to viewers around the world at
cliburn2017.medici.tv (which will also host a variety of editorial content in English, Russian, French and Mandarin Chinese). The live stream will also be available at cliburn.org and medici.tv.
The jury, chaired by Slatkin, consists of distinguished pianists Arnaldo Cohen, Christopher Elton, Hamelin, Joseph Kalichstein, Mari Kodama, Anne-Marie McDermott and Alexander Toradze.
On April 2, I got a sneak peak at Tony Yike Yang's Cliburn playbook. In the second of the Piano Bravura series at Church of the Holy Trinity, Yang electrified the audience with Beethoven's Sonata No.30 in E Major Op.109 (which he will be playing in the preliminary round of The Cliburn) and Chopin's Sonata No.2 in B-flat Minor Op.35 and Mussorgsky's Pictures at an Exhibition (which he hopes to play in the semifinal round). I for one hope he makes it at least that far. I wouldn't want to miss the opportunity to be dazzled by the Mussorgsky once again.
QUICK PICKS
May 2: COC's free noontime concerts spotlight chamber music this month beginning with members of the COC Orchestra playing wind octets by Haydn, Beethoven and Jacob followed on May 4 by Schubert's delightful Octet. May 23 the winners of the Glenn Gould School Music Competition perform. Toronto Summer Music artistic director Jonathan Crow presents a sneak preview of this summer's festival featuring emerging artists May 24.
May 4: Charles Richard-Hamelin gives his first full-fledged solo recital since his silver medal at the International Chopin Piano Competition in 2015. Presented by the Women's Musical Club of Toronto, his program includes Mozart's Fantasy K397, Chopin Impromptus and Mazurkas, a selection of Babadjanian and Schumann's Sonata No.1, an early work reflective of his alter egos Florestan and Eusebius.
May 5, 6: Soprano Measha Brueggergosman and pianist Stewart Goodyear lend their star power to "Edwin's Pops" as Edwin Outwater leads the Kitchener-Waterloo Symphony in an evening of musical humour. May 10, 12, 13: Violinist Aisslinn Nosky leads the orchestra in her curated program of Vivaldi, Handel, Bach and Geminiani. May 26, 27: Mahler's thrilling Symphony No.1 and John Adams' setting of Emily Dickinson, Harmonium, serve as the "Grand Finale: Edwin's Farewell" marking the end of Outwater's ten-year tenure as the symphony's music director.
May 5: Austrian teenager, violinist Elisso Gogibedashvili, returns to Sinfonia Toronto and conductor Nurhan Arman two years after her first appearance with them when she was just 14. Sarasate's virtuosic Carmen Fantasy is reason enough to attend.
May 6: The Haliburton Concert Series presents the inimitable duo of Guy Few, piano/trumpet, and Nadina Mackie Jackson, bassoon.
May 6: Lara St. John joins Gemma New and the Hamilton Philharmonic as soloist in Korngold's seductive Violin Concerto.
May 6: Katarina Curtin's String Quartet No.3 and Nicole Lizée's Isabella Blow at Somerset House share the Kitchener-Waterloo Chamber Music Society's Music Room with Franck's expressive Piano Quintet in F Minor in a recital by the Cecilia String Quartet (with Leopoldo Erice, pianist). May 17: K-WCMS presents flutist Suzanne Shulman and harpist Erica Goodman in an entertaining program of duets for this unusual pairing. May 24: The K-WCMS Music Room welcomes Israeli pianist Ishay Shaer in a program of Coulthard, Prokofiev and Schubert. Shaer repeats the same program in Toronto four days later.
May 12: The Etobicoke Philharmonic Orchestra's final concert of the season includes Wagner's majestic Siegfried Idyll, a Vivaldi flute concerto, Tchaikovsky's fateful Symphony No.4 and the winner of the Young Composers' Competition.
May 13: The Pacifica Quartet concludes Jeffery Concerts' two-year complete Beethoven string quartet cycle with an early (Op.18 No.2), a middle (Op.95) and a late (Op.132) quartet.
May 19: Gallery 345 presents Trio Conventano, an unusual combination of flute (Dakota Martinů), cello (Thomas Beard) and piano (the charming Philip Chiu), in works by von Weber, Gaubert and Martinu. Jun 7: Acclaimed pianist Robert Silverman performs two Beethoven sonatas (No.1 and the great No.21 "Waldstein") and the four Chopin Scherzos.
May 20: The Kindred Spirits Orchestra welcomes Younggun Kim as soloist in Brahms' echt-Romantic Piano Concerto No.2. Kristian Alexander also leads the orchestra in Sibelius' glorious Symphony No.5. May 26: Kim gives a free noontime recital presented by Music at St. Andrew's with a technically demanding program that includes selections from Godowsky's Studies on Chopin's Études and Kapustin's Variations.
May 20: Ensemble Made In Canada and bassist Joseph Phillips conclude this season's 5 at the First chamber music series with music by Bach, Rossini, Kelly-Marie Murphy and Vaughan Williams (the substantial Piano Quintet in C Minor).
May 21: Bradley Thachuk leads the Niagara Symphony Orchestra, Chorus Niagara and soloists Allyson McHardy, mezzo, and Lida Szkwarek, soprano, in Mahler's intense and beautiful Symphony No.2 "Resurrection."
May 28: Syrinx presents the well-regarded Israeli pianist Ishay Shaer performing the penultimate Schubert Sonata D959 and Prokofiev's dramatic Sonata No.6, the first of his "War Sonatas."
May 28: The Windermere String Quartet's upcoming recital includes Mozart's very first string quartet K80, written when he was 14, and Schubert's final string quartet, No.15 D887, written in ten days when he was 29.
May 29: Associates of the Toronto Symphony Orchestra (in this case, Leslie Dawn Knowles, violin; Gary Labovitz, viola; and Britton Riley, cello) perform Schubert's 16 songs from Die schöne Müllerin D795 (transcribed for violin and viola) and Beethoven's String Trio in E-flat Op.3. Jun 5: ATSO presents the Zephyr Piano Trio in works by Haydn, Luedeke, Piazzolla and Brahms.
May 31: Westwood Concerts presents "Hearing Double," music for two clarinets (Michael Westwood and James Petry) and piano (Megumi Okamoto) by Mendelssohn, Poulenc, Krommer, Joplin and more.
Jun 3: In collaboration with Sistema Toronto, Ronald Royer conducts the strings of the Scarborough Philharmonic Orchestra in a program featuring cellist Shauna Rolston, young artist Cynthia Ding (violin) and teachers and students from Sistema Toronto performing Tchaikovsky, Popper, Vivaldi, Mendelssohn and Jim McGrath.
Paul Ennis is the Managing Editor of The WholeNote