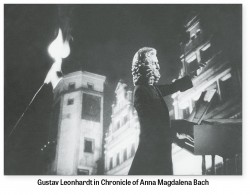 "Not Reconciled: The Cinema of Jean-Marie Straub and Danièle Huillet" is a retrospective of 31 films by the singular filmmaking duo that takes hold at TIFF Bell Lightbox March 3 with the screening of a new 35mm print of Chronicle of Anna Magdalena Bach. Whether or not you're familiar with the austere dissociation of the filmmakers' style, this black and white 1967 film is essential viewing for any music lover. Compulsively watchable, it's of key historical importance on two counts. As a portrait of J.S. Bach, it's a focused biography zoning in on the last decades of his life, from the end of his stint working for Prince Leopold of Anhalt-Köthen to his time in Leipzig as cantor of St. Thomas Church (1723-1750). And as a 50-year-old film in which Bach is portrayed by harpsichordist Gustav Leonhardt and the music is directed by Nikolaus Harnoncourt with musicians from his Concentus Musicus Wien, it's also a record of a period-instrument movement that was then in its infancy.
The film is awash in music, all inspired by Bach's love of, and devotion to, God. Almost the entire film consists of excerpts from 24 of Bach's works – it's a total immersion experience largely because most of the excerpts are each several minutes long. The bewigged Bach and musicians perform in period costume in the very places where the compositions were first played. The Straubs' rigorous aesthetic reinforces this effect by selecting a camera position with a striking perspective and letting their unmoving camera soak up the moving image; they concentrate our attention on the music.
The film is narrated in a matter-of-fact manner by Bach's second wife, a singer he married in 1721 after the death of his first wife. She gives a bare outline of Bach's early years, touching on his organ prowess and the famous 250-mile walk he took from Arnstadt to Lübeck to hear his idol Buxtehude play, but once she introduces herself events flow according to the pulse of time. For the most part the music follows in chronological order beginning with a sizable excerpt from the middle of the first movement of the Brandenburg Concerto No.5, the first great keyboard concerto and arguably the zenith of his time in Köthen. The camera placement is over the right shoulder of Bach as we watch Leonhardt play his double-keyboard harpsichord unfettered.
Just as Bach is about to take up his post in Leipzig, we're treated to Leonhardt and Harnoncourt in lovely performance of the first movement adagio from the Sonata No.2 for viola da gamba and harpsichord BWV 1028. Then it's a seamless parade of cantatas (embracing many instrumental passages, Bach conducting from the keyboard) with the Magnificat, St. Matthew Passion and Mass in B Minor included, all integral to the narrative. Only a smattering of keyboard works interrupt the flow, notably the opening of the magisterial Prelude in B Minor for Organ BWV 544. Later, the camera actively moves in on Leonhardt for an intimate snippet of the Clavier-Übung organ chorale. He explains how his left hand plays written notes (basso continuo) while the right hand plays in consonance and dissonance; and that the music is for the glory of God.
Camera placement is critical. For example, in the Cantata BWV 198, written for the funeral of Queen Christiane, the vantage point is from the instrumental side focused on the lute, with Bach at left in front of the choir. Occasionally there will be a cut to a close-up of a singer or instrumentalist; even a view of the thick scores black with the density of notes. Despite the lack of camera movement, there is a variety of perspective, often at an angle, which adds to our involvement. The filmmakers also point us to original documents, contracts and the like. They are careful to point out the economics of Bach's daily life and his concerns with his working conditions as he navigates his relationship to his employers.
The other major musical component of the retrospective, is the screening March 12 of the Straubs' film of Schoenberg's unfinished opera Moses and Aaron (1974), shot in a Roman amphitheatre with the Austrian Radio Choir and Austria Radio Symphony Orchestra (recorded in Vienna), along with the 1972 short film Accompaniment to a Cinematic Scene (which uses text by Schoenberg and Brecht to condemn anti-Semitism). Preceding the films will be a 15- to 20-minute live performance of five extracts from Schoenberg's Pierrot Lunaire as well as Claude Vivier's Hymnen an die Nacht presented by Against the Grain Theatre with soprano Adanya Dunn and collaborative pianist Topher Mokrzewski.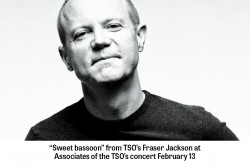 Associates of the TSO. Now in their 45th season, the Associates of the Toronto Symphony Orchestra continue their current series March 6 with "Classics of Vienna Meet Voices of Britain." TSO oboist Sarah Lewis is joined by Eri Kosaka, violin, Diane Leung, viola, and Emmaneulle Beaulieu Bergeron, cello, in Mozart's effervescent Oboe Quartet K370, Britten's Phantasy Quartet for Oboe and Strings Op.2 (written when the composer was 19 and featuring a singing oboe line). Beethoven's splendid Trio Op.9 No.1 opens the concert.
On February 13, I heard their second concert of the season, "Paris en mille notes," a delightful evening of chamber music in the friendly confines of Jeanne Lamon Hall. The distinctive Gallic-flavoured program began with a lively look at Stravinsky's Suite from L'Histoire du Soldat. Stravinsky's septet consisted of violin, clarinet, bassoon, trumpet, trombone, double bass and percussion, a larger number of players than the Associates usually bring to a concert. The enthusiastic audience, who appeared to be made up of the proverbial "seven to seventy," took up most of the seats on the main floor and seemed to energize the players.
Stravinsky's score, which takes advantage of its instruments' unique instrumental colour, was suitably raucous and lively with memorable violin playing by TSO assistant concertmaster Etsuko Kimura (as it should be given the story of a violinist-soldier who sells his instrument to the devil), the sweet bassoon of Fraser Jackson and buffoonery from the brass.
Poulenc's Sonata for Flute and Piano, which followed, acted as a palate cleanser after the Stravinsky's exoticism, creating a wonderful sense of space with long flute lines and wide intervals that felt very French, all delivered with aplomb by Leonie Wall and collaborative pianist Monique de Margerie.
After intermission the duo joined the septet plus another percussionist for Jackson's clever chamber arrangement of Ravel's Piano Concerto in G Major which was being performed for the first time. With similar instrumentation as the Stravinsky, the concerto began in wind-band style before moving into its languorous piano theme with piccolo backing. Conductor Ryan Haskins brought a subtle baton to Ravel's jazz touches, providing a good steady groove for the second movement's lovely theme, while de Margerie's intimate solo piano playing was well-suited to the chamber format.
Kudos to the musicians and their contagious spirit. It augurs well for the rest of the season to come. Following the March 6 concert previously mentioned, their season continues May 29 with a transcription of Schubert's song cycle Die schöne Müllerin arranged for violin and viola and Beethoven's String Trio in E-flat Major Op.3. June 5, it's music for piano trio by Haydn, Luedeke, Piazzolla and Brahms.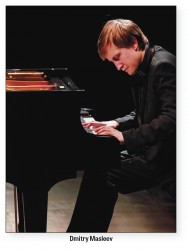 Dmitry Masleev. Following in the footsteps of the 13 first-place winners of the International Tchaikovsky Competition, the Siberian-born Dmitry Masleev joins such legends as Van Cliburn (1958), Vladimir Ashkenazy (1962) and Grigory Sokolov (1966) and most recently Denis Matsuev (1998), Ayako Uehara (2002) and Daniil Trifonov (2011). His Koerner Hall recital March 22 includes works he played in Round 1 of that competition (two of Rachmaninoff's Études Tableaux Op.39 and Beethoven's Sonata Op.81a "Les Adieux") and Liszt's Totentanz from Round 2. Four Scarlatti sonatas, additional Rachmaninoff pieces and Prokofiev's Sonata No.2 in D Minor Op.14 complete his ambitious program.
In response to a question I emailed him shortly before we went to press, Masleev told me that his musical hero is Sergey Rachmaninoff. "He was not only a genius composer whose music inspires all classical music lovers, but he was also a brilliant pianist," he said. "Thank God we have lots of his recordings available and can listen to them.
"He has his own style of performing," the 28-year-old said. "You will always be amazed by his precise touch, deep forte and piano, and of course, just incredible technique. His music combines deep meaning that touches your heart, a variety of harmonies, just unbelievable beautiful melodies. There is a quality in it that will find a response from any person in the audience.
Daniil Trifonov. Coincidentally, the previous Tchaikovsky winner, Daniil Trifonov (having just turned 26) returns to Koerner Hall just six days after Masleev, March 28 in a recital devoted to Schumann, Shostakovich and Stravinsky's Three Movements from Petrushka. The concert is sold out but a few rush tickets will be available 90 minutes prior to the performance. When he was 23, Trifonov gave a masterclass/interview at Mazzoleni Hall one evening in January 2015. He mentioned Rachmaninoff, Friedman, Horowitz, Hofmann and Michelangeli among pianists from the past who inspired him. He said then that the two hours before a concert is a period of intense concentration and that "somehow warming up for me is more mental [than physical]."
QUICK PICKS
Mar 4: Hamilton Philharmonic Orchestra principal trumpet Michael Fedyshyn joins violinist Bethany Bergman, cellist Rachel Mercer and pianist Angela Park as 5 at the First presents music by Biber, Barnes, Ewazen and Piazzolla.
Mar 4: Academy Concert Series presents "A Frankly Fabulous Foray," piano quintets by Franck and Fauré (See what they did there!), two lush chamber works. OSM principal second violin Alexander Read, HPO second violinist and Windermere String Quartet first violinist Elizabeth Loewen Andrews, TSM 2016 fellow Emily Eng, viola, Academy Concert Series artistic director Kerri McGonigle, cello, and Leanne Regehr, piano, bring the works to life.
Mar 5: Trio Con Brio Copenhagen's concert, presented by Chamber Music Hamilton, includes Schubert's uncommonly beautiful Piano Trio in B-flat Major Op.99.
Mar 5, 7 and 9: The Kitchener-Waterloo Chamber Music Society presents the Aviv String Quartet performing Mozart's great last ten quartets. Mar 21 and 23: Movses Pogossian honours Bach's birthday by playing his six sonatas and partitas for unaccompanied violin in the KWCMS music room. Mar 22: Peter Vinograde, who played the first solo recital in that music room in 1980, returns to play Bach, Beethoven and Peter Mennin. Apr 2, 4, 5, 7 and 9: Another major programming coup for KWCMS: the Lafayette String Quartet playing the complete Shostakovich string quartets.
Mar 5: It's cloning time as Mooredale presents Paganini Competition prizewinner In Mo Yang at Walter Hall, while RCM presents the inimitable Sir András Schiff at Koerner Hall, and Roy Thomson Hall presents Andris Nelsons and the Boston Symphony Orchestra, recent Grammy winners for Best Orchestral Performance. All concerts will take place Sunday afternoon at three o'clock.
Mar 7: GGS scholarship student Charissa Vandikas plays Chopin, Schumann and Rachmaninoff in a free noon-hour concert at the Richard Bradshaw Amphitheatre. Apr 4: Another COC free noontime concert features Mark Fewer in solo violin works by Bach, Ysaÿe and Chris Paul Harman. Apr 5: Rossina Grieco, a native of Southern California and winner of the GGS Ihnatowycz Prize in Piano, fills the Bradshaw Ampitheatre with Liszt's iconic Sonata in B Minor in her free concert.
Mar 9: The relatively new Trio Shaham Erez Wallfisch brings their chamber music bona fides to the Women's Musical Club of Toronto for what promises to be a memorable afternoon of music by Rachmaninoff, Schumann and Shostakovich.
Mar 10: The celebrated duo pianists, Anagnoson and Kinton, continue their 40th anniversary season with a concert at Brock University in St. Catharines.
Mar 16: Music Toronto presents the Philharmonic Quartett Berlin (made up exclusively of members of the Berliner Philharmoniker) in a classic program of late Haydn, early Beethoven and middle Schumann.
Mar 18: TSO concertmaster Jonathan Crow is the soloist in Brahms' lyrical Violin Concerto with the Niagara Symphony Orchestra conducted by Bradley Thachuk, at FirstOntario Performing Arts Centre in St. Catharines.
Mar 19: Four days before his Music Toronto recital, Marc-André Hamelin performs at the Isabel Bader Centre for the Performing Arts in Kingston. The all-sonata program is anchored in the first half by Beethoven's fervid Appassionata Sonata and in the second by Chopin's dark Sonata No.2 in B-flat Minor "The Funeral March."
Mar 23: One-time protégé of the great Arthur Rubinstein, Janina Fialkowska brings her pianistic sensibility to an all-Chopin recital at the Aurora Cultural Centre.
Mar 27: The U of T Faculty of Music presents the dedicated and dependable Gryphon Trio performing Beethoven's buoyant Piano Trio Op.11, Dinuk Wijeratne's Love Triangle and Brahms' romantic signpost, the Piano Quartet No.1 in G Minor Op.25. Currently artists-in-residence at the faculty, the Gryphon is joined by guest violist Ethan Filner for the Brahms.
Apr 1: The indefatigable Angela Park joins Canadian Sinfonietta's first violinist, Joyce Lai, and first cellist, András Weber, for an evening of chamber music by Rachmaninoff, Handel-Halvorsen and An-Lun Huang.
Apr 1, 2: Tokyo-born, Montreal-raised Karen Gomyo brings her superb musicianship to Beethoven's splendid Violin Concerto. Young American, Robert Trevino, also conducts the TSO in the 1947 version of Stravinsky's Petrushka rooted in Russian folklore and melody. Apr 6, 7: TSO favourite Thomas Dausgaard returns to conduct Deryck Cooke's version of Mahler's magnificent Symphony No.10; TSO principal cellist Joseph Johnson is the soloist in Schumann's ravishing Cello Concerto in A Minor Op.129, the opening work on the program.
Apr 2: Pianist Anton Nel, fresh from two masterclasses on March 31, performs Mozart and Schumann in a free concert (tickets required; available from March 2) in Mazzoleni Hall.
Apr 7: Bravo Niagara! Festival of the Arts presents pianist Jon Kimura Parker in a fascinating program comprised of Beethoven's formidable Appassionata Sonata, Ravel's shimmering Jeux d'eau, Alexina Louie's Scenes from a Jade Terrace and two movie-themed pastiches by William Hirtz: Bernard Herrmann Fantasy and Fantasy on the Wizard of Oz.
Paul Ennis is the managing editor of The WholeNote.