The extra coverage in this double issue of The WholeNote has prompted me to consider its entire nine-plus weeks of listings as fodder for constructing my personal musical winter wonderland. You are welcome to come along for the ride!
On thewholenote.com I find the LISTINGS tab and click on the indispensable JustASK feature. It's early in planning my journey so I opt to see the entire listings for the first week in December. (Later in my wanderings, to refine my search I may choose to JustASK specifically for chamber music or piano.) In this case, I decide on a free RCM event, pianist Francine Kay in a Sunday Interludes recital at Mazzoleni Hall on December 3. Chopin's Barcarolle has always been a personal favourite and its rolling rhythms will get my festive juices running. Besides, the eminent Princeton University faculty member (and Analekta recording artist) will be giving two masterclasses the following Friday in the same space. Depending on what the students will be playing, I may sit in.
My next stop brings me to Koerner Hall on December 5 for a concert I wrote about in the November WholeNote: Messiaen's Quartet for the End of Time, a 20th-century touchstone, played by some of the newest stars in Europe's musical firmament. I have high hopes for pianist Lucas Debargue, violinist Janine Jansen, cellist Torleif Thedéen and clarinetist Martin Fröst. Next stop, December 10 (and I still haven't budged from Bloor Street) I'm looking forward to the return of Khatia Buniatishvili. This time she's opening with Mussorgsky's majestic and intricate Pictures at an Exhibition before moving on to Liszt showpieces. (And while I'm waiting, there's the Rebanks Family Fellowship concert December 6 in Mazzoleni Hall, where young musicians on the cusp of professional careers display their craft.)
Sorry to say, you'll have to JustASK for yourself for the balance of December. That's because my annual visit to longtime friends in the cabin they built themselves in the middle of a hundred-acre wood will take me through the month. A festive Christmas feast of turkey and trimmings baked in a wood stove will serve all of us well while a curious, sociable parrot provides live entertainment.
January 4 and 6, Ryan Wang: When Ryan Wang was five years old he performed at Carnegie Hall in the American Protégé International Piano and Strings Competition. A charming child with no pretentious airs, his celebrity shone soon after, in his first appearance on The Ellen Show. When not playing a concerto with the Shanghai Symphony, for example, he enjoys biking, road hockey and Harry Potter in West Vancouver. In a YouTube video made last year, he talks about being a piano prodigy who began playing when he was four. "Kids in school think I'm just a famous pianist," he says unabashedly. "But I'm just an ordinary kid." He calls Harry Potter his hero "because he's brave. And if you're brave, you can overcome anything … Sometimes life is really challenging, but I never give up and never lose hope."
Martha Argerich debuted at four, Claudio Arrau at five. Ryan Wang at ten has been on the stage for half his life. The Li Delun Music Foundation presents him on January 4 at the Fairview Library Theatre in recital playing Bach's French Suite No.6 – his Bach on YouTube is refreshingly without any affect – a Haydn sonata, a Poulenc Villageoise, Debussy's Arabesque No.1, the two Chopin Waltzes Op.64 and a Bartók Romanian Dance. An excursion to North York may be a New Year's resolution worth keeping. Two days later, January 6, Wang is the soloist in Beethoven's Piano Concerto No.2 with the Toronto Festival Orchestra conducted by Dongxiao Xu in the Li Delun Music Foundation's "New Year's Concert 2018" at the George Weston Recital Hall.
January 7, Rachel Barton Pine: She began learning the violin at three; at five she "self-identified as a violinist." At ten, she performed with her hometown band, the Chicago Symphony Orchestra; at 17, she won the Bach International Competition in Leipzig, Germany. At 20, her violin case straps caught in the closing doors of a Chicago commuter train; the accident cost her part of a leg and mangled a foot. Her determination and discipline from her years of violin study brought her all the way back musically. On January 7, she performs the first Sunday Interludes concert of the year in Mazzoleni Hall.
January 10 to 21, Mozart @ 262: I'm back on Bloor again for some of this next part of my private winter festival. I am about to come face to face with the TSO's Mozart @ 262 Festival that begins January 10; it will be the TSO's 14th annual celebration of that prodigy's genius, and the final one with Peter Oundjian (the festival's creator) as TSO music director. Roy Thomson Hall (three performances), Koerner Hall (two) and the George Weston Recital Hall (one) will all be involved. On January 17 and 18 concertmaster Jonathan Crow and principal violist Teng Li will be the soloists in Mozart's Sinfonia Concertante for violin and viola K364/320d in what might very well be the single highlight of the festival.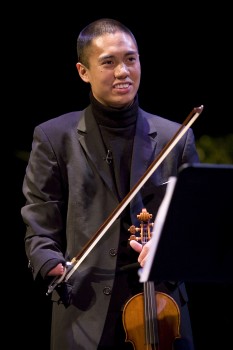 Oundjian's sole conducting gig, however (January 19 to 21), is the one program I'm most focused on, though (and the only one that's in all three venues). Anchored by Mozart's exhilarating final symphony, No.41 in C Major "Jupiter," the concert showcases two talented young Canadian artists. Charles Richard-Hamelin will weave his colouristic alchemy in the Piano Concerto No.23 in A Major K488 – the understated grandeur of its Adagio served as the main theme of Terrence Malick's film The New World, underscoring the pristine beauty of its first act. And Adrian Anantawan will be the soloist in the Rondo for violin and orchestra K250/248b "Haffner," and the Adagio for violin and orchestra K261. Anantawan, who grew up in Toronto, was born with no right hand, only a stunted appendage with tiny stubs instead of fingers. At nine he took up the violin, which proved to be a great equalizer for him. Needless to say, it changed his life. Now in his early 30s, he works with cutting-edge technology to help others; he's also given a TED Talk. He told CNN in 2013 that "it's never about the technique or technology that is important, but the desire to live life authentically and creatively. We often forget even 'traditional' musical instruments are technological adaptations in their own right – they are tools to manipulate sound in a way that we couldn't do with our bodies alone."
January 11, Brentano and Dawn Upshaw: I plan on abandoning Mozart to take advantage of a rare opportunity to hear Schoenberg's pivotal String Quartet No.2 when Music Toronto presents the Brentano String Quartet and soprano Dawn Upshaw in the Jane Mallett Theatre. Completed in 1908, the quartet's extreme late-Romanticism loses its harmonic bearings by its final movement, a change that can be considered the beginning of atonal music. The third and fourth movements are settings of poems by the symbolist poet Stefan George. Alex Ross in The Rest Is Noise talks about the extraordinary moment in the fourth movement when the soprano sings the line I feel the wind of another planet and then the "transformation," I dissolve in tones, circling, weaving … The Schoenberg is preceded by Respighi's intimate, lyrical setting of Shelley's Il Tramonto. Before intermission, the Brentano (without Upshaw) will interweave Webern Bagatelles with Schubert Minuets before performing Argentine-American Mario Davidovsky's String Quartet No.4 (1980), a piece I look forward to hearing for the first time.
The next morning, January 12 at 10am, Upshaw will give a masterclass in Mazzoleni Hall. I've marked my calendar. Maybe I should just move to Bloor Street!
Sunday, January 14, David Jalbert and Wonny Song: these two top-rank Canadian pianists return to U of T's Walter Hall and Mooredale Concerts following their acclaimed 2014 appearance there, for "Piano Dialogue," a program inspired by dance, theatre and visual art. Rachmaninoff's Suite No.1 for two pianos and his four-hand arrangement of Tchaikovsky's Sleeping Beauty Waltz share the stage with Milhaud's Scaramouche Suite for Two Pianos and Stravinsky's kinetic Petrouchka, also for two pianos. Elsewhere in this issue Alex Baran writes in his DISCoveries Keyed In column about Jalbert's latest CD of music connected to what Jalbert and Song are playing in their recital: "[The CD] shows why he's considered one of the younger generation's finest pianists. His performance of Dance russe from Petrouchka explodes into being with astonishing speed and alacrity. Jalbert possesses a sweeping technique that exudes ease and persuasive conviction."
January 23, Stephen Hough: In October 2016 the brilliant British pianist Stephen Hough revealed on BBC Radio 4's Desert Island DIscs that he discovered he liked playing the piano when he went to visit his aunt's house and could pick out more than one hundred nursery rhymes on her piano. After much pestering, his parents bought him a cheap second-hand piano from an antique shop. So began the storied career of this polymath, whose first novel, The Final Retreat, is to be published in March 2018. On January 23, he makes his fourth appearance for Music Toronto since 1996 with a program mixing four Debussy works (two of which, Images Bk 1 and II, appear on his latest Hyperion CD, anticipating the centenary of the composer's death in 1918) with Schumann's rapturous Fantasie Op.17 and Beethoven's colossal Sonata in F Minor, Op.67, "Appassionata." The next morning, Hough will make the trek north to Mazzoleni Hall for a public masterclass. Having been to two of these, I have no doubt it will be an insightful and inspirational experience.
January 27, the Dover Quartet: The Dovers came to wide attention in 2013 when they won the Banff International String Quartet Competition. I wrote about their memorable Beethoven concert at Toronto Summer Music in 2016: "Musically mature, vibrant and uncannily unified in purpose and execution, the youthful players brought passion and grace to the first two movements [of Op.132], took a decisive approach to the fourth and emphasized the rhapsodic character of the finale." Chamber Music Hamilton, a top-flight regional series, is presenting the young Americans in a recital of Schumann's Second, Ullmann's Third and Zemlinsky's Second String Quartets, Sunday January 27 at 2pm at the Art Gallery of Hamilton.
January 30, RCM and Hot Docs Ted Rogers Cinema (although the name has changed, the address remains Bloor Street) present Stefan Avalos' compulsively watchable Strad Style, a film I saw at Hot Docs 2017. The documentary chronicles the improbable but triumphant story of a reclusive Ohio violin maker, Daniel Houck, whose confidence that he can produce a copy of "Il Canone," the Guarneri violin built in 1742 that Paganini played, carries him through an eight-month journey that threatens to be derailed more than once. A violin aficionado who loves listening to old masters like Oistrakh and Heifetz and idolizes violin makers Amati, Guarneri and Stradivari – all from Cremona, Italy – Houck suffers from bipolar disorder but functions with medication. He befriends Razvan Stoica on Facebook when he discovers the Romanian-born violinist has won the Strad Prize at a Salzburg festival and offers to make him the Canone replica. There is magic stuff here.
After the screening Jonathan Crow will bring out his own Guarneri for what promises to be a fascinating show-and-tell Q&A. And that's why I'll be there.
And on into February: The astounding young pianist Daniil Trifonov continues his homage-to-Chopin tour February 1, with a sold-out concert at Koerner Hall. I'm lucky to have a ticket but unlucky to miss the St. Lawrence String Quartet's annual Music Toronto visit the same evening. Fortunately I can attend the SLSQ's masterclass in Mazzoleni Hall the next day at 10am.
In 2008, clarinetist Dionysis Grammenos became the first wind player ever to be named European Young Musician of the Year. Two years later at 21, having been guided by Bernard Haitink, Christoph Eschenbach and Robert Spano, he made his conducting debut with the Vienna Chamber Orchestra. Johannes Debus hired him as assistant conductor for the COC's 2018 production of Mozart's Abduction from the Seraglio February 7 to 24. "You find in him a musician who exudes an enthusiasm for music from every single pore and who equally has the talent to communicate and share his enthusiasm and euphoria with others – no matter if it's about an audience or fellow musicians," Debus says. Grammenos' appearance at noon on February 7 in the Richard Bradshaw Amphitheatre with Ensemble Made in Canada (they will perform Brahms' late masterpiece, the sublime Clarinet Quintet in B Minor Op.115) is the last stop in my winter festival.
Given the abundance of live music available to all of us in the Toronto area, there's an ad hoc personal winter festival out there for the making for every musical taste. How? JustASK.
Paul Ennis is the managing editor of The WholeNote.