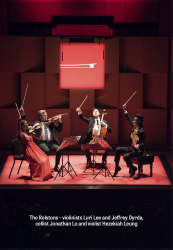 Formed in the summer of 2013 at the Banff Centre for Arts and Creativity's Chamber Music Residency, the Rolston String Quartet took its name from late Canadian violinist Thomas Rolston, founder and long-time director of the Music and Sound Programs at the Banff Centre. In an interview with Rebecca Franks last October shortly after their big win, and available on BBC Music Magazine's official website (Classical-music.com), the Rolstons – violinists Luri Lee and Jeffrey Dyrda, violist Hezekiah Leung and cellist Jonathan Lo – talked about their formation. Leung and Lee were students at the Glenn Gould School in 2013 who took their quartet ambitions to Banff's Chamber Residency Program, where they added Lo and Dyrda. They coalesced permanently during a two-year string quartet residency at Rice University in Texas.
Three years later they won the prestigious Banff International String Quartet Competition and took off on a year-long victory lap that will culminate in an appearance at the Banff Centre International String Quartet Festival, September 1 to 3.
Their year-long winners' tour heads down the final stretch with the summer festival season, beginning June 8 at the Montreal Chamber Music Festival where they will be joined by previous Banff International String Quartet Competition victors (2013) the Dover Quartet, in their first joint appearance, performing Mendelssohn's Octet Op.20. In fact following where else in Canada this tour takes them gives us a glimpse into some of the richness of the Eastern Canadian festival circuit circuit.
Westben Music Festival (July 2 to August 6) in Campbellford, Ontario, is set in the rolling hills of Northumberland on the Trent River. The Rolstons' July 9 program there includes Ravel's sumptuous String Quartet in F (a piece Dyrda told BBC Music Magazine they feel particularly close to), in addition to Mozart's String Quartet No.14 K387 "Spring," the first of his six quartets dedicated to Haydn, and Beethoven's resplendent String Quartet No.8 Op.59 No.2 "Razumovsky."
Along with the Rolstons, there are several other intriguing offerings in this year's Westben line up. Pianist Rashaan Allwood pairs two sets of Messiaen "bird songs," Petites esquisses d'oiseaux and the first book of Catalogue d'oiseaux pour piano, on July 21, followed the next morning by a musical and ornithological treasure hunt in a nearby park. That afternoon (July 22), Jan Lisiecki brings his sensitivity to every note of Bach's Partita No.3, Schubert's Impromptus Op.142 and pieces by Schumann and Chopin. (And if you miss him at Westben, six days later Lisiecki performs a variant of that program in Stratford Summer Music's newly renovated – and air-conditioned – Avondale Hall.)
The following afternoon on July 23, Angela Hewitt brings her starry musicianship to the Westben Barn with Bach's Partita No.1, two Beethoven sonatas (including the mighty "Waldstein") and six Scarlatti sonatas. Curiosity-seekers might be rewarded by Belgian National Radio's Outstanding Young Artist, violinist Jolente De Maeyer and her husband, pianist Nikolaas Kende, whose program includes Beethoven's iconic "Kreutzer Sonata."
Toronto Summer Music and Ottawa Chamber Music Festival
Heading west from Westben, with their recital on July 24 the Rolston String Quartet find themselves literally at the centre of Toronto Summer Music's 24-day festival. In an inspired pairing, their program will echo that of the St. Lawrence String Quartet, which opens TSM on July 13. Each quartet will perform their Banff-winning program, which in the SLSQ's case, was in 1992. "We work a lot on character, colour and sound quality," Rolston violist Hezekiah Leung said in their BBC Music Magazine Q&A. The Rolstons' prize-winning program consists of the Ravel, the Beethoven ("Razumovsky" No.2 – "One of our favourites," according to cellist Jonathan Lo) and Zosha Di Castri's Quartet No.1.
On July 27 and 28, The Rolstons head east again, to the Ottawa Chamber Music Festival where they play a recital program on the 27th and join pop star Kishi Bashi on the 28th for a performance of his 2015 recording, String Quartet Live, which contains the luminous, hook-filled Manchester and a host of recognizable string tropes. (Presumably his latest album, Sonderlust, a disco tribute from the multi-instrumentalist, won't be on the agenda.) If you do make the trip to Ottawa, or happen to be there already, don't miss the opportunity to hear other notable concerts at the festival. Angela Hewitt plays three Bach Partitas and his Sonata in D Minor July 20. The brilliant Stephen Hough plays works by Beethoven, Schumann and Debussy on July 23. Patricia O'Callaghan and the Gryphon Trio illuminate songs by Leonard Cohen, Randy Newman and Ron Sexsmith July 27. The Miró, Cecilia and Penderecki String Quartets each give separate concerts, with the latter two joining the Gryphon Trio and friends Hinrich Alpers, piano, Roberto Occhipinti, double bass and Jenna Richards, celesta, for "Kubrick Mashup," an intriguing concoction hosted by broadcaster/writer Eric Friesen on July 30 and focused on the music of the films of Stanley Kubrick. Kubrick's use of existing works of the classical canon across the centuries was instrumental in growing the audience for these works.
Indian River and Tuckamore
Staying with the indefatigable Rolstons, for their August 6 concert in the historic St. Mary's Church at the Indian River Festival in PEI, the Rolstons revert to the works they played at Westben a month earlier: Mozart's first Haydn Quartet, Beethoven's Op.59 No.2 and Ravel's Quartet in F. The Indian River venue, considered to be a fine example of the French Gothic influence, was built in 1902 by PEI architect William Critchlow Harris. The use of fir, pine, spruce, maple and birch throughout the building, coupled with Harris' trademark rib-vaulted or groined ceiling, enhances the site's quality of sound, making for a fine natural acoustic. Among the other artists appearing at Indian River this summer are the Canadian Brass, one-time piano child-prodigy Anastasia Rizikov (now 17), Patricia O'Callaghan (with her "Canadian Songbook") and on September 15 – yes, it's still summer – the captivating pop-jazz stylings of Barbra Lica.
Three days later the Rolstons find their way across the mighty Gulf of St. Lawrence and through the Cabot Strait to St. John's, Newfoundland, for dates at the Tuckamore Chamber Music Festival, where their core touring program of Mozart, Beethoven and Ravel is augmented by R. Murray Schafer's String Quartet No.2 "Waves" and Andrew Staniland's Four Elements. Knowing Tuckamore's artistic directors violinist Nancy Dahn and her husband, pianist Timothy Steeves (who also play together as Duo Concertante), the festival will have a stellar lineup to fill the days between August 7 and 20.
The tuckamore tree, from which the festival takes its name, is an evergreen unique to Newfoundland and Labrador, celebrated for its tenacity, strength and special beauty. Like some other summer festivals, Tuckamore has a program for young artists; in fact, Dahn and Steeves will also spend July 16 to 29 on the faculty of the Domaine Forget International Festival in Saint-Irénée, on the St. Lawrence east of Quebec City, before leading their own festival's educational program back at home.
Gananoque and Leith, then back to Banff
From Tuckamore it's westward ho (there's no more east left) to the Gananoque Music Festival, a series of four concerts in a waterfront setting, hosted by former CBC Radio personality Friesen, who chats with the performers as the sun sets over the St. Lawrence River. The Rolstons will perform their summer staple: Mozart, Schafer, Beethoven and Schumann.
And last stop before their return to Banff finds the quartet again in Ontario in a rural spot on Georgian Bay near the base of the Bruce Peninsula for the Leith Summer Festival on August 26. Artistic director, pianist Robert Kortgaard, spreads his well-chosen series of five concerts out from July 1 to August 26; the concerts are presented in the sanctuary of the Leith "Auld Kirk," an "intimate chamber with an incredible sound and ambience." Duo Concertante performs there a mere three weeks before their Tuckamore Festival begins; the ever-popular Gryphon Trio is given a subsequent Saturday slot before the Rolstons wrap up the festival less than a week before their Banff concerts.
Home again, at Banff, the Rolstons will participate in three programs, performing Schumann's Third String Quartet, Schafer's Second Quartet "Waves," Shostakovich's Piano Quintet in G Minor (with London-based, Australian-born pianist Piers Lane), and Steve Reich's masterwork Different Trains.
Charles Richard-Hamelin.
Since his second-place finish in the International Chopin Piano Competition in 2015, Charles Richard-Hamelin has been building a burgeoning international career, and he's also carving an interesting trail across the map this summer. It begins with two Polish recitals in Gdańsk and Katowice, at the second of which he reprises the recent program he performed for the Toronto Women's Musical Club's Music in the Afternoon series May 4 at Walter Hall (a concert I attended): Mozart's Fantasy in D Minor K397; four Chopin Impromptus and three Mazurkas Op.59; four pieces by the Armenian composer Arno Babadjanian; and Schumann's vibrant Sonata No.1 Op.11.
Richard-Hamelin's sensitivity and unalloyed virtuosity belie his rumpled appearance. At his May 4 concert, he brought an improvisatory quality to the Mozart, occasionally adding grace notes to the manuscript, and a masterful dynamic range contained within a cohesive whole. He brought out the lovely melody of Chopin's Impromptu No.2 with simplicity and restraint even as he projected the music's intrinsic freedom. His playing of the well-known No.3 defined "Chopinesque." The even-more famous Fantaisie Impromptu was well-framed dynamically and rhythmically with its I'm Always Chasing Rainbows tune a lesson in judicious rubato. The first movement of the Schumann sonata brimmed with the excitement of a young man in love; the tenderness of the second movement led into a playful Scherzo that developed into Papillons/Carnaval territory, while the complex, extended finale was at times riven, yet yearning, forthright. The Babadjanian pieces, with their Armenian romantic colourings, ranged from the bucolic to lively, folk-based dance tunes and served as a light contrast to the rest of the menu. It's a worthy program to hang one's reputation on over the course of a season.
Perugia to Amherst Island
After his Gdańsk and Katowice recitals, Richard-Hamelin stops in Perugia, Italy, to visit his compatriot Angela Hewitt, the artistic director of the Trasimeno Music Festival. She's planned a "Four Piano Spectacular" for July 1 (Canada's 150th birthday, in case you hadn't noticed). With Hewitt and Richard-Hamelin playing alongside Janina Fialkowska and Jon Kimura Parker, the party will include solos, duos and arrangements for four pianos.
Back in North America, Richard-Hamelin plays the Waterside Summer Series on July 6. Located on Amherst Island, just west of Kingston, Waterside's six concerts also include the Triple Forte Piano Trio and the Saguenay Quartet (formerly the Alcan).
Lanaudière
Three weeks later on July 27, our inveterate pianist takes the stage as part of the star-studded Lanaudière Festival. It's Lanaudière's 40th anniversary this summer, and it is a festival that is as wide as it is deep, from the July 1 opening concert, highlighted by Kent Nagano and the Orchestre symphonique de Montréal (OSM) performing Mahler's Symphony No.5, to the spectacular close August 4 to 6. The closing weekend, for example, begins with Nagano and the OSM accompanying Yulianna Avdeeva (who won first prize in the 2010 International Chopin Piano Competition) in Tchaikovsky's Piano Concerto No.1, then moves on to Brahms' Symphony No.2. Saturday it's the Nagano-led OSM tossing off Mozart's Symphony No.39 before tackling Fauré's gorgeous Requiem. Concluding the festivities is a concert version of Wagner's Parsifal with the Orchestre Métropolitain under Yannick Nézet-Séguin.
There's plenty of music in between, too. The Jupiter Quartet ends the complete Beethoven cycle they started last year, with eight quartets in three days, ending on July 13 with Op.131. L'Orchestre de chambre I Musici and Les Violons du Roy, two of Quebec's most renowned orchestras, combine on a Saturday and Sunday afternoon with Jean-Marie Zeitouni conducting Saturday and Bernard Labadie on Sunday. Saturday night, July 8, is given over to each orchestra, alternating with an intermission in between. Rising-star cellist Stéphane Tétreault, pianist Marie-Ève Scarfone and the members of the Saguenay Quartet come together July 18 to 20 for three programs of chamber music by Viennese classicists. A major work of Schubert concludes each program, preceded by works of Beethoven and Mozart. (And speaking of Tétreault, he and Jan Lisiecki hook up for a certain-to-be-high-wattage recital at Stratford Summer Music July 29, two days after Tétreault plays solo Bach there.)
Richard-Hamelin's Thursday, July 27, concert is a a carefully chosen program of works by some of his favourite composers: Mozart's Fantasy in D Minor K. 397, and works by Chopin and Schumann.
Not to be overlooked, Lanaudière also offers up a Marc-André Hamelin double bill: July 21, Liszt followed by Schubert's Impromptus Op.142; July 22, Beethoven's Emperor Concerto with the Orchestre Métropolitain under the direction of Mathieu Lussier. Hamelin is experiencing a particularly high point at the moment (early May), having just played Carnegie Hall twice in ten days: first with fellow pianist Leif Ove Andsnes to great acclaim, and second at the 40th anniversary concert of the Emerson String Quartet.
Elora
Meanwhile, our intrepid pianist, Charles Richard-Hamelin, travels back to Ontario, where on July 29 he plays his standard program (having added an additional Schumann work at Lanaudière) at the Elora Festival, founded by artistic director Noel Edison in 1979. Given Edison's choral focus, the festival is not short on song: Karina Gauvin, Emily D'Angelo, Susan Aglukark, Joni NehRita, Mary Lou Fallis, Gordon Lightfoot and the Elora Singers appear this summer. But so do Angela Hewitt (The Goldberg Variations), up-and-coming cellist Cameron Crozman, the Cecilia and Penderecki String Quartets and violinist Jonathan Crow (July 29, with a program that he will then repeat at his TSM recital two days later).
Final flurry
It's back to his native province for Richard-Hamelin on August 3 to play his summer recital for the last time in Canada (at Musique de chambre à Sainte-Pétronille), before heading west to Parry Sound on August 9, where he dons his chamber music hat for "Three Great Sonatas," joined by veteran violinist Martin Beaver and cellist Yegor Dyachkov in music by Beethoven, Chopin and Schumann. Festival of the Sound artistic director, clarinetist James Campbell, has assembled a deep roster of instrumentalists for the 2017 edition, which runs from July 21 to August 13. Pianists Alexander Tselyakov and Martin Roscoe, cellist Cameron Crozman, the New Zealand and Penderecki String Quartets, the Gryphon Trio, trumpeter Guy Few, double bassist Joel Quarrington, flutist Suzanne Shulman and harpist Erica Goodman will participate in a plethora of chamber music programming that will undoubtedly thrive in the Georgian Bay air.
And by August 11, Richard-Hamelin is back in Montreal playing Gershwin's Rhapsody in Blue with the OSM led by Kent Nagano as part of the fifth edition of the OSM Classical Spree: more than 30 concerts in four days, August 10 to 13, most 45 minutes in length.
Music and Beyond
Neither Richard-Hamelin nor the Rolston String Quartet is participating in Ottawa's Music and Beyond, an appealing and intricately constructed festival that runs from July 4 to 17. But just because they are missing it is no reason I should in this roundup!
It opens with a recital by the high-powered American violinist Sarah Chang, still in her 30s, having made a seamless transition from prodigy to mature artist. Then come three concerts by the Auryn Quartet, a rare opportunity to hear this exquisite Cologne-based German ensemble. After programs by the Kronos Quartet, the Canadian Brass and the imposing American pianist Garrick Ohlsson, Music and Beyond welcomes back the Vienna Piano Trio for three concerts. Pianist Sergei Babayan breaks the pattern, with a one-off show on July 10, before three concerts by The Revolutionary Drawing Room (who play their late-18th- and early-19th-century repertoire on period instruments). Artistic director Julian Armour should be commended for his fresh approach to programming. The Czech Bennewitz Quartet are also playing three concerts while the Saguenay String Quartet does two and the remarkable Flûte Alors one. Cellists Stéphane Tétreault and Johannes Moser give separate recitals; Eve Egoyan plays Ann Southam and David Rokeby. Mélisande McNabney (daughter of violist Douglas McNabney) gives a harpsichord concert.
From the summer solstice to the autumnal equinox, there's much to see and hear and no better place to do so than in Canada this year. To paraphrase Leonard Cohen's Beautiful Losers: when music is live, magic is afoot.
Paul Ennis is the managing editor of The WholeNote.