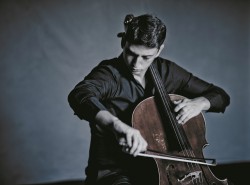 Joshua Bell began taking violin lessons when he was four years old after his mother discovered that he had stretched rubber bands across the handles of his dresser drawer to pluck out music he had heard her play on the piano. Several decades later in January 2007, Bell performed incognito as a busker at a public transit station in Washington DC. More than 1,000 people passed by but only seven stopped to listen. He collected $52.17 from 27 people (including $20 from the one person who recognized him). Now in his 50th year, the celebrated American virtuoso returns to Toronto for a recital in Koerner Hall on November 4. The program, with the gifted Italian pianist, Alessio Bax, includes sonatas by Mendelssohn, Grieg and Brahms, as well as additional works to be announced from the stage. But the concert is sold out (one of several in that category this season) so unless you're already a ticketholder (or one of the fortunate few able to secure rush seats on the day of the recital), you'll miss the chance to hear the musician who has become only the second music director (after Neville Marriner) of the Academy of St. Martin in the Fields chamber orchestra.
There is consolation the following afternoon, however. After winning the Cello First Prize and Gold Medal at the XIV International Tchaikovsky Competition in 2011 at the age of 22, Narek Hakhnazaryan was named a BBC New Generation Artist in 2014 and welcomed by the world's most prestigious venues. His concert (75 minutes with no intermission) on November 5 in Mazzoleni Hall at 2pm is FREE (ticket required). Mentored by Mstislav Rostropovich, this is Hakhnazaryan's Toronto recital debut after several orchestral performances, including the TSO in 2015. "I try to be honest with the composer's music," he told an interviewer last year. "I don't really show off or do anything for the audience. The scores don't need any changing because they are genius already. The musician is just the narrator, and the script is already written. It's all about how you read it. It's like Shakespeare: there's millions of actors doing different things with his original works."
Still on the subject of the Royal Conservatory's new season, making their Canadian debut October 20 at Koerner Hall, the Khachaturian Trio (pianist Armine Grigoryan, violinist Karen Shahgaldyan and founding member, cellist Karen Kocharyan) has been active since 1999, taking the name of their Armenian countryman Aram Khachaturian in 2008. Their handful of recordings focus on the music of Armenian modern composers as well as Khachaturian, Tchaikovsky, Arensky, Babadjanian and Shostakovich. The program for their Toronto recital includes Tchaikovsky's intense, demanding, symphonic Piano Trio in A Minor, op. 50, "In Memory of a Great Artist"; Rachmaninoff's Trio élégiaque No. 1 in G Minor, the composer's personal memorial to Tchaikovsky whom he called the most enchanting of all the people and artists he had ever met ("His delicacy of spirit was unique."); Khachaturian's Adagio of Spartacus and Phrygia from Spartacus Suite No. 2, Op.82b (the music for the Spartacus ballet from which this suite was taken is among Khachaturian's most acclaimed works); and Babadjanian's richly romantic, melancholic Trio in F-sharp Minor.
Music in the Afternoon
Violinist Lara St. John and pianist Matt Herskowitz open the Women's Musical Club of Toronto's 120th season on October 5. What began in 1899 when a group of women musicians and music lovers met to share their passion has become Music in the Afternoon, a five-concert series on Thursdays in Walter Hall. After performing Franck's justly celebrated Sonata in A Major for violin and piano, written as a wedding present for famed Belgian virtuoso Eugène Ysaÿe in 1886, St. John and Herskowitz will play selections from her Shiksa CD (2015). Its 14 tracks feature traditional folk tunes from the Jewish diaspora, Eastern Europe, the Balkans, the Caucasus and the Middle East, reimagined for the concert stage by contemporary composers. When St. John does a similar program two weeks later, at Wolf Trap outside of Washington DC, the program will include John Kameel Farah's Ah Ya Zayn (Levant), Matt Herskowitz's mashup of Hava Nagila, Nagilara (lsrael), Serouj Kradjian's Sari Siroun Yar (Armenia), St. John/Herskowitz's Adanáco and Martin Kennedy's Czardashian Rhapsody (Hungary). That's the kind of music the Toronto audience can expect, followed perhaps by an encore like the rambunctious Oltenian Hora, which St. John calls "improvised Romanian violin tricks, twists and turns."
St. John told Laurie Niles on violinist.com (November 5, 2015) that the idea for Shiksa had been percolating for a long time – since her first trip to Hungary when she was 11 years old. "I was astonished by all the music everywhere and thought that maybe I had been kidnapped by some Canadian family, because I felt like I belonged there. Since that time, and especially since my year of living in the Soviet Union when I was 17, I've been fascinated with songs and music from many cultures in, shall we say, that general area. The borders are always changing, but the music is the one thing that folks always respond to and recognize."
U of T Faculty of Music/TSO
As Toronto audiences have come to recognize from the many appearances in the recent Toronto Summer Music Festival by the concertmasters of Canada's two major symphony orchestras, Jonathan Crow of the TSO and Andrew Wan of the OSM, the two are consummate, generous musicians dedicated to conveying their joy in the music they play. And despite their considerable commitments to their principal orchestral roles, they still find time to come together for several concerts each season with the New Orford String Quartet, where they alternate in the first and second violin positions. Such is the case when the U of T Faculty of Music presents the New Orford on October 5 in Walter Hall. Ravel's wistful, melancholic String Quartet in F Major, arguably the most performed string quartet of the 20th century, shares the stage with Tchaikovsky's moving String Quartet No.3 in E-flat Minor and Steven Gellman's Musica Aeterna (1994).
Faculty of Music free noontime concerts continue on October 19 with Crow joining his colleague Joseph Johnson, TSO principal cellist, to play music of Ravel and Kodály. Johnson's TSM Shuffle Concert last August was enlightening and entertaining, with the personable cellist's onstage patter illuminating his impeccable playing of selections from Bach's solo cello suites mixed in with works for two, three and four cellos! Brooding, intense and sedate Bach contrasted with showpieces featuring Viennese musical twirls and swoops and Lisztian Hungarian rhapsodies, all smoothly led by Johnson at his collaborative best.
On October 30 Johnson teams up with the Gryphon Trio's pianist, James Parker, in a U of T recital at Walter Hall with a substantial program comprising Debussy's rapturous Sonata in D Minor, Beethoven's densely packed, forward-looking Sonata No.2 in G Minor, Op.5 and Brahms' bold and passionate Sonata No.2 in F Major Op.99.
Marc-André Hamelin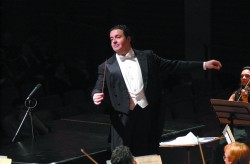 Crow and Johnson's day jobs with the TSO find them supporting Marc-André Hamelin in Ravel's ingenious one-movement Concerto for the Left Hand on October 25 and 26. It was the most successful of the works commissioned by Austrian pianist Paul Wittgenstein after he lost his right arm during World War I. When Wittgenstein first saw the long solo cadenza that opens the piece he said: "If I wanted to play without the orchestra, I wouldn't have commissioned a concerto." But Ravel refused to change a note. When I spoke to Hamelin last winter he confirmed my suspicion that Ravel's one-movement concerto in D Major was a piece he really enjoyed playing. "Very much so," he told me. "Although I've also for the first time recently played the G Major [in Montreal with the OSM and Kent Nagano]. Can you believe? And that's worked out well. I would like to offer a program in which I play both in a single evening. Which is perfectly fine." Indeed, that would be quite a program.
This time, however, under the baton of visiting Spanish conductor Juanjo Mena (principal conductor of the BBC Philharmonic), the TSO program is augmented by the Canadian premiere of Alberto Ginastera's expressionist, dance-driven Ollantay, inspired by a pre-Columbian Inca poem and sounding like Aaron Copland's music transposed to the Argentine landscape. Mena's Chandos recording of this and other Ginastera works is considered by its publisher Boosey & Hawkes to be definitive. The major work of the evening is Schubert's Symphony No.9 "Great," an extensive melodic and rhythmic quilt that deserves its apt nickname. Schubert began writing the symphony in the year after he heard Beethoven's Ninth and inserted a quote from the Ode to Joy melody into the middle of the last movement of it. See if you recognize it when you hear it.