I recently had an email exchange with Edward Dusinberre, first violinist of the celebrated Takács Quartet, in anticipation of the Takács' upcoming recital in Koerner Hall on March 25. I began by congratulating Dusinberre on his recent book, Beethoven for a Later Age (The University of Chicago Press, 2016), which I found to be a wonderful reading experience, rich in its multi-layered outlook and filled with keen insights into the string quartet experience in general and his in particular. The way he integrated the historical context of Beethoven's own involvement with his quartets into the narrative was novel and instructive. And tying the history of the Takács to specific performances of specific Beethoven quartets was, I told him, an organic and deft touch.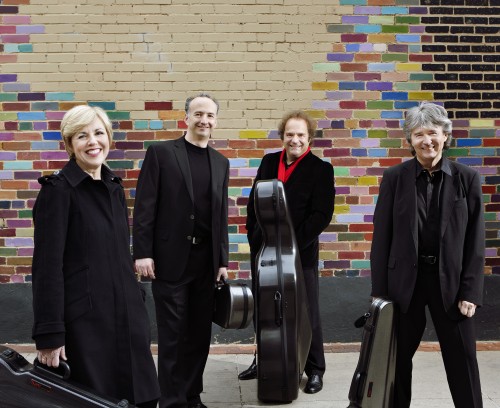 WN: Does the quartet still rehearse four hours at a time? How much rehearsal time per week? Your Koerner Hall concert on March 25 begins at 3pm. What effect will that have on your rehearsal process?
ED: I'm glad you enjoyed the book! We rehearse between three to three and a half hours a day, five days a week when we are at home. On the road it's more a matter of "maintenance" rehearsals, tweaking things here and there. The hard preparation work is done in Boulder. For an afternoon concert we usually meet two hours before the concert.
Please speak about the importance of conveying emotion in the music.
Conveying emotion is the end goal, but each audience member's emotional response to a piece is unique. So we spend a lot of time discussing what character we want a phrase, section or movement to convey. The means for achieving that are of course many: bow stroke, type of sound, pacing, dynamic contrast, body language, etc. We hope if the characters are vivid and immediate, then the emotional responses they inspire will be stronger.
How does the Koerner Hall acoustic influence your playing there?
What a gorgeous hall and acoustic! Such a space creates the possibility for more varied dynamics and colours of sound: in particular it is more rewarding to play very quietly. Also timing can be affected. The last chord of a slow movement will fade beautifully into silence, where in a less good hall it might stop abruptly, so one is encouraged to linger.
You wrote extensively about the interpretive challenges and your various approaches to Beethoven's string quartets in your book. "Performing Opus 131 is always an adventure," you wrote. And: "Of all the Beethoven quartets, Opus 131 is the most ambitious." Please elaborate on those two statements.
The emotional range of the piece is staggering. And often the juxtapositions of fiercely contrasting emotions require a nimble approach from the performers. For example, after a lyrical fourth movement full of whimsy and fantasy, one is hurled into a helter skelter scherzo which requires fast fingers and finesse. Immediately after that, the sixth movement is a lament, again with the minimum of time to prepare. The piece is an adventure because traversing such a range of emotions feels a bit different each time.
What is your approach to Opus 131 today? How might it change on March 25 in Toronto? How does the energy of the audience bear on it?
The opening bars of the piece are like the beginning of a long story. Sometimes the opening feels introspective, sometimes more overtly despairing. This is music that can accommodate many different approaches, just like a Shakespeare play. The purpose of rehearsing Opus 131 is to feel comfortable enough to be open to minute changes of character, balance and pacing that can occur spontaneously onstage. Beethoven modestly remarked that in this music there is "less lack of fantasy (imagination)." It is hard to predict from one concert to the next how our feeling about performing the piece will change but our job is to be open to how that fantasy may unfold.
How would you characterize the two other works on your Koerner Hall program – The Haydn E-flat Major, Op.76 No.5 and the Shostakovich No.11 in F Minor, Op.122?
The Haydn is a wonderfully varied piece with a luminous slow movement worthy of a late Beethoven quartet. The outer movements are full of surprises. The first movement starts rather gently before delivering a rambunctious coda. The last movement is full of high spirits, comic turns and pregnant pauses – one of our favourites.
The Shostakovich is an extraordinary piece. Like Opus 131, the movements are played without a break. And like Beethoven, Shostakovich takes simple thematic material and transforms it in imaginative ways, creating a satisfying narrative arc.
Speaking of Quartets (2): The Rolston String Quartet's international profile has recently been raised even higher, having been selected as the recipient of the 2018 Cleveland Quartet Award, the first time a Canadian ensemble has received this prestigious biennial award which honours young string quartets on the cusp of a major international career. It is given out by the Cleveland Quartet, Chamber Music America and eight notable chamber music presenters across the United States. Winning quartets receive a concert tour of the United States, including performances at Carnegie Hall and the Smithsonian in Washington DC. The prize is the latest in a string of accolades for the fast-rising ensemble since winning the top prize at the 12th Banff International String Quartet Competition in 2016. Currently the fellowship quartet-in-residence at the Yale School of Music, the Rolstons now join the ranks of previous Cleveland Quartet Award winners Brentano, Borromeo, Miami, Pacifica, Miro, Jupiter, Parker, Jasper, Ariel and Dover Quartets.
As Bill Rankin wrote in La Scena in June 2017, Barry Shiffman, a founding member of the St. Lawrence Quartet and associate dean and director of chamber music at the RCM's Glenn Gould School (GGS), recognized the group's adventurous spirit from the outset. "There's a bit of craziness to them, which I like in a young quartet," he said. "They're risk takers. They don't play it safe. They have a concept, and they go for it."
"Some people think of a string quartet as a 16-string instrument; others see it more as four individuals, with a very distinct identity and characteristics. We lean more toward the latter," Rolston cellist Jonathan Lo said.
Cellist Norman Fischer, an alumnus of the Concord Quartet and a specialist in contemporary music, explained that at Rice University, the Rolstons found a deeper way of listening. During their three years of study there, they developed "the ability to hear sounds in very specific ways, the ability to hear what's going on with all the players around you – to be able to anticipate changes in the music, but also to be able to anticipate changes from one another and to quickly respond. This is really complicated perceptual training.
"You're always looking for that X factor, the exceptional thing in the playing that you're not expecting, that makes the performance of music at the moment something memorable, and the Rolstons have that capacity."
Shiffman says: "They bring a joyous A game to everything they do. I'm sure at times they're tired and crabby and they don't want to be on the road. But you would never know it. They're as excited to play for you whether it's Carnegie Hall or it's Timmins, Ontario."
The Rolston String Quartet plays at the Kitchener-Waterloo Chamber Music Society March 7, the Jeffery Concerts in London March 10, the Burlington Performing Arts Centre March 11 and the Royal Conservatory's Mazzoleni Hall April 8. The programs will include combinations of Haydn, Beethoven, Debussy and Tchaikovsky in support of Schumann's hugely popular Piano Quintet.
The Eybler String Quartet came together in late 2004 to explore the works of the first century of the string quartet, with a healthy attention to lesser-known composers such as their namesake, Joseph Leopold Edler von Eybler. The group plays on instruments appropriate to the period of the music it performs. Violinist Julia Wedman and violist Patrick G. Jordan are members of Tafelmusik Baroque Orchestra; violinist Aisslinn Nosky is concertmaster of the Handel and Haydn Society and principal guest conductor of the Niagara Symphony Orchestra; Wedman and Nosky are also members of I FURIOSI Baroque Ensemble. Cellist Margaret Gay is much in demand as both a modern and period instrument player. Their March 9 Heliconian Hall recital includes early Haydn, late Mozart and their contemporary Franz Asplmayr (1728-1786).
The Elias String Quartet has been together since they were students in Manchester in 1998. Music Toronto's Jennifer Taylor brought them here in March 2015 for a memorable local debut which I chronicled in these pages: "French sisters Sara and Marie Bittloch on violin and cello set the tone for the quartet's intimate sound and its impeccable sense of ensemble. Equally attentive were second violinist Scotsman Donald Grant and Swedish violist Martin Saving. Together the foursome brought heavenly pianissimos and wonderful silences that allowed Mozart's music to breathe in his 'Dissonance' Quartet K465 and unrelenting anger and passion to Mendelssohn's last string quartet without losing the ruminative lyricism of its slow movement." Their upcoming recital for the Women's Musical Club of Toronto on March 8 features three pillars of the repertoire: Schubert's Quartettsatz, Janáček's heartfelt String Quartet No.2 "Intimate Letters" and Beethoven's mighty String Quartet No.12 Op.127. The following day the Elias performs the same program in Carnegie Hall.
The Penderecki String Quartet, currently celebrating their 25th year as quartet-in-residence at Wilfrid Laurier University in Waterloo, returns to Music Toronto March 15 for a concert of Schumann's String Quartet No.3, Kelly-Marie Murphy's Oblique Light (2016), commissioned as a sesquicentennial project by the Pendereckis and meant to depict the quality of light in our northern land, and Elgar's Quartet in E Minor Op.83, which captured the spirit of his country cottage where it was written at the end of WWI. As we go to press Music Toronto has announced their 2018/19 season. Highlights include two appearances by Marc-André Hamelin: a season-opening solo piano recital and a Valentine's Day chamber music concert with the Juilliard String Quartet; and Cleveland Quartet Award winners, the Ariel Quartet, who make their local debut.
Assorted Strings. The final concert of the Academy Concert Series season on March 10 sees the return of violinist Scott St. John and guitarist Lucas Harris, joining cellist Kerri McGonigle and violinist Emily Eng in a remounting of one of ACS' most talked about and popular concerts from five years ago, "A Portrait of Paganini." The repertoire will include a Paganini guitar quartet – he wrote 15 – his amiable Terzetto Concertante (for viola, cello and guitar) and one of his 24 virtuosic solo violin caprices. The Kitchener-Waterloo Chamber Music Society brings together the estimable Lafayette and Saguenay (formerly the Alcan) Quartets on March 25 for a rare evening of octets for strings by Mendelssohn, Niels Gade and Russian-Canadian composer Airat Ichmouratov. (Music Toronto will present the identical program March 14, 2019.) A completely different string confection will be served on March 31 when 5 at the First Chamber Music Series presents Arensky's String Quartet No.2 for violin, viola and two cellos; Jocelyn Morlock's Blue Sun for violin and viola; and Dohnányi's String Sextet in B Minor.
And a Pianist. Dénes Várjon, admired by professional musicians and European audiences but less well-known in North America, makes a return visit to the Jane Mallett Theatre on March 27 under the auspices of Music Toronto for a recital laden with music by his Hungarian countrymen Bartók and Liszt. It begins with Beethoven's late Bagatelles Op.126, the composer's final music for the piano. Beethoven described it as "Six bagatelles or trifles for solo piano, some of which are rather more developed and probably the best pieces of this kind I have written." Fiona Maddocks wrote in The Guardian in February 2012 that Várjon's ECM recording of Liszt's Sonata in B Minor "demands attention for its grandeur, clarity and incisive virtuosity. Várjon makes rigorous sense of the work's episodic structure, showing powerful ease in the fugue but enjoying the rhapsodic nature of the rest." It will be exciting to hear him play it live.
TSO and Friends. Stéphane Denève, recently appointed music director of the St. Louis Symphony (effective 2019/20) leads the TSO in Rachmaninoff's Symphonic Dances, the composer's last completed work. Fun facts: it was the first time Rachmaninoff wrote for the saxophone and he got advice from violinist extraordinaire Fritz Kreisler on string bowings. Also on March 28 and 29, versatile German pianist Lars Vogt is the soloist in Brahms' ravishing Piano Concerto No.2.
Born in Taiwan and raised in Australia, violinist Ray Chen won the Yehudi Menuhin Violin Competition in 2008 and the prestigious Queen Elisabeth [of Belgium] Music Competition the following year. Adept at social media and elegantly clad in Armani, Chen is the epitome of a modern musician. He is the soloist April 5, 7 and 8 in Bruch's beloved Violin Concerto No.1 under Sir Andrew Davis, who also leads the orchestra in one of Mendelssohn's programmatic concert overtures and Sibelius' magnificent Symphony No.5.
Then, on March 24, the TSO cedes the Roy Thomson Hall stage to the National Arts Centre Orchestra and its conductor Alexander Shelley for performances of a new work, Earworms, by Vivian Fung, Brahms' serene Symphony No.2 and Shostakovich's lively and sardonic Piano Concerto No.2 (with Russian-born Israeli pianist Boris Giltburg, winner of the 2013 Queen Elisabeth Music Competition).
The Associates of the Toronto Symphony present "The Companion's Guide to Rome" on March 26, featuring Amanda Goodburn, violin, Theresa Rudolph, viola, Emmanuelle Beaulieu Bergeron, cello, and Samuel Banks, bassoon, in Mozart's Sonata for Bassoon and Cello K292, Devienne's Quartet for Bassoon and Strings Op.37 No.3 and Andrew Norman's string trio, The Companion Guide to Rome.
QUICK PICKS
Mar 10: Bravo Niagara! Festival of the Arts presents the exceptional pianist Jan Lisiecki.
Mar 18: Salzburg-born-and-raised cellist Clemens Hagen (of the celebrated Hagen Quartet) and Russian-born American, multi-faceted pianist Kirill Gerstein perform three of Beethoven's five cello sonatas, Op.5 No.2, Op.102 No.1 and Op.102 No.2 as well as his 7 Variations in E-flat Major on "Bei Männern, welche Liebe fühlen" from Mozart's The Magic Flute; presented by the Royal Conservatory in Koerner Hall.
Mar 22 to 24: In "Sound and Colour: Scriabin and Synesthesia," Art of Time artistic director, pianist Andrew Burashko, performs Scriabin's 24 Preludes in conjunction with lighting designer Kevin Lamotte's light-field show.
Mar 23: Belgian pianist Olivier de Spiegeleir adds his own commentary to his Debussy recital presented by Alliance Française de Toronto, 100 years after the composer's death.
Apr 6: The Royal Conservatory presents "Bernstein @ 100," featuring German pianist Sebastian Knauer, Jamie Bernstein (Leonard Bernstein's daughter), mezzo-soprano Wallis Giunta and the ARC Ensemble.
Paul Ennis is the managing editor of The WholeNote.