In the summer of 2016 I was given a package of Mahler DVDs produced and directed by Jason Starr, a prolific maker of dozens of video and films, from classical music and modern dance performances to documentary profiles of artists and cultural issues. He began his Mahler odyssey in 2003 with a splendid deconstruction of what Mahler himself called "a musical poem that travels through all the stages of evolution." I wrote about What the Universe Tells Me: Unravelling the Mysteries of Mahler's Third Symphony – Starr's impressive 60-minute film – in the September 2016 issue of WholeNote in conjunction with the TSO's performance of the symphony then.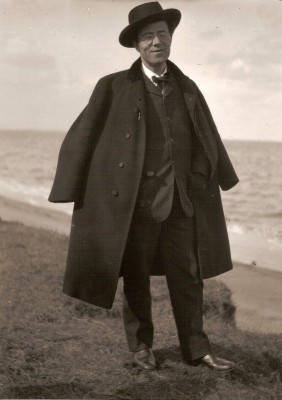 Having noticed the TSO's upcoming performance of Mahler's Symphony No.2 "Resurrection" on April 17, 18 and 20, I decided to take another look at Of Love, Death and Beyond, Starr's 2011 exploration of that monumental work. The combination of an all-star orchestra and chorus conducted by Neeme Järvi, with narration by Thomas Hampson and talking Mahlerian heads led by Henry-Louis de La Grange, produced a rich tapestry of insight and background, some of which I thought I would share to illuminate what has become a cornerstone of the symphonic repertoire.
When Mahler began working on his second symphony in 1888, he was "a 27-year-old itinerant conductor and virtually unknown as a composer." By the time of its premiere in December 1895, Mahler's conducting star was burning brightly, although the negative reception of his first symphony still lingered.
Mahler believed that there must be something cosmic about a symphony; it should be as inexhaustible as the world. With the "Resurrection" Symphony, he burst the confines of symphonic form with a massive instrumental and choral cohort that outdid Beethoven. Haunted by death throughout his life – he lost several family members to early death – the symphony was a means to explore his own ideas of death and the purpose of life. (Early on in the symphony, Mahler picks up the hero's theme from his Symphony No.1 and shockingly kills that hero right away, burying him with funeral-march references and Dies Irae allusions. Waves of struggle alternate with periods of serenity – the role of love always a factor for Mahler.)
After this 1888 start on the symphony, five years passed before Mahler returned to work on it. But during those years his conducting experience had grown, and a key relationship blossomed with the eminent conductor Hans von Bülow after Mahler's appointment to the Hamburg State Opera. He settled on the edge of an Austrian lake in 1893 and finished the second, third and fourth movements. (It would, however, take von Bülow's memorial service in 1894 to unleash Mahler's creativity and act as a catalyst to compose the choral movement that would complete the work.)
The Andante Moderato second movement is mysterious and threatening in tone, but not without considerable charm, as happiness alternates with melancholy memory. The spooky and sardonic third movement is a parody of the Biblical fish sermon with a mocking tone that leads into music riven by despair. The basis of the fourth movement (Primal Light) is a child-like woman's voice (sung by a mezzo-soprano) with text from one of Mahler's favourite literary sources, the poems of Des Knaben Wunderhorn. There is compassion and simplicity in the voice of the child who is driven by a desire to enter heaven and be reborn into eternal blessed life.
The fifth and final movement opens with a reference to the third movement before we are treated to a series of tableaux that expand the bounds of the concert hall with two off-stage bands and otherworldly horns. The notes of the Dies Irae musical reference of the first movement is reversed, a sign that personal rebirth is on its way. A visceral percussion build followed by a march made up of popular music announces the struggle between the Dies Irae and resurrection motifs which morph into an apocalyptic tension. Then, after barely audible offstage brass, mass hysteria leads into celestial calm and an omnipotent feeling of love takes over. The chorus enters (everyone partakes of the resurrection) in one of the most sublime moments in all of music. Mahler's own text leaves out much of the original religious content, replacing it with spirituality. Ultimately, a new life is unleashed. There had never been a symphonic movement of such scope and dramatic impact. It still generates a genuinely palpable feel-good climax.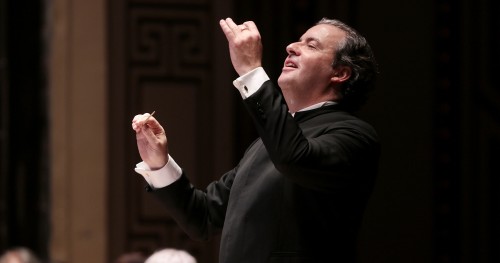 Mahler's Massive Cohort
To illustrate the instrumental scope in personnel alone, this is what Mahler called for: four flutes (all doubling piccolo), four oboes (two doubling English horn), four clarinets (one doubling bass clarinet and another doubling E-flat clarinet) plus E-flat clarinet, four bassoons (two doubling contrabassoon), ten horns, ten trumpets, four trombones, tuba, timpani (two players), cymbals, triangle, military drum, orchestra bells, chimes, bass drums, tam-tams, two harps, organ and strings, plus soprano and mezzo-soprano soloists and a mixed chorus; an offstage band comprising four trumpets, bass drum with cymbals attached and additional triangle; another off-stage band consisting of four horns and additional timpani.
The TSO presents Mahler's Symphony No.2 "Resurrection" on April 17, 18 and 20 at 8pm in Roy Thomson Hall. With Joëlle Harvey, soprano; Marie-Nicole Lemieux, contralto; Amadeus Choir; Elmer Iseler Singers; renowned Spanish conductor Juanjo Mena takes the baton.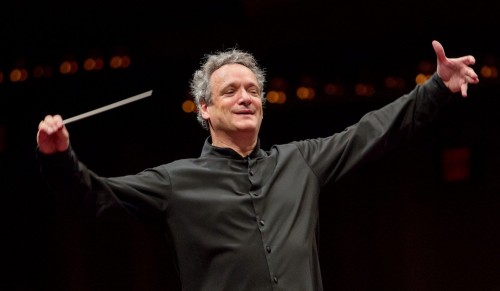 Louis Langrée has been music director of the Mostly Mozart Festival at Lincoln Center in New York since 2002 and of the Cincinnati Symphony Orchestra since 2013. On April 10, 12 and 13, he will lead the TSO in another pillar of the classical music canon, Beethoven's Symphony No.3 "Eroica." Originally dedicated to Napoleon Bonaparte (the composer later defaced his original dedication to the French emperor, calling him a tyrant), the Eroica marked the beginning of Beethoven's Middle Period and was a major musical step forward in his symphonic writing. The first movement's grandeur is followed by the unnerving, influential funeral march and the uncanny scherzo which set the stage for the finale's theme and variations that pushed the expressive envelope of 1803. Uncompromising and challenging to this day, the Eroica marked a bold step into the 19th century for a work that has never lost its power to connect emotionally.
Opening the program is another keystone of the repertoire, Debussy's hugely popular Prélude à l'après-midi d'un faune (1894) that stretched the traditional system of keys and tonalities to their late 19th-century limits. Rounding out the evening's first half is Szymanowski's Violin Concerto No.1 (1916), considered one of the first modern violin concertos and a musical heir to Debussy's work. Christian Tetzlaff, whose consummate musicianship and versatility have long been a source of great pleasure, is the violin soloist.
Students Rule
As spring blossoms fill our senses, it's time to partake in the fruits of another year's worth of musical training. Nine Sparrows Arts Foundation presents "Rising Stars" of the U of T Faculty of Music on April 2 and of the Glenn Gould School on April 30 and May 7. Admission is free for these 12:10pm recitals at Yorkminster Park Baptist Church in midtown Toronto. The Royal Conservatory presents the Glenn Gould School Chamber Music Competition Finals in Koerner Hall at 7pm on April 3. Tickets are required (but free) and can be reserved a week in advance. At noon on April 9, the COC presents "Rachmaninoff-Go-Round," a free concert featuring GGS piano students playing selections from Six Moments musicaux, Op.16 in the Richard Bradshaw Amphitheatre of the Four Seasons Centre. In the same location, on April 10 at noon, the COC presents a free concert featuring the winner of the GGS Chamber Music Competition. On the same day at 7:30pm in Mazzoleni Hall, RCM presents the final Rebanks Family Fellowship concert of the season (free; ticket required). The future is ours to see.
CLASSICAL AND BEYOND QUICK PICKS
APR 7, 2PM: The Gallery Players of Niagara present the Gryphon Trio at 25 years young! Fresh from winning their latest JUNO, the venerable trio's program includes works by Haydn, Brahms and Wijeratne. FirstOntario Performing Arts Centre, St. Catharines.
APR 7, 3PM: RCM presents the justly celebrated American pianist Richard Goode in an all-Beethoven recital topped off by the master's final sonata, the celestial Op.111. Goode will also give two masterclasses in Mazzoleni Hall, to which the public is welcome, on April 5 at 2pm and April 6 at 2:30pm.
APR 7, 7:30PM: Gallery 345 presents pianist/scholar/writer Jarred Dunn in a recital comprised of a selection of Chopin pieces along with Beethoven's penultimate sonata, Op.110. Featured on the 2018 CBC Top 30 Under 30 list, Dunn has been highly praised by piano stalwarts Seymour Bernstein and David Dubal.
APR 14, 2PM: Chamber Music Hamilton presents the luminous Calidore String Quartet in a superbly constructed program of Haydn's String Quartet in F Major Op.77, No.2, Beethoven's String Quartet Op.131 and two pieces by Pulitzer Prize-winner Caroline Shaw (whose Taxidermy was one of the revelations of the recent 21C Music Festival performance by Sõ Percussion).
APR 14, 3:15PM: Mooredale Concerts presents the New Orford String Quartet whose impeccable musicianship will be on display in an all-Beethoven program featuring a quartet from each of the composer's early (Op.18, No.4), middle (Op.74) and late (Op.131) periods.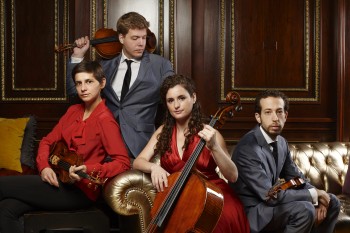 APR 18, 8PM: Music Toronto presents the Ariel Quartet (winner of the prestigious Cleveland Quartet Award in 2014) in a program they call "Neue Bahnen (New Paths)." The title comes from Schumann's famous article from 1853 heralding a new era with the arrival of the then-unknown Brahms. The program highlights the special relationship Schumann and Brahms shared, and looks back to Beethoven and forward to Webern.
APR 27, 7:30PM AND APR 28, 2:30PM: Elsewhere in these pages David Jaeger writes extensively about Marjan Mozetich, whose Postcards from the Sky is part of this concert by the Niagara Symphony Orchestra. Another reason to attend is to catch up with one-time prodigy, pianist Anastasia Rizikov, featured in Shostakovich's Concerto in C Minor for Piano and Trumpet and String Orchestra. Arvo Pärt's Cantus in Memoriam Benjamin Britten and Tchaikovsky's Serenade for Strings complete the surefire program. Bradley Thachuk conducts.
APR 28, 3PM: Jeffery Concerts presents the five-time Grammy Award winner, MacArthur Foundation Fellow, Dawn Upshaw, singing Respighi's haunting Il Tramonto and Schoenberg's visionary String Quartet No.2 with the esteemed Brentano String Quartet (who also perform Haydn's Op.20, No.2 and Bartók's String Quartet No.2). Wolf Performance Hall, London.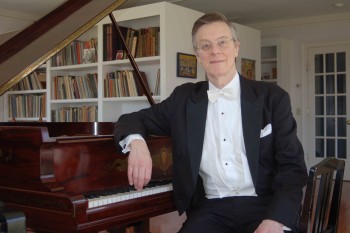 MAY 1, 8PM: Pianist Peter Serkin, heir to the Busch-Serkin musical family, makes his Koerner Hall debut performing Mozart's Adagio K540 and Piano Sonata K570 as well as Bach's Goldberg Variations. Serkin replaces the originally scheduled Murray Perahia, who is unable to appear due to a sudden medical setback.
MAY 2, 12PM: Spring may be in the air, but summer's not too far from violinist Jonathan Crow's mind as he previews the 2019 Toronto Summer Music Festival – Crow is its artistic director – in this COC free concert at the Richard Bradshaw Amphitheatre in the Four Seasons Centre.
MAY 2, 1:30PM: The Women's Musical Club of Toronto closes out their season in Walter Hall with a strong program – Mozart, Schafer and Beethoven – by the acclaimed Rolston String Quartet, who have been on an extensive tour since winning the 12th Banff International String Quartet Competition in 2016. Named one of CBC's 30 Hot Canadian Classical Musicians Under 30 and recent winner of the prestigious Cleveland Quartet Award, the Rolstons – who take their name from Canadian violinist Thomas Rolston, longtime director of the Music and Sound Programs at the Banff Centre -- are currently fellowship quartet-in-residence at the Yale School of Music.
Paul Ennis is the managing editor of The WholeNote.