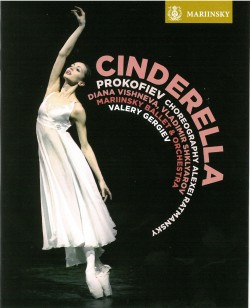 Prokofiev – Cinderella
Mariinsky Ballet & Orchestra; Valery Gergiev
Mariinsky MAR0555
Of late, with its ongoing confrontation in Ukraine, European trade sanctions and a worrisome intervention in the Syrian war, Russia is again starting to look like a frozen-in-time empire of the Cold War. There is no such freeze in the artistic life of the country however. Case in point: new, exciting choreography for Cinderella. This staple of traditional ballet, rendered beautifully by many artists, from Margot Fonteyn to Maya Plisetskaya, was a stylish piece, to be sure, but it has been in dire need of a makeover. The new Cinderella is simply brilliant. Contemporary and energetic, with smart costumes by Elena Markovskaya, it plays, as it should, as a modern parable of the triumph of good over evil. The sheer nervous energy of the performance highlights the beauty of the score. In typical Prokofiev fashion, the music reveals itself to be even more ahead of its time than we suspected.
The physically demanding new choreography illustrates perfectly the tension of the score and highlights Prokofiev's uncanny ability to express movement through music. Filmed in the Mariinsky Theatre in St. Petersburg, the work truly belongs in Mariinsky II, designed by the Canadian starchitect Jack Diamond. Fresh, exciting and triumphant, this recording leaves us hoping that Putin's Russia is nothing but a phase in the history of a great artistic nation.