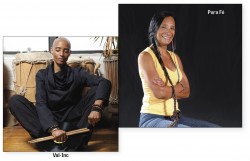 It's February. It's still dark before you arise, and cold, with nary a sign of green outside. February is also Black History Month and all over Toronto politicians, schools and cultural organizations are marking it in various ways.
On its events page, the Music Gallery's David Dacks writes that from its earliest days the MG "has welcomed adventurous Afro-diasporic sounds [such] as free jazz, the science fact/fiction of Sun Ra's Arkestra and the advanced musical theories of George Lewis. This commitment has intensified over the past several years with events with saxophone titan Matana Roberts, jazz elder Henry Grimes, mbira innovator Evelyn Mukwedeya, and 'world music 2.0' theorist DJ/rupture."
For Black History Month 2016, the MG presents a two-part event which pushes these explorations further.
Val-Inc: body and spirit: the first of these starts at 5pm Saturday, February 20, with a free panel discussion called "The New Black: Challenging Musical Tropes" with Val-Inc and Witch Prophet, two "Black artists who create stereotype-challenging music" on the panel, along with moderator Alanna Stuart (Bonjay, CBC), Garvia Bailey (JazzFM) and Amanda Parris (CBC). They plan to delve into ways in which awareness can be raised around "under-represented facets of Afro-diasporic cultural expression, specifically within Black Canadian culture."
Putting these concerns to the musical test that same evening at 8pm, will be a concert titled "Val-Inc + Witch Prophet." Val-Inc is Val Jeanty, once a member of Norah Jones' band. Her music was described by the New York Times as blending "traditional-sounding music from Haiti with synthesized sounds and instruments to develop a genre she calls 'Afro-Electronica.'" Her audiovisual installations have been showcased at the Brooklyn Academy of Music, Whitney Museum, Museum of Modern Art and in European galleries.
Val-Inc's own characterization of her music is more inclusive; she describes it as evoking "the musical esoteric realms of the creative subconscious by incorporating African Haitian musical traditions into the present and beyond, combining acoustics with electronics and the archaic with the postmodern."
Just how does she do that? I called her in New York City to find out.
I asked first about the accuracy of a media depiction I had read of her music as "Big Apple Vodou." "I grew up in Port-au-Prince, Haiti," she responded, "attending Catholic schools as well as practising Vodou within my family, learning to drum [in that context] when I was five years of age."
So how does this joint spiritual and musical practice influence how she sees the relationship between sound, music and spirituality? "In Vodou there's no separation between sound, sounds and prayers to the ancestors, as in the case of Guédé, in the spiritual realm," she explains. [Fête Guédé, the Festival of the Dead, is celebrated on November 2, All Souls' Day]. "It's something that has to be experienced. I practise it to sustain life … not in order to produce a commercial music product."
And her drumming practice since childhood and its echoes in her electronics? "There's not a conscious connection between Vodou drum patterns and my electronics, but [rather a path I find] through improv. I trust the spirit to help me via the looper [digital looping station]."
In one track I listened to ("V-iPod #222" on Soundcloud) it's hard to tell if the track features a machine or an acoustic tabla. "Whatever it is, it sounds convincing," I say to her. "I played that on the Roland HandSonic HPD-20, a kind of drumpad, a digital hand percussion device. With practice (and understanding of hand drumming) you can transfer your personal energy into the machine. In the end such tools are just tools, carrying the spirit. Bypass skin colour, distance, language and what you're left with is spirit," she concludes.
"[The spiritual in music] … is speaking to the soul … feeding the soul … I'm not trying to connect the spirit to music – but rather it's trying to do me – it's doing the work! [Let's not forget that] everyone around the world has a spirit."
In our chat, Val-Inc's all-embracing universalist vision came clearly into focus for me: spirit transcending perceived human distinctions such as skin colour, race, geographical origin, religious affiliation and other potentially divisive cultural factors. Makes sense to me.
Pura Fé highlights African-Native American music: Jim Merod, in his 1995 essay Jazz as a Cultural Archive, proposed that jazz is not only a reflection of North American culture but also serves as an archive of that culture. The work of singer, guitarist, songwriter, activist and teacher Pura Fé extends that notion to other vernacular music genres, presenting a rich fabric woven of many cultural strands and colours, so that it is near-impossible to unravel them all: namely the role of indigenous peoples in African-Native American contact, cohabitation, cultural sharing and performance practice.
It is something which occurred in multiple intimate and sometimes complicated and layered ways, arising from shared histories over several hundred years and reflected in various features of the music their descendants created and make today.
I spoke to Fé via Skype, one frigid January afternoon (she now makes Northern Saskatchewan her home), to discuss her upcoming Friday, February 26, concert at the Music Gallery. Long active in transcultural music making and touring in Europe, her album Follow Your Heart's Desire won the 2006 l'Académie Charles-Cros Award for Best World Album.
During the course of our conversation Fé's expansive knowledge and passion about indigenous influences on the blues, jazz, country, rock, gospel and other vernacular American musics was infectious. It's an intensely personal subject for her. She traces the roots of her family and personal musical culture to indigenous North Carolina Tuscarora, Tutelo, as well as Corsican ancestors, the latter via Puerto Rico. (Her name given by her father means "Pure Faith" in Spanish.)
"On my mother's side we've got eight generations of Tuscarora singers. While my mother was a gifted Wagnerian soprano it was difficult to make a career as a woman of colour in classical music in her generation. She also performed in several of Duke Ellington's Sacred Concerts and my grandmother sang gospel." Growing up in New York City, sampling her parents' Native music record collection and participation in Pow Wows gave her the sense of identity she sought as a teen. "I found myself the day I was able to reconnect with my indigenous roots.
"People generally aren't very aware of it yet, but Native peoples have played a major role in the development of American music, whether it's jazz, blues or rock 'n' roll," observes Fé. "This includes a typical blues rhythm, the shuffle, a rhythmic feel which is much like certain Native drumming."
In Fé's own intense bluesy and other times jazzy singing, she makes an eloquent case for the close and productive relationship between the African and indigenous people of the American South, a union that gave birth to a rich new culture blending religion, dance, food and music. "Many of their grandchildren became influential musicians," she says, "like Charley Patton (Choctaw) and Scrapper Blackwell (Cherokee). We can continue the roll call with Duke Ellington, Thelonious Monk, Charlie Parker, Don Cherry, Miles Davis, Jim Pepper and Don Pullen in jazz. Let's add Little Richard, Jimi Hendrix, Tina Turner, Link Wray and Jesse Ed Davis for good measure."
Early in her career singing with rock bands in NYC, her role models - in addition to her mother and grandmother - were the leading female singers of the previous generation: Joni Mitchell, Buffy Sainte-Marie and Aretha Franklin. Fé was "drawn by their spirit and style."
All this is the rich hybrid motherlode extensively mined by Fé. Aiming to explore the bluesy voice of Native Americans as well as their self-determination, in 1987 she formed the singing trio Ulali with Soni Moreno and Jennifer Kreisberg, a project which continues as a quartet. Seven albums followed. Her latest, Sacred Seed (2015) for Nueva Onda Records, captures those multi-faceted influences, featuring her multi-tracked voice with a backup studio band consisting of guitar, banjo, piano, percussion and cello. The tracks resound with references to the Tuscarora Nation whose musical traditions she carries with indelible ardour.
At her February 26 Music Gallery concert, however, Fé will present her music more intimately with just her voice, accompanying herself "with guitar, drum and a loop station which gives me the choral background I crave." Her repertoire will focus on her Sacred Seed set list: her own songs like "Idle No More," plus jazz classics like Duke Ellington's "In a Sentimental Mood." Roots blues legend Taj Mahal glowingly summed up Fé's music: "With her voice soaring, foot stomping, this beautiful songbird transcends time and brings the message of our Ancestors who have sown this beautiful seed [through her] powerful music."
Andrew Timar is a Toronto musician and music writer. He can be contacted at worldmusic@thewholenote.com