Oversimplifying a complex subject, I believe that all music is essentially hybrid, reflecting the diversity and the hybridity of our own music-loving species. What fuels the hybridizing impulse when staying with the tried and true often seems the safer musical choice?
The continual process propelling the evolution of musical culture can be witnessed in seemingly small things. I've seen it sparked by casual jams and offstage exchanges between musicians from different cultures, for example. Such explorations have also occasionally been instigated by adventurous composers eager to incorporate new sounds or cultural sound-views in their scores and recording projects. I see this kind of cultural transfusion as a hallmark of the healthiest scenes, those which will continue to thrive among future music creators, interpreters and audiences.
Relevant to this discussion is the evolving notion of transculturalism. Simply put, it is "involving, encompassing, or combining elements of more than one culture."
The idea of the transcultural society was developed by the German cultural philosopher Wolfgang Welsch. In Transculturality – the Puzzling Form of Cultures Today (1999) he asserts that the notion of transculturality takes into account "the internal complexities and constant variations characteristic of every culture, as well as recognizing the degree to which cultures are becoming inseparably linked with one another." According to Welsch, cultures today are no longer homogenous and monolithic but rather have multiple intersections and interdependencies which exhibit network characteristics.
A number of Toronto musicians and music groups have creatively embraced the practices of cultural hybridity and transculturality (with or without using that tag), putting the social reality we experience every day on centre stage.
For this month's column I've sought out music creators and presenters among us who seek to combine instruments, melodies and modes, musical forms, song lyrics, performance genres and practices, presenting concerts mixing two or more musical cultures. Here are just a few I've found.
KUNÉ – Canada's Global Orchestra
Launched last year as The New Canadian Global Music Orchestra by the RCM's Mervon Mehta, and recently rebranded as the more mellifluous-sounding KUNÉ ("together" in Esperanto), this Toronto world music supergroup could be transcultural music's poster family. (I wrote extensively on KUNÉ's origin story in my May 2017 column in The WholeNote (NCGMO Explores the Power of the Collective) and recommend a visit there for those who would like to know more about this ambitious project.)
Directed by David Buchbinder, KUNÉ releases its debut album in concert on April 7 in its Koerner Hall home. As I mention in my review of the album elsewhere in this issue, it is a milestone in the group's "journey to create a band that looks and sounds like Canada today."
After intermission David Buchbinder is joined by Grammy Award-nominated Cuban piano master Hilario Durán along with their band Odessa/Havana. They skillfully mash up the worlds of klezmer and Latin music, creating new lyrical and swinging transcultural music along the way.
Kiran Ahluwalia's "LOVEfest: Welcome the Stranger"
Two-time JUNO Award-winning singer and songwriter Kiran Ahluwalia's concert "LOVEfest: Welcome the Stranger" is a case study in transcultural performance. The production tours eight North American cities in April. Its sole Toronto stop is on April 14 at the Harbourfront Centre Theatre, part of Small World Music's 16th Annual Asian Music Series which runs April 6 to May 25.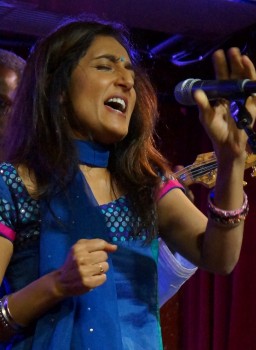 Born in India, raised in Canada and currently living in New York City, Ahluwalia makes songs deeply rooted in Indian and Pakistani classical music and ghazal traditions. Her songs and arrangements draw from her rich South Asian heritage but they are also heavily influenced by African desert blues and American jazz. In these disparate elements we can trace Ahluwalia's own multicontinental life journey, witnessing how she has morphed musical influences from each into a sweet sounding emblem of transculturality.
Tagged as "an eclectic celebration of love and diversity through music and dance," LOVEfest includes sacred and secular performers from both Muslim and Sikh traditions. In an impromptu text chat with me, Ahluwalia pointed out with concern that these "two communities are currently experiencing an alarming rise in hate crimes." It's an issue evidently front of mind. The April tour supports her new album 7 Billion; its second track Saat (Seven) explores the faces of cultural intolerance. Says Ahluwalia, "It is a theme close to my personal experience. My story is that of an immigrant born in India and raised in Canada. As an immigrant child the hardships we faced were touted as temporary – the effects were permanent."
Onstage, Ahluwalia is supported by her crack five-piece band on electric guitar, electric bass, tabla, accordion and voice. Affirming cultural diversity, she welcomes to the show Souad Massi (Algeria), the most successful female singer-songwriter in the Arabic-speaking world today. Massi's lyrics are about creativity and tolerance, and the common human yearning for freedom.
Adding cultural layers and spiritual dimensions to the concert, the Bhai Kabal Singh trio of tabla, two harmoniums and three voices performs songs in their Sikh temple kirtan tradition. Then Egyptian dancer Yasser Darwish renders the tanoura, a colourful whirling Dervish dance featuring multicoloured skirts that symbolically demonstrate core values of Sufi spiritual belief, such as unconditional forgiveness.
Now for an exclusive insider tip just for WholeNote readers. In our recent text exchange Ahluwalia hinted she and Massi may be singing a cover of a song by a renowned world music diva. After some prompting, she revealed they're working on Gracias a la Vida, the song made famous by Mercedes Sosa, the late Argentinian giant of Latin American song. It's a telling choice. Written in 1966 by Violeta Parra, a founder of Nueva Canción Chilena, the song stands as a defiant, life-affirming response to political injustice while unblinkingly reflecting on the bittersweet nature of life's joy and sadness.
To a generation of Chileans Gracias a la Vida became an anthem uniting people in times of trouble. For audiences on both sides of the world's longest peaceful border, LOVEfest's program aims to demonstrate, employing elements from diverse global cultures, what it feels like to "welcome the stranger" though heartfelt music and dance.
"LOVEfest: Welcome the Stranger" also plays April 12 at the Oakville Centre for the Performing Arts and April 13 at FirstOntario Performing Arts Centre in St. Catharines.
Ensemble Constantinople "Under the Senegalese Musical Sky"
April 13 the Aga Khan Museum presents "Under the Senegalese Musical Sky," featuring the Montreal-based Ensemble Constantinople directed by Kiya Tabassian, and guest Senegalese musician Ablaye Cissoko. Inspired by the ancient city illuminating East and West, Ensemble Constantinople was conceived as a forum for encounters and cross-fertilization. In its two-decade career it has explored many musical genres and historical periods, from medieval manuscripts to contemporary aesthetics, from Mediterranean Europe to Eastern traditions.
Last fall the Aga Khan Museum inaugurated a series of performances titled "Conversation Nation," linked thematically to its HERE exhibition. Using Ensemble Constantinople as the house band, four musical pairings, each with a different national focus and guest musician, were programmed. The series launched in October 2017 with "Under the Syrian Musical Sky."
The scene shifts to Senegal April 13, with the master kora player, vocalist and composer Cissoko. Born into a Mandingo griot (troubadour/historian) family, Cissoko has developed an international concert and recording career playing music characterized as "at the confluence of African music and jazz."
Ensemble Constantinople has worked with Cissoko since 2014, forging innovative encounters between Mandinka and Persian classical music, set within a transnational world music aesthetic. Their 2015 collaborative album Jardins migrateurs (Itinerant Gardens) garnered critical plaudits for "conveying a sense of effortless invention grounded in unassuming technical masterery." We can expect another masterclass in gentle transcultural music from this quartet on April 13.
Taiko Plus! Esprit Orchestra with guest group Nagata Shachu
Although I've followed the trailblazing Esprit Orchestra since its inception, I rarely get a chance to write about its music in this column. Why? As Canada's only full-sized professional orchestra devoted to performing new orchestral music, it usually falls outside my world music beat. Not this month.
On April 15, the 65-member Esprit Orchestra, under the direction of Alex Pauk, assays the transcultural embedded at the core of contemporary orchestral music in its Koerner Hall concert. The work in question is Japanese composer Maki Ishii's Mono-Prism (1976), scored for orchestra and a group of seven taiko drummers. Under the direction of Toronto's Kiyoshi Nagata, members of his veteran taiko group Nagata Shachu perform those demanding drum parts.
I caught up with Esprit conductor Alex Pauk on the phone recently. "This isn't the first Ishii work with non-orchestral percussion we've played. In a past season we performed his Afro-Concerto (1982) which uses African drums. The earlier Mono-Prism had its roots in Ishii's extended studies with Ondekoza, the founding group of the modern taiko movement."
Mono-Prism, the first work for orchestra and taiko, was premiered in 1976 by conductor Seiji Ozawa at the Tanglewood Music Festival, with Ondekoza playing the taiko parts. Its compelling energy, rhythmic vitality, clouds of sound from the pen of a skilled orchestrator, and its East-meets-West subtext, won a favourable reception. Its heart-skipping finale still excites audiences today.
I should mention that the Esprit Orchestra has embraced transcultural music making before. In 2013 it hosted Toronto's Evergreen Club Contemporary Gamelan, jointly performing two works by Canadian composers. (As usual I want to flag my 35-year membership in ECCG – yes, I was on that stage and yes, I'm still having fun doing so!)
As a bonus that night Esprit added a dance performance by Balinese dancer Evie Suyadnyani. Intrepid classical music blogger Leslie Barcza recognized the transculturality that night, exclaiming, "My head is still buzzing in a good way from this exquisitely intercultural experience."
Gamelan in Concert
Finally, speaking of the Evergreen Club Contemporary Gamelan, the pioneer Canadian world music octet has built a 35-year career making music which regularly crosses cultural stereotypes and boundaries. The group has embraced not only the West Javanese music indigenous to its gamelan degung (set of instruments) but many other global genres as well. ECCG has collaborated in concerts and recordings with an enormous variety of music-makers, including Baroque and contemporary orchestras, string quartets, violin soloists, choirs, NEXUS, opera and world music singers, turntable duo iNSiDEaMiND, rapper Abdominal, and the leading Sundanese songwriter of his generation, Nano S.
On April 21 the Consulate General of the Republic of Indonesia in Toronto presents "Gamelan in Concert" at its Jarvis Street hall. Doesn't sound particularly transcultural? What if I told you that three types of gamelan from three distinct cultures are represented?
In addition to playing its Sundanese degung, ECCG hosts Javanese musician and scholar Sutrisno Hartana as its artist-in-residence. He'll be developing new works in a series of workshops with ECCG, exploring common ground between Sundanese, Javanese and Western instruments and performance practices.
Kayonan Balinese Gamelan Orchestra represents Bali, the third culture in the concert. Founded in 2011 by dancer/choreographer and gamelan musician Keiko Ninomiya, Kayonan is Toronto's first gong kebyar (orchestra). She has actively promoted the awareness and appreciation of Balinese gamelan music and dance in Toronto through performances, demonstrations, workshops and weekly courses ever since.
During the break between the first and second halves of the concert, the Consulate has considerately arranged Indonesian snacks for anyone in the audience who feels peckish. After a feast of mixed gamelan music and dance, what better than a plate of gado-gado piled high with sticks of sate and pink krupuk to feel truly transcultural on Jarvis Street?
Andrew Timar is a Toronto musician and music writer. He can be contacted at worldmusic@thewholenote.com.