From its earliest years York University fostered a unique music environment which embraced what was then the fringe. Experimental music, research into biofeedback as a musical controller, interdisciplinary performance studies, jazz, improvisation, period musical performance and world music were all on the curriculum. Did geographic isolation encourage and help incubate such an adventurous and exploratory musical spirit?
York's Keele campus is located in northwestern Toronto. Back when I first attended, it felt a world apart from the downtown classical music scene anchored in the established programs at the University of Toronto's Faculty of Music. The sheer distance between the two institutions and the time it took to travel between them emphasized the cultural gulf. Yet in the traffic between the two universities' world music ensembles there are threads we can trace, via the public transit web that connects both institutions.
There has been talk of a York University subway station on the Keele campus ever since the Music Department was incorporated in 1969 as part of the Faculty of Fine Arts. Rumours continued to rumble as the decades rolled on about a York subway stop until the new TTC Toronto-York Spadina Subway Extension (TYSSE), finally opening to great fanfare on December 17, 2017, made it a reality. For the first time, downtown travellers can take the subway beyond the city limits – and vice versa. Significant reductions in travel time are being touted by the TTC for their beneficial long-term impacts. Asked for her comments as to what these longer-term impacts of the TYSSE may be on music and other kinds of performances at the Keele campus, York University media relations spokesperson Janice Walls put a positive, if fairly obvious, spin on things in an email: "Now that the subway stops at York University, it makes it much easier for people to access the many music and theatre performances available on campus."
Equally obvious, perhaps, but perhaps less spin-worthy, York students can now also take the subway to an evening concert at a downtown venue and then get back home at a reasonable time!
The Advantages of New Frontiers
Already evident during its foundational 1970s decade, among the York Music Department's strong suits were its world music ensembles. In 1970, the first year they were offered at York, I took the Carnatic, Hindustani and kulintang ensemble classes. But what exactly are the roots of this kind of ensemble?
The concept of the world music ensemble can be traced back to the late 1950s at UCLA, when it entered the discipline of ethnomusicology partly being developed there. It was introduced by American ethnomusicologist Mantle Hood (1918-2005), a specialist in Indonesian music, who took on the mission of bringing the fieldwork and academic study of ethnomusicology into the realm of practical musical experience and eventually performance. (I well recall a visit by the dramatic, black cape-wearing Hood to my undergraduate York music class circa 1970, the visit arranged by Sterling Beckwith, the Music Department's first chair.)
The world music ensemble was one way in which Hood's notion of bi-musicality, a term he coined in a 1959 paper, could be acquired within an educational institution. His approach encouraged the researcher to learn about music "from the inside," and thereby experience its technical, conceptual and aesthetic challenges. Another of its aims was to enable the learner to better connect socially with the community being studied and have increased access to that community's performances and musical practices. Many institutions all over North America have since incorporated a myriad of world music ensembles, presenting many music genres, into their course offerings.
York's Music Department was among the world music ensemble's very early Canadian adopters, in part perhaps because of its need to make an adventurous virtue of its isolation from the well-established downtown musical mainstream. Its world music courses have continued to grow in number and variety over the decades. I'm a first-person witness to that evolution as a member of the first Music Department undergrad class, and then later establishing its first Javanese gamelan music performance course there in 1999.
Perhaps what is most significant, however, is not so much the individual careers of professors or their courses, but that collectively they and thousands of their students have in many ways fed the interest and appetite for world music discovery, creation, appreciation, making and public performance in our community. In this way, York's world music ensembles have served as a sort of R&D studio. They have made a substantial contribution to establishing the Toronto region as one of the most welcoming and productive hybrid music-friendly places on the globe – a real music city!
York University Music Department's World Music Festival
Every year the Music Department holds a series of late winter concerts celebrating its near five decades of introducing yet another cohort of students to learning musics new to them. It also affords audiences – potentially coming from across the region care of the shiny new TYSSE – to explore musics they may never have heard live in student performances. Bonus: it's all free.
This year the World Music Festival includes ten concerts representing many music traditions at halls located in York's Accolade East Building, just south of the new giant white boomerang-shaped subway station.
(Please refer to the WholeNote listings for exact concert times. But here's an appetizer.)
March 15 promises to be a long world music-rich day at York. Audiences can take in six concerts, starting at 11am with the Cuban Ensemble, directed by Latin music scene veteran Rick Lazar and Anthony Michelli at the Tribute Communities Recital Hall. It's followed by guitarist and dedicated klezmer expert Brian Katz's Klezmer Ensemble, upstairs in the Martin Family Lounge. All the remaining concerts also alternate between these two venues
After lunch, master Ghanaian drummer and longtime gifted instructor Kwasi Dunyo directs the "West African Drumming: Ghana" concert, then the Escola de Samba takes the stage, directed by the multitalented Rick Lazar.
At 4pm the West African Mande Ensemble performs, directed by Anna Melnikoff. The day closes with Lindy Burgess' Caribbean Music Ensemble in the Tribute Communities Recital Hall.
York's World Music Festival continues the next day, at noon on March 16, with the Korean Drum Ensemble directed by Charles Hong at the Tribute Communities Recital Hall. Sherry Johnson then directs the Celtic Ensemble, followed by the Chinese Classical Orchestra directed by Kim Chow-Morris. The festival wraps at 7:30pm with a performance of ethnomusicologist Irene Markoff's Balkan Music Ensemble.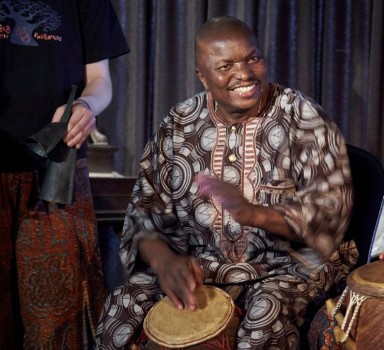 World Music Ensembles: Spring Festival, University of Toronto
Now just a 13-stop, single-line subway ride south from York U to Museum Station, U of T's Faculty of Music also has a rich history of offering world music classes and engaging Toronto audiences in their performances. I attended world music ensemble concerts at Walter Hall in the 1980s and in following decades. I always encountered new and ear-opening music that enriched my multicultural palette.
The Faculty of Music's World Music Ensembles website states that the "program at the University of Toronto has for many years enriched the musical lives of our students and has provided alternative perspectives on learning and making music by offering training in various world traditions. The ensembles vary from year to year. We have also been able to take advantage of an ensemble led by our annual visitor in the World Music artist-in-residence program [between 2007 and 2016]."
So we continue our "world music goes to college" theme back downtown, with a concert March 23 at 12 noon featuring the popular, long-running African Drumming and Dancing Ensemble. Under the dynamic direction of the Toronto-based master drummer Kwasi Dunyo, the event takes place at Walter Hall in the Edward Johnson Building.
A couple of weeks later, on April 7 at 2:30pm, other World Music Ensembles take the Walter Hall stage in the Faculty of Music's annual spring concert. The Latin American Music Ensemble, directed by veteran percussionist and composer Mark Duggan, and Steel Pan Ensemble, directed by pan music educator, percussionist and arranger Joe Cullen, have been confirmed.
It's far too soon to tell what the impacts of the TYSSE will be, positive and negative, on the health of nodes of local culture within the region.
But for sure I'll be taking the subway more often in search of music. In both directions.
Andrew Timar is a Toronto musician and music writer. He can be contacted at worldmusic@thewholenote.com.