October is a fine month to go exploring for what's happening on the global music scene. We listen to hybrid Persian-Western classical music expressing profound Sufi insights, then travel all the way down the QEW to listen to the joyful songs of emerging Indian singer Anandi Bhattacharya. We end up at a College Street "Bar" relaxing with three local groups helping to define today's Toronto world music brand. Along the way we hear how music is passed on in families abroad – as well as in one downtown Toronto hood. Read on.

Untold – A New Chapter: Shahram Nazeri and Hafez Nazeri
Veteran Persian classical vocalist Shahram Nazeri and his son, the multi-instrumentalist and composer Hafez Nazeri, are celebrated in their native Iran and increasingly on the international scene. There are also strong Toronto connections to this story. Shahram Nazeri (b.1950), the widely celebrated Kurdish-Iranian tenor, was the first vocalist to set the mystical Sufi poetry of the 13th-century Persian Jalāl ad-Dīn Muhammad Rūmī (known worldwide as Rumi), to Persian music in the 1980s. Dubbed the "Persian Nightingale" by The New York Times, he has a career discography of over 40 albums that have sold over 70 million units. In 2007 he was honoured with the Chevalier de l'ordre des Arts et des Lettres medal from the government of France for his achievements in Iranian traditional music; the same year he also received the Lifetime Cultural Heritage Award from the Asia Society of New York. Among connoisseurs of classical Persian music he's considered a legend.
In his father's footsteps, Hafez Nazeri (b.1979) has also sought to carry Rumi's message to a global audience, mediated via his hybrid compositions. With formal training in both Persian and Western classical music, he aims to bridge musical divides between those cultures. Searching for common ground, he states: "I want to create a revolution with music, with love rather than hate, or chaos and bloodshed. At a time when all that we hear about Iran is filtered through headlines of intolerance, focusing around the development of nuclear weapons and facilities, it is important to also portray the 7,000-year-old cultural history, with its deeply poetic and artistic mystical tradition through music and art, to the world … The universal language of music can and should function as the common language of humanity, harmonized, refreshed and redefined."
The Nazeris' major work is the Rumi Symphony Project, composed by Hafez Nazeri as an evolving large-scale musical suite inspired by Rumi's poetry, mixing elements of Persian, Hindustani and Western classical music including harmony, orchestration and choral singing, and enthusiastically received at its 2007 Los Angeles premiere.
Their 2014 album Rumi Symphony Project – Untold, co-produced by Nazeri and Grammy-winning producer David Frost, reportedly took more than 5,000 studio hours to record. It featured the poetry of Rumi as transcribed by bestselling author Deepak Chopra, dozens of leading international musicians, and ecstatic vocals by Shahram Nazeri. Rumi Symphony Project – Untold became the first album by Middle Eastern artists to top the Billboard Classical chart.
Toronto here they come!
In October 2018, the Toronto-based artist agency and concert producer, Link Music Lab, is taking the bold step of presenting the next chapter of the work, titled Untold – A New Chapter, in five Canadians cities. Rehearsals start in Toronto early in the month. The tour then launches on October 13 in Ottawa and October 14 in Montreal, moving to Calgary on October 27, and Vancouver on October 28.
October 21, right in the middle of the tour, Untold takes over the Sony Centre for the Performing Arts, Toronto, co-presented by Small World Music. "Small World was proud to present the extraordinary vocalist Shahram Nazeri 18 years ago," says SWM's Executive Director Alan Davis "It was one of the first classical Persian music concerts we presented. Now we're continuing that tradition."
In addition to the multi-instrumentalist Hafez Nazeri – primarily playing the hafez, his own adaptation of the Persian setar, a member of the lute family – the ensemble will include Hussein Zahawy, a versatile daf (Kurdish frame drum) specialist, plus Iranian percussionist Farhad Saffari. American cellist Felix Fan, violist Liuh-Wen Ting, and violinist Conrad Harris form the string section, while soprano Maria Sokolovsky and mezzo Anna Yelizarova provide a strong female vocal counterpart to Shahram Nazeri's male voice.
Shahram's vocal performance forms the core of Untold, featuring extensive use of the characteristic Persian tahrir vocal ornament consisting of very quick melismatic oscillations between notes, including tonal gradations finer than a quartertone when extended, forming what has been described as "sonic arabesques." These tahrir passages, more than exhibitions of breathtaking virtuoso vocalism, express the underlying passion, yearning or even spiritual transcendence of the particular song's lyrics.
On the Rumi Symphony Project CD's liner notes Hafez Nazeri observes, "Traditional Middle Eastern music is essentially defined by the soloist and fluid improvisation. It serves the performer as a vehicle for a spiritual and deeply personal journey, even as the audience submits its will to the moment and journeys along where the soloist may lead. Classical Western music, on the other hand, has evolved as a formal composition characterized by orchestral forms built on a solid balance of harmony, rhythm and structure, and requiring a certain disciplined distance by the performers and the listeners to be properly interpreted and appreciated. One of my greatest challenges was to try and meld these two divergent frameworks into one integral structure."
Hafez Nazeri's ambitious goal in this project is nothing less than "to create a new sonic universe, a unified construct [… resulting] in a new school of music that would transcend the cultural divide rather than colour one musical system with another [… laying] the foundation of an inclusive and transformed musical language."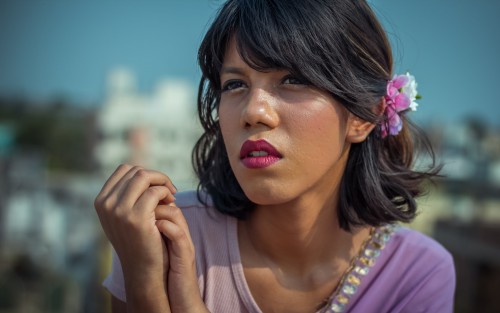 Anandi Bhattacharya: The Voice of Modern India
From the venerable mid-century Sony Centre located in Toronto's core to the barely three-year-old FirstOntario Performing Arts Centre in downtown Catharines is about a two-hour drive – not of course including traffic jams. On November 2, audiences can also travel musically from Iran to Northern India to catch the concert billed as "Anandi Bhattacharya: The Voice of Modern India."
As in the case of Hafez Nazeri, Anandi Bhattacharya grew up in a deeply musical family, surrounded by professional musicians. The daughter of renowned Hindustani classical slide guitar innovator Debashish Bhattacharya, and niece of tabla master Subhasis Bhattacharya, very early rigorous musical training was to be expected.
Now 22, Anandi is pursuing her own singing career. She has recently released her album Joy Abounds, an exploration of her musical roots and influences. Accompanied by her father, uncle and Catalan clarinetist/guitarist/vocalist Carola Ortiz, her sweet, light and lithe voice covers light classical to folk songs in arrangements interspersed with bravura instrumental solos.
Although steeped in Hindustani musical culture from a very early age, Anandi says she was never forced to be a musical purist by her father and guru. This liberal aesthetic view made possible her high regard for musical fusion and several genres are represented and mashed up in her current repertoire. For example, as well as the pervasive impact of renowned 20th-century Hindustani music masters, she also cites Thom Yorke, Ella Fitzgerald and Joni Mitchell as leading influences.
Her current set list includes folk songs of Rajasthan and Bengal, a song by poet Rabindranath Tagore, original compositions by her father Debashish Bhattacharya and Carola Ortiz, as well as accompaniments and solos by Subhasis Bhattacharya, among the world's foremost tabla players. Anandi notes that her music "is light-hearted but carries the true essence of ragas and their moods, and evokes a sense of familiarity amidst uncharted waters."
Another factor in her current direction was touring with her father and uncle on the global stage, a profoundly formative experience. Its impact is summed up by Anandi: "I do not believe that I was meant to imbibe my own culture alone. I think for me, finding my sound [… including] all that I love to hear, and all that churns within me, is my path forward."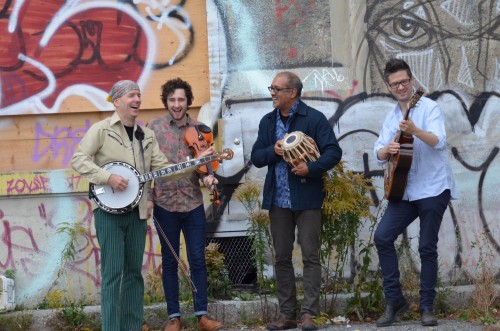 World Music! Fun!
October 28, Toronto world music quartet So Long Seven throws a family-friendly Sunday 4pm world music party at Toronto event venue, Revival Bar, as a sendoff for their November European tour. Called "World Music! Fun!" the afternoon concert features performances, headlined by So Long Seven, opened by two bands with overlapping membership: Near East Trio and Zephyr.
Recently nominated by the Canadian Folk Music Awards for Best Instrumental Band for its album Kala Kalo, So Long Seven is comprised of Neil Hendry (guitars), Tim Posgate (banjo, bass guitar), William Lamoureux (violin, other strings) and Ravi Naimpally (tabla, other percussion). Individually they're among Canada's leading instrumentalists on their respective instruments and in their chosen music genres. Jointly, they share a common mission. "We often play and compose for each other with great mutual respect, trying to challenge, push and inspire each other," says banjoist Posgate.
Another group performing at the Revival Bar gig, Near East Trio – with Ernie Tollar (sax, flutes), Demetrios Petsalakis (oud), Ravi Naimpali (tabla) – was nominated by the Canadian Folk Music Awards for Best World Music Group.
"These groups are part of a rich local scene," notes Posgate. "In fact, most of the musicians involved in the show can walk to the gig! So Long Seven rehearses just west of Revival, Zephyr two blocks east and Near East Trio a few blocks north. It's our home turf!"
These musicians all live in one particular downtown Toronto hood, yet their music has taken them far. Collectively they have logged thousands of touring miles, hundreds of recording credits, and multiple Juno nominations. So Long Seven and Near East Trio both released well-received albums this year, while Zephyr – Brenna MacCrimmon sings songs from Turkey and the Balkans, accompanied by Demetrios Petsalakis (oud) and Jaash Singh (darbuka) – are among the city's most in-demand world musicians.
Listening to all three groups, perhaps we can hear a kind of downtown Toronto music taking form, rooted in multiple world music traditions. For example So Long Seven's instrumentation combines jazz violin, Hindustani tabla, bluegrass banjo and acoustic guitar.
"All three groups are dynamic and fun to watch – and at Revival there is space for dancing if the mood hits!" adds Posgate. "Plus we really want to make it fun for the whole family: there will be face painting for the kids and cool door prizes."
Andrew Timar is a Toronto musician and music writer. He can be contacted at worldmusic@thewholenote.com.