Conductors learn that, in certain situations, to hear a sound exactly when you want it, you must indicate it slightly ahead of time. I'm uneasily contemplating this temporal disconnect as I write this column, several days before preparing for a big concert I'm conducting and playing in (a chamber performance of Monteverdi's 1610 Vespers). As I write, the concert is several days in the future, but it will have been over for several weeks by the time you read this.
All of which should allow for a neat segue to an elegant, erudite little rumination on the nature of music and our perception of time. But I don't have any time to write about time! I've got to practise this score. Or rather, last month, just slightly ahead of the time I should have been devoting to this column, I was practising a score and ... oh, forget it. Here are some choral concerts coming up soon, helpfully grouped into different areas of interest.
Requiems: November is the month for remembering the Commonwealth participation in WWI and Canadian choirs often program requiems for this time of the year. Here are several of note:
On November 3, the Cantabile Chorale of York Region performs Eternal Light a requiem setting by British composer Howard Goodall. Goodall's work has enjoyed a popular reception in his home country, and this particular requiem setting has won an award as well.
The Islington United Church Choir performs Fauré's Requiem on October 28. This piece is always worth a listen. Fauré's elegant, unaffected writing is a welcome contrast to more bombastic settings of the requiem text.
The Orpheus Choir has transformed itself into one of Toronto's vanguard groups for championing new music. On October 27 they perform Requiem for Peace by Canadian composer Larry Nickel. Nickel is a Vancouver-based composer who has had works commissioned by many groups, including some of the top west coast chamber choirs. Choir director Robert Cooper is also celebrating his tenth year as the Orpheus' director. There will be more about that milestone in a future column.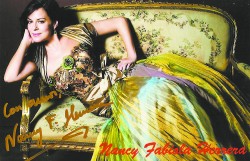 Opera: Spanish composer Manuel de Falla's rarely performed one-act opera, La vida breve is being given two concert performances in a Toronto Symphony Orchestra program featuring the Toronto Mendelssohn Choir on November 1 and 3. Falla composed in the first half of the 20th century and his music is a wonderful blend of modernist elements with indigenous Spanish sounds. To hear this work live is a rare opportunity.
The standard judgment of English baroque composer Henry Purcell's Dido and Aeneas is that the music is brilliant — it is — but that the libretto is weak. I am not convinced that this is true; I have heard singers do subtle and moving wonders with the text, imbuing the words with perception and sorrow. Judge for yourself as the Georgetown Bach Chorale performs a concert version of this opera on October 26 and 27.
Opera aria concerts are always fun, although they are sometimes criticized for removing arias from their dramatic context. I say, why not? We know that all sopranos die beautifully, all tenors die bravely, all basses are evil and all mezzos are seductive. Think I'm wrong? Find out as Brantford's Grand River Chorus performs "Great Moments from Opera" on October 27.
Benefit concerts: On November 3 seven Toronto Beach area choirs perform together and separately in a benefit for the East End Refugee Committee. On November 4 the Mississauga Choral Society presents "Malawi Benefit Concert: Voicing Our Care," performing music themed around social justice and global issues.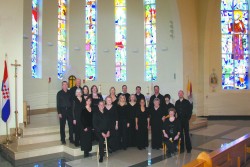 Liturgical text settings: There is a small Bach choral festival taking place over the next few weeks. On October 13 the Tallis Choir combines Bach motets with music by German Romantic composers whose music was inspired by Bach, Brahms, Bruckner, Rheinberger and Mendelssohn.
Bach's church cantatas are miracles of formal design and emotional depth and are very difficult to execute. Two choirs that are rising to the challenge are the Toronto Beach Chorale, who perform Cantata BWV131, "Aus der Tiefe," on November 3; and the Pax Christi Chorale who perform cantatas 80 and 147 on October 21. The second cantata, of course, contains the chorus well known in English as "Jesu, Joy of Man's Desiring," perhaps Bach's most familiar melody.
On Oct 13 Toronto's St. Anne's Church choir performs Mozart's Solemn Vespers. Mozart wrote two settings of the vespers, K321 and K339, and both settings wipe the floor with every mass Mozart ever wrote during his tenure in Salzburg. Go and hear it.
Other concerts of note: On October 13, 14, 20 and 21 the Peterborough Singers perform Carl Orff's Carmina Burana. This popular work is the musical equivalent of a house party — wild, chaotic fun with everyone trying to be heard over the percussion. The famous opening chorus has been used in every movie featuring medieval knights that you have ever seen.
On October 19 and 20 the Tallis Choir is the guest of the Toronto Consort in a concert of works from the English Renaissance, some of which the Consort recorded for the popular television program The Tudors. Scandalous rumours that series star Jonathan Rhys Meyers will appear for a special midnight date with a lucky ticket holder have no basis in reality and did not originate here.
The Toronto Chamber Choir is one the few choirs in the area that regularly programs early choral music. In an October 28 concert titled "Kaffeemusik: The Mysterious Pierre A-la-mi-re" featuring music by renaissance composers Josquin, Ockeghem, de la Rue and Willaert, the choir illuminates the fascinating story of brilliant music copyist Pierre Alamire and the stunning manuscripts that he created.
Three special tribute concerts: An October 21 concert by Toronto's Vesnivka Choir features a tribute to Marta Krawciw-Barabash, the late founder and president of the Toronto Ukrainian Music Festival. They are joined by the Orion Men's Choir and the Toronto Ukranian Male Chamber Choir.
On October 13 Toronto's Xiao Ping Chorus celebrates its 20th anniversary with a concert of opera arias and art songs with music from both Western and Eastern traditions.
Finally, on November 3, University of Toronto choirs join together in a special concert commemorating the 80th birthday of Canadian composer Ruth Watson Henderson.This composer's music has been programmed consistently by choirs in Southern Ontario and beyond, but within contemporary music circles her work tends to be overlooked or even ignored.
I hope that this changes. Watson Henderson's music is not wildly experimental or technically innovative in the "reinvent the wheel" manner that contemporary composition series regularly demand. Instead, it is classical in the best sense — it balances popular appeal with artistic depth and rigorous formal design. It needs impeccable diction and great sensitivity to text, tuning and musical structure.
I am very glad to see this anniversary celebration taking place, and I truly hope that the next generation of choral conductors understands that this composer has created a body of work in which all Canadian choral musicians can join in taking pride. 
Ben Stein is a Toronto tenor and theorbist. He can be contacted at choralscene@thewholenote.com. Visit his website at benjaminstein.ca.