Asked to identify the true meaning of Christmas, those of us who look to the Grinch and Ebenezer Scrooge for spiritual guidance and inspiration might come up with a list that included traffic jams, grumpy people lined up at cash registers, un-spiked eggnog, Christmas cards=writer's cramp, Christmas presents=credit card bills, snow=slush/shovelling/chiropractor fees.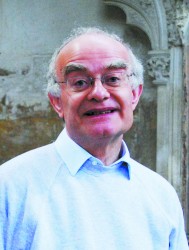 Confronted with Tiny Tim, Cindy Lou Who and a few sad puppies in Santa hats, we might grudgingly acknowledge that somewhere in the midst of the chaos there is a chance to connect with family and friends and maybe do the odd bit of singing as well.
Choral musicians would likely add favourite composers, songs, oratorios and operas to the Christmas mix. The name of English composer and arranger John Rutter would show up on a few top ten lists — or on a few "to be avoided whenever possible" lists, because Rutter can be a polarizing name, especially as pertains to Christmas music.
Rutter's original Christmas carols and carol arrangements have been a regular part of choral concerts since at least the 1970s, when his composition and recording work at Cambridge began to attract attention. While his academic background has led to work as a fine editor of choral music, it is his compositions that have made him an instantly recognizable name in choral circles.
For many people, Rutter's work is synonymous with Christmas singing, and works like "Candlelight Carol" and "Star Carol" are compositions fit to stand alongside other famous and familiar seasonal songs. Others deem his music saccharine and sentimental, relentlessly middle of the road like Dunstan Ramsey's description of himself as a reliable dinner guest in Robertson Davies' Fifth Business: classy, heavily varnished, and offensive to no one.
My own opinion of Rutter's work probably leans closer to the latter category. I find that his over-busy arrangements of carols often obscure the strength and simplicity of the old tunes and his musical tropes and lyrical sentiments usually leave me unmoved. But any derision I might have felt for this composer disappeared after seeing his musical skills in action firsthand.
Some years ago I sang for a choir that was recording some of Rutter's works and Rutter himself came to conduct. Towards the end of the sessions and after one particularly gruelling day of recording, we broke for dinner, the tired singers spilling out onto the street. As I was leaving, I noticed that Rutter was bent over the piano, scribbling intently on a piece of manuscript paper. As I left, I said a word to him about the day's endeavours, and he muttered a distracted reply.
When we returned for the evening session, he presented the singers with copies of a hymn that he had written while everyone else had been on break. While its derivations were obvious — its melodic contour and structure echoed a couple of well-known English Anglican hymns — it was a solid composition, fully realized, arranged and ready to record, written in under an hour.
Since then, any time I've heard negative comments about Rutter I've remembered that example of professionalism, technique and inspiration. Whether one responds to his aesthetic or not, no one can deny the deep craft imbedded in his music. Any composer or arranger who denigrates it might set themselves the comparable challenge of writing an appealing melody, effective vocal arrangement and straightforward, heartfelt lyrics, even without a 60-minute time limit. It's much more difficult to do well than it might appear.
Rutter: Here are some (but by no means all) upcoming concerts that include works by Rutter.
On December 1 the Guelph Youth Singers perform "Winter Song," a concert that includesRutter's Brother Heinrich's Christmas. The Mississauga Festival Choir performs Rutter's Magnificat on the same day.
On December 7 and 8 the Sound Investment Community Choir perform "A Christmas Gift," a concert that includes Rutter's Gloria. They are joined by the Trillium Brass Quintet. Markham's Village Voices perform this piece on December 1, Toronto Beach Chorale performs it on December 9
On December 7 the Upper Canada Choristers' "Tomorrow Shall Be My Dancing Day"features Rutter's The Reluctant Dragon, a Christmas fable based on a story by Kenneth Grahame (of The Wind in the Willows fame).
And other concerts that will provide you with a Rutter fix include:
Vivace Vox's "Songs of Light" and the Guelph Chamber Choir's "Carols for Christmas" (both on December 2.) On December 16, Toronto's Church of Saint Simon-the-Apostle has their familiar "Nine Lessons and Carols"service. Other carol services and concerts are going on all over the region, so please look at the listings for the many available options.
Lyrica Chamber Choir of Barrie's December 8 concert, "Let All Mortal Flesh," features works by Rutter and Norwegian-American composer Ola Gjeilo, whose accessible work has become popular in the USA, but is relatively new to this part of the world.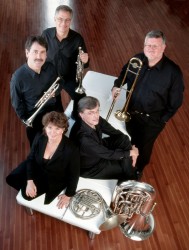 And not: I am happy to note concerts by two choral ensembles that had previously flown under my radar. The Kokoro Singers, founded in 2004, perform concerts in Ancaster and Guelph on December 8 and 9. The Volunge Lithuanian Choir, founded in 2006, performs a free concert on December 9.
On December 15, the Nine Sparrows Arts Foundation hosts "City Carol Sing" in support of food banks across Canada. The concert features several excellent ensembles — the Larkin Singers and the True North Brass among them — as well as a chance to hear renowned tenor Richard Margison and his daughter Lauren Margison, a notable singer in her own right.
2013 concerts to watch for: Conductor and keyboardist Philip Fournier is making a name for himself as a purveyor of early music in Toronto. A concert of music by Praetorius, Sweelinck, Couperin, Perotin (one of the earliest known composers of the European canon) and Palestrina takes place on January 12 at the elegant The Oratory of St. Philip Neri on King Street West.
The Elora Festival Singers perform the famous unfinished Mozart D Minor Requiem, K626, on January 20, for a concert and lunch event in Elora.
An opportunity to hear the Toronto Mendelssohn Choir takes place on January 26, at the Choral Conductors' Symposium concert. This event is part of the TMC's choral development program, in which upcoming conductors get a chance to work with a large professional ensemble. It is a terrific opportunity for young conductors who often find themselves bribing friends, family and viola players to muster enough of the requisite four sections to fill a living room. The event is free to the public, and takes place at Yorkminster Park Baptist Church in Toronto.
On February 3 the Shevchenko Musical Ensemble gives a concert that will include Serbian and Ukranian folk songs.
On the same evening, different choral ensembles from the University of Toronto join together to perform Beethoven's Mass in C and Brahms' haunting Nänie. 
Ben Stein is a Toronto tenor and theorbist. He can be contacted at choralscene@thewholenote.com. Visit his website at benjaminstein.ca.