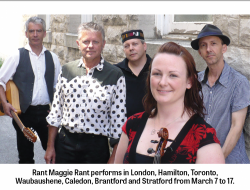 Ever heard a purported "Great Work of Art" and been thoroughly underwhelmed? At least one of the well-known compositions l've written about this year – perhaps even in this column – has regularly left me cold, either when performing or listening to it. I won't say which, because I don't have any intention of stepping on other musicians' hard work and dedication. But on occasion I've recalled Glenn Gould's remark about one composer's reputation being based entirely on gossip, and wondered if there isn't something about that in our approach to certain works by certain names.
It's relevant to this column's exploration of new choral works, which are not to be found overmuch in this month's listing – the mid-season part of the year is often when choirs essay the well-known works of the choral repertoire, and exploration of new music gets left for another time.
When hearing a new work, our attitude is often, "Okay, impress me" – or to use a sports phrase, "You got game?". But when encountering masterworks, we expect to be impressed or even overwhelmed, to feel a sense of connection to transcendence that we know others before us have undoubtedly experienced. Our thought is something like – to carry the sports analogy back to its schoolyard roots – "Can I play too? Pick me!".
This is not a bad thing, of course – a sense of openness and receptiveness to music is vital for a satisfying listening experience. The key is to carry that sensibility into the realm of the unfamiliar, even the uncomfortable. In this season of masterworks there are still ways to do it – attend a concert that features music you have never heard live, or find a choir in your region that you have not heard perform. Or pick a composer whose works you have never liked, and go to the concert with that sense of receptiveness you reserve for your favourite music alone.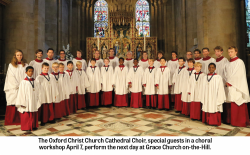 Elijah in Guelph: Speaking of masterworks, I am pleased to see that Guelph is going to be treated to a performance of Mendelssohn's Elijah on March 22, by the Guelph Chamber Choir, Western University Singers and the Musica Viva Orchestra, with Daniel Lichti in the role of Elijah.
Greatly popular in the 19th century, Mendelssohn's reputation suffered in the century that followed. His oratorio Elijah has never left the repertory, but it always seems to lack the must-see/can't-miss quality that attends any live performance of Handel's Messiah, Mozart's D Minor Requiem or Beethoven's Ninth Symphony. This is a shame, because it's a more coherent work than the first two pieces listed above and is easily as dramatic as the final one.
Elijah was first performed at the legendary Birmingham Music Festival in 1846, with an English text. Structurally it is modelled on the oratorios of Bach and Handel that Mendelssohn had studied and admired and in the case of Bach, revived for a 19th century audience.
Based on the performances it sometimes receives, it's easy to mistake Elijah for a grandiose hunk of early Victorian Anglo-choral stodge. But when performed with rhythmic elan and suppleness, it has a kick like a mule, in part because of the tremendous energy of the choruses and the dramatic scope of the baritone role of Elijah. Mendelssohn's Elijah is an intensely flawed and human character, pious and savage by turns, brought low but ultimately redeemed. Baritone Daniel Lichti is one of Canada`s most accomplished oratorio singers and his Elijah is not to be missed.
Elijah is also one of the relatively few European oratorios that tells the story of a Jewish protagonist, written by a Jewish composer. Mendelssohn was baptized as a child by his assimilated parents, of course, but the energy of Elijah (contrasted with the dullness of his St. Paul) makes a case for residual pride in and understanding of his family`s religious background.
On to the listings:
March 15: Joseph Haydn's Creation is a lively interpretation of the Genesis story, filled with programmatic depictions of the world's birth, the creation of plants and animals and a childishly romantic Adam and Eve as yet untouched by the snake's temptation. The NYCO Symphony Orchestra performs this work with the choral sections handled by the Hart House Chorus and Oakville Choral Society.
On March 16 the Hart House Singers perform Mozart's famous Requiem in D Minor. The evening also provides an opportunity to hear Franz Schubert's setting of the Stabat Mater text. The concert is free, and food donations to the University of Toronto foodbank are welcome.
The Amadeus Choir performs Celtic Celebration on March 22, in both the afternoon and the evening. This concert is a fundraiser for the choir, and will include a silent auction as well as a tasty selection of Scottish, Irish and Maritime tunes. The Celtic trio North Atlantic Drift are guest players. Another Celtic instrumental and choral summit takes place earlier in the month in London on March 7, when the Canadian Celtic Choir teams up with the Celtic fusion group Rant Maggie Rant.
Also on March 22 Ron Ka Ming Cheung's Voices Chamber Choir performs Brahms' German Requiem. Usually scored for full romantic orchestra, there is also a chamber version for two pianos that Brahms himself created. Although piano accompaniment lacks the varied timbres and grandeur of an orchestra, it also gives listeners an opportunity to hear more clearly the interplay of the work's different choral parts, which can easily be obscured (obliterated, actually) in orchestral settings. Brahms' choral writing is almost unparalleled in its inventiveness and challenge. Like Bach and Mozart, it can actually benefit from stripped-down choral forces.
On March 23 the Ukrainian Canadian Congress sponsors a gala concert commemorating the 200th birthday anniversary of Taras Shevchenko. Shevchenko (1814-1861) was a pivotal cultural figure in the development of Ukrainian culture, as a writer, painter and political actor. The concert is a summit of Ukrainian-Canadian choirs, and features the Vesnivka Choir, Orion Men's Choir, Levada Women's Choir and the Toronto Ukrainian Male Chamber Choir.
March 26: If there is an ultimate masterwork in the choral repertoire, it's probably Bach's Mass in B Minor. The challenge for any choir, as with the Brahms Requiem, is to forget that it is a masterwork and look instead for the human qualities that bring it to life – exuberance, pathos and a questioning spirit. The Toronto Mendelssohn Choir performs this work on March 26, with an excellent group of soloists.
On April 7 Grace Church on-the-Hill, which boasts a lively and extensive choral program, hosts a workshop with special guests the Oxford Christ Church Cathedral Choir. This choir is the newest version of an ongoing tradition of choral cathedral music that stretches back five hundred years. The workshop allows Toronto choral singers and conductors to work on repertoire with this ensemble, taking part in a performance at the end of the day. It sounds like a fascinating event, especially for students and aficionados of the English cathedral sound. The choir also performs on April 8, and there are group rates available for groups who attend the workshop. (www.choirsontario.org/index.jsp)
Benjamin Stein is a Toronto tenor and lutenist. He can be contacted at choralscene@thewholenote.com. Visit his website at benjaminstein.ca.