"Ballet cuts right to the heart of what's most beautiful, physically in humanity and what's most beautiful in story. We are taking a very European form and introducing it to a First Nations experience." – Joseph Boyden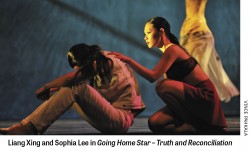 A remarkable moment in history arrived on December 15, 2015, when the Truth and Reconciliation Commission of Canada presented its final report on the dark history of Indian Residential Schools. Beginning in 2008 the TRC has gathered testimony from 6,000 survivors of, and witnesses to, a 120-year legacy of institutional racism, neglect and destruction. The report makes 94 specific calls to action to help create a better future and to acknowledge and repair the damages of the past and present. The Royal Winnipeg Ballet's production of
Going Home Star – Truth and Reconciliation,
which is being presented in Toronto at the Sony Centre for three performances on February 5 and 6, can be seen as a swift response to this call for action.
With the support of the TRC of Canada, the Royal Winnipeg Ballet commissioned a story by author Joseph Boyden to be set to music by composer Christos Hatzis and choreographed by Mark Godden for the RWB's 75th anniversary. In this story, Boyden, the Giller Award-winning author of Through Black Spruce, brings together Annie, "a young, urban First Nations woman adrift in a contemporary life of youthful excess," and Gordon, "a homeless First Nations man who escaped the Residential School system … [who] possesses the magic and power of the trickster." Accompanying the RWB is the the Winnipeg Symphony Orchestra. Vocal music is provided by the incredible Tanya Tagaq, Steve Wood and the Northern Cree Singers, with Tagaq's voice as an ancestral presence, powering Annie's story and her reconnection to history. The power of voices joined in song is also there in the show, with the Pow Wow of the Northern Cree Singers bringing the final scene of the first act to its culmination, with wild drumming creating the sound of a train. The music is truly invigorating.
The show's composer, two-time JUNO Award recipient Christos Hatzis, is no stranger to working with Aboriginal peoples, having spent considerable time producing music inspired by the Inuit, including the award-winning radio documentary Footprints in the Snow. During the year he spent working on the music for Going Home Star, he developed anxiety and was briefly hospitalized as he came to terms with the difficult stories that inform the work. It is no light undertaking. As Boyden says "[It's] a way to allow Canadians to begin to understand something of such huge pain [and] … to absorb not just the pain and the anger but the beauty as well."
It's a thought mirrored in the TRC report itself: "Residential schools were a systematic, government-sponsored attempt to destroy Aboriginal cultures and languages and to assimilate Aboriginal peoples so that they no longer existed as distinct peoples …. Across the globe, the arts have provided a creative pathway to breaking silences, transforming conflicts, and mending the damaged relationships of violence, oppression, and exclusion."
I will be in the audience for Going Home Star – Truth and Reconciliation, and I hope you will be too.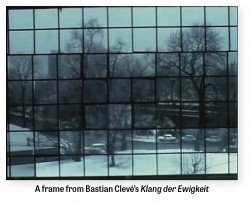 Klang der Ewigkeit: I am a big fan of cross-disciplinary music collaborations, so I'm very excited to see the Orpheus Choir/Chorus Niagara presentation of the Canadian premiere of German filmmaker Bastian Clevé's 2005 film, Klang der Ewigkeit (Sound of Eternity), a multimedia presentation of the Bach Mass in B Minor. Consisting of 27 short episodes inspired by the 27 movements of the mass, Clevé's scenescapes were filmed across the globe from Germany to Morocco, India to the United States. Originally created for Helmuth Rilling at the Bach Oregon Festival, the setting was controversial since the B Minor Mass is beloved by many and thought to be perfect in its existing form. But crossing the lines between music and visual art is not new. Another current example, The Decades Project, unites the Toronto Symphony Orchestra and the Art Gallery of Ontario in an exploration of the ways in which visual art has inspired music and music has inspired visual art. Earlier this year the presentation of Claude Debussy's La Mer accompanied an impressionist painting by Armand Guillaumin at the AGO.
The Orpheus Choir, along with Chorus Niagara, performs Klang der Ewigkeit with the Talisker Players on March 5 at FirstOntario Performing Arts Centre in St. Catharines and on March 6 at Metropolitan United Church in Toronto.
In the (not very) bleak midwinter: There is so much happening in choral music the first weekend of February, you'll be hard-pressed to choose:
Tafelmusik's epic journey to record every Beethoven symphony comes to a head with the most thrilling of them all – Beethoven's Symphony No.9. As Beethoven's last symphonic work, and largely, his most popular, Tafelmusik's Choir and Orchestra will fill Koerner Hall with unforgettable music in four performances beginning February 4.
On February 6, the Toronto Mass Choir, under director Karen Burke, will be presenting a concert in collaboration with the Toronto Jazz Orchestra at Bloor Street United Church at 7:30pm. (And if you miss Mass Choir then, you can catch them later in the month when, along with York University, they will be hosting "Power Up," a gospel music workshop. With workshops ranging from Introduction to Steelpan to Choir 101 to instrument coaching to dance, this three-day intensive event runs February 19 to 21, finishing with a concert at Islington Evangel Centre. With live instruments and well over 100 singers, the Toronto Mass Choir will definitely raise the roof.)
Also on February 6, the Mississauga Festival Choir presents its annual "Festival of Friends." Ten years on, this concert has raised $25,000 for local charities, this year's beneficiary being Alzheimer Society Peel. Six choirs will be featured including the very well-known Cawthra Park Secondary School Boys in B & Chamber Choir, the Mississauga Festival Chamber Choir, the Mississauga Festival Youth Choir, the Mississauga Choral Society Chorus and the Queensmen Male Chorus. Singing en masse and separately, highlights include Timothy Corlis' Gloria (Missa Pax), Eric Whitacre's Water Night and Stephen Hatfield's Jabula Jesu.
February 7 is even more jam-packed. At 7pm the Victoria College Choir and the Toronto School of Theology Choir present a free performance of Vivaldi's Gloria in the Victoria College Chapel. Earlier in the day, at 2:30, VOICEBOX: Opera in Concert presents Salieri's Falstaff at the Jane Mallett Theatre, with the VOICEBOX Opera in Concert Chorus ably supporting a fine cast of soloists. Half an hour later, at 3pm, at Grace Church-on-the-Hill, the U of T Faculty of Music's New Music Festival presents a "Choral Contemporary Showcase Concert" featuring the U of T Men's Chorus and Women's Chamber Choir with Hilary Apfelstadt, Elaine Choi and Tracy Wong conducting. And at 4pm, the Toronto Children's Chorus is presenting a free outreach concert at St. Paul's Basilica on Power St., featuring their Chorale Choir and Youth Choir; Elise Bradley and Matthew Otto conduct.
Also of note: Speaking of the Toronto Children's Chorus, the TCC Chamber Choir will be going on tour in Boston and New York City in early March, performing with Coro Allegro and the Boston City Singers in Cambridge, singing in the Choirs of America Nationals and performing at Stern Auditorium in Carnegie Hall. Before they go, they'll be warming up in a concert titled "Poles Apart," February 27 at Yorkminster Park Baptist Church.
The following day, February 28 at 4pm, and right across the road at Christ Church Deer Park, the Toronto Classical Singers and the Talisker Players Orchestra present "Fauré's Requiem and Duruflé's Requiem, along with other music these popular pieces have inspired.
Later that same day at 7.30pm, the Schola Cantorum Choir and the Theatre of Early Music Orchestra present choruses from a variety of popular masterworks including Bach's St. Matthew Passion, St. John Passion and Handel's Messiah and Israel in Egypt in the Trinity College Chapel at the University of Toronto.
This being a leap year, there's an extra day in February, and what better way to celebrate it than with the massive 200-voice Bach Children's Chorus, as part of Roy Thomson Hall's free noon-hour concerts. These concerts feature the grand organ and are a lovely break from a day's work.
And on into March, right at the beginning of the month, the Kaleid Choral Festival takes place in Kitchener. Under the leadership of Jennifer Moir, this two-day festival for young voices culminates in a performance on March 3 in St. Peter's Lutheran Church, Kitchener. Artist-in-residence of the festival, Rajaton, will be performing as well. This small Finnish a cappella group produces music unlike any other heard in Canada.
Follow Brian on Twitter @bfchang Send info/media/tips to choralscene@thewholenote.com