An unusual but fantastic summer has just passed, filled to the brim with culture and sport. With Toronto playing host to the Pan Am and Parapan Am games, the concurrent Panamania cultural events truly allowed our city to showcase its diversity and love of music. Unprecedented energy filled many corners of the GTA as facilities opened their doors and neighbourhoods flew their colours and opened their arms in welcome. Choirs from across the GTA were highlighted across the GTA, from the University of Toronto Scarborough to Nathan Phillips Square to Ajax and the Milton Velodrome. The Element Choir was everywhere, supporting Polaris Prize winner Tanya Tagaq in her transformative music on several occasions. Perennial favourite, the inclusive, open concept Choir! Choir! Choir! also featured in a Panamania event in the Distillery District with their pop culture approach to choral music. And who can forget the fantastic Hamilton Children's Choir singing "Shine Your Light" in front of a sold-out Rogers Centre and millions on TV?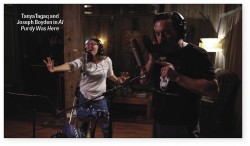 Apocalypsis: For those of us lucky enough, the beginning of summer was enriched by the revelatory powerhouse that was Luminato's presentation of Apocalypsis. As a tenor in the Toronto Mendelssohn Choir, I sang in one of the 12 choirs that made up the second half of this grand masterpiece of art. One thousand performers brought this uniquely conceived piece to fruition for only the second time since its premiere in 1980. Unfortunately, the choristers caught only a brief glimpse of the staging and choreography. I wonder if the audience was even aware of about 400 of us entering towards the end of the first act as Babylon is crumbling. I relished this moment, entering into the darkness of the dim balcony amidst the cacophony of thick chain metal crashing as the Seven Seals of Myth are broken; and then, in the residue of the broken world, an old woman emerged. I never saw her but the privilege of hearing her was humbling: Tanya Tagaq in her evocative portrayal of the old woman. We are lucky she was around so much this summer.
Luminato Artistic Director Jörn Weisbrodt has one more festival under his helm before he passes on the reins. Luminato has been good for choirs in our region right from the start with such pieces as R. Murray Schafer's The Children's Crusade. But this summer's Schafer work, Apocalypsis, was Luminato's largest act of civic engagement so far; it was a truly monumental task to produce and assemble the forces needed for this. One thousand performers will forever remember this unique event in history. I myself made friends with choirs and people from Ottawa to Kitchener. Between the festivities of the Parapan Am and Pan Am games and the grandeur of Apocalypsis, city-building through choral music has been given a real shot in the arm. Here's to much more!
Building time: Followers of choral music are aware of the rehearsal hours and planning that go into a full season of music. There is often a lag between the start of the season and the first choral performances. It takes time to get a choir back into itself. Noel Edison puts it well when talking about the 130-voice Toronto Mendelssohn Choir: "There's a lot of humanity in this room." All choirs, regardless of size, need this time together to build good sound.
As adults we may forget the mix of elation and comfort kids feel after returning to school from summer vacation. But this fun, slightly nervous feeling hits me afresh as choirs return from break and begin making sound anew. Most choristers will spend the first few rehearsals listening to funny quips from conductors about the dismal quality of the sound or cries of tone deafness, flat basses and sharp sopranos. (Tenors are always on pitch. Always.) The reality is that it takes a while for an ensemble to get back into it. Ensembles may have new members, they definitely have new repertoire. For choral music audiences, September is a quiet month as choristers get back into the habit. But for those of us in the choirs, we are busy at work.
A few early birds, of course, are always the exception to the rule:
Intersection: Toronto continues to offer some exemplary opportunities to experience the civic experience of choral music with Contact Contemporary Music's Intersection: New Music Marathon on September 5. Christine Duncan and the Element Choir will be making an appearance at Yonge-Dundas Square along with a host of other performers in a display of performance and interactive installations. Check them out starting at 2pm.
Wilfrid Laurier leads its school year performances October 4 with "Sing Fires of Justice 10th Anniversary Concert." Held at St Matthew's Lutheran Church, donations are accepted in lieu of ticket sales. For ten years now, WLU has used this concert as a commemoration of murdered and missing indigenous women across Canada creating a fusion of community-based music and social justice.
Sweetwater: In the last couple of years there have been quite a few productions of Bach's Mass in B Minor (one of which I performed in with the Toronto Mendelssohn Choir). I am excited to see it on the lineup for the Sweetwater Music Festival staged as a sing-a-long September 19 at 1pm in Owen Sound. There are quite a few moments of emotion in the piece that are a pleasure to sing as a performer. The Gloria in Excelsis Deo is one not to miss with its bold trumpets and the choir going almost at full tilt before settling into the beautifully gentle Et in Terra Pax. Conductors Kenneth Slowik and Adrian Butterfield have rightfully chosen the Gloria as a feature in the sing-a-long. Unless one is in the Amadeus, Oakham House Choir or Tafelmusik's sing-a-long Messiah how often does one get to sing with an orchestra? The Bach's Mass in B Minor can be watched in full the next day, September 20 at 3pm.
Singsation: The Centre for Social Innovation and the Toronto Mendelssohn Choir are offering a free Culture Days' Singsation. Singsation Saturdays are a mainstay for hundreds of people throughout the season and offer enjoyers of choral music a chance to sing some fabulous music with fantastic local conductors. A highlight of last year was COC chorus master Sandra Horst's Opera Choruses Singsation. This year VOCA conductor Jenny Crober leads off with a smattering of diverse choral music. Culture Days runs from September 25 to 27 across the country. The Culture Days Singsation takes place September 26 at 10:30am. Free. Last year over 100 people sang, some of them for the first time ever with a choir, some of them for the first time since they were children.
So the new season is upon us. I haven't yet got any of my new music and rehearsals have yet to start. Like most choristers out there, I'm ready to get back into it and to tackle new works. With a chamber choir, a full symphonic choir and a concert band ahead this year – I'll be busy. Rehearsing is often considered the painful part with performances as the reward. I very much feel that rehearsing is where the community is built, where the people come together and where choirs truly become great. Performances are merely evidence that everything else is working well. In this, choirs become fantastic acts of community, working together towards a goal. At the start of a new season, there is no time like this in the life of a chorister. A new season. New voices. New music. New challenges. It's all very exciting. Now is the best time to find an ensemble, try it out and reignite or stoke that love for music and performance.
Brian Chang is a bass clarinet- and horn-playing policy analyst who sings tenor. Follow him on Twitter @bfchang