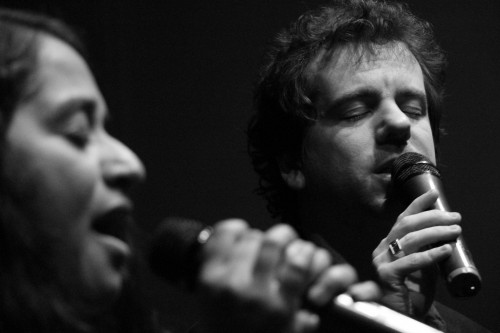 In March, Suba Sankaran and Dylan Bell led a choral workshop as part of the Toronto Mendelssohn Choir's Singsation Saturday program. In the church basement of Calvin Presbyterian Church, the duo led about 100 people in exploring their voices. No sheet music, no instruments. Nothing but the power of the a cappella, human voice.
Sankaran and Bell are partners in music and life and perform under the name FreePlay Duo. Together, they have spearheaded and led the annual Sing! Toronto Vocal Arts Festival for nine years. We exchanged questions and answers by email. "Our musical goals are to excite, to inspire, to teach, to entertain, and most importantly, to demonstrate that the human voice has infinite possibilities," they wrote.
"The human voice is an amazing instrument," they continued. "And group singing is such an amazing feeling of community. You might ask yourself, why do you need to sing? The answer is very simple: people have always needed to sing together. It's part of who we are as human beings, it's a natural impulse, and it shows us that we can work together in large numbers, in harmony."
Sankaran and Bell have curated a festival that demands participation and offers experience, providing a host of opportunities to sing, listen or both. For those who want to get into the thick of things, "the Mass Choir event is a unique opportunity created by SING! to reach out to the community, give them a voice, an opportunity to work with a professional singer, performer and educator, and the chance to strut their stuff on stage," they say. Kurt Sampson who is leading the mass choir performance is known for his work in Cadence, a Toronto-based a cappella quartet. Sampson is the anchoring bass in that ensemble and his athletic vocal percussion is part of their signature sound. Participants who choose to perform in the mass choir event will have much to look forward to.
"Once you register, you will be given the music (ahead of time), and then on Sunday, May 26 – the day of the event – you will be guided by Kurt… He will conduct workshops, get in-depth with the mass choir songs, provide micro-clinics with some of the local ensembles who opt to also have a performance spot that evening, and then all will culminate in a concert that features some participating vocal ensembles, the mass choir singers, as well as a performance by Cadence. You do not have to be part of a choir to enjoy this experience. If you are a singer who wants to find a choir in the moment, this is your chance!"
This type of opportunity to participate is a hallmark of the Sing! experience. In an interview last year with The WholeNote, Sankaran shared her love of being able to travel and network with a cappella singers around the world, a vibrant community all over the world focused on the human voice. But a Toronto staycation has much to offer too. "There are a few generations of people who have come up as singers," Sankaran says. "We really are an a cappella family. One example is Debbie Fleming – founder of award-winning group, Hampton Avenue, who has been singing in the business and has been an advocate for a cappella for several decades." Fleming will be the recipient of the Slaight Music SING! Toronto Legacy Award this year.
"As well, many collegiate a cappella groups have been formed over the past few decades and have paved a path. Wibi A Cappella from York University (where both Dylan and I cut our teeth as conductors, arrangers and composers) is an example of the longest running, independent collegiate a cappella groups in Canada." Wibi, who will perform as part of Art Battle during the festival, celebrated their 30th anniversary in 2018!
Sankaran and Bell hope people are challenged by the breadth [of musical experiences] being presented. There is a huge range of international performing artists: Mzansi from South Africa presenting their Nelson Mandela tribute, Vocal Sampling from Cuba, The Swingles from the UK, and Jo Wallfisch (UK/US). "With this in mind, we hope to open not just voices, and ears, but minds and hearts as well. We tend to aim high with this festival, and so we hope to maintain our standards by bringing the best of the best that a cappella has to offer from around the world, and especially continue to feature our local treasures."
Freeplay, featuring Sankaran and Bell, are themselves one such local treasure. They will perform as opening act for Vocal Sampling. "They are an amazing a cappella sextet from Cuba," Sankaran and Bell write, "emulating the sounds of a hot Cuban orchestra, without an instrument in sight. They have been our heroes for such a long time and we're so honoured to share the stage with them, for both workshops and a concert on Sunday, June 2 at Lula Lounge."
Bell and Sankaran hope also to delve more deeply into multi-disciplinary shows, like this festival's Songs and Stories of Migration, that bring different art forms together but also provoke thought and really in-depth chances for complex conversations carried through the medium of musical storytelling in a wide range of forms and styles. Toronto's own Pressgang Mutiny, who sing sea shanties are one such group. Shanties are often associated with a fantastical history of what life at sea was like in the days of pirates. But for sailors and passengers throughout history, boats of cargo and people have been meeting places for cultures, stories, commerce, and also war. These nautical meeting places have a history and Pressgang Mutiny breathe life into these shanties, minus the swashbuckling.
A cappella vocal music also opens doors into diverse cultures. You'll hear the sounds of the Eastern Mediterranean instantly when Turkwaz takes the stage. This quartet of women explores the sounds and myriad stories of Greece, Turkey, the Balkans and more, the evocative power of their voices in a diverse set of styles folding the listener into the pages of beloved story after story. After all, "singing is storytelling through song, and there are so many compelling stories to tell!"
Last year, Sing! was part of the massive Fringe Festival in the Scottish city of Edinburgh. "We've been building inroads with our affiliate festivals, like Sing! Montreal, Sing! Texas, and Sing! Edinburgh," share Sankaran and Bell, "We hope to continue to spread the word and joy of Sing! Around the globe."
Some highlights of Sing! The Toronto Vocal Arts Festival, May 24 to June 2
MAY 24, 8:30PM: Sing! Mandela Celebration with Mzansi. A musical celebration of Nelson Mandela with a cross-cutting extravaganza of sounds and styles. Young People's Theatre, Toronto.
MAY 26, 7:30PM: The Mass Choir comes together under Kurt Sampson of Cadence. Come for the concert or join in the choir itself earlier in the day. This will be a signature festival event. Young People's Theatre, Toronto.
MAY 28, 8:30PM: Sing! Songs & Stories of Migration featuring a host of artists and histories. Ariel Balevi with Persian folklore; Pressgang Mutiny with sea shanties; Turkwaz with Arabic, Greek and Turkish heritage; Sage Tyrtle blending stories and fairy tales; Joanna Wallfisch with looped storytelling; and Dan Yashinsky and his extraordinary tales of travels. A new feature on the docket for Sing! and bound to excite your heart and ears. Hugh's Room Live, Toronto.
JUN 1, 8PM: SoundCrowd: Dance Party! Why should dance parties only be reserved for instruments? Scott Pietrangelo leads this a cappella powerhouse of a choir with 70 voices strong. The Opera House, Toronto.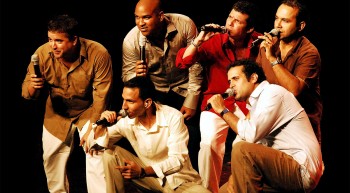 JUN 2, 7:30PM: Sing! Cuban Fantasies with Vocal Sampling and Freeplay. Steamy music highly likely, tropical heat not guaranteed. Lula Lounge, Toronto.
Jewish Music Week, MAY 26 TO June 2
Another musical arts festival runs over the last week of May. Jewish Music Week presents the ninth year of guests, local and international, featuring a host of fantastic music influenced, created and/or performed by Jewish artists, with significant highlights for aficionados of vocal and choral music.
MAY 29, 12PM: The Yonge Guns Quartet host a midday concert at Princess Margaret. Part of the hospital's "Music in the Atrium" program, these award-winning four men have been singing barbershop together since high school. Princess Margaret Cancer Centre Atrium, Seventh Floor, Toronto.
MAY 29, 7:30PM: Three Famed Cantors, One Voice. American cantors from three of New York City's Jewish congregations make their Canadian debut. Featuring a host of styles and sacred works, these three tenors combine their voices under music director Robbie Grunwald. Holy Blossom Temple, Toronto.
JUN 1, 10:15PM: Community Melaveh Malka. Marking Shabbat with an evening performance; three choirs will perform. Featuring Shir Harmony, the Toronto Jewish Male Choir and the Toronto Jewish Chorus. Beth David B'nai Israel Beth Am, Toronto.
JUN 2, 3:30PM: The Sawuti African Children's Choir performs as part of their Canada tour, ongoing since January. These seven children and five adults from East Africa are sponsored by the Evangelical Christian organization, Seven Wells Ministries and the Jewish cross-religious organization, Return Ministries. St Andrew's Church, (Simcoe and King), Toronto.
Follow Brian on Twitter @bfchang Send info/media/tips to choralscene@thewholenote.com.