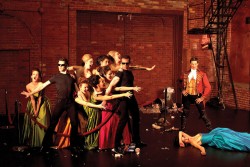 From October 29 to November 5, Opera Atelier premieres its new production of Mozart's Don Giovanni. Phillip Addis sings the title role with Carla Huhtanen as Zerlina, Vasil Garvanliev as Leporello, Peggy Kriha Dye as Donna Elvira and Meghan Lindsay as Donna Anna. Italian conductor Stefano Montanari leads the Tafelmusik Baroque Orchestra and Marshall Pynkoski directs.
During an extensive telephone interview with Pynkoski, I raised the question, "What can be called 'new' in a period production?" In answer, he had much to say about Opera Atelier's goals and what a period production is:
"By period production we're not talking about a museum. We're not talking about reproducing something someone did at an earlier time. We could do that if we wanted to, and at times we do, but when we say 'period production' we mean we are taking elements of every discipline involved in the production — the acting style, the singing style, the dancing style, the orchestral playing — all of those things, not so that we can copy what they did in the 18th century, but to see if there is anything that we've missed in the past and anything that we've lost that will challenge us as artists in the 21st century."
"Our goal is to be more linear. We want to be storytellers. We're going to follow the text and we're going to try to figure out how to make it make sense. For example, we're taking a look at what happened in the early productions of Don Giovanni so that we can challenge ourselves in a new way. Of course, we've done Don Giovanni before, but I think we've learned a great deal about it over the years. Initially, we were unable to build the production we wanted and had to cobble it together from what we had in stock. This is our first complete statement of what we'd like Don Giovanni to be."
"The most important thing I want to get across is that it is a comedy. That doesn't mean that there are no tragic or dark moments. All great comedy has moments that are poignant. But what I have right in front of me is a letter Andrew Parrott gave me, where Mozart refers to Don Giovanni as an opera buffa. I don't care if everyone else called it a dramma giocoso with an emphasis on the drama. Mozart called it an opera buffa and I'm following what he said, because I think it makes the opera absolutely make sense."
"I'm sick of seeing a Don Giovanni about a middle-aged Lothario who hates woman and can't achieve intimacy. It never makes sense because it means every woman on stage is insane. How exactly can a horrible, dirty old man be irresistible? On the other hand, we find things amusing, even charming, in young people that we would find reprehensible in middle age. Just think, the first Don was under 20. The second Don was under 25. Therefore I have to find someone like Phillip [Addis] who registers young, innocent, fresh, irresistible."
"Basically, Don Giovanni is Cherubino at age 25. He says all the same things. He falls in love with every woman he sees. He doesn't hate women — he loves them. And women adore him. There has to be something adorable about him, but I have yet to see a Don Giovanni where I understand why women love him. To my mind Don Giovanni is the most innocent and the most honest man on stage. He's a comic character and everything on stage revolves around him."
"Anyone in the 18th century would have known from the first scene that we're in the world of the Italian commedia dell'arte with the servant, like a Harlequin, outside a tavern who wants a drink but has no money while his master is inside drinking. The design will not be as strongly commedia as it was last time. I think we made our point. Martha [Mann]'s costumes will be more Spanish but will still retain very clear commedia touches."
"What makes it 'new' when talking about period is to say it's a comedy and to discover what that means. It means we have to re-examine every character and fight the stereotypes that have been built up over the past hundred years or so. It's a big challenge for everyone, especially the singers, because they come in with so much baggage from other productions that we have to strip away."
"We've recently learned that in the original production the Commendatore and Mazetto were played by the same person with little time for a costume change at the finale. This immediately tells us something about the opening. The Commendatore is not some doddering old man who staggers around the stage before Don Giovanni kills him. He has a daughter, after all, who is probably 17. Therefore he's a vital, strong, dangerous middle-aged man. Of course, the Don calls him 'old' as any young person would. As soon as you see that the duel at the beginning is thus more on an equal footing, itchanges everything. It's no longer the brutal murder of a senile old fool. Once we learned this we thought, 'Let's do it. Curtis [Sullivan] will play both roles. It's a challenge, but we're just doing what Mozart did.'"
For tickets and more information visit www.operaatelier.com.
THERE'S MORE!
For devotees of Music Theatre in its many forms, Atelier's "Don Giovanni" won't be the only event of interest this month.
On the afternoon of Sunday October 2, Opera in Concert presents a concert titled L'accordéoniste: Latin Heat with Kimberly Barber, mezzo; Peter Tiefenbach, piano; Carol Bauman, percussion; and Mary-Lou Vetere, accordion. The same day, at 7:30pm, Solomon Tencer Productions presents An Evening at the Opera at the Studio Theatre, Toronto Centre for the Arts.
Monday October 10, 8pm, sees the opening of an extended run of Art of Time Ensemble's "I Send You This Cadmium Red," an evening of theatre, dance and music, exploring correspondence between artist John Berger and filmmaker John Christie.
Wednesday October 12 at noon Canadian Opera Company/ Queen of Puddings Music Theatre showcase Ana Sokolovic's new a cappella opera "Svadba — The Wedding."
Wednesday October 19 at 7:30pm Opera Belcanto's "Cav/ Pag" double bill kicks off a two-night stand at the Richmond Hill Centre for the Performing Arts.
Friday October 21 at 7:30pm, Opera By Request presents Handel's "Orlando" at College Street United Church; Markham Theatre for Performing Arts has Isabel Bayrakdarian in recital at 8pm; and also at 8pm at St. John'sYork Mills Anglican Church is What They Did For Love, the debut concert of a newly formed opera ensemble, Opera Rouge.
Sunday October 23 brings Zarzuela Gold from Toronto Operetta Theatre, an opening gala concert; the same day, the University of Toronto Faculty of Music's perennially popular Opera Tea features a Menotti Double Bill in celebration of the 100th anniversary of the composer's birth.
Saturday October 29 sees not only the start of the aforementioned Atelier "Don Giovanni," but also what might be described as the "final return" of "Two Pianos Four Hands," Ted Dykstra and Richard Greenblatt's musical comedy. about, what else, music.
Thursday November 3 and Saturday November 5 Opera York's Madama Butterfly is on the boards at Richmond Hill Centre for the Arts. Friday November 4 Opera By Request presents Massenet's "Herodiade."
Details on all these, and more can be found in the listings.
Christopher Hoile is a Toronto-based writer on opera and theatre. He can be contacted at opera@thewholenote.com.