April has become the month in the year with the single highest concentration of opera presentations. The past few years Torontonians have been so spoiled that they have had examples from every period of opera available in April alone. And this April is no exception. What makes this April unusual is the unusual number of baroque operas and brand new works on offer. Here, by year of first public performance, are this April's offerings.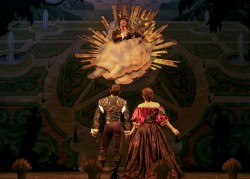 1649: Giasone by Francesco Cavalli on April 4, 5 and 6. The Toronto Consort continues its successful series of concert productions of early operatic masterpieces with Giasone, which holds the record as the most popular opera of the 17th century. Of the 41 operas Cavalli (1602-76) wrote, 27 still survive. Written for the Carnival season in Venice, they are characterized by their irreverent take on classical subjects. Thus, this version of the story of Jason and Medea has a happy ending and is more concerned with Giasone's lover Isifile's attempts to woo him away from his wife Medea than it is with Medea's vengeance on her husband. Laura Pudwell sings the title role with Vicki St. Pierre as Delfa, Kevin Skelton as Aegeus, Bud Roach as Demo and Consort members Michelle DeBoer as Medea, Katherine Hill as Isifile and John Pepper as Besso. Artistic Director David Fallis conducts a period orchestra including strings, recorders, theorbo, baroque harp, organ, harpsichord and viola da gamba.
1682: Persée by Jean-Baptiste Lully from April 26 to May 3. Opera Atelier remounts Lully's masterpiece for the second time. It was first seen in 2000, then again in 2004. Chris Enns, in his first haute-contre role sings Persée, Mireille Asselin is his beloved Andromède, Peggy Kriha Dye is Mérope, Olivier Laquerre sings both Céphée and Méduse, Carla Huhtanen is Cassiope and Vasil Garvanliev is Phinée. David Fallis conducts the Tafelmusik Baroque Orchestra and Marshall Pynkoski directs. From May 23 to 25 the production travels to Versailles where it has not been staged since it inaugurated the Royal Opera House on May 16, 1770, during the wedding celebrations of the future King Louis XVI to Marie Antoinette.
1726: Alessandro by George Frideric Handel. On April 9, 10, 12 and 13, Isabel Bayrakdarian gives a recital with the Tafelmusik Baroque Orchestra called "The Rival Queens" where she explores the rivalry between the two superstars of the age, Faustina Bordoni and Francesca Cuzzoni. Bayrakdarian will sing arias associated with the two sopranos from Handel's Alessandro as well as arias from Giovanni Bononcini's Astianatte (1727) and Johann Adolf Hasse's Cajo Fabrizio (1732).
1745: Hercules by George Frideric Handel from April 5 to 30. The COC's first staging of Handel's oratorio is a co-production with Lyric Opera of Chicago directed by Peter Sellars. When Hercules first appeared, Handel was accused of writing an opera disguised as an oratorio, so it is not a great leap for the work to be presented as an opera. Sellars updates the mythological tale of Hercules and others returning home from war to the present. Eric Owens sings the title role, Alice Coote is Hercules' jealous wife Dejanira, David Daniels is Hercules' servant Lichas, Lucy Crowe is Hercules' captive Iole and Richard Croft is Hercules' son Hyllus. Baroque music expert Harry Bickett conducts.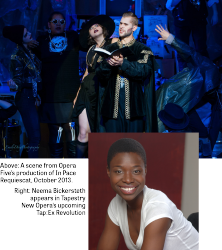 1837: Roberto Devereux by Gaetano Donizetti from April 25 to May 21. In 2010 the COC gave us Donizetti's Maria Stuarda in a production from Dallas Opera. This year it gives us another helping of what some call Donizetti's "Three Queens" trilogy with the story of Elizabeth I and Robert Devereux, the second earl of Essex (1565-1601), an ambitious favourite of Elizabeth's who led a coup d'état against her. Giuseppe Filianoti sings the title role, Sondra Radvanovsky makes her role debut as Elisabetta, Russell Braun is the Duke of Nottingham and Allyson McHardy is the Duchess of Nottingham. Corrado Rovaris conducts and Stephen Lawless, as with Maria Stuarda, is again the stage director.
1853: Il Trovatore by Giuseppe Verdi on April 26. Opera by Request presents Verdi's classic about love and fate in concert with Paul Williamson as Manrico, Olga Tylman as Leonora, Wayne Line as the Count di Luna, Julia Clarke as Azucena and Domenico Sanfilippo as Ferrando. William Shookhoff conducts from the piano.
1855: Ba-ta-clan by Jacques Offenbach on May 1 to 3. Opera 5 presents a double bill of French rarities at Alliance Française, 24 Spadina Rd. The first is Ba-ta-clan, the one-act operetta set in China, that was Offenbach's first major success. In this fanciful tale, two Chinese conspirators against the Chinese Emperor realize they are both French. Aria Umezawa and Jasmine Chen direct and Maika'i Nash conducts.
1875: Carmen by Georges Bizet on April 17 and 19. Now in its ninth season, Opera Belcanto of York (rhcentre.ca) will present a fully staged production of Bizet's opera at the Richmond Hill Centre about a seductive gypsy and the hapless soldier who falls in love with her. Nariné Ananikyan, soloist for the National Opera of Armenia, is Carmen, Gayané Mangassarian is Micaëla while Stanislas Vitort and James Ciantar alternate in the role of Don José.
1876: Siegfried by Richard Wagner on April 5. Opera by Request takes on the heroic task of presenting Wagner's mythological opera in concert with Lenard Whiting as Siegfried, Oliver Dawson as Mime, Andrew Tees as Wotan, Margarete von Vaight as Brünnhilde and John Holland as Alberich. The tireless William Shookhoff conducts from the piano.
1893:Hänsel und Gretel by Engelbert Humperdinck from April 25 to 27. Metro Youth Opera was founded by Kate Applin in 2010 to give Toronto's young opera singers the chance to perform complete roles. The company's fourth production is Humperdinck's beloved fairy-tale opera first conducted by Richard Strauss. Kate Applin and Lyndsay Promane sing Gretel and her brother Hänsel, Kelsey Vicary and Peter Bass are their Mother and Father and Stephanie Trichew is the Witch. Director Alison Wong has relocated the setting to a dangerous urban world. Blair Salter is the music director. The opera is sung in German with English surtitles.
1898: L'Île du rêve by Reynaldo Hahn from May 1 to 3. This three-act opera is the second half of the double bill by Opera 5 above. This, the first opera of Hahn (1874-1947), a Venezuelan-born French composer best known for his songs, is subtitled an "idylle polynésienne" and is based on Pierre Loti's account of his romantic liaison with a native woman in Tahiti in 1880.
1921: Der Vetter aus Dingsda by Eduard Künneke on May 1 to 4. The final offering of the season from Toronto Operetta Theatre is the Canadian premiere of an operetta by the Berlin composer Eduard Künneke (1885-1953), who studied with Max Bruch and wrote four operas, 12 operettas and two musicals. The TOT is translating the title as The Cousin from Nowhere, but when the Ohio Light Opera presented it, it chose the title The Cousin from Batavia. Just as we say "whatshisname" when we can't think of the name of a person, Germans say "Dingsda" when they can't think of the name of a place. The action takes place in Holland where Julia has been waiting for the return of her beloved from his travel to Batavia, as the Dutch colony in Indonesia was known. A stranger appears who introduces himself as the nephew of Julia's guardians, but Julia can't tell whether he is or is not her beloved Roderich. The operetta is packed with one memorable tune after another, the most famous being the stranger's song "Ich bin nur ein armer Wandergesell." While some over here may not have heard of it, the operetta is so popular in Europe that there have been five new productions of it in Germany and Switzerland since 2012. In fact, when the Ohio Light Opera presented it in 2000, the demand for tickets was so strong the show was brought back in 2002. The TOT production features Lucia Cesaroni, Elizabeth Beeler, Christopher Mayell, Stefan Fehr and Keenan Viau. Jurgen Petrenko makes his TOT conducting debut and Guillermo Silva-Marin directs.
1932: Pedro Malazarte by Camargo Guarneri on April 2 by University of Toronto Opera Division. Pedro Malazarte is the first presentation in a new initiative at the Opera Division called "Opera Rara." The aim is to bring to light unfamiliar or unjustly neglected works from the past. In this case conducting student Rafael Luz from Brazil wanted to stage this one-act comic opera from his native country in what will be its North American premiere. Guarneri (1907-1993), whose parents burdened him with the first name "Mozart," wrote two operas, the other being the one-act tragedy Um Homem Só (1960). His comic opera concerns the Brazilian folk hero Malazarte, who is hoping to have an affair with the fair Baiana. When her husband Alamão unexpectedly returns home, Malazarte manages a clever turnabout. Rafael Luz conducts and Amanda Smith directs at the Lula Lounge. Admission is free.
2014: Etiquette by Monica Pearce / Regina by Elisha Denburg / Heather by Christopher Thornborrow on April 5. Essential Opera presents a triple bill of brand new operas. Etiquette, composed to a libretto by John Terauds, former music critic for the Toronto Star, looks at life through the eyes of Dorothy Parker, Emily Post and Nancy Astor. Regina, composed to a libretto by Maya Rabinovitch, tells the story of Regina Jonas, who in 1935 Berlin became the first woman to be ordained a rabbi. Heather, composed to a libretto by Julie Tepperman, explores the phenomenon of online bullying between girls and young women. This varied program is conducted by David Passmore with musical director Cheryl Duvall at the piano and a cast that includes Erin Bardua, Maureen Batt, Julia Morgan, Keith O'Brien and Jesse Clark. Visit the website to contribute to the Indiegogo campaign to support these premieres.
2014: Europa and the White Bull by James Rolfe on April 25 and 26. Toronto Masque Theatre explores the myth of Zeus' rape of the maiden Europa in a program called "The Myth of Europa: Desire, Transformation and Possession." First it presents the cantata L'Europe by Michel Pignolet de Montéclair (1667-1737). Second is a new work Europa and the White Bull by composer James Rolfe to a libretto by Steven Heighton that looks at the darker themes of the story. The evening features soprano Suzie LeBlanc, actor Martin Julien, dancer Stéphanie Brochard with Larry Beckwith conducting the TMT Ensemble from the violin. Marie-Nathalie Lacoursière is the choreographer and stage director.
2014: L'Homme et le ciel by Adam Scime on April 11 only. FAWN Opera presents the world premiere of Scime's electro-acoustic chamber opera in a workshop production. Ian Koiter's libretto, based on text "The Shepherd of Hermas" from the second century concerns one man's struggle to live righteously. The soloists are baritone Giovanni Spanu and sopranos Larissa Koniuk and Adanya Dunn. Patrick Murray conducts the Thin Edge New Music Collective and Amanda Smith directs.
2014: Tap: Ex Revolutions by Tapestry New Opera on April 4 and 5. "Tap:Ex" (short for Tapestry Explorations) is a new project by Tapestry to explore the relationship between physical and musical expression. The performance will involve singers Neema Bickersteth, Andrea Ludwig, Adrian Kramer and Andrew Love, choreographer Marie-Josée Chartier and director Michael Mori using music from Bach, Rachmaninov, Meredith Monk, Andrew Staniland and Ivan Barbotin.
As usual, there is more than enough on offer in the 365 years encompassed by these listings to create your own opera festival.
Christopher Hoile is a Toronto-based writer on opera and theatre. He can be contacted at opera@thewholenote.com.