The Canadian Opera Company's production of Puccini's La Bohème continues to May 22 and its production of Verdi's Otello to May 21. Yet, May is not simply devoted to revivals of standard repertory. The month also sees the premiere of a brand new Canadian opera from Tapestry Opera and the revival of two operas by American composer Dominick Argento who died on February 20 this year.
Argento wrote works in many genres but is best known for his operas, of which he wrote 13, and his dramatic song cycles that he termed "monodramas." His best known operas are Postcard from Morocco (1971), Miss Havisham's Fire (1977, rev. 1995) and The Aspern Papers (1988). Postcard from Morocco was last staged in Toronto by the University of Toronto Opera Division in 2015, but Argento's other works have seldom been seen or heard in Ontario.
Opera by Request, Toronto's opera-in-concert company where the singers choose the repertoire, will be presenting a double-bill of Miss Havisham's Wedding Night (1981) and one of Argento's monodramas, A Water Bird Talk (1977). Miss Havisham's Wedding Night focuses on the famous character in Dickens' novel Great Expectations (1861) who was jilted on her wedding night and now, 50 years later, still replays the events in her mind. It is a prequel to another opera by Argento about the same character in Miss Havisham's Fire. A Water Bird Talk is inspired by Chekhov's one-person play On the Harmful Effects of Tobacco (1886). In Argento the gentleman lecturer does not deliver a talk about tobacco but about water birds, yet as in Chekhov's play, the lecturer can't refrain from mentioning illustrative points drawn from his private life.
The singer behind the selection of OBR's double bill is soprano Brianna DeSantis. In April DeSantis provided me with a detailed account of how she was drawn to these works and how they function as a double bill. She writes: "I came across Miss Havisham's Wedding Night when looking for a piece for my opera literature class. Being an avid reader, I first went to opera adaptations of literature. I came across Argento's Miss Havisham's Fire and Wedding Night and saw that we had a copy of the score and CD in the library at Western. I took a listen and loved it. I read Great Expectations as a child and was always attracted to Miss Havisham's character – why was she like that? Argento's work gives us a glimpse into her psyche.
"I decided to perform a small excerpt of the monodrama in a recital and loved it so much that I thought I should learn the whole piece one day. I believe we [Shookhoff and I] met sometime about a year ago and discussed doing Miss Havisham's Wedding Night with Opera by Request. We thought of programming it with its frequently paired piece, Argento'sWater Bird Talk, because they both discuss the ins and outs of relationships, specifically, marriages.
"Since then, we have found ourselves a baritone [Parker Clement] to sing the role of the Lecturer, and I will be singing Miss Havisham. This project is special because it shines a light on gender disparity in madness, specifically in Miss Havisham's Wedding Night, which is basically one long mad scene written in the vein of Lucia di Lammermoor. The opera provides a commentary on madness during the 19th century, where madness was often viewed as the irrational 'female' reaction to the rationality of the 'male.' We seek to highlight this gender disparity and offer a different perspective on what madness involves – that way the audience can decide. While the music may be unfamiliar, the message the operas seek to send is one that will resonate with many."
The double bill, titled "Til Death Do Us Part? – A Dominick Argento Commemoration," will have one performance in Toronto on May 3 at the College St. United Church with William Shookhoff as pianist and music director and Claire Harris on keyboard. The program will then be repeated in Windsor on May 4 at the Paulin Memorial Presbyterian Church.
Shanawdithit: A commemoration of another sort is the purpose behind Tapestry Opera's second new opera of the season after its highly popular presentation of Hook Up by Chris Thornborrow earlier this year. This is the world premiere of Shanawdithit by Newfoundland composer Dean Burry to a libretto by Algonquin playwright Yvette Nolan. Its title is the name of a woman (1801-29) encountered by a white settler William Cormack in 1829 in Newfoundland and thought to be the last member of the Beothuk Nation. Cormack took Shanawdithit to St. John's where she created ten drawings that are the only first-person account of the life of the Beothuk.
In March, Tapestry Opera artistic director Michael Hidetoshi Mori provided me with invaluable information about the creation and importance of the opera which Burry and Nolan have been working on for the past three and a half years. Mori states: "This project came about a few years after a conversation between Dean Burry and Yvette Nolan about the subject of Shanawdithit for an opera.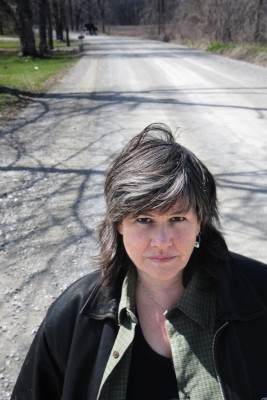 "Yvette was very keen on finding a way to tell the story without relying on the texts of Cormack and other settler historians. The challenge with Shanawdithit was that there are no Beothuk Elders, there was little Indigenous documentation of the Beothuk, and even if there were surviving bloodlines, they had been mostly absorbed into the Mi'kmaq almost 200 years ago.
"Yvette turned to the ten drawings Shanawdithit did in her last year of life as one of the only first-person accounts of Beothuk life and Shanawdithit's perspective. She proposed we work with the ten drawings and five to ten Indigenous artists to interpret them, with the intent of retelling the last days of Shanawdithit and questioning the prevailing dominant settler scholarship and history.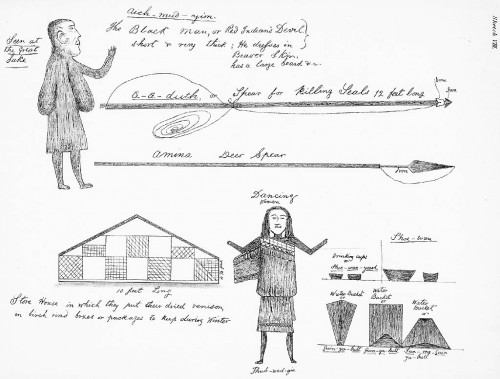 "Yvette, Dean and I met, and we proposed an unconventional approach to creation. Yvette would write the libretto, with elasticity for collaborative artist input, and with specific vessels for where the drawings would come to life, with a dominant point of view from a collaborating artist. The artists would meet with Yvette and depending on their discipline, also Dean and myself, to reflect on the drawings and work through their thoughts and what was possible within a musical-dramatic-narrative and design framework.
"Dean would compose soundscapes, not music, to start. Drawing on his shared familiarity with the same lakes, land, rivers and weather that Shanawdithit grew up and lived in, he would experiment with capturing those sounds rather than risk imitating or appropriating 'Indigenous' music sounds or stereotypes.
"Five of our seven performers are also Indigenous performers (all of the named characters portrayed as Indigenous are Indigenous performers), Asitha Tennekoon plays Peyton and Clarence Frazer plays Cormack. Every step of the way the Indigenous performers were active participants in shaping and responding to the story and its potential treatment (e.g. engaging in the conversation of whether Cormack was a hero, a villain, or just out of his ken).
"Chronologically this meant that instead of Yvette completing a final libretto and sharing it with Dean for him to take over, as is most often the case, in-depth meetings with all of the collaborators following the first draft libretto led to changes in the libretto. New art commissions based on the artists' interpretations had to have their directions finalized before Dean would compose that section. All in all, the process was complex and instead of hierarchical, it was collaborative and organic."
In response to the question whether anyone saw a difficulty in having a non-Indigenous person compose the music, Mori writes, "Reconciliation on the truth and reconciliation website begins with the text 'Reconciliation is an ongoing journey, one that will take a collective effort to find a new way forward.' Many First Nations colleagues have stressed that the necessary dialogue is two-way. Indeed our history of violence and injustice against First Nations is also our history.
"That said, this is not another settler artist explaining what happened. The key to the success of Shanawdithit is in its welcoming Indigenous voices to shape and lead the work in creation and performance. This is meant to be a contrast to previous artistic works, histories and academic publications that ignored Indigenous voices and placed a positivist settler perspective on history. This work challenges that one-sided historical perspective.
"Considering the collaborative and facilitation role of composition in how Dean is approaching Shanawdithit, it should be understandable why the team is not completely Indigenous. It is Indigenous led and as a result many will see the piece as a true coming together of settler and Indigenous arts and artists, where the Indigenous voices are privileged. In working in opera we can explore a story that requires Indigenous voices and leadership, which will have the story and its retelling reach a different and new public through the mixing audiences of opera, multimedia theatre and Indigenous arts in Toronto and St. John's."
Shanawdithit will be performed at the Imperial Oil Opera Theatre in Toronto May 16, 18, 21, 22, 23 and 25 with Marion Newman in the title role and Clarence Frazer as William Cormack. The cast also includes Asitha Tennekoon, Rebecca Cuddy, Deantha Edmunds, Evan Korbut and Aria Evans. Michael Hidetoshi Mori and Yvette Nolan co-direct, Michelle Olson is the choreographer and Rosemary Thomson is the music director. On June 21 the opera, a co-production with Opera on the Avalon, will be performed at the St. John's Arts and Culture Centre.
Christopher Hoile is a Toronto-based writer on opera and theatre. He can be contacted at opera@thewholenote.com.